This post contains affiliate links. See my disclosure for more details.
Fine motor skills are incredibly important to focus on with children. I am constantly adding fine motor activities to our day to help my boys strengthen their hands. Fine motor skills require the use of smaller muscle groups to perform tasks that are precise in nature. These are activities that use hand muscles to manipulate small pieces or use small movements to complete tasks.
Whether you are teaching young children or homeschooling your kids, these activities are for you!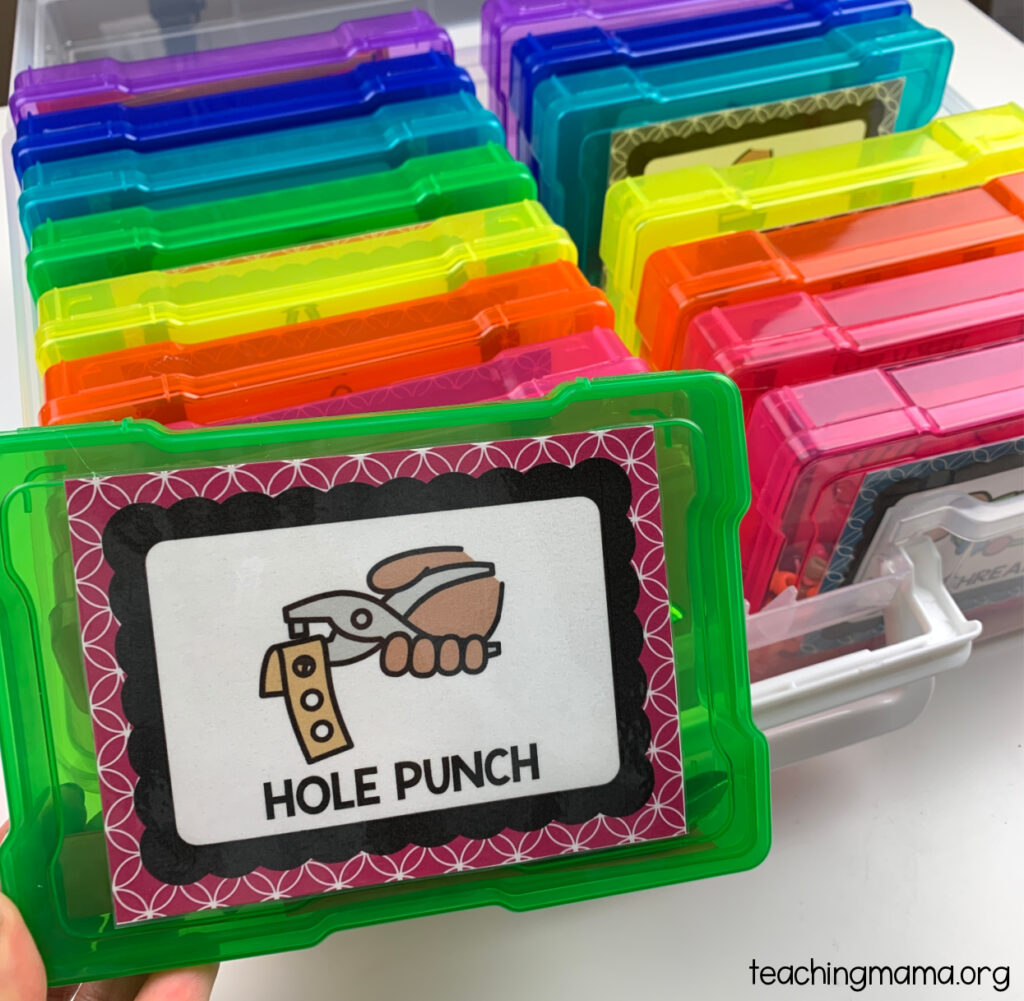 I created fine motor task cards to make planning and organizing fine motor activities easier. These cards could be used in a fine motor center or in task boxes for individual work. I also think they would be great in quiet time bins at home.
I'll be explaining how to use each card below, or you can scroll to the bottom of the post to find the free printable.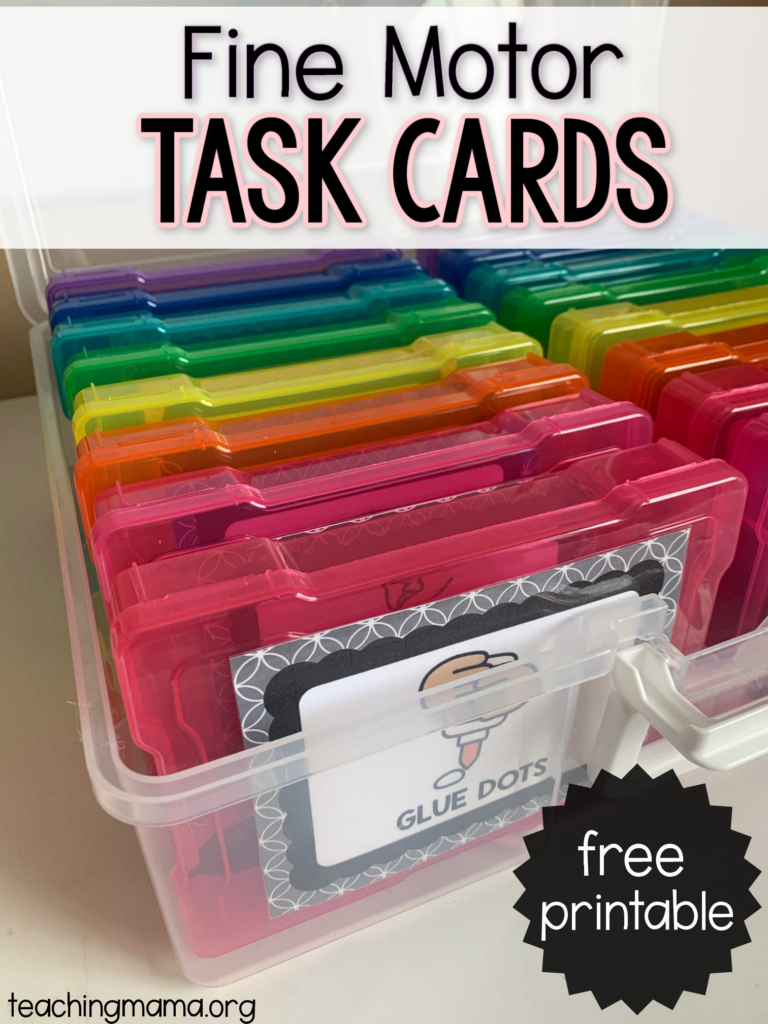 Glue Dots
Have you heard the phrase, "Just a Dot, Not A Lot"? I say this a lot when teaching kids to use a glue bottle properly. There are fun ways to practice this! Check out this free printable I have to practice this here —> Just a Dot Printable
Bead Threading
Threading beads on yarn, string, or pipe cleaners is a fun way to practice fine motor skills. You can even create fun bracelets and necklaces!
Block Building
There are so many ways to use block building. You can use any type of blocks, but we think Duplo Lego bricks are awesome for preschoolers. You can create picture puzzles with Duplo blocks, which is super fun!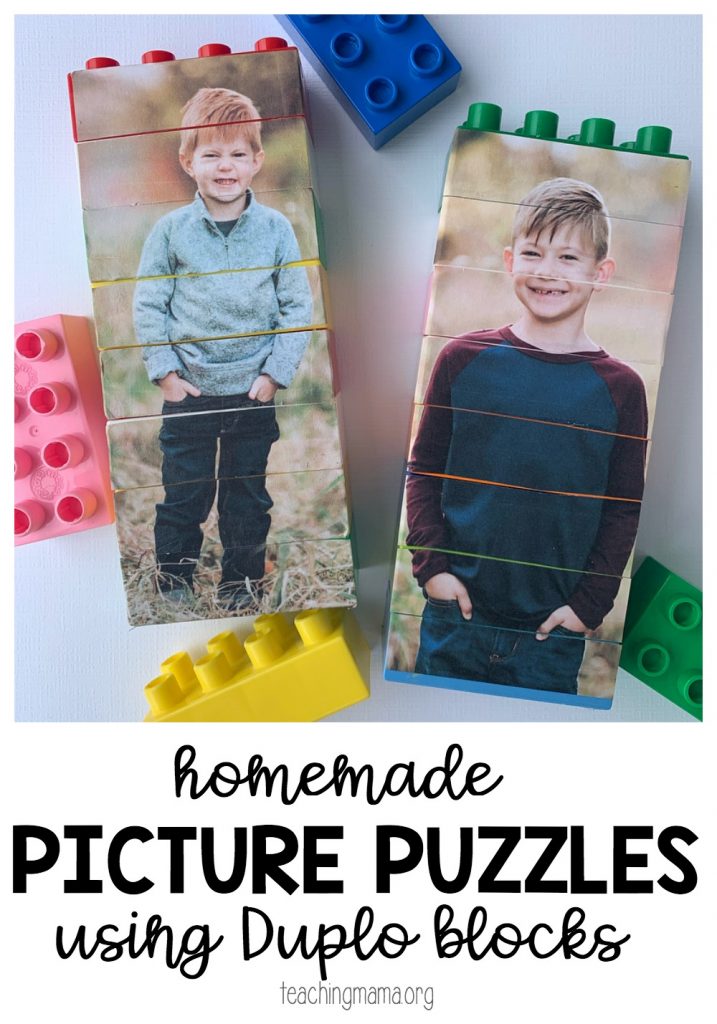 Clothespins
Clothespins can be a challenge to use but really helps with hand strength. Here are some ideas for using clothespins. If wooden clothespins are too hard, try using plastic ones or a smaller size.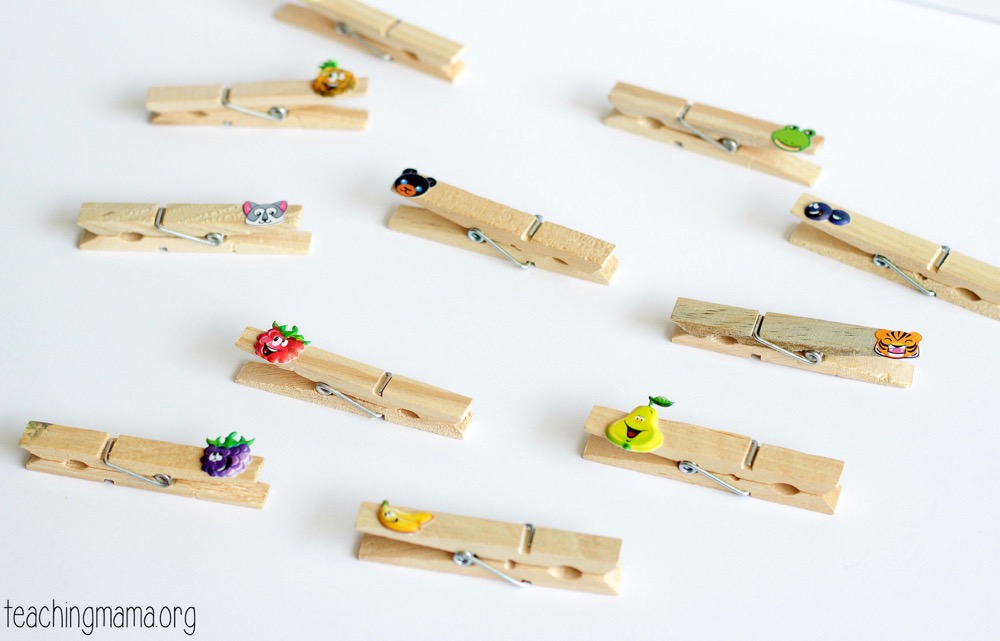 Scissors
There are 3 reasons scissor skills are important to work on:
1. It builds up the tiny muscles in their palm and hand since they have to continuously open and close the hand.
2. Cutting enhances eye-hand coordination. They must be able to see what they are cutting while moving their hand.
3. It encourages the child to use bilateral coordination. That means the child can use both sides of their body at the same time. For example, the child holds the paper and turns it in one hand while cutting with the other hand.
If cutting paper is too difficult, try cutting rolls of play dough.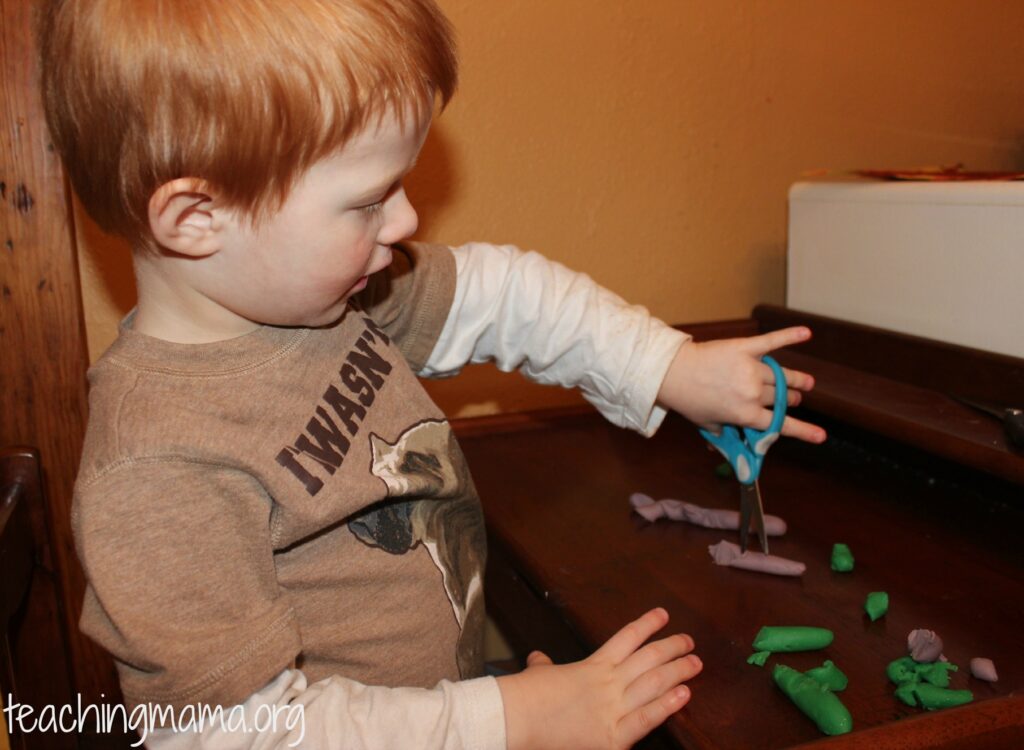 Paper Folding
This one is super simple…just let kids fold paper into whatever they want! Similar to origami, but not giving them any directions. Why is this a fine motor skill? It's great for hand strength, focusing on using one finger at a time, bilateral coordination, and more! You may need to model how to fold paper to little ones before they do this activity.
Geoboards
Geoboards are a great tool for math and can be used to strengthen fine motor skills. Children use rubber bands to create shapes and pictures on a geoboard. Check out this post for more ideas. Or here is a fun idea using a pumpkin!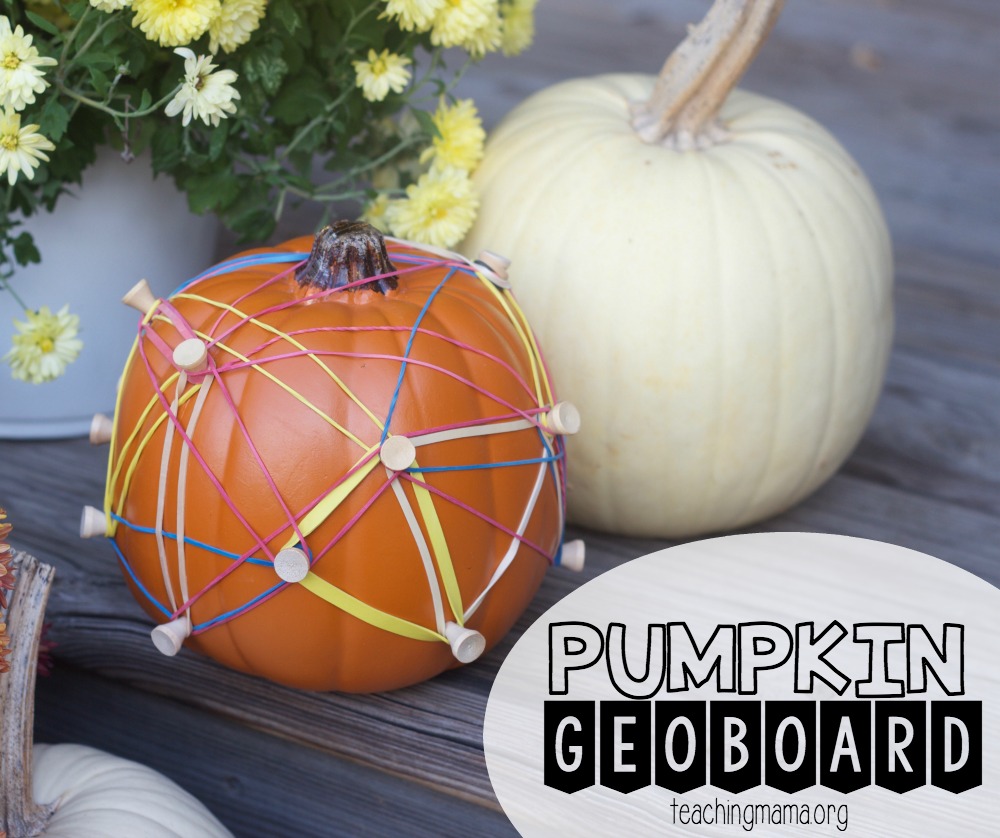 Finger Painting
Finger painting is a fun, but messy activity. You may want to do this selectively or with small groups of kids. Finger painting is one way to strengthen the smaller muscles in the hands and is also great for sensory play, too!
Check out my homemade finger paint recipe here.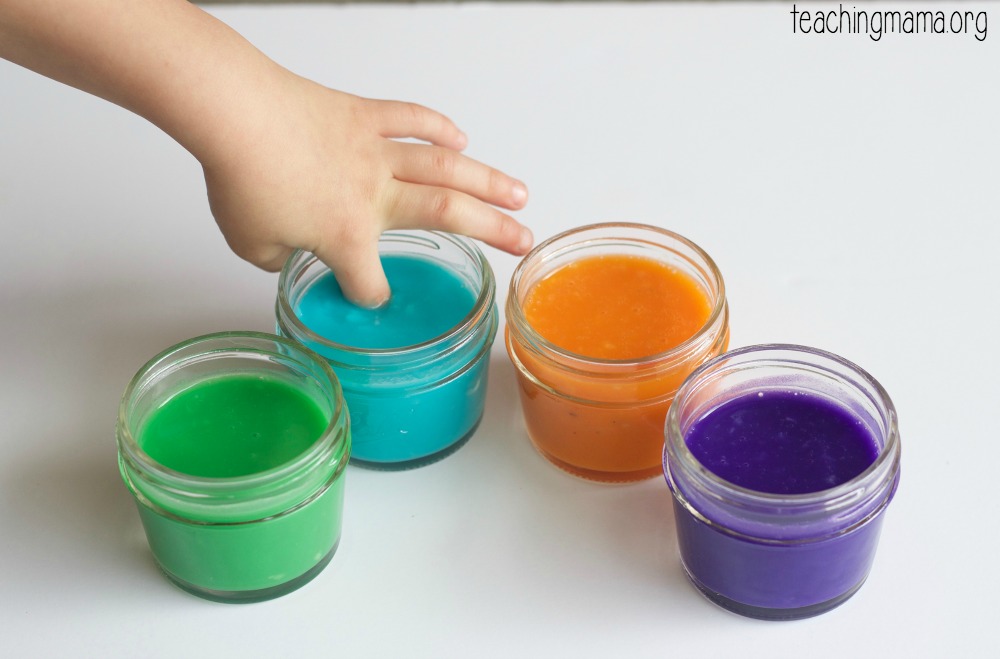 Water Droppers
This is a very simple activity. Fill a container with water. Add some food coloring if you want it to be colored. Then have the child use a water dropper to transfer the water to an empty container. It might surprise you how much kids enjoy this simple task!
If you want a different challenge. See if how many drops of water they can get on top of a coin!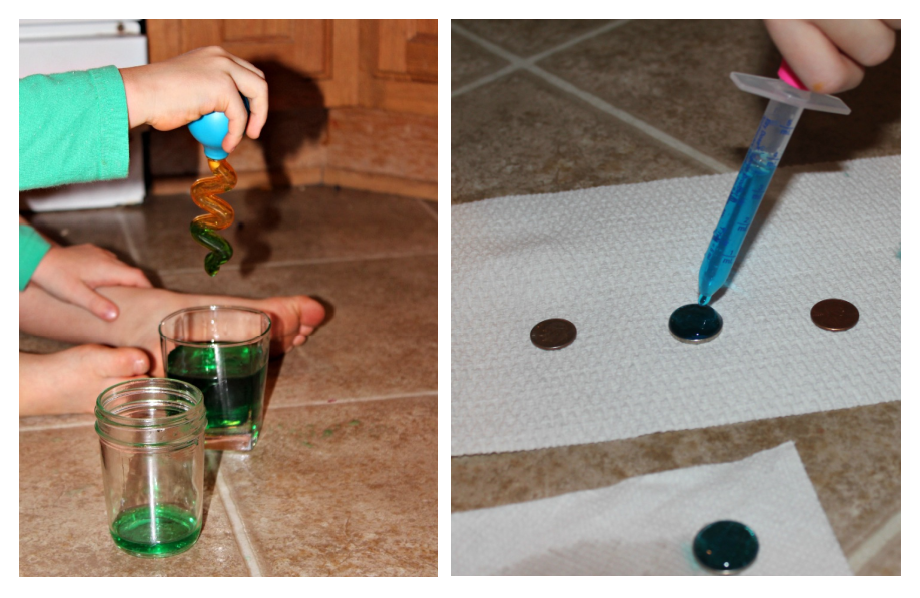 Lacing
Lacing is a great center idea. This task is helpful for developing visual perceptual skills, bilateral coordination, and motor planning. Lacing cards are great for preparing children for skills like tying shoes and sewing. Check out my free ones here.
Push Pins
Poking pictures with a pin is a fun way to practice fine motor skills. There are great printables designed for this activity. You can also use them to practice alphabet letters and just write letters on notecards, like this idea from Play to Learn Preschool.
Play Dough
We love play dough! Play dough is awesome for building strength in hands. Let them squish, roll, cut, and explore the playdough with their little fingers. Our favorite recipe is this Jell-O playdough recipe.
Top Spinning
Top spinning is a really fun way to practice pincer grasp and dexterity. I love this idea for a homemade spinning top!

Paper Tearing
Tearing paper sounds like a mess, but it's actually purposeful! It's really good for improving hand strength. You can even encourage kids to make pictures with the torn art or use contact paper, like this activity below.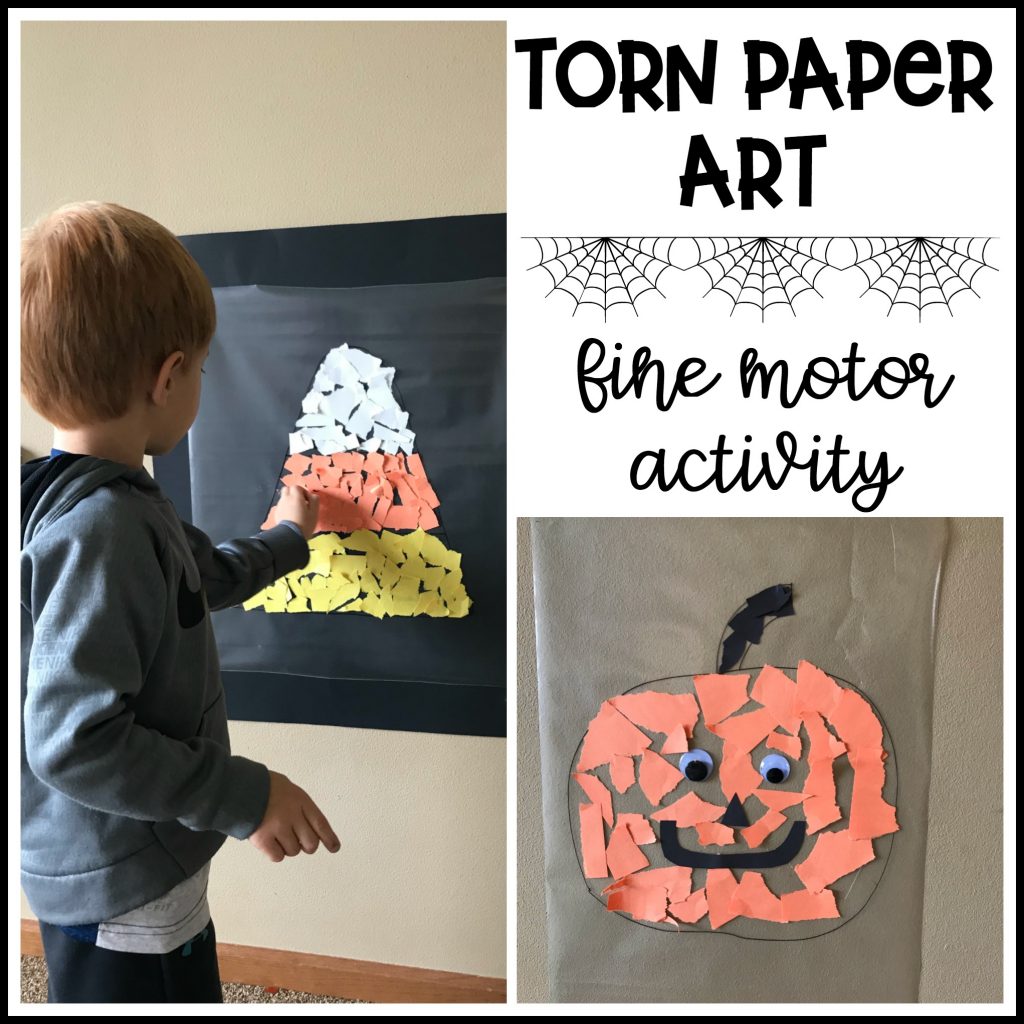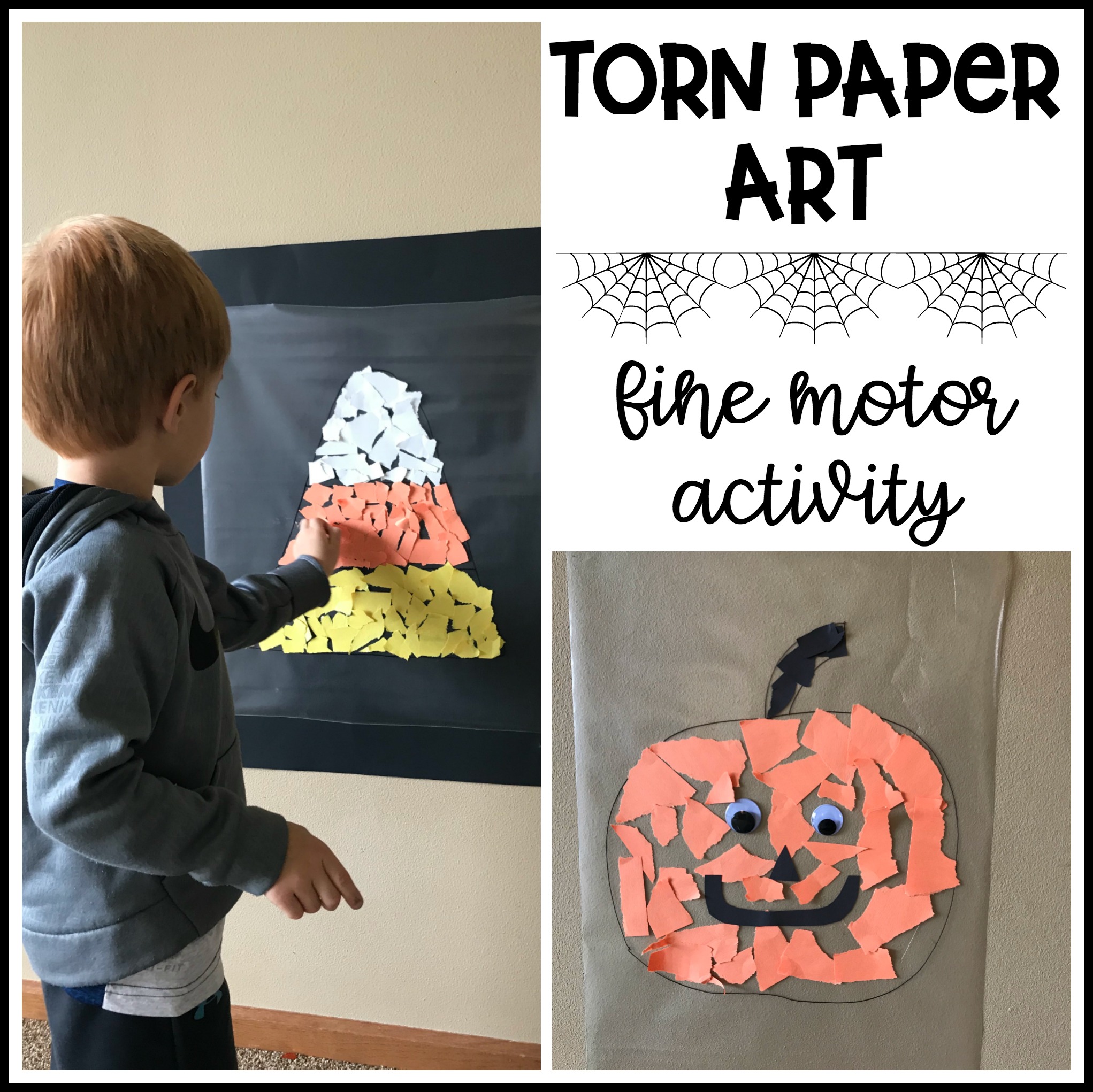 Tape
For this activity, simply add masking tape or washi tape to a flat surface. Then have your child peel tape to strengthen their fingers! Before doing this activity, make sure to test a small space of your surface to make sure it doesn't cause any damage.
Tongs
Use tongs to pick up pom poms or something similar and transfer them to a container. Tongs are wonderful because they help kids gain muscle control and hand-eye coordination. These tongs from Lakeshore Learning are great! Or you can use ones you find in the kitchen, like these.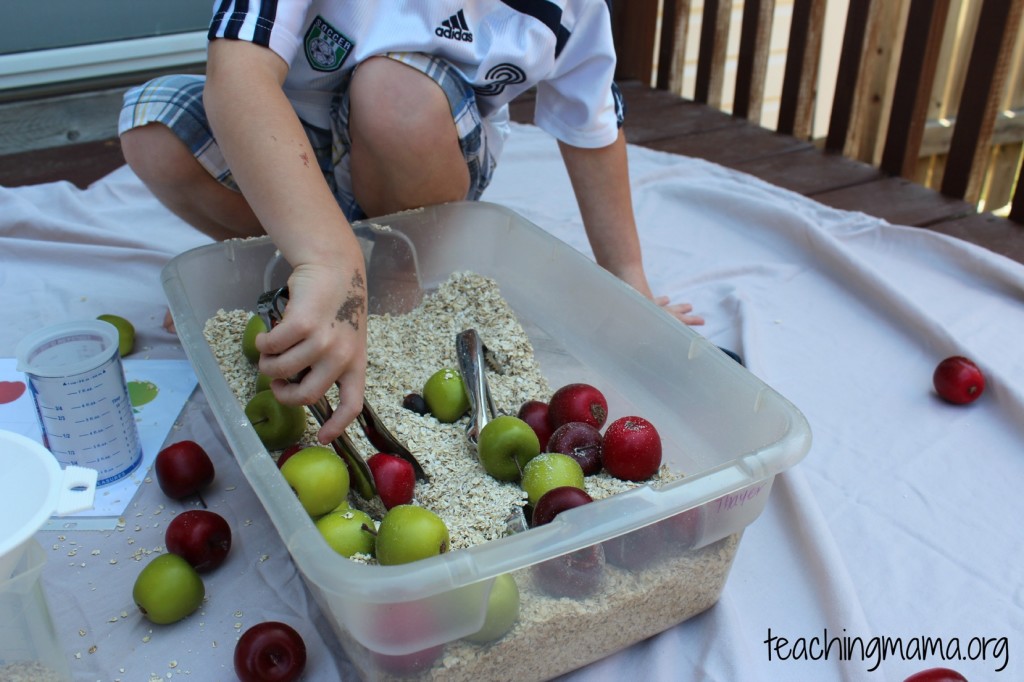 Stapler
Have kids use a stapler to make little books or other creations. Please make sure to demonstrate how to do this and warn kids not to staple fingers! Here are some ideas for using a stapler for a fine motor station.
Hole Punch
Use a hole punch on paper or even leaves! In this fine motor task box, I added strips of construction paper for kids to punch holes in.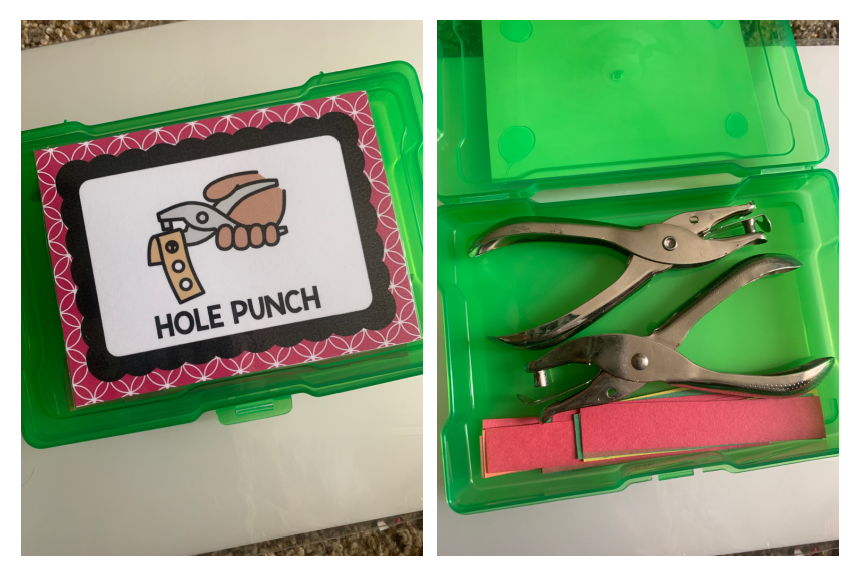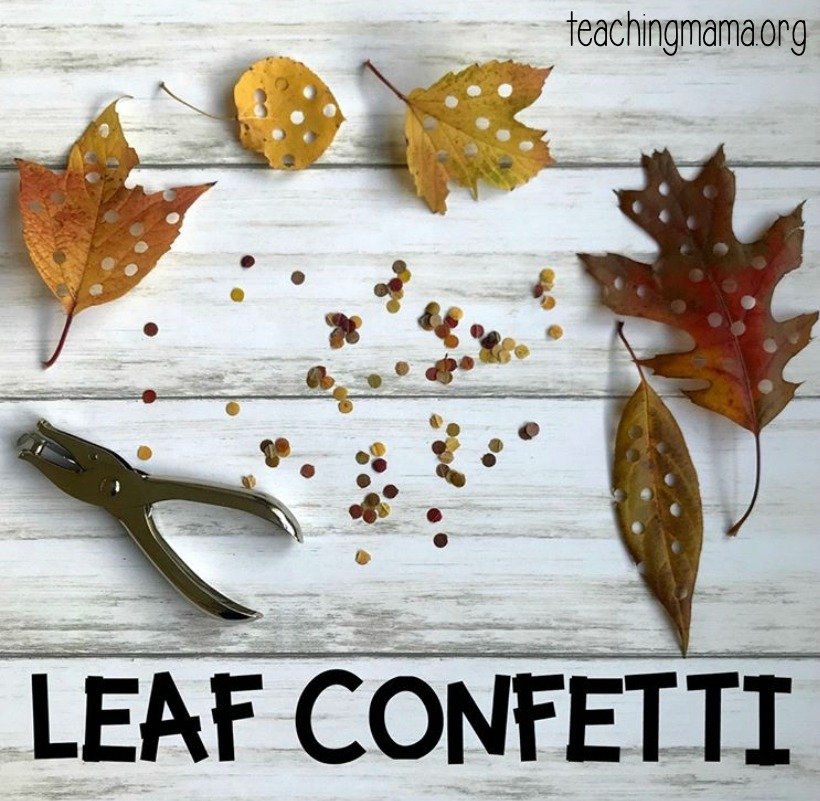 Q-Tip Painting
Q-tip painting is one of my go-to activities. This is great for using the pencil grasp. Try it out with these Q-tip alphabet letters!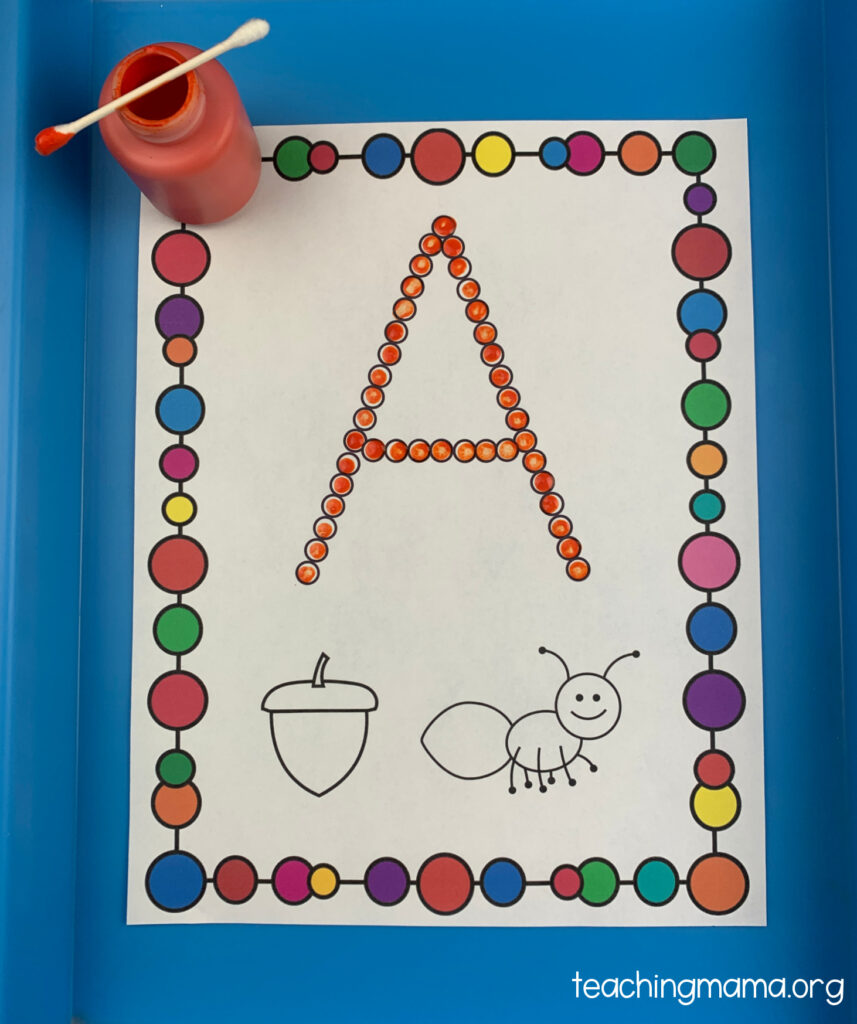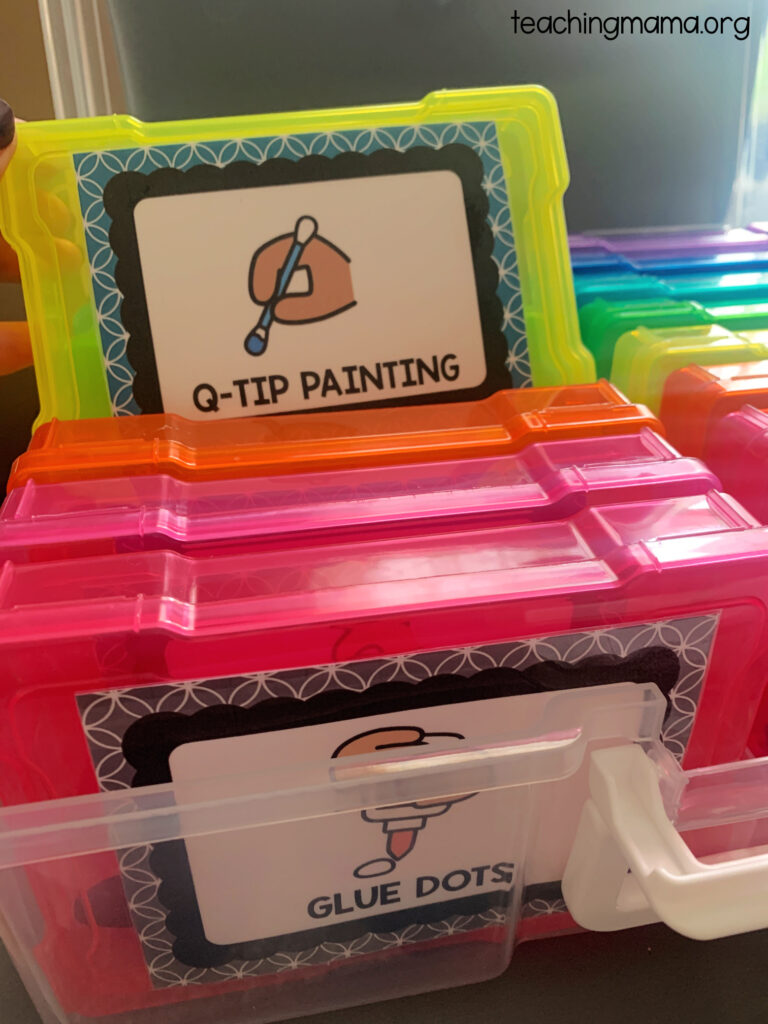 Tweezers
Kid tweezers are a fantastic fine motor tool! There are so many ways to use them…pick up pom poms, gems, acorns, and more!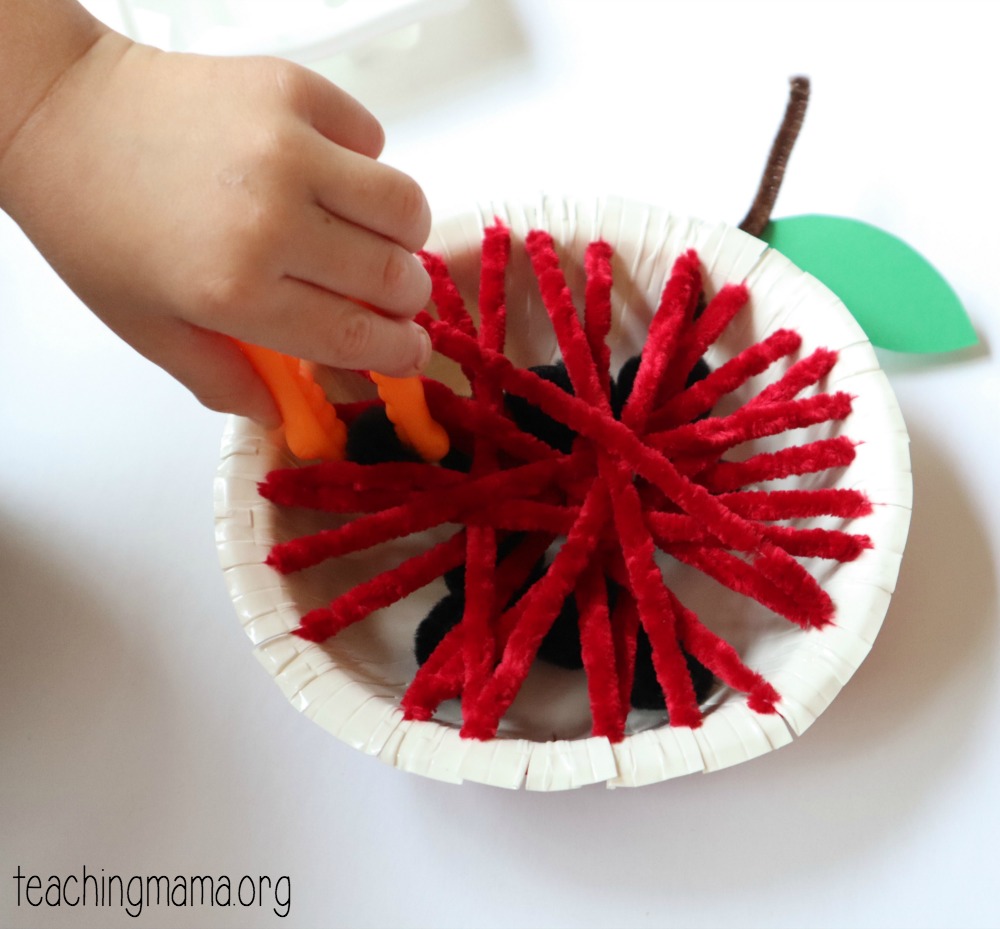 Dot Markers
We are a big fan of dot markers! We use the D0-a-Dot markers, but you can use bingo daubers or something similar.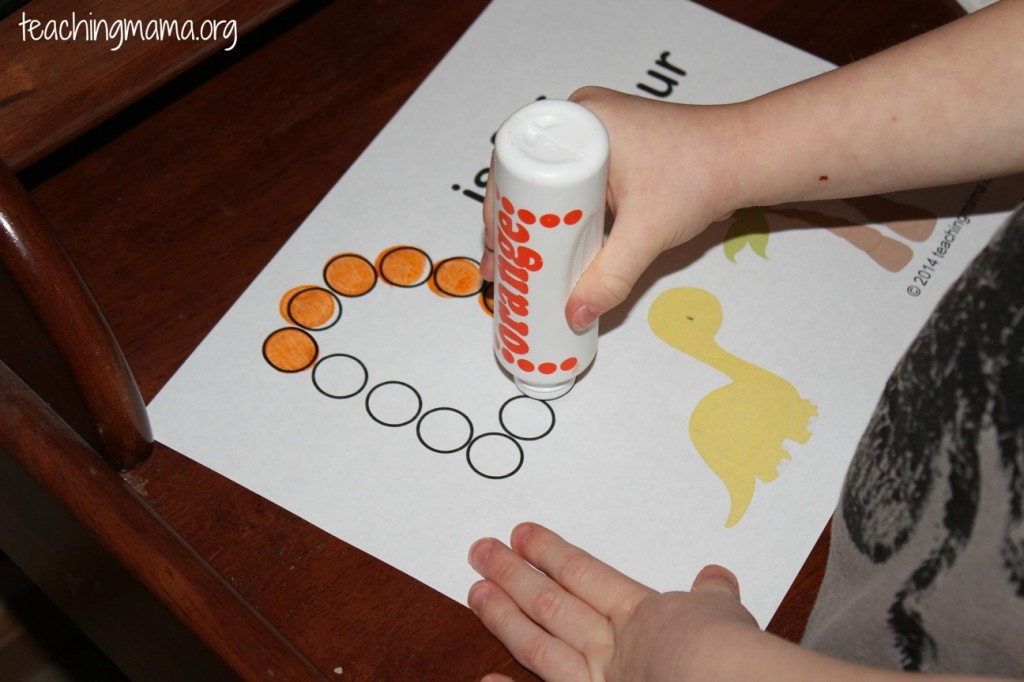 Painting
Any type of painting requires small motor movements in the hand. Try to mix it up and try painting something new…like twigs!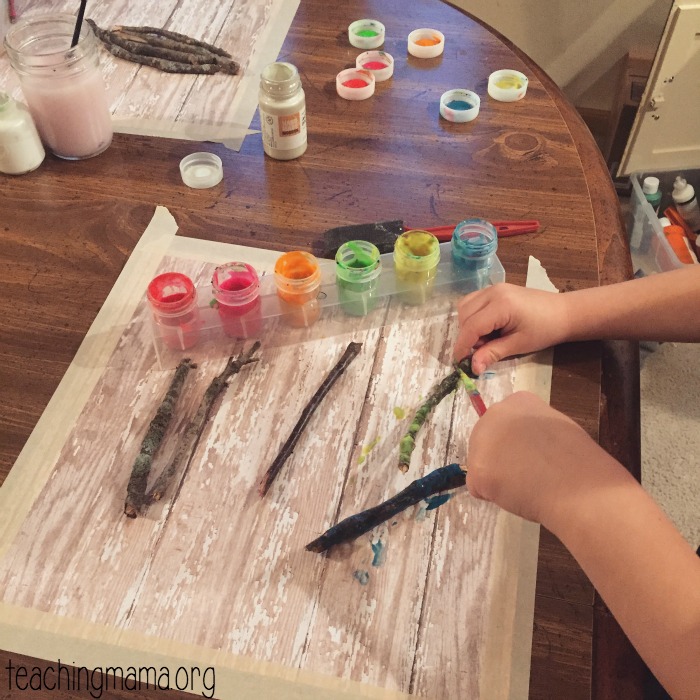 Crayons
Using broken crayons for coloring is excellent for fine motor development. The small crayons help encourage the child to pinch the crayon between their thumb and index finger, which promotes a good pencil grasp.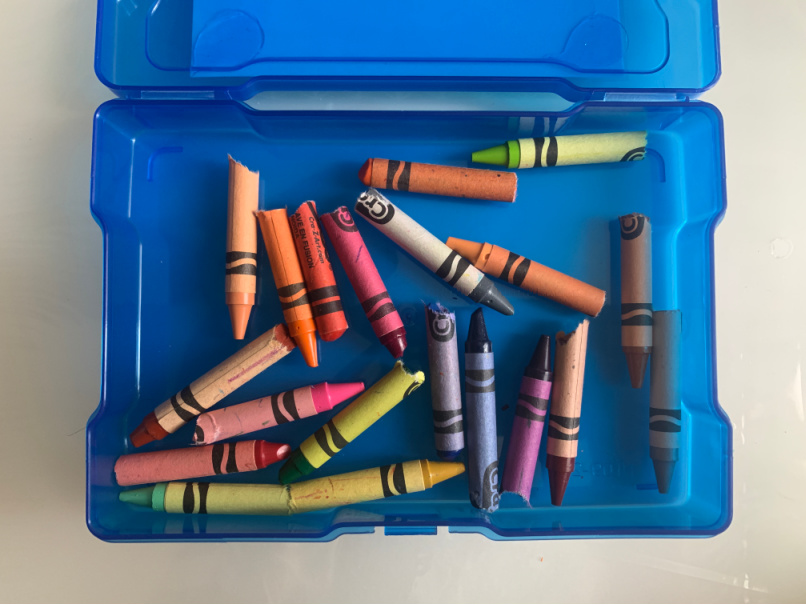 Markers
Similar to crayons, use small markers for coloring! We love the Pip Squeak Washable Markers from Crayola for this.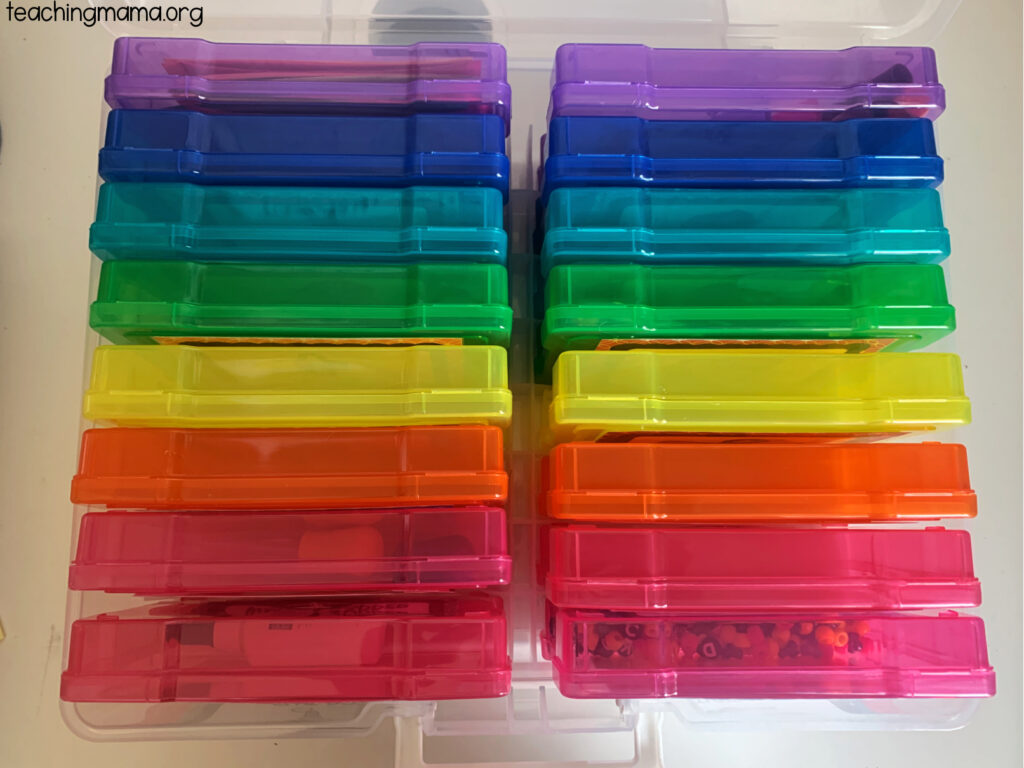 I bought these rainbow-colored task boxes from Amazon and labeled them with 16 of the fine motor activities I shared above. I printed the labels on card stock paper and laminated them. Then I used a hot glue gun to attach them to the top of the task box. The colored boxes all fit inside a larger clear container with a handle, which is great for storage and transporting the boxes.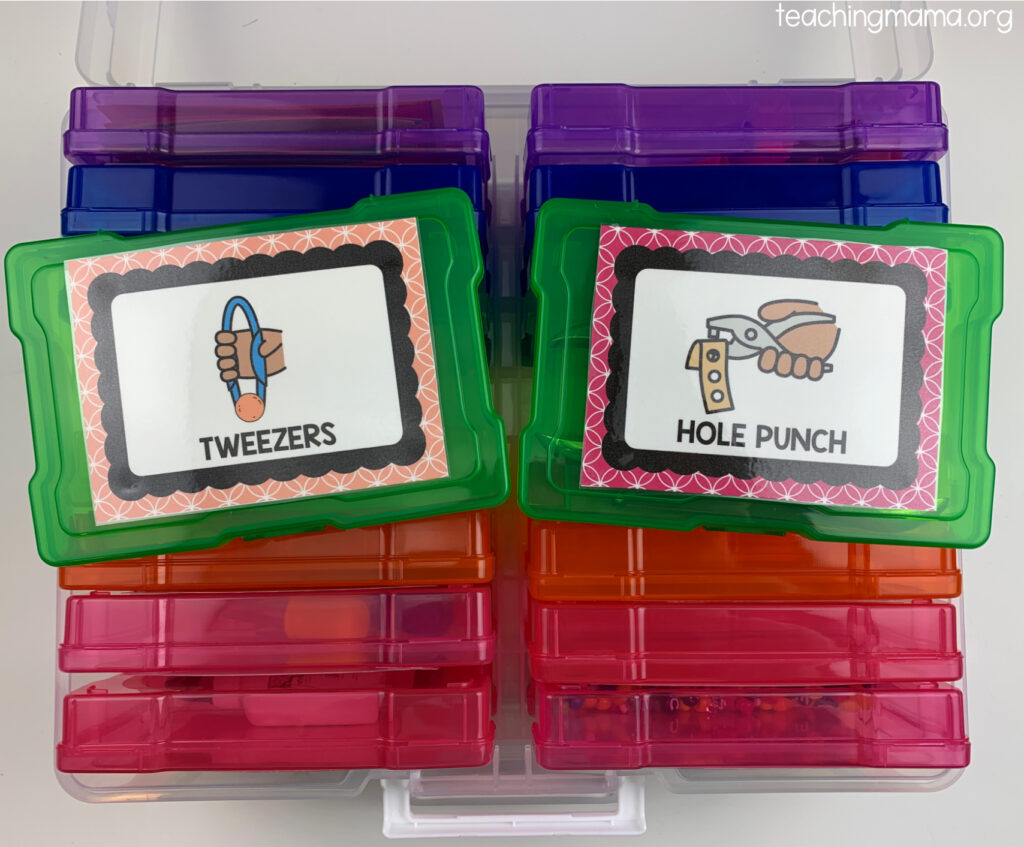 Please note…some of the activities have materials that are bigger than the task box (like the geoboard), so they aren't included in the picture above.
If you'd like to download this free printable, just click on the words below.