End of the Year Alphabet Countdown Calendar
The end of the school year is the perfect time to celebrate all your students' hard work! I love using this End of the Year Alphabet Countdown Calendar as a fun way to finish the year! Wrap up the last 26 days of school with a fun activity for each day!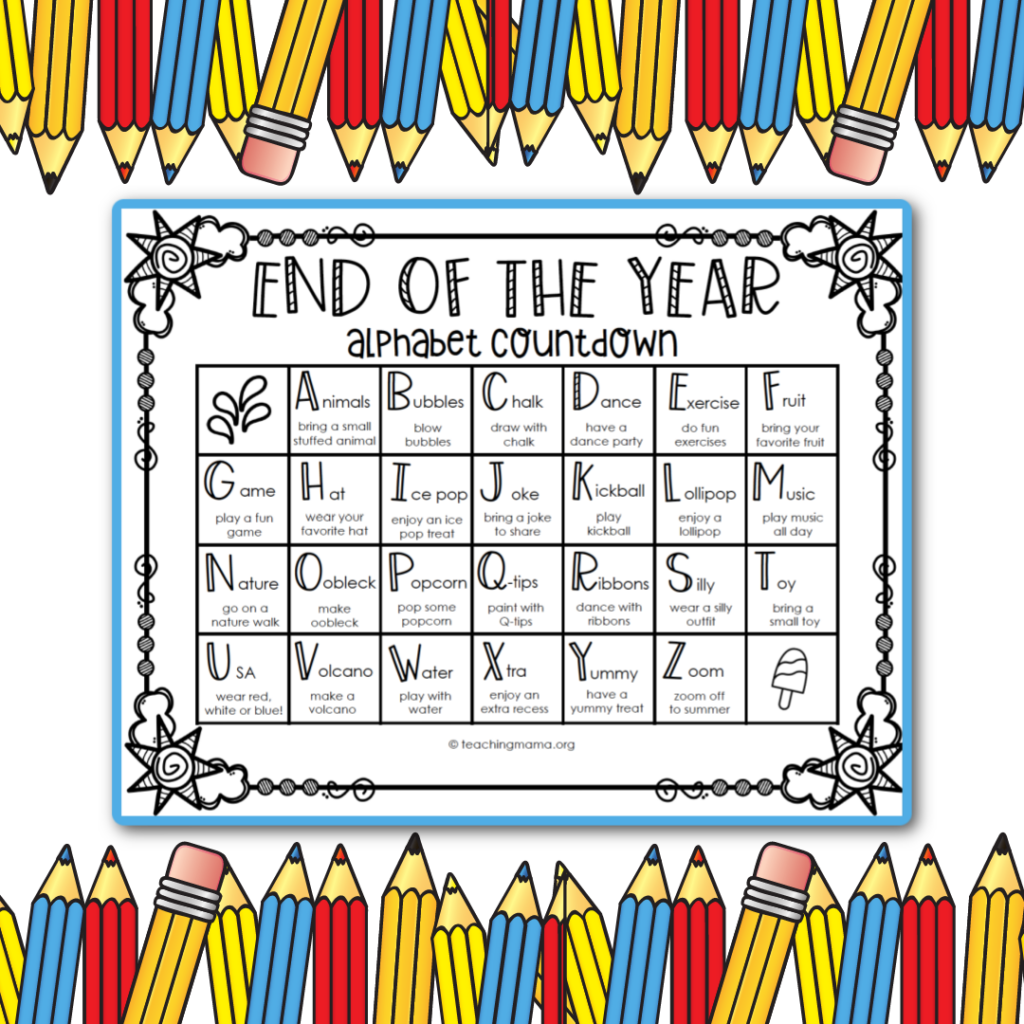 The calendar I'm sharing has a theme for each day that starts with the alphabet letter.  It starts with A and ends with Z!
I also have an editable calendar, where you can use my template to create your own ABC countdown calendar! You'll find the PDF at the bottom of this post.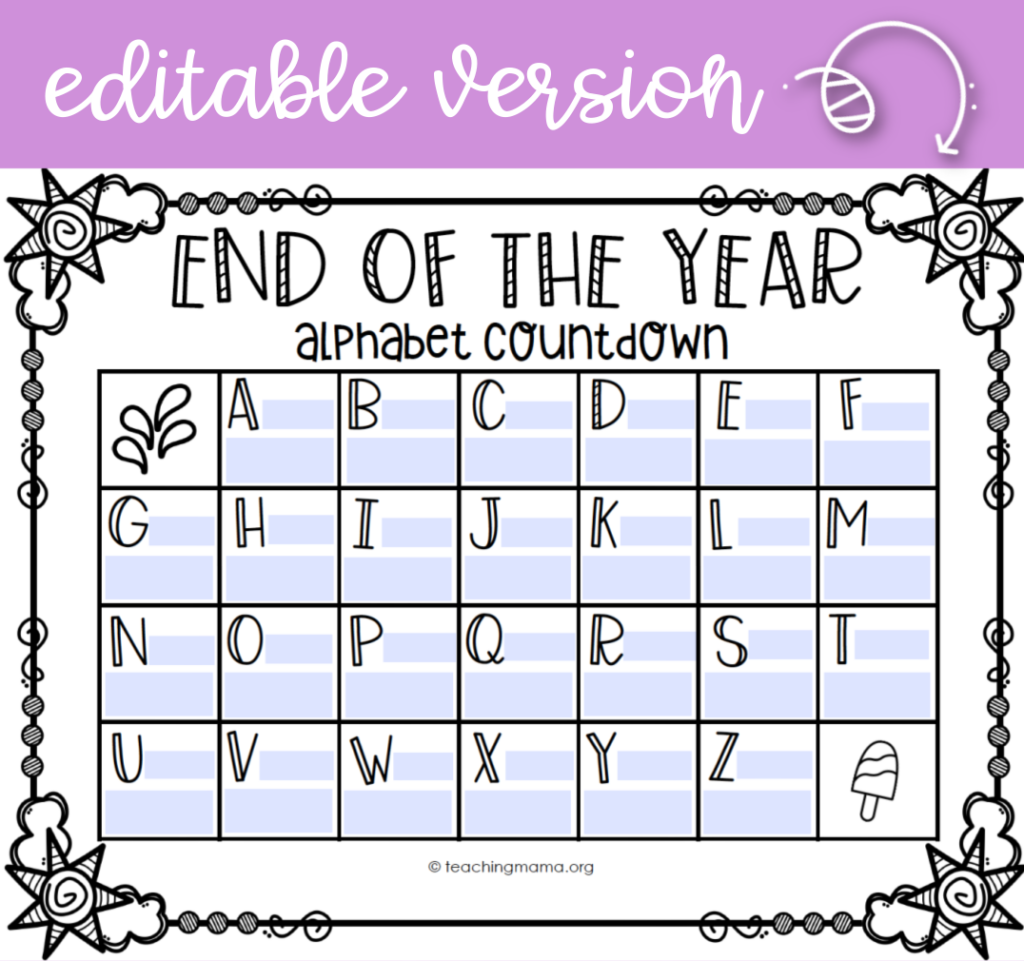 Here are some ideas you can do for each letter!
Letter A –
animals – learn about animals or bring a small stuffed animal to school
airplanes – have fun with paper airplanes
art – make a unique art project
adventure – go on a fun adventure
Letter B –
bubbles – play with bubbles or paint with bubbles
balloons – do some fun games with balloons
balls – play with balls
books – bring a favorite book to school
backwards – wear your clothes backwards
beach – set up your classroom like the beach
Letter C –
chalk – play with chalk at recess or make homemade chalk
camping – do camping activities with your class
construction – a day to excavate, dig, and build
crazy hair – make your hair crazy looking
Letter D –
dance – have a dance party
donuts – bring donuts for your students
dinosaurs – set up dinosaur activities
detectives – act like detectives for the day
Letter E –
exercise – complete fun exercises
extra recess – give your students more time to play
experiments – complete a fun science experiment
eat – eat lunch together outside or in the classroom
Letter F –
fruit – bring your favorite fruit for snack
frogs – learn about frogs
frisbees – play with frisbees
flashlights – bring a flashlight and play flashlight tag
favorite book – bring a favorite book to share with the class
fancy day – wear fancy clothes
Letter G –
games – play a fun game
gum – let students chew gum
glitter – make a project with glitter
green – wear the color green
goldfish snack – enjoy goldfish for snack
Letter H –
hats – wear your favorite hat
horses – learn about horses
Hawaii – have a luau in the classroom
helping – find ways to help around the school
Letter I –
ice pops or ice cream – enjoy a cold treat
ice – paint with ice or do an ice excavation
insects – learn about all kinds of insects
inside out – wear your clothes inside out
Letter J –
jokes – bring a joke to share with the class
jelly beans – do math activities with jelly beans
Jell-O – eat Jell-O for snack
jersey – wear your favorite team jersey to school
Letter K –
kickball – play kickball as a class
kites – fly kites
kindness – find ways to show kindness to classmates or teachers
kick your shoes off – wear no shoes in the classroom
Letter L –
lollipops – bring lollipops for your students
lemonade – enjoy a cup of lemonade
ladybugs – learn about ladybugs
Legos – build with Legos
Letter M –
music – play music all day
M&M's – do fun activities with M&Ms
mustache – bring a stick-on mustache for the students
magnets – play with magnets
movie – watch a movie
Letter N –
nature – go on a nature walk
ninja – act and dress like a ninja
necklace – make a necklace
neon – wear neon colors
noodles – eat noodles or make a sensory bin with noodles
Letter O –
oobleck – make 2-ingredient oobleck
orange – wear the color orange and eat oranges for snack
Oreos – try different kinds of Oreos
occupations – dress what you want to be when you grow up
Letter P –
popcorn – eat a popcorn treat
pizza – enjoy a slice of pizza
pirates – dress and act like a pirate
play dough – play with play dough
Pete the Cat – read Pete the Cat books
pajamas – wear PJs to school
Letter Q –
Q-tips – paint with Q-tips
questions – everyone asks a question to the teacher
quiet – have a quiet day and leave extra time for reading
quilt – make a classroom quilt
Letter R –
ribbons – make a ribbon wand and dance
rainbow – create a rainbow craft
red – wear the color red
relay races – compete with classmates in relay races
Letter S –
silly – wear something silly
shaving cream – play with shaving cream
Skittles – eat Skittles!
scavenger hunt – go on a scavenger hunt
Letter T –
toy – bring a small toy to school
treasure – go on a treasure hung
tinkering – create with a tinker tray
tie dye – wear tie dye or make tie dye shirts
talent show – invite the kids to show off their talents
Letter U –
USA – wear USA colors
under – read books under a table
upside-down – flip your schedule
unicorns – dress like a unicorn
Letter V –
volcanos – make a play dough volcano
vegetables – bring your favorite vegetable for snack
viola – do a magic show
Letter W –
water – play with water or bring some water balloons
walk – go on a walk
window – decorate your classroom window
weather – learn about the weather
Letter X –
eXtra recess – give them more time to play outside
eXercise – complete fun exercises
eXchange – exchange autographs with classmates
Letter Y –
yummy – enjoy a treat
yo-yos – play with yo-yos
yellow – wear the color yellow
Letter Z –
zoom – zoom off to summer
zoo – learn about zoo animals
zip – zip up your backpacks and head out to summer vacation
If you'd like to download my calendar, just click on the words below:
Make sure to share this calendars with parents so they can help their little ones come to school prepared with any special items they may need.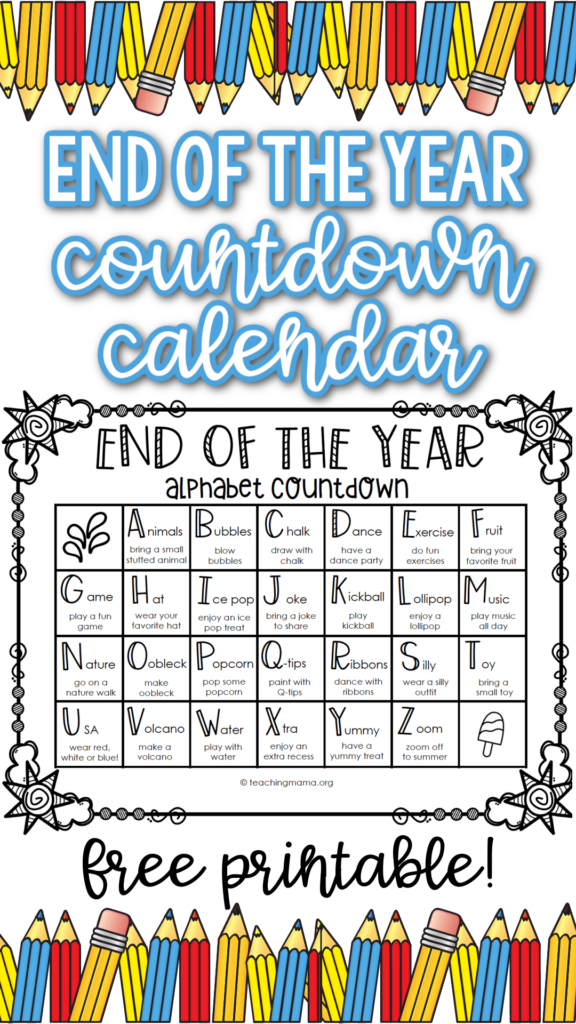 Have fun with this countdown to summer calendar!