Frog Activities for Preschoolers
My preschooler is obsessed with frogs! We talk about frogs all day long! 🙂 So naturally, we've decided to start learning more about them during our home preschool time. These activities have been so fun to do together and we've learned a lot! Today I'm sharing what we've done and some other fabulous frog activities for preschoolers.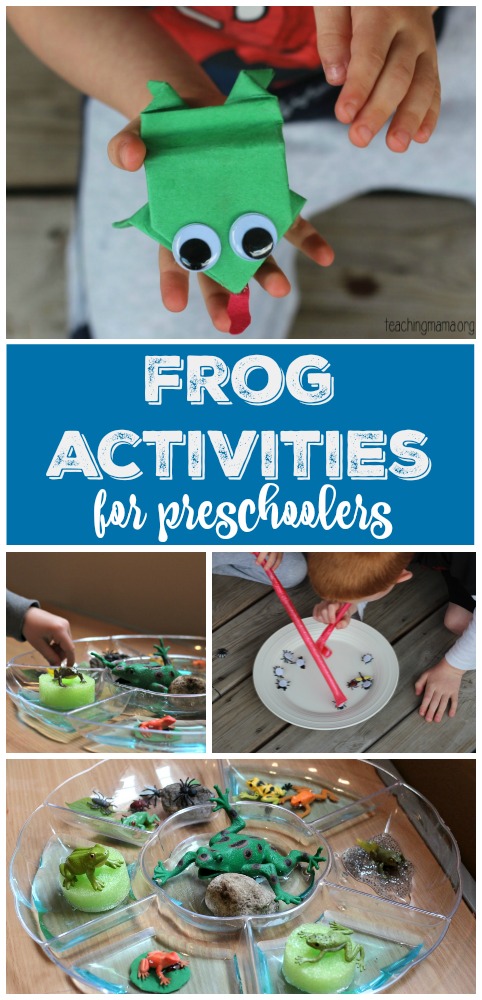 The post contains affiliate links. See my disclosure for details.
To begin our unit, we read some great frog books! Here are some of our nonfiction books about frogs:
Kids learn so much through play. We got out this sensory tray and just had fun playing and using imaginary play. He used what he learned from our books and discussion while playing with the tray! So fun to watch him apply what he's learned. (And I had fun using imaginary play with him!)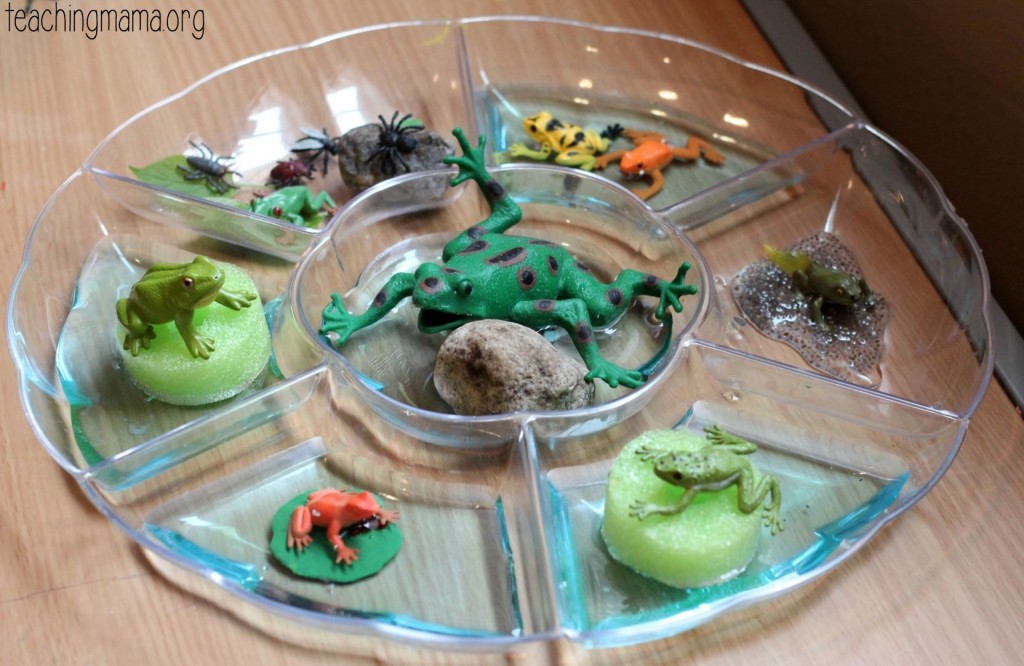 Here's what we used to create the tray:
round plastic tray with sections (found at Hobby Lobby)
chia seeds (that were soaked in water!) to represent frog eggs
rocks
leaves
cut up pool noodles for lily pads
blue water
plastic frogs and tadpoles (We love this frog TOOB!)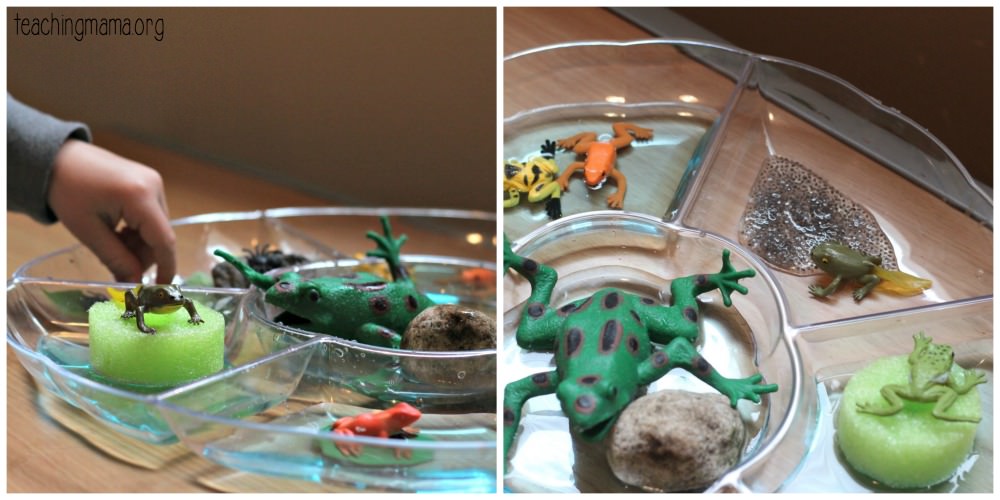 We created a sensory bin for frogs last year, that was so much fun to play with! I love this frog life cycle kit to use with the bin. You can see our bin here.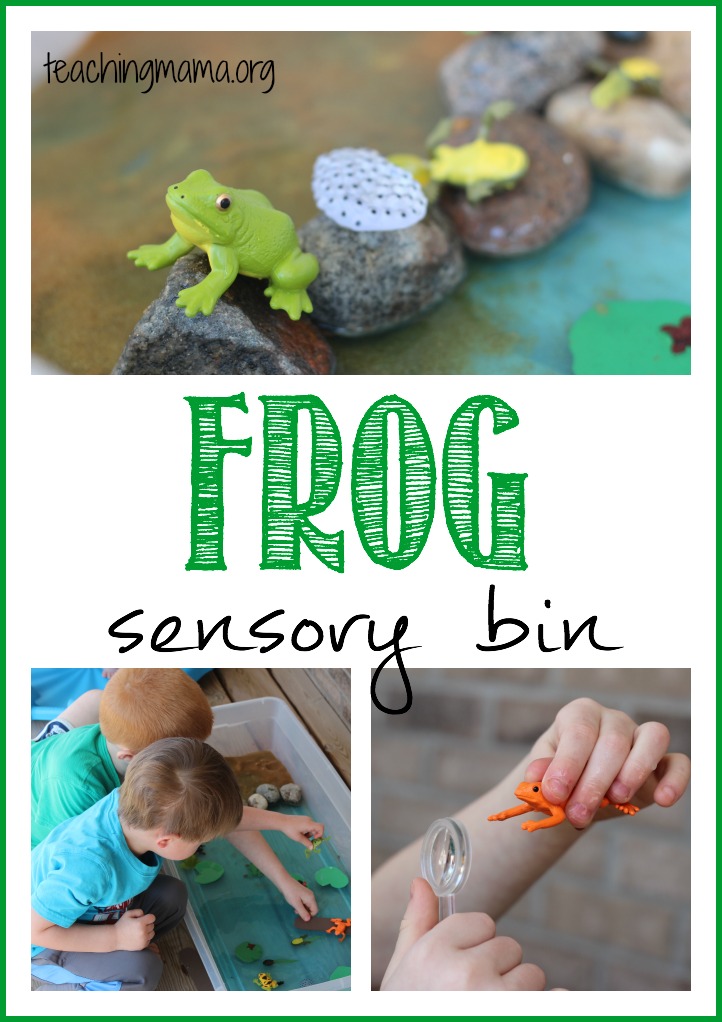 We also made a super cool origami frog! Well, honestly, I made it and he got to play with it and make it jump! I followed this tutorial on YouTube and it worked great! I didn't have origami paper, so we used construction paper and it worked ok. I would have preferred origami paper though!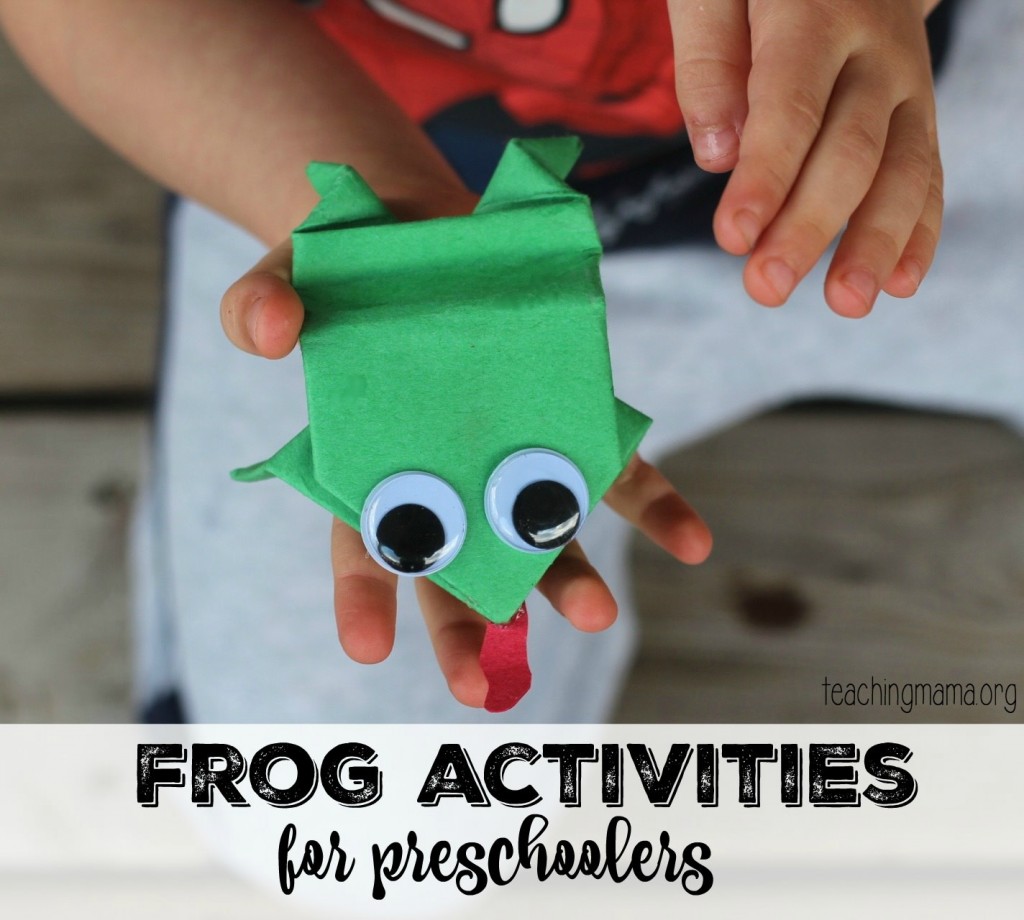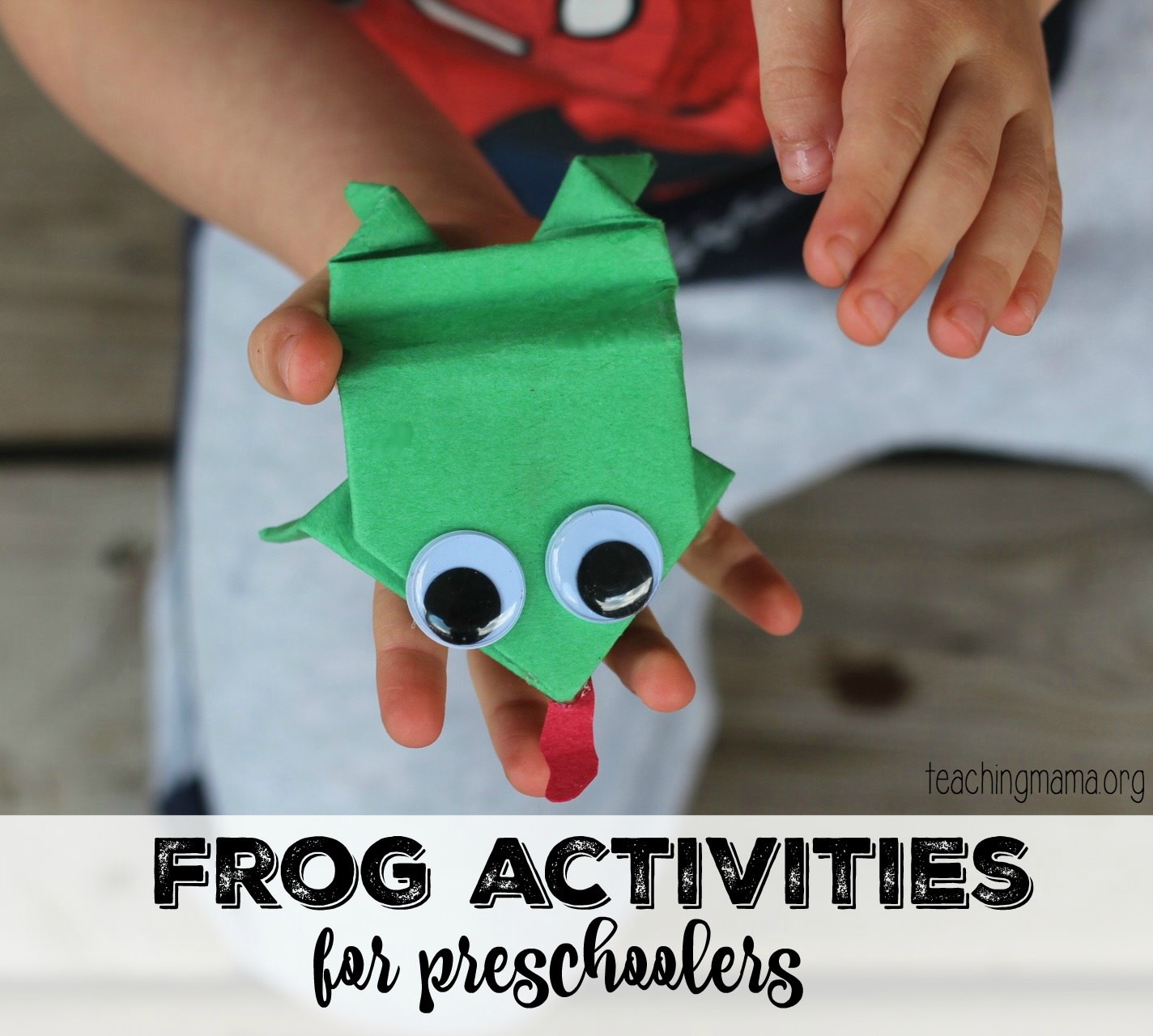 This next activity was my boys' favorite! We did a bug catching game with frog "tongues". To make this, we put velcro sticky tabs on the end of a party blower and more velcro tabs on plastic insects. They kids blew their blower and caught the bugs when the velcro tabs touched. My kids seriously loved this activity! We also talked about how frogs eats lots of insects, like flies, spiders, beetles, grasshoppers, dragonflies and more!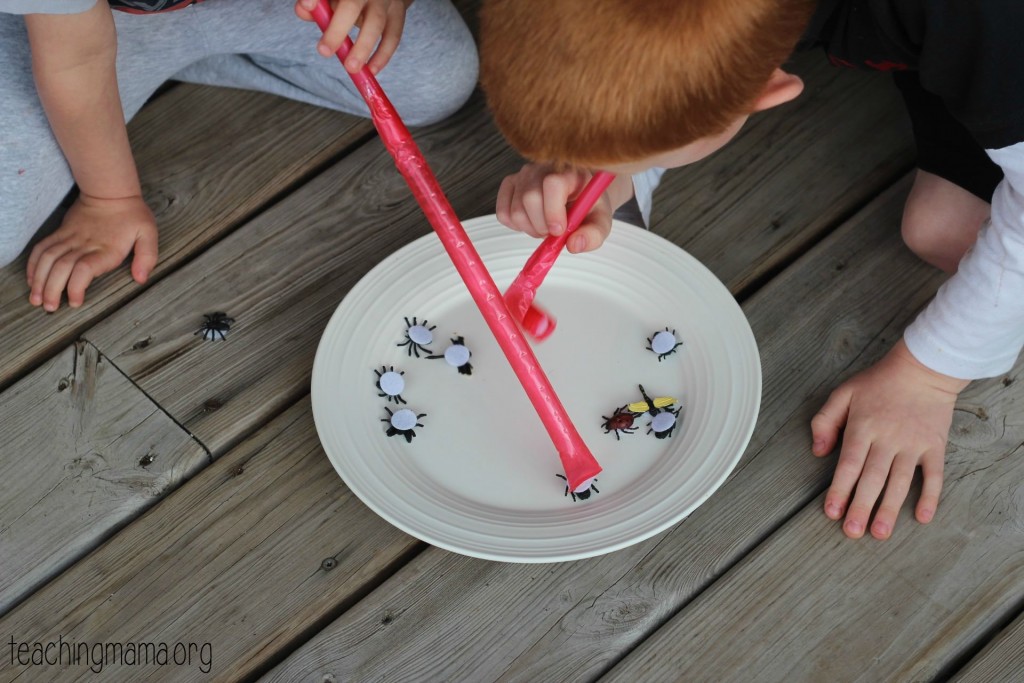 We also did a process art activity. We dipped plastic frogs into paint and stamped them around paper. The goal wasn't to make a masterpiece, but to explore art in a fun way! Wesley was so proud of his rainbow art!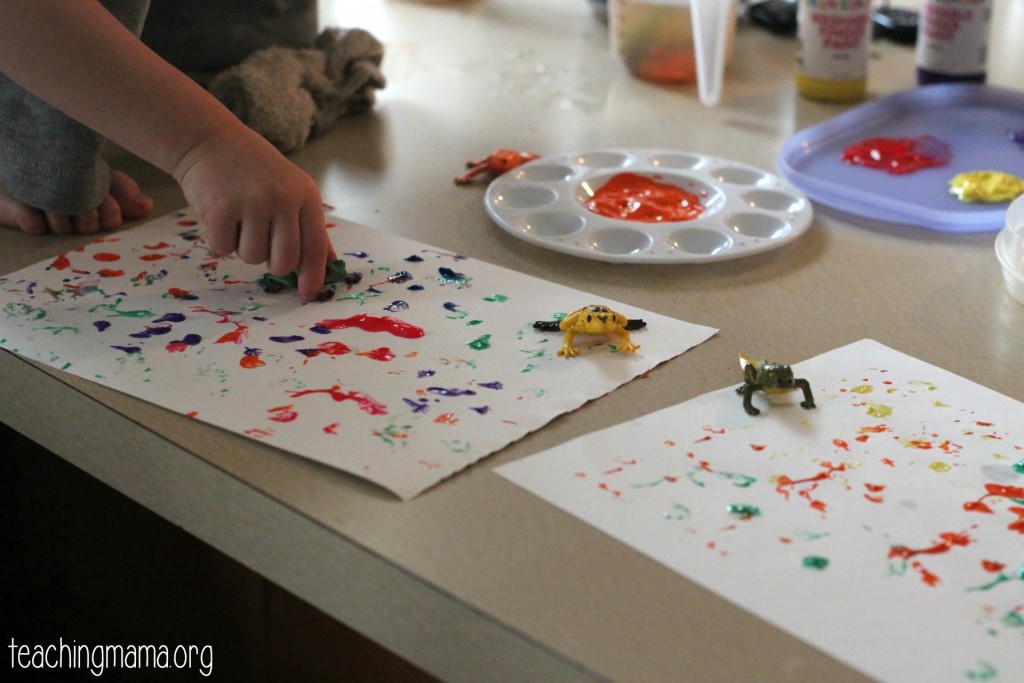 We did more activities, but since we got these ideas from other bloggers, I'll share their links below:
I would LOVE to get tadpoles and watch them grow into frogs! This looks like an awesome tadpole kit!
We'll keep learning about frogs and doing more activities because my little one is so interested! That's what I love about being his teacher at home…we get to learn about topics that interest him!
What other activities to do you have to add to this list?