The Best Way to Garden with Kids
This is a sponsored post written by me on behalf of Miracle-Gro Gro-ables for IZEA. All opinions are 100% mine.
I'm not much of a gardner, but I have a huge appreciation for my mom, who is an amazing gardener. It takes time, dedication, and patience to grow a successful garden. I've always wanted my kids to learn how to garden because they can learn a lot from taking care of a garden. I especially want them to understand how fruits, vegetables, and herbs are grown. I'm very excited I've found the best way to garden with kids. The Gro-ables Project makes gardening so easy and it's a perfect way to introduce kids to gardening.
In the home where we live, there is no space for a garden. That forces us to be a little creative when it comes to planting. Luckily, the 
Gro-ables Project
makes it so easy for us. We can plant these seed pods in planters or patio gardens and they will grow as well as planting them in the ground! We bought 3 small pots to plant herbs in and also a patio garden to plant vegetables in.
Miracle-Gro Gro-ables are seed pods that contain everything you need to grow a fruit, herb, or vegetable. All you do is simply plant the seed pod, water it, and watch the seed grow! I love that each seed pod is guaranteed to grow! When we've planted seeds in the past, many of them don't grow because they are washed away or don't have the proper nutrition to grow. These Miracle-Gro Gro-able seed pods are the best way to grow plants.
To plant the Miracle-Gro Gro-ables, just push the pod into loosened potting mix until the top is level with its surface. Water them daily and in 1-2 weeks, the seed will sprout! On each seed pod, there is a label on top that explains what it will grow, how much time it takes, and where you can grow it. If you lift the label up, you'll find an abundance of information about planting that particular seed pod. I love that it tells you an approximate amount of days for germination and harvest.
These Miracle-Gro Gro-able seed pods are guaranteed to grow! The kids will love watching these plants sprout and eventually turn into fruits and vegetables that they can eat. Such an awesome way to promote good eating, too! Lots of learning took place while we did this garden activity:
We sorted the pods by vegetables, herbs, and fruits.
We learned that plants need potting mix, water, and sunlight.
We saw how easy it is to plant with Miracle-Gro Gro-ables!
We had a blast putting our garden together! It was such a special time for my middle son and I! He is so proud of all the work he did to help create this garden. Can you tell he was happy about this gardening project?
In our patio garden, we planted spinach, lettuce, tomatoes, and cucumbers! Wesley loves all of those vegetables, except tomatoes! I'm hoping he'll learn to love them since we are growing them!
I love herbs, so we also planted cilantro, parsley, and basil! It will be so awesome to use fresh herbs in recipes!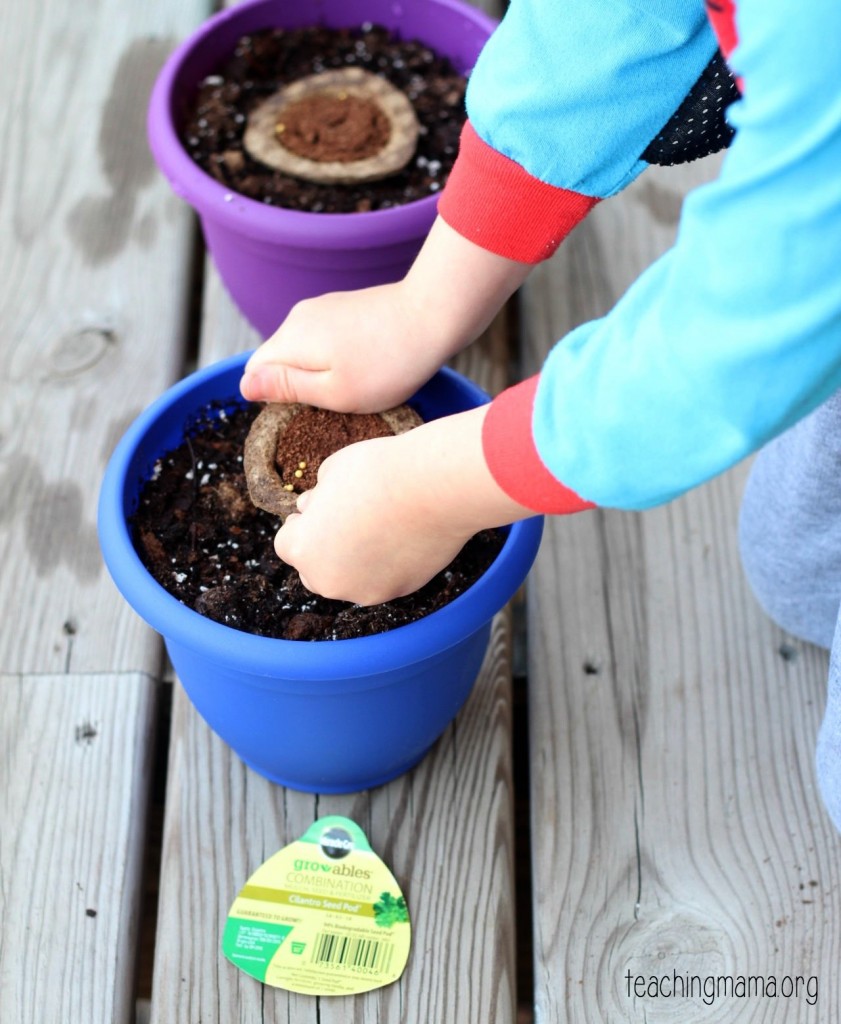 Now we're patiently waiting for our plants to grow! The great news is, they only take 1-2 weeks until we'll see sprouts! Stay tuned for an update, as well as fun kid activities for gardening that I'll be sharing next week!
Check out the Gro-ables Project to learn more about these and to find more garden inspiration! They will make gardening easy for you and fun for your kids! What are your favorite tips for growing plants with children?