Disclosure: I am a blog ambassador for Lakeshore Learning and am compensated for my work. I received product free of charge. As always, my thoughts and opinions are 100% mine.
Summer is just around the corner and we can't wait! We've had a taste of the warm weather lately and it has been glorious! When the weather gets hot, my kids crave playing in water. It's a great way to play and beat the heat. Today I'm sharing some really fun water play activities with you!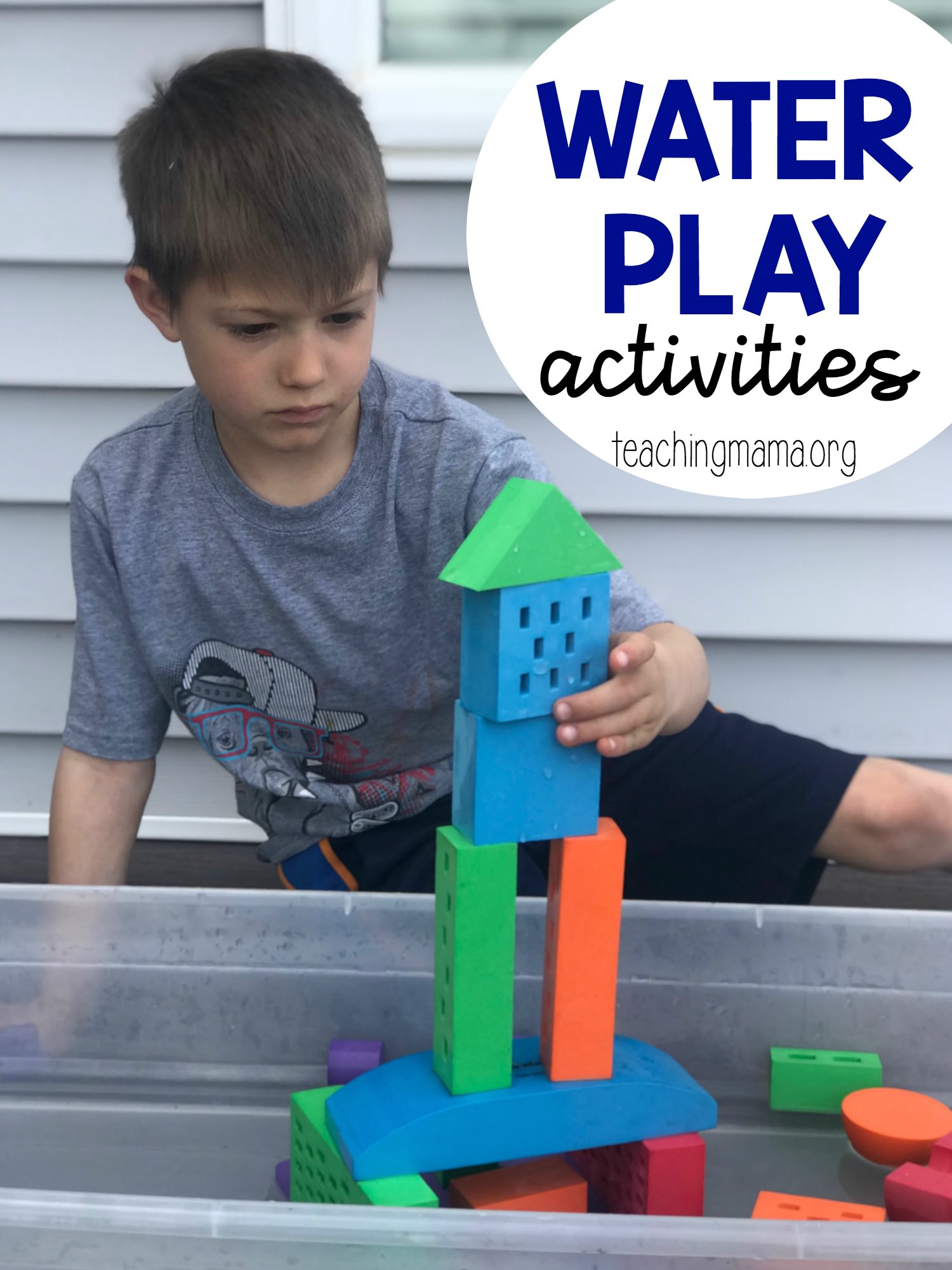 First of all, let me share why water play activities are important. Yes, it's fun for kids, but it's also beneficial for them!
Water play is a great activity for:
sensory play
fine motor development
imaginary play
social skills
hand-eye coordination (using squirt bottles is great for this!)
math concepts (learning estimation, empty vs. full, etc.)
science concepts (sink vs. float, buoyancy, etc.)
My favorite reason to do water play activities is because it's an easy and awesome sensory play activity! Even young babies can play with water (see my easy water activity for babies here.).
There are so many different ways to play with water, so today I'll be sharing some of my favorites.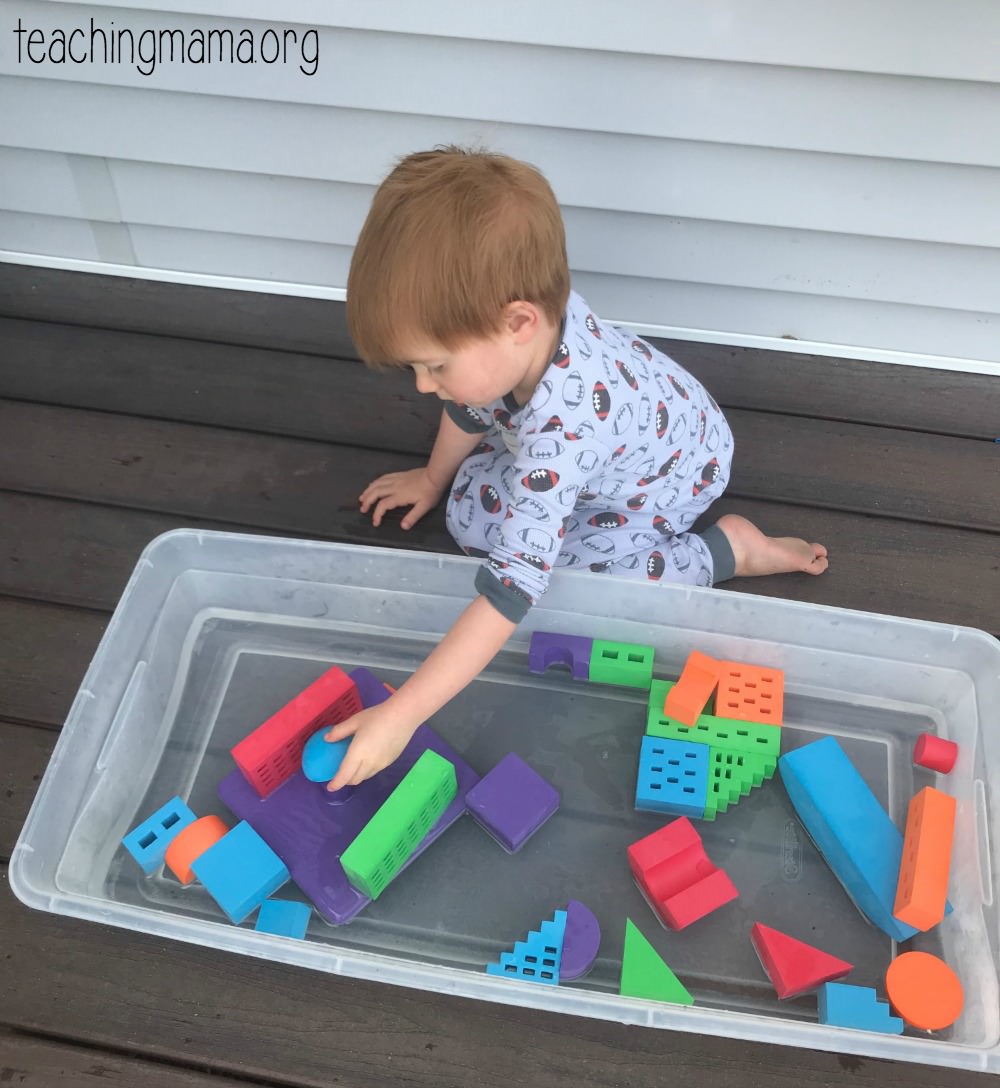 First up are the Design & Build Water Blocks from Lakeshore Learning. These are AWESOME! We've used them in the bath tub and a giant bin of water. They are soft to touch, are in various shapes, and they stick really well to each other!
This is also a great way to sneak in some learning. You could talk about shapes and colors while you play and build. Little ones who love building, will absolutely love these! You can make all types of structures and they sometimes look like buildings. My 3 and 6 year old boys really enjoy playing with these floating water blocks.
Next up are the Float and Find Alphabet Bubbles. These are amazing! My favorite thing about them is that it makes learning the alphabet fun. One side contains the uppercase and lowercase letter. The other side of the bubble is a picture that begins with that letter.
You could just invite your child to play with them on their own or you could do some teaching with them. We like to add a little net into our play. I'll ask my 3-year-old to find a letter and then he'll look for it and scoop it up. Or I'll have him scoop up whatever bubble he wants and then he tells me the alphabet name and what the picture it. Sometimes he picks up lots of bubbles!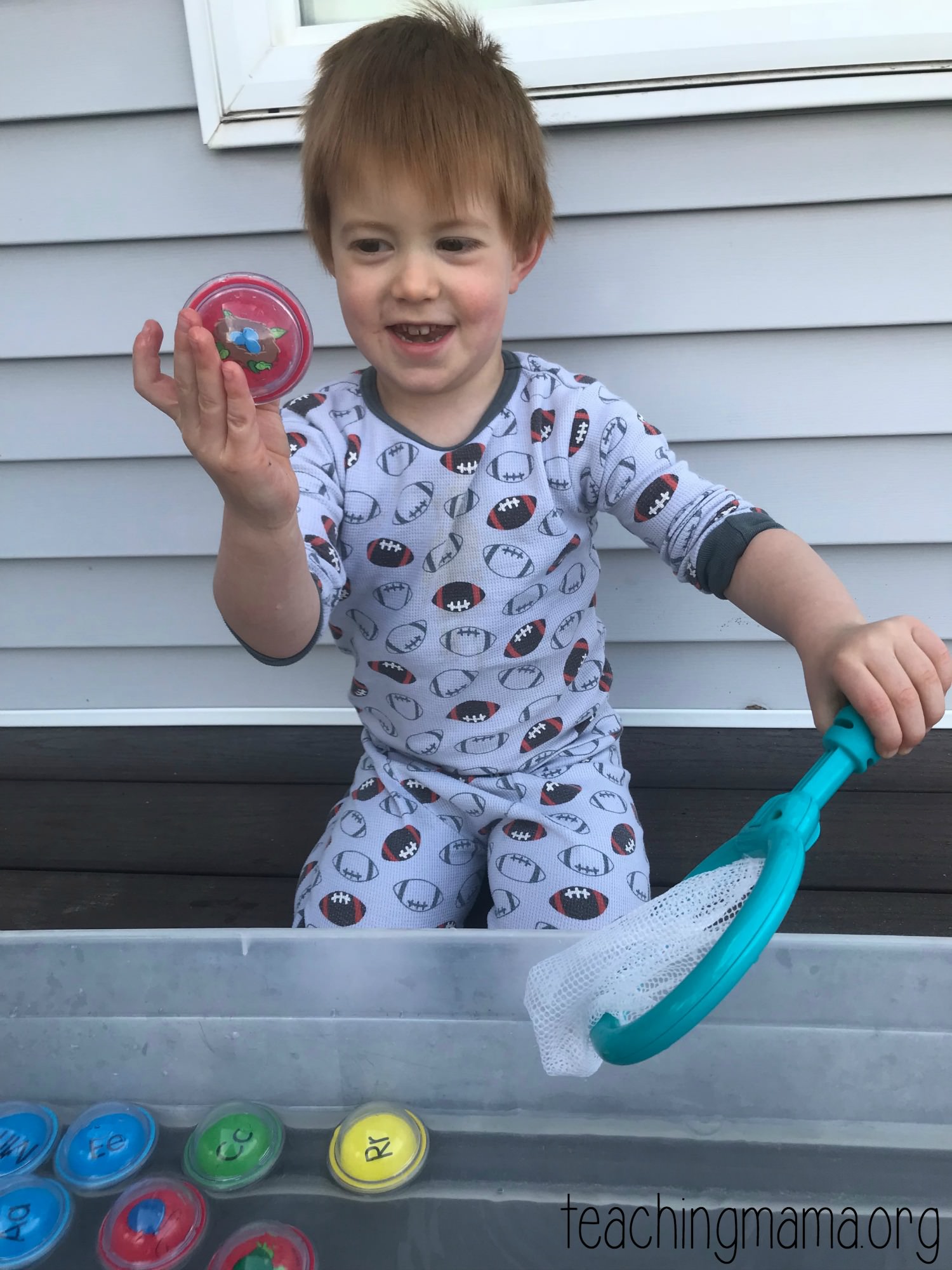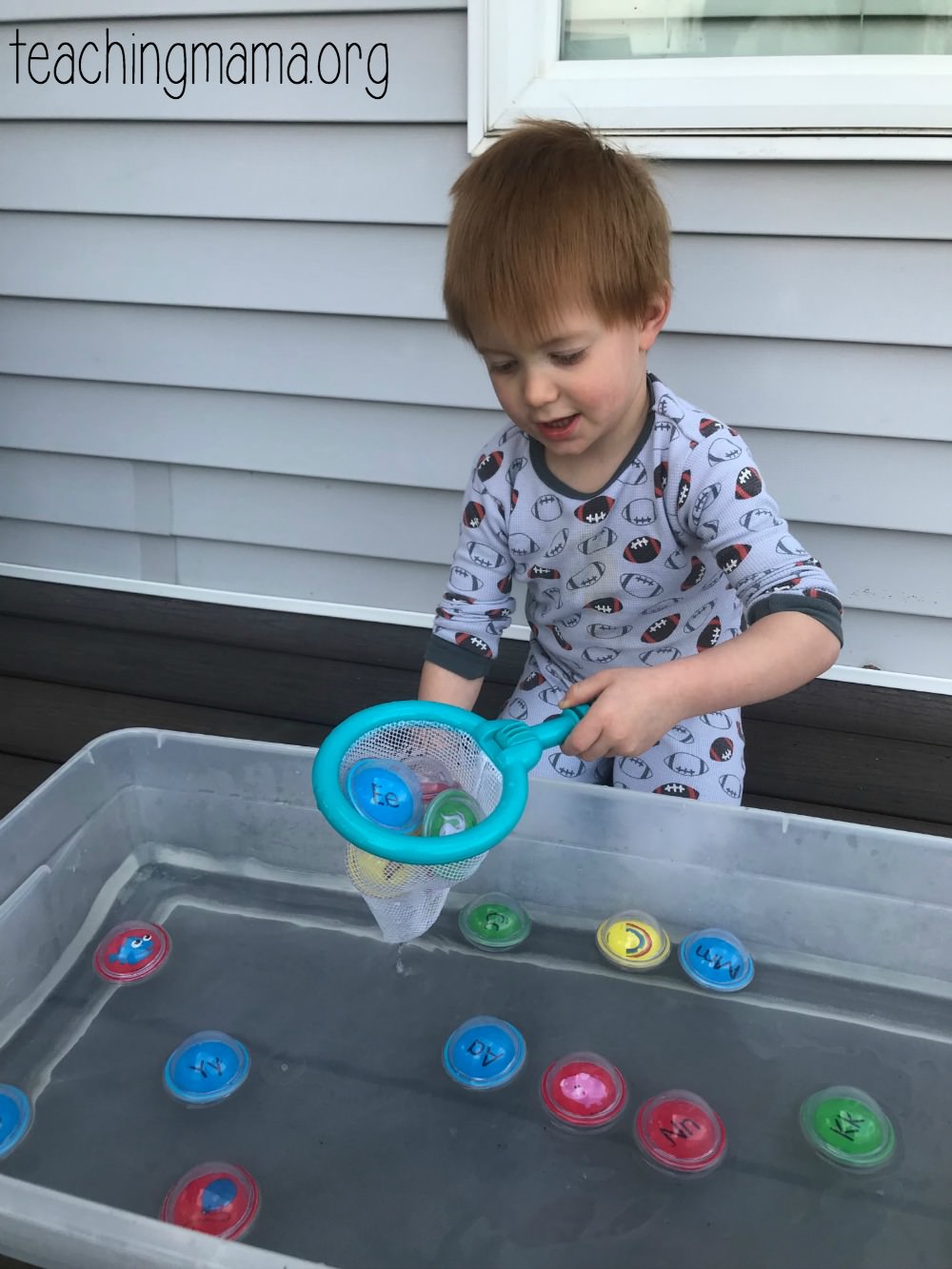 Both of the products I shared are from Lakeshore Learning. I am a blog ambassador with them, which means I do get sent free product and I promote them. However, I want to be transparent with you and tell you that Lakeshore is honestly a favorite brand of ours. All of their products are designed by former teachers and all their toys are high quality.
Lakeshore has generously shared a coupon code for you all. If you would like to receive 25% off a single nonsale item, just click here to get the coupon code.
---
More Water Play Ideas
We love playing with our pool noodle water wall. It was really easy to make and we've played with it for years. All you need is a pool noodle, zip ties, and a peg board. It's so fun! Check out all the details on this post.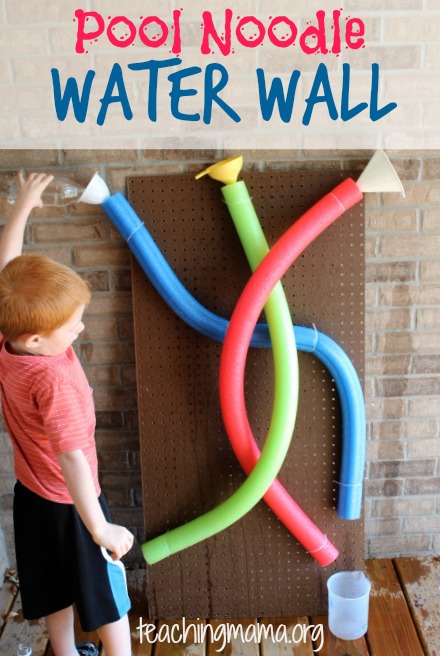 Painting with water is the easiest activity! It really does keep kids busy. My favorite way is dipping a roller brush in water and then "painting" the sidewalk.
Using quirt guns to knock down plastic cups is one of my boys' favorite summer activities. They love it! (You can see more about it here.)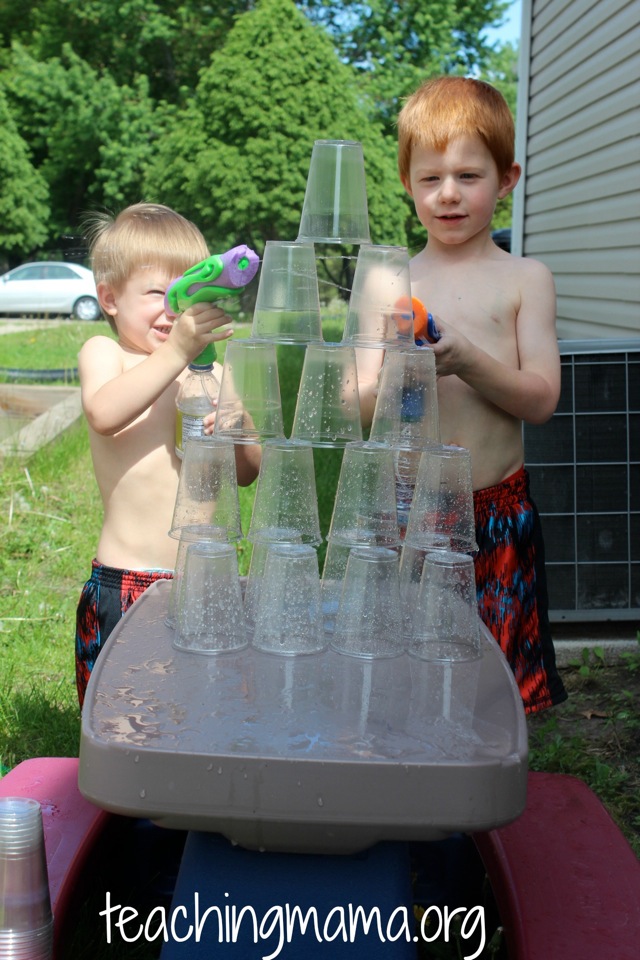 There are 5 simple ways to play with water this post.
What ideas do you have for water play?