Hey friends! I have a neat activity to share today that will keep kids busy all summer long! I call it our Pool Noodle Water Wall! It is so much fun and I know your kids will absolutely love it!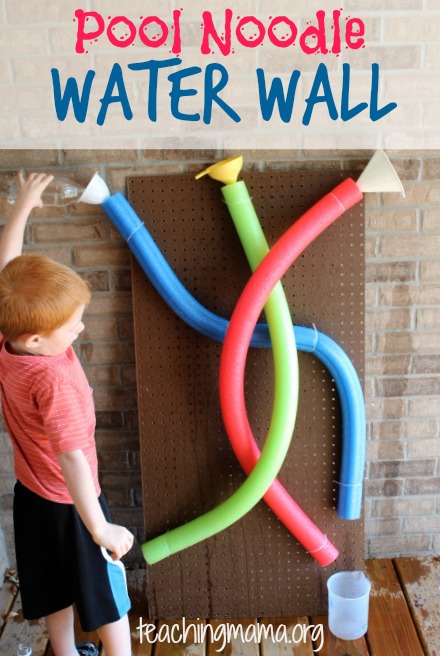 To make this water wall, you will need just 3 supplies:
3 or more pool noodles (ours are from The Dollar Tree)
zip ties
peg board (we got ours at Lowe's for around $6)
You can create your pool noodle water wall however you'd like! Feel free to follow the pattern we did or just make up your own. Once you've decided how you want the pool noodles to go on the pegboard, just use zip ties to attach the noodles to the board.
I suggest having another adult help you make this. My sweet hubby tied on all the zip ties, while I held the noodles in place. 🙂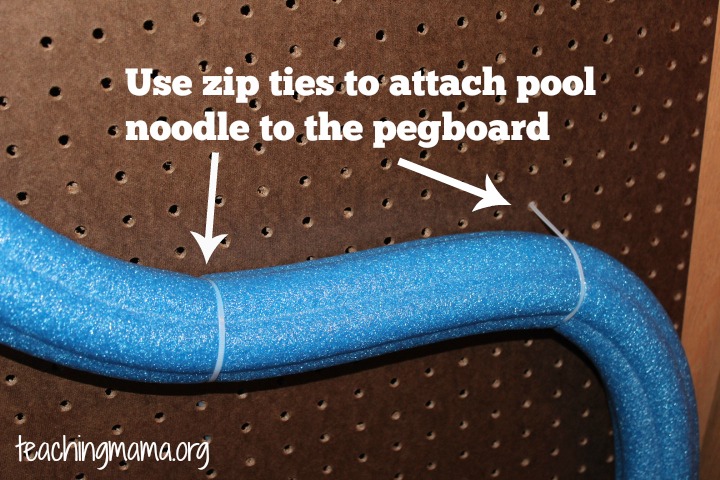 To make it easier to pour water into, you can add funnels to the top of each pool noodle. Then just take your water wall outside and start pouring in water! Your kids will love pouring in water and seeing it shoot out the bottom!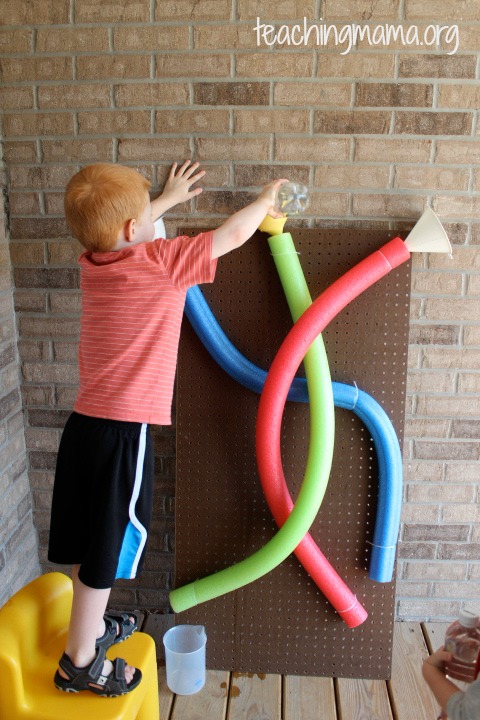 Now how fun would this be on a hot summer day?! It's a great way to cool off!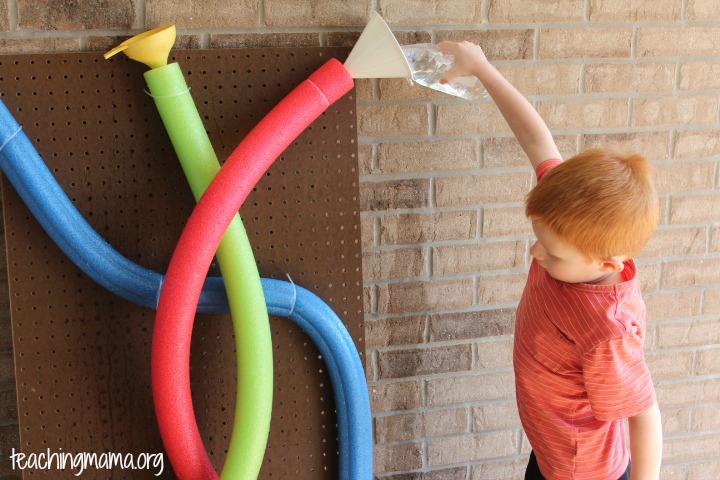 You can also try to hold your hand at the bottom of the pool noodle and then let go to see the water rush out! That would also be a great mini-lesson on water pressure.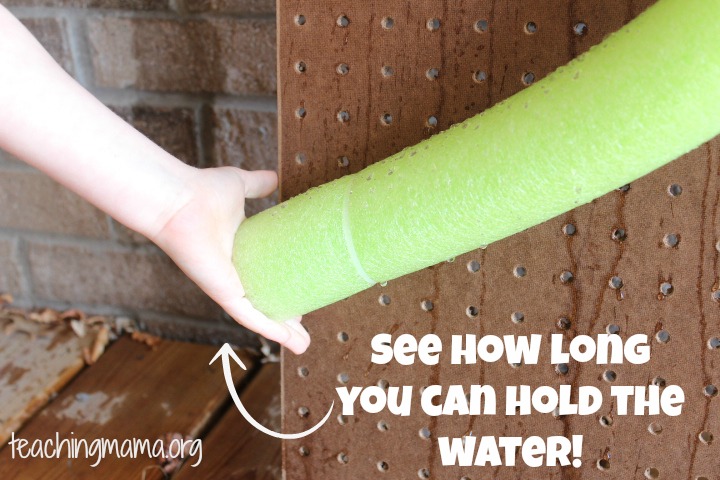 If it's too cold to play outside, then you can turn the pool noodle water wall into a marble racer! Just simple place marbles at the top of the noodle and watch how fast they travel to the bottom. My toddler REALLY loved this activity. (Please use discretion and do not allow your child to do this if they put small objects in their mouth and please supervise!)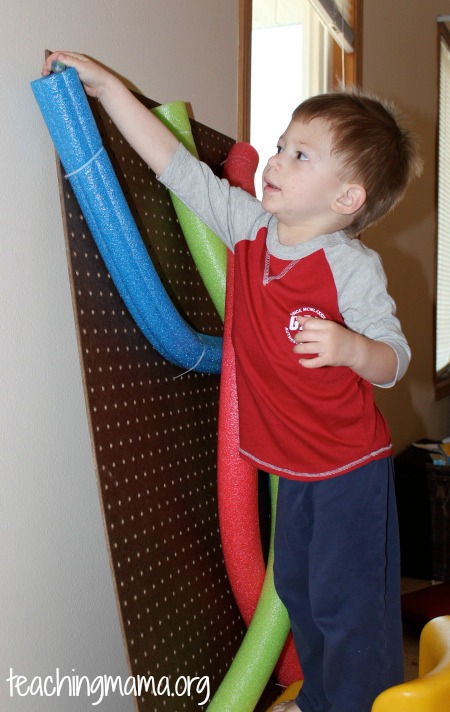 He watched them race over and over and over again.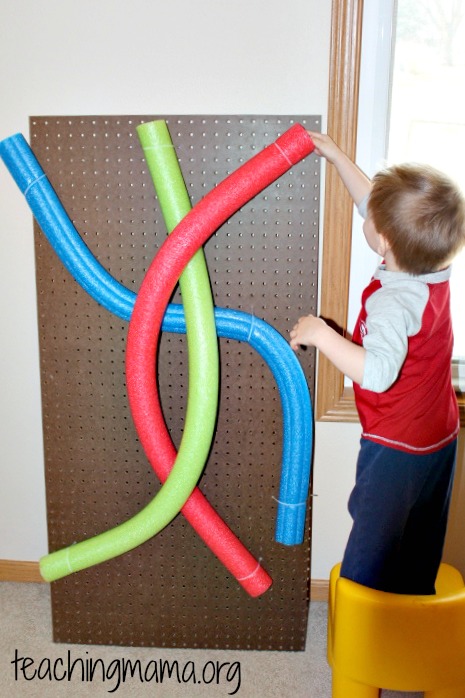 You could also have marble races with a sibling or friend to see which marble travels faster!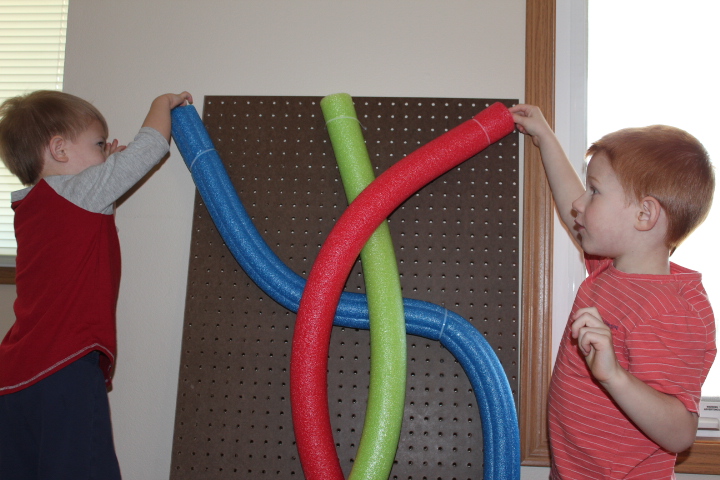 We just love our pool noodle board! It kind of reminds me of a glorified version of the pom pom drop activity! So, will you be trying this activity out? Please let me know if you do!