I have a love affair for all things rainbows. Colors bring me so much happiness (especially during the gloomy days of winter!) I also love incorporating a rainbow theme in my preschool classroom. I always make sure we add our rainbow moldable sand to our sensory table. It's a big hit!
This rainbow moldable sand feels AMAZING! It's soft, squishy, moldable, and beautiful to look at! We played with this sand for hours.
What is Rainbow Moldable Sand?
This moldable sand is very similar to kinetic sand. Children can hold the sand, squish it together, form balls, and just play with it. Kinetic sand is amazing, but it's also expensive. You can make your own sensory bin filler for a more affordable price.
Educational Benefits
Kids love playing with this rainbow sensory sand, but it's also a great learning experience.
Rainbow moldable sand invites children to…
express themselves creatively and use imagination to play.
build strength in hands for fine motor skills by squeezing and molding the sand
work together with friends to develop social skills and problem solving skills.
practice language skills while playing with this sensory material. They use words to describe the sand, such as smooth, cold, or squishy.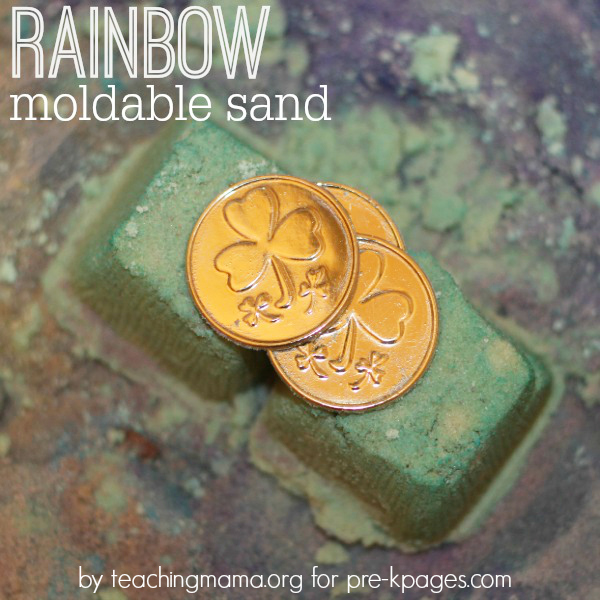 Rainbow Moldable Sand Materials
To make rainbow moldable sand, you will need these materials:
5 cups of fine sand
3 teaspoons of tempera powder paint (or food coloring)
1.5 cups of corn starch
1/2 teaspoon of dish soap
1 cup of water
large bin
Steps to Making the Moldable Sand
Combine the sand with the tempera powder paint. Mix in the corn starch. Next, add the 1/2 teaspoon of dish soap with the water.
Slowly mix in the water with the sand mixture. The sand should feel slightly wet and you should be able to easily mold it into shapes.
If it feels too dry, add in some more water.
Repeat the steps to make more colors.
St. Patrick's Day Idea
After making the sand, place it in a large bin. Add some gold coins to make this a St. Patrick's Day sensory play activity.
One way to play with the sand is to invite the children to dig and search for the gold coins in the sand.
Invite them to use this printable with a ten frame template. The ten-frame is a great way for children to practice counting and visualize quantities with gold coins.
Rainbow Sand for Sensory Play
This sand is similar to kinetic sand, but is very affordable and easy to make. It feels very soft and easily molds into shapes.
Kids love playing with this sensory material because it feels so wonderful in their hands.
Frequently Asked Questions
Can I reuse the sand?
Yes! Just store it in an airtight container. The sand may become a little dry, so spritz in some water to make it moist again.
How long does the sand last?
This will last for 1-2 months when stored properly.
Is this safe to vacuum?
If some of the sand falls on the floor, I recommend scooping up the big pieces and then vacuuming the rest. You could also try doing this activity outdoors.
Is this a messy activity?
It is somewhat messy. The sand should stick together, similar to kinetic sand, but some sand may get on your child's hand.
This activity is a great way to learn through playing! I hope you'll try it out!