Addition Game with Gold Coins
Do your kids like to play games? Mine sure do! Anytime we get a game out, they can't wait to play.
The game I'm sharing with you today practices addition skills. This game is perfect for preschoolers or kindergarteners who are starting to learn addition facts.
In this addition game, children will look at an addition equation, place the coins in the box, and then count the coins to figure out the sum.
This activity helps kids practice the following skills:
counting
number recognition
finding the sum
This is a very basic addition game. My preschooler only knows a few basic addition facts, so this game helped explain what it means to add and helped him practice counting. In this game, the sum does not exceed ten.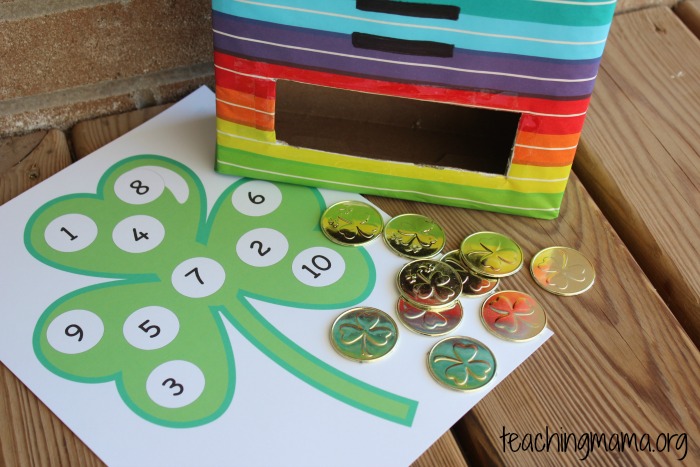 Here's what you need for this activity:
empty cereal box
scissors
tape
rainbow tissue paper (mine is from Hobby Lobby)
plastic gold coins (found at Hobby Lobby or Dollar Store)
To set up this activity, wrap the tissue paper around the cereal box. (I covered mine with white paper so the words wouldn't show through.) Then cut two rectangular spaces at the top and one large rectangle at the bottom. Use a black marker to write the addition sign and equal sign.
To play the game, draw an addition fact card.
Place the coins inside the box according to the card. For example, if you have the card 2 + 6, you will put 2 coins in the first slot and 6 coins in the second slot.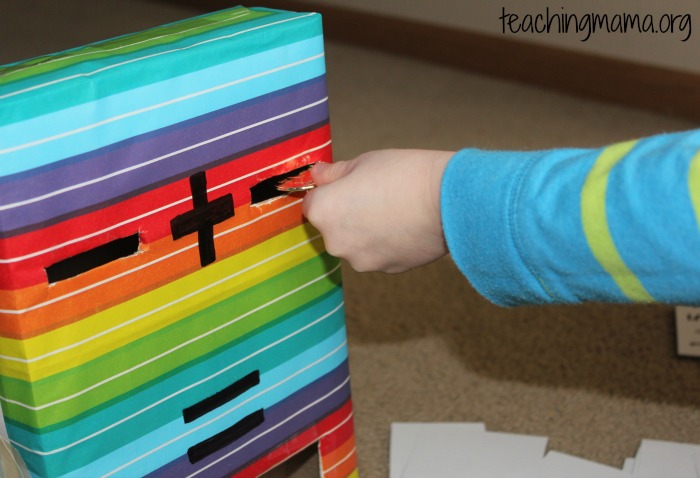 The coins will drop to the bottom. Have your child count how many gold coins there are for the sum.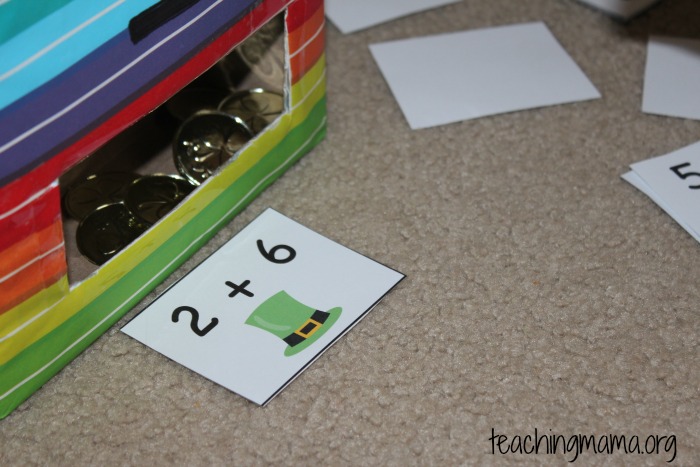 After you find the sum, look at the shamrock sheet and place a mark on that number.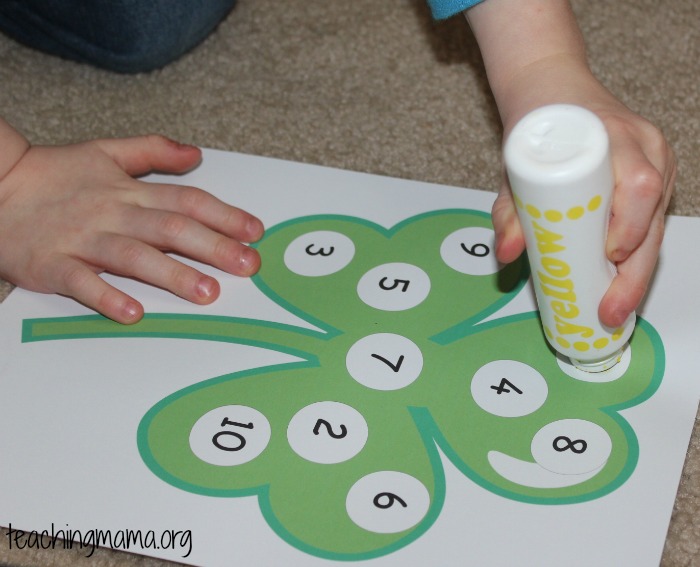 Continue playing the game until all the numbers are covered. There are some cards that have the same number for a sum. If that number is already covered on your shamrock sheet, just draw another card and continue playing.
You can also play this game in pairs and have a race to cover all the numbers.
My oldest had a ball playing this game. He kept telling his little brother that this was the best game EVER! Now that sure makes mama smile 🙂