Today we have our last guest post for my "maternity" leave time. 🙂 Betsy, from BPhotoArt.com, is here sharing some easy activities for car rides! Betsy has a great photography site, as well as a blog where she shares hands-on learning ideas. Thanks for being here, Betsy!
---
Traveling by car (or van, truck, etc) is a necessity for many of us. We use vehicles to travel to appointments, do errands, get to school and the like. And sometimes it's a struggle to keep little ones contented during those many car rides. So, with that in mind, I want to share 8 ideas for activities you can do in the car with your child — activities that don't take much planning or preparation… always a bonus!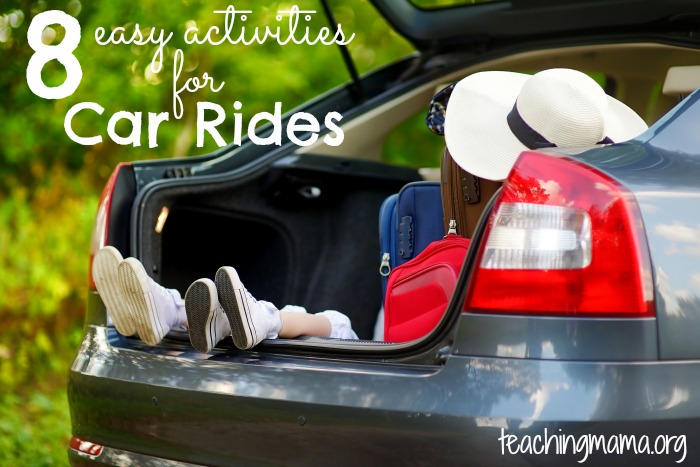 Talk about the other vehicles we see. When driving to preschool or on our way to do errands, my toddler is bound to spot and point out a cement truck, construction vehicles, or even a tow truck. We talk about what these trucks are doing, where they are going, and I always encourage him to use his imagination. "What do you think that tanker truck is carrying?" yields a response only a creative mind could dream up. Milk, orange juice, or kombucha are some of the more "normal" answers. I like just talking with my son about these things, because there is no right answer. He doesn't have to search for the "correct" response, his imagination can be used. It has been a great conversation starter.
Let your child be your navigator. While it's usually not practical to give kids complete control of where we drive, there are usually multiple ways to get to the same place. I sometimes ask my son, "should we go highway or back roads?" He loves being in control, and I'm happy to make the sacrifice of a few extra minutes driving for the peace this activity brings.
Help watch for deer. I don't know about where you live, but in our neck of the woods, it's important to watch for deer crossing the road. My son has learned to "help" watch for deer. While I usually spot them and point them out to my toddler, this is an easy "I spy" game that will keep a child entertained for quite some time.
Look for airplanes. Living within an hour of an airport has its perks. We see a lot of airplanes. So it's fun for my son to peer out the window, scanning the sky for jet trails or planes that might otherwise go unnoticed. If he spots one, we talk about what kind of plane it is (prop plane, jet plane)… and sometimes it's a helicopter (so we talk about why those are louder).
Create a mobile library. I found a stash of miniature children's books that have taken up residence in our car. They are stored within arm's reach of the carseat, so my son can pick up a book and read to his heart's content.
Red light, green light. Ok, so I don't recommend playing the game as you learned in gym class, but what child doesn't like to look for traffic lights? I know mine does. We talk about the different color lights and what they mean. I ask him to help me out and let me know when the light turns. This is a lot of fun for him, even if it's not ultimately necessary.
Make it a race. Now that we have two boys, I help my toddler be excited about getting into the car by having everyone "race" to get buckled. Our car loading routine looks like this: open door for toddler, deposit bags and buckle in baby while toddler gets halfway buckled. I then go back around and get the final buckle clicked for my toddler (this one doesn't "count" .. if he gets the other parts, he wins). On our arrival, I will sometimes unbuckle him and see how quickly he can get himself out of the car and into the house. Make it a game.. find fun in a repetitive task!
Special songs. We have a special set of songs that is listened to during car rides only. My son loves this and will frequently ask for his "special songs." Sometimes when we're listening, conversations will be started based on the lyrics. Maybe it's a vocabulary question, or the lyrics prompted another series of thoughts. But I have enjoyed music as a conversation starter.
I'm sure I'll come up with more great (and easy) ideas as my toddler gets used to these activities and wants to try something "new." But that's the fun of it, right? What ideas do you have for car activities? I'd love to expand my repertoire.
---
Betsy Finn is an award-winning portrait and fine art photographer. She lives in Michigan with her husband, two boys, and two cats. On her site, Betsy's Photography, Betsy covers topics of interest for families, including thoughts on parenting, craft ideas, capturing memories, and photography.