The Jungle JumpaRoo – a Fun Way to Get Active!
Disclosure: This post contains affiliate links.
Hey, hey! It has been a while since I've posted on my blog. We moved to a new house and our internet provider STILL hasn't set up our service! Apparently they need to build something new in order for our house to get wifi. So my blog posts have been few the past three weeks!
I wanted to share with you our absolute FAVORITE toy right now. I don't even know if you would call it a toy, but it's something my kids play on all the time. We received the Jungle JumpaRoo as a gift last Christmas. My in-laws bought it for us in place of lots of little presents for my kids. I was a little skeptical about it. I mean, I thought my kids might get bored and not want to play on it. But, the opposite happened. My kids absolutely LOVE it. They play on it multiple times a day and they do NOT get tired of it. I have three high-energy boys, ages 2, 5, and 7. This JumpaRoo is the perfect way for them to blow off steam and release their never-ending energy.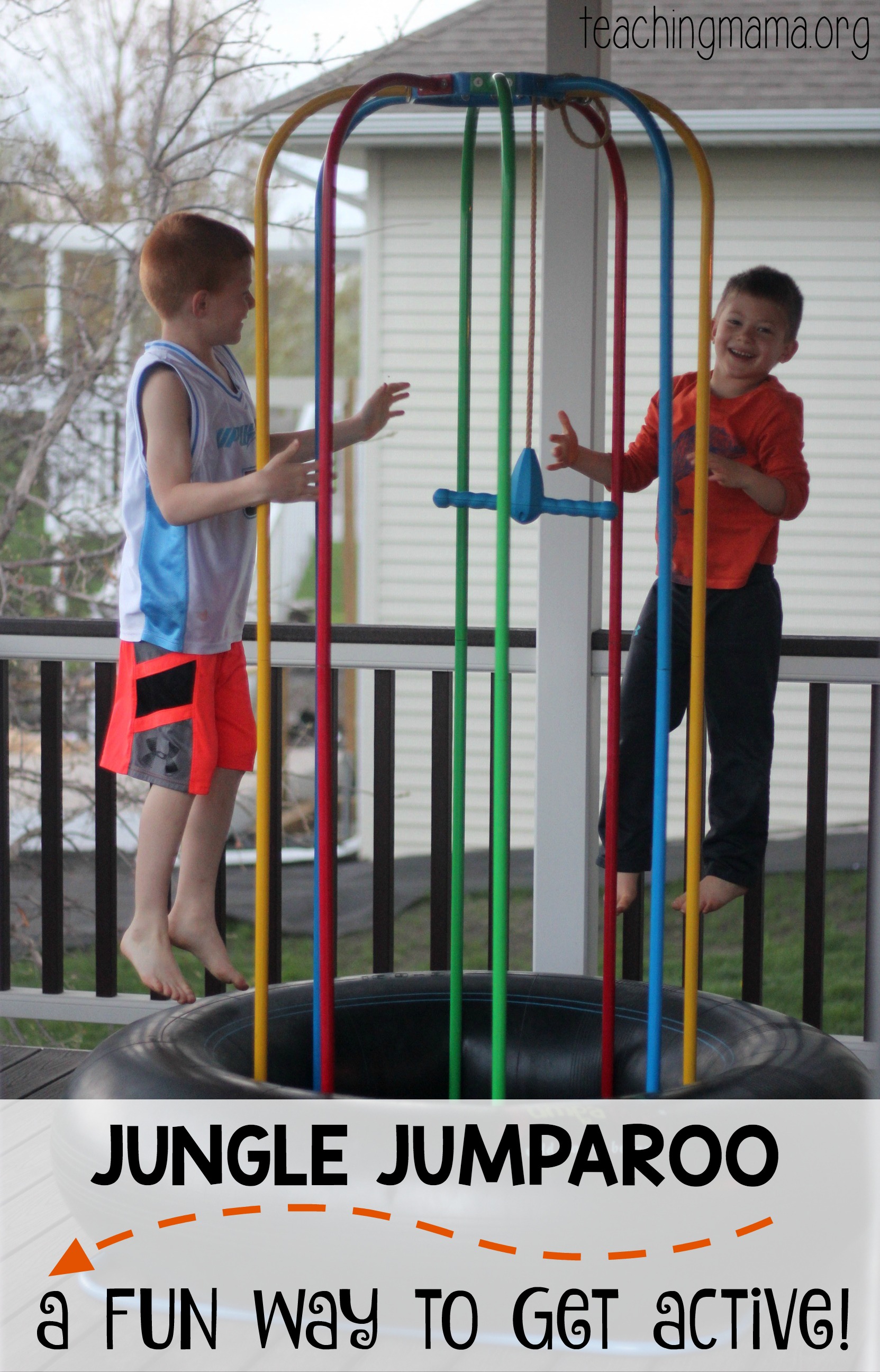 So what exactly is the Jungle JumpaRoo?
It's basically a trampoline, but it's safer and smaller. It is a giant inner tube kids can bounce on while holding onto colorful and sturdy rails. They can climb to the top, swing through the bars, twirl in the middle, play with stuffed animals or balls in the middle, make a fort with it, and much more!
Here's what I love about the Jungle Jumparoo:
It's a blast to play on! Seriously, I even enjoy jumping on it with the kids.
This is a great way to release energy! Do your kids have a lot of energy like mine? THIS is such a great way for them to play and let it all out!
It's an amazing way to exercise. You hear all the time that kids aren't getting active enough these days. The Jungle JumpaRoo makes is super fun to get active. Check out this site to see all the health benefits.
It's versatile. Like I mentioned above, there are so many ways to play with it. We bought the rope swing for the middle and my kids love it. They mostly spin and twirl on it. My two-year-old really enjoys putting his stuffed animals in the middle the jumping onto them.
It's is very good quality. We've had no problems with it and it's very heavy-duty. I was worried it might lift off the ground when the kids jumped on it, but it doesn't at all.
A lot of kids can jump on it at once! We've had 5 kids on it at one time and I know that it goes up to 8 kids!
There are two sizes. We own the large on, but there is a mini one available, too.
You can play on it indoors our outdoors! We've had ours in our basement during the winter and just brought it outdoors to our porch for the spring and summer. We also bought a sprinkler to put on top the try out this summer. The kids are excited!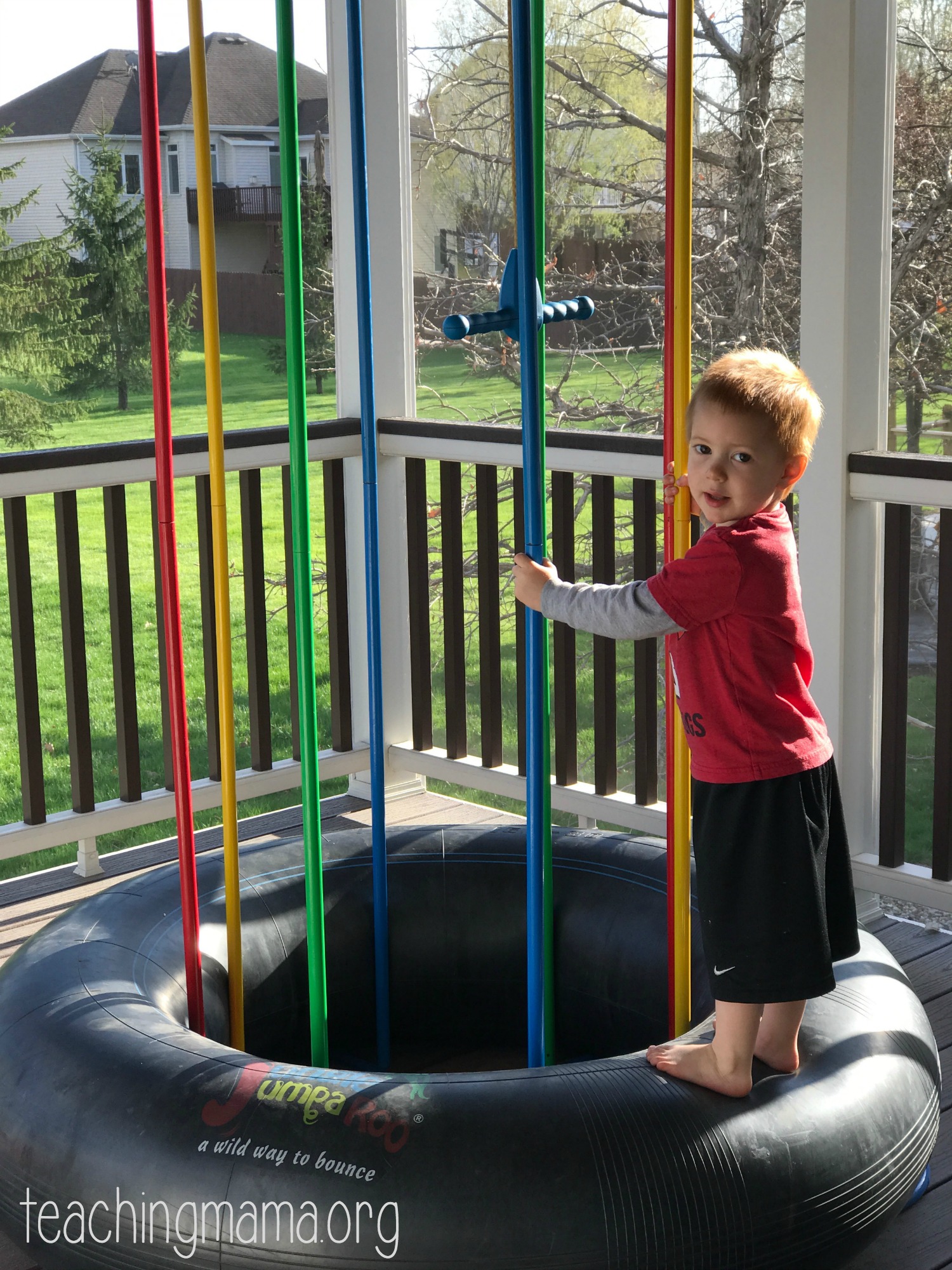 I only have one con…the price. It is not cheap. I understand that it may not be in the budget. This would make an awesome gift! To make it more affordable, I've partnered with Jungle JumpaRoo to give you an exclusive coupon code! If you use TEACHINGMAMA50 during checkout, you'll get $50 off of your JumpaRoo! I hope you take advantage of this great coupon! I truly think this JumpaRoo is worth every penny. You can purchase it here.
Watch my kids in action!
Do you have a JumpaRoo yet? I'd love to hear what you think!