I can't believe we are nearing the end of June! Many of you have used my June Activity Calendar, so I'm back to share my activity calendar for July! If you're like us, you enjoy having fun activities to do each day with your children. We don't get to do an activity every single day, but it does help to have a calendar to follow. Hope you enjoy it, too!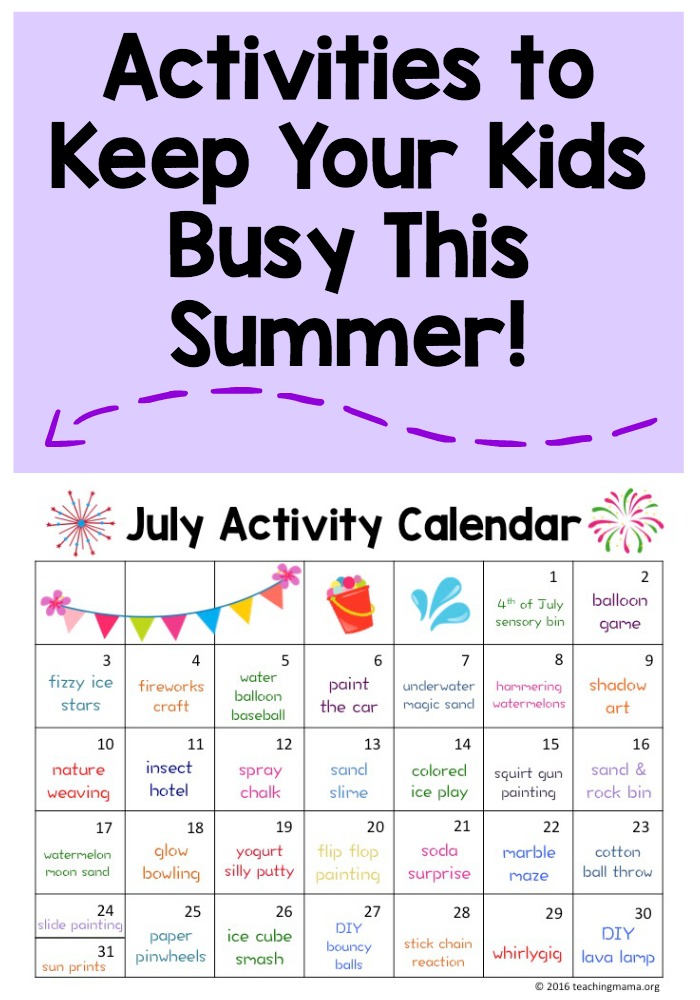 July 1- 4th of July Sensory Bin
July 2- Balloon Game
July 3- Fizzy Ice Stars
July 4- Fireworks Craft
July 5- Water Balloon Baseball
July 6- Paint the Car
July 7- Underwater Magic Sand
July 8- Hammering Watermelons
July 9- Shadow Art
July 10- Nature Weaving
July 11- Insect Hotel
July 12- Spray Chalk
July 13- Sand Slime
July 14- Colored Ice Play
July 15- Squirt Gun Painting
July 16- Sand & Rock Bin
July 17- Watermelon Moon Sand
July 18- Glow Bowling
July 19- Yogurt Silly Putty
July 20- Flip Flop Painting
July 21- Soda Surprise
July 22- Marble Maze
July 23- Cotton Ball Throw
July 24- Slide Painting
July 25- Paper Pinwheels
July 26- Ice Cube Smash
July 27- DIY Bouncy Balls
July 28- Stick Chain Reaction
July 29- Whirlygig
July 30- DIY Lava Lamp
July 31- Sun Prints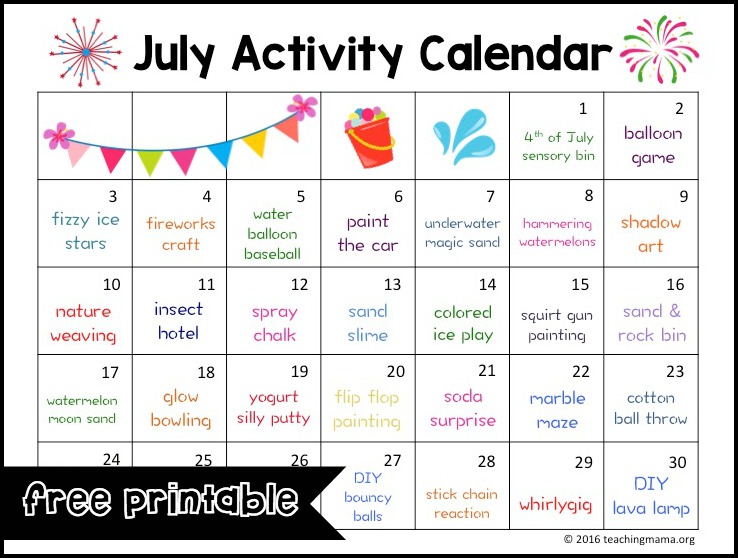 I hope you'll try these activities, too! You can download your free activity calendar here –> July Activity Calendar
(There are clickable links on the calendar to take you to all the activities.)
I'll be creating these calendars for August, so stay tuned! Happy Playing!