Summer vacation is almost here! We are so excited for more relaxed schedules and lots of sunshine! Because the days can drag on when we don't have a lot going on, I've decided to make it a priority to do lots of fun and memorable activities with my boys. I've planned out exciting activities for each day in the month of June. Planning is key when it comes to doing activities!
Here's what we have planned for the month of June:
June 1- Bubble Snakes
June 2- Broom Painting
June 3- Ice Excavation
June 4- Soap Boats
June 5- Water Balloons – these water balloons tie themselves and make it so much easier! (affiliate link)
June 6- Jungle Slime
June 7- Soap Foam Sidewalk Paint
June 8- Mud Pie
June 9-Tie Dye
June 10- DIY Kites
June 11- Giant Bubbles
June 12- Pendulum Painting
June 13- Water Bombs
June 14- Strawberry Play Dough
June 15- Sidewalk Paint (scroll to the end of the post to see the recipe! It's basically 1 part water and 1 part cornstarch and food coloring.)
June 16- Squirt Gun Painting 
June 17- Balloon Tennis
June 18- Painting Rocks
June 19- Clean Mud
June 20- Skittles Finger Paint
June 21- Paint Bombs
June 22- Swing Painting
June 23- Water Wall
June 24- Jell-O Soap Foam
June 25- Sidewalk Squirt Paint
June 26- Paint with Water
June 27- Nature Hunt
June 28- DIY Kinetic Sand
June 29- Painting Noodles
June 30- Water Blob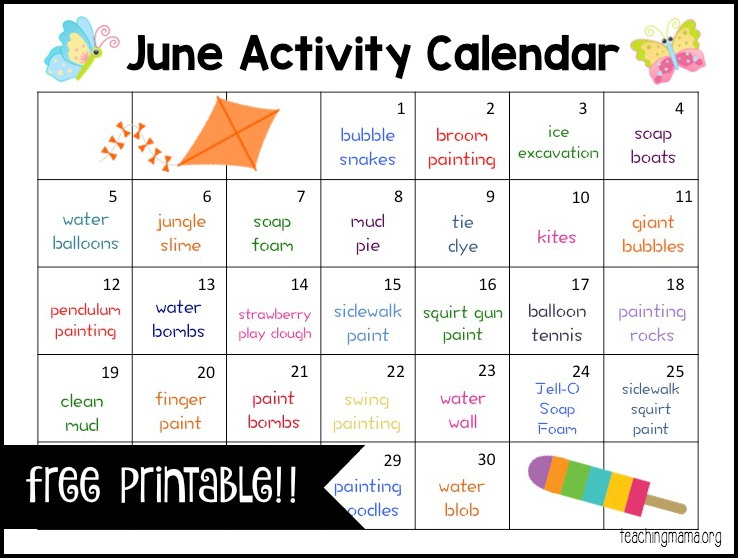 I hope you'll try these activities, too! You can download your free activity calendar here –> June Activity Calendar
(There are clickable links on the calendar to take you to all the activities.)
I'll be creating these calendars for July & August, so stay tuned for those!