20 More Ways to Keep Toddlers Busy
Disclosure: This post contains Amazon affiliates. To read more about this, see my disclosure policy.
It's pretty clear to me that many moms out there are seeking toddler activities to keep their little ones busy. My post on 20 Ways to Keep Toddlers Busy has been my all-time, most viewed and pinned post, so I decided I would add to the list and write 20 MORE ways to keep toddlers busy!! My other post focused on toddler activities that they could do independently. This list is a little different because some of these are activities are designed for parents to do with your toddler to keep them busy. Hope these ideas will be helpful to you!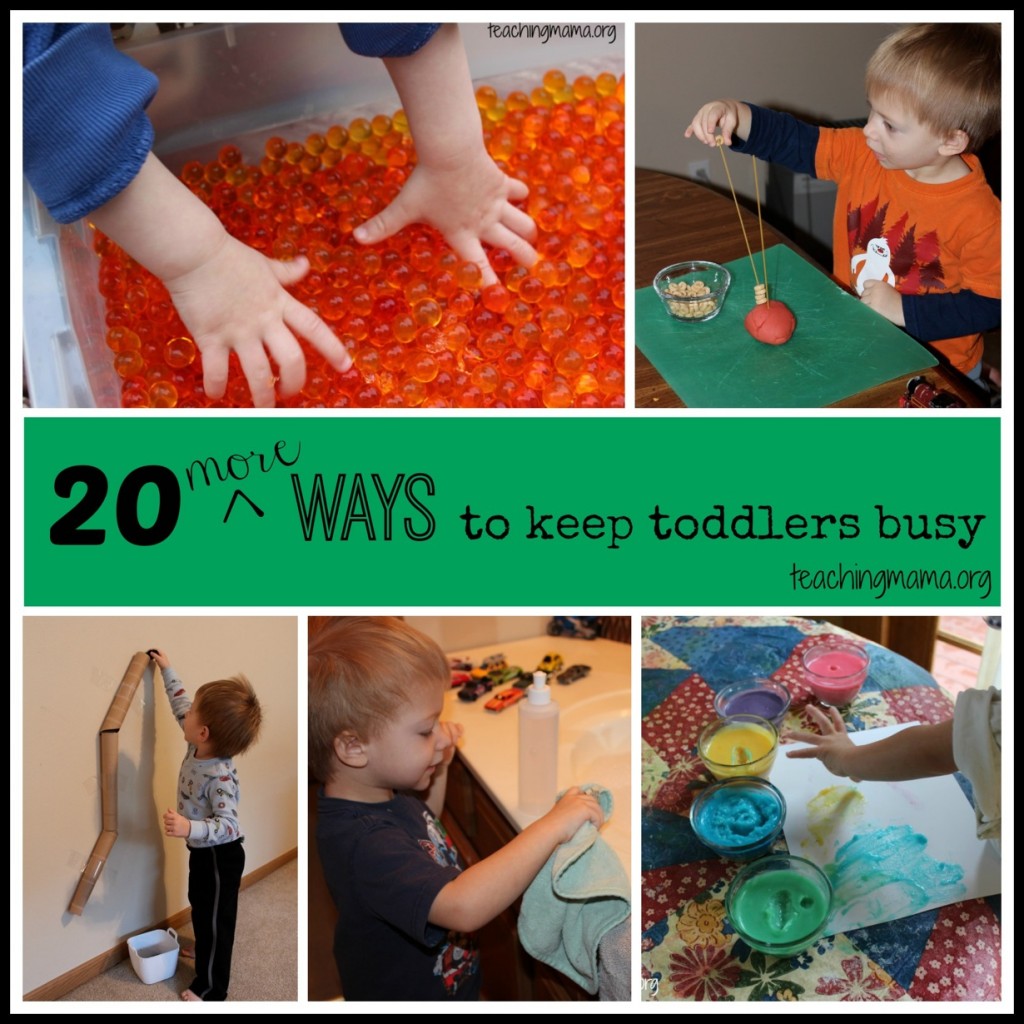 1. Bathtub with Stuffed Animals
Have a fun playtime with all your child's favorite stuffed animals! Just simply put them in an empty bathtub and let them play. My kids played for a long time using their imagination. They pretended they were on Noah's ark during the flood. 🙂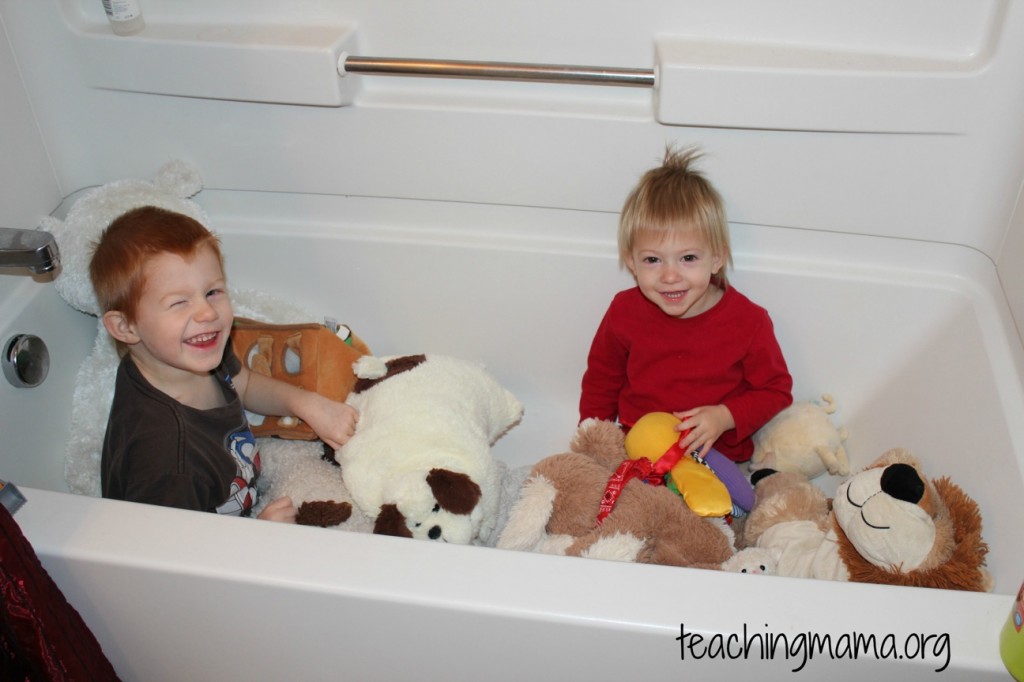 And just for fun, here is a flashback to my sister and I doing when we were kids! (I'm on the left!)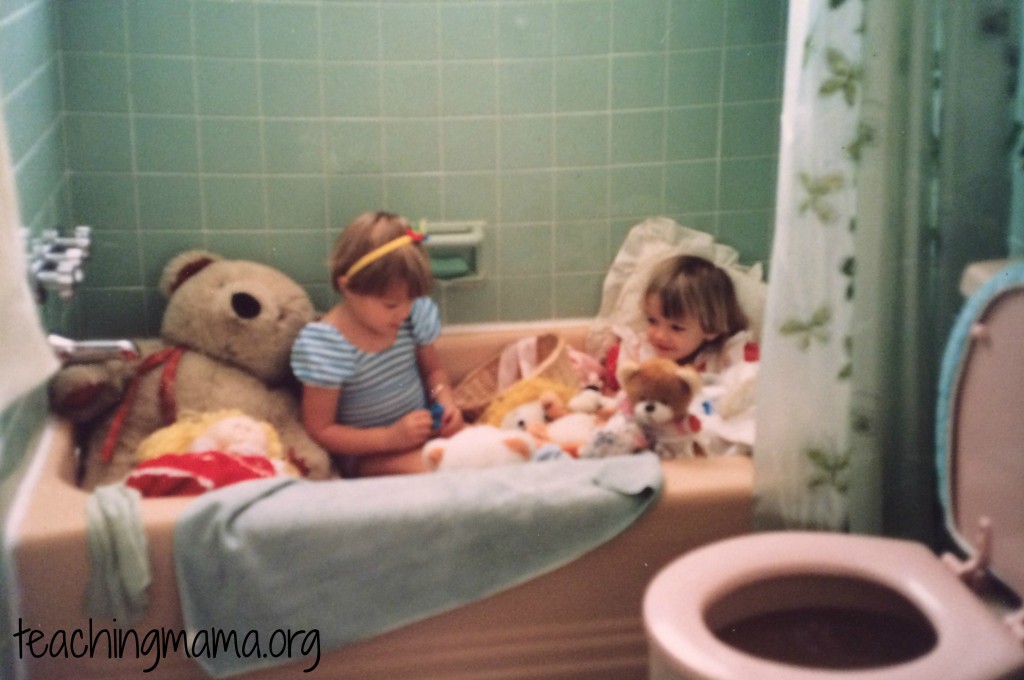 2. Edible Finger Paint
Here's a fun sensory activity for your toddler — edible finger paint! All you need is flour, water, and food coloring to make this! To see all the details, click here. (One side note- this does not last long. Mine had mold after a week.)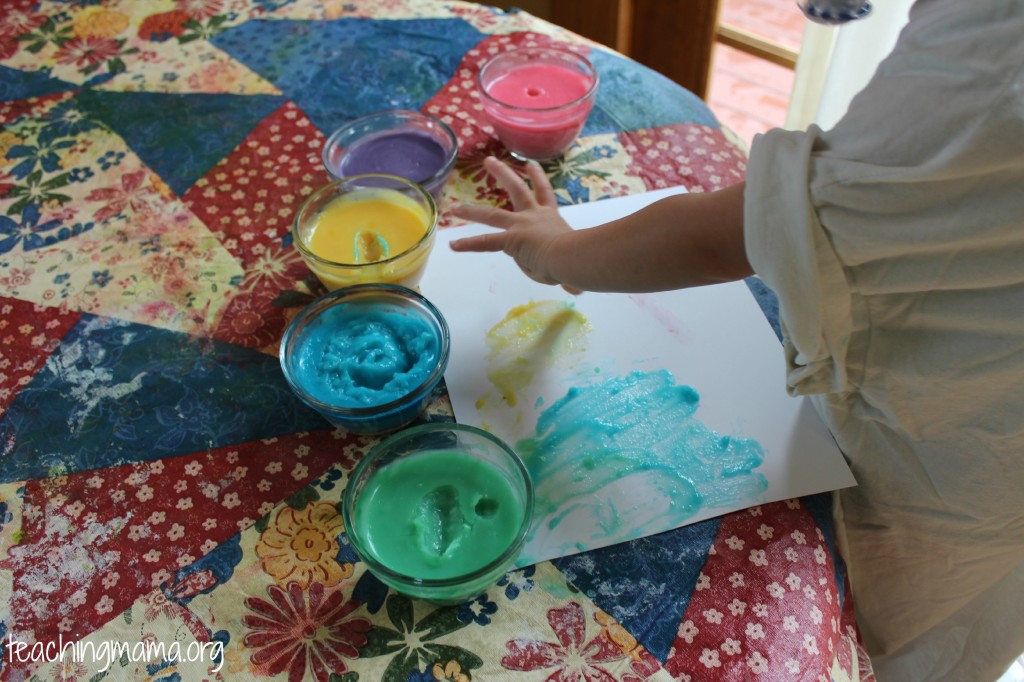 3. Felt Board
To start off, I made a felt board simply by just putting felt onto a bulletin board
(I used sticky felt
) .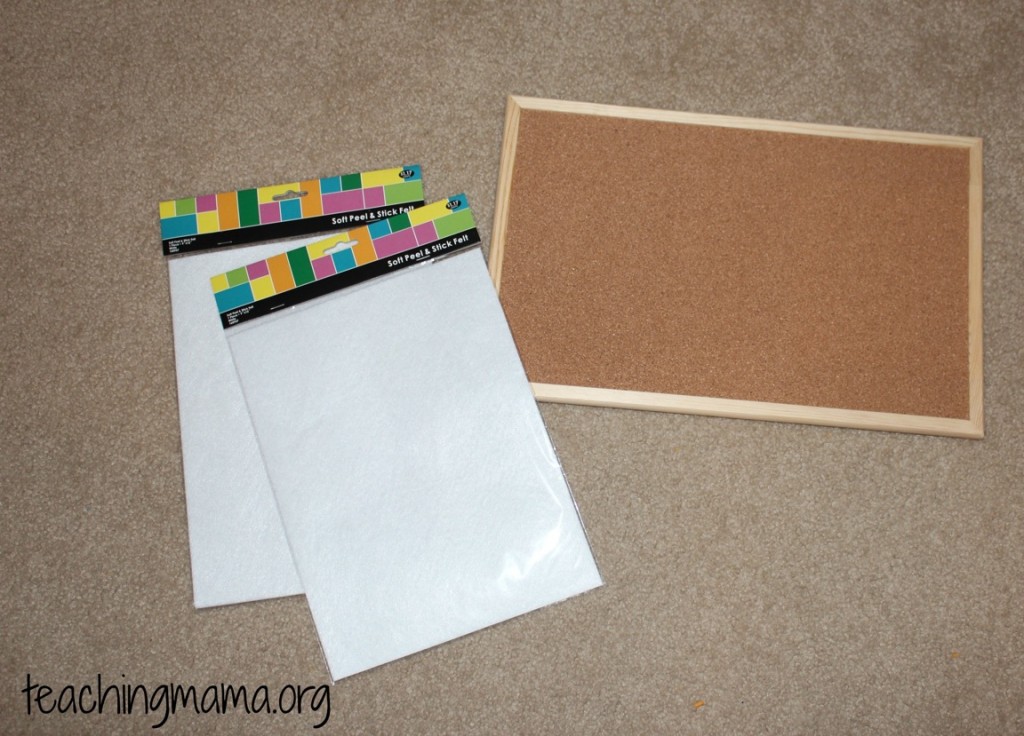 We use this felt board to play with our felt activity bags. The activity below is called Little Mouse. For the game, you just hide the mouse under a colored house and say this phrase:
Little Mouse, Little Mouse, Are you hiding behind the ________ (say a color) house? 
Then you see if they are right. It is a great activity for practicing colors. To see all our felt activities (and get the templates), click here.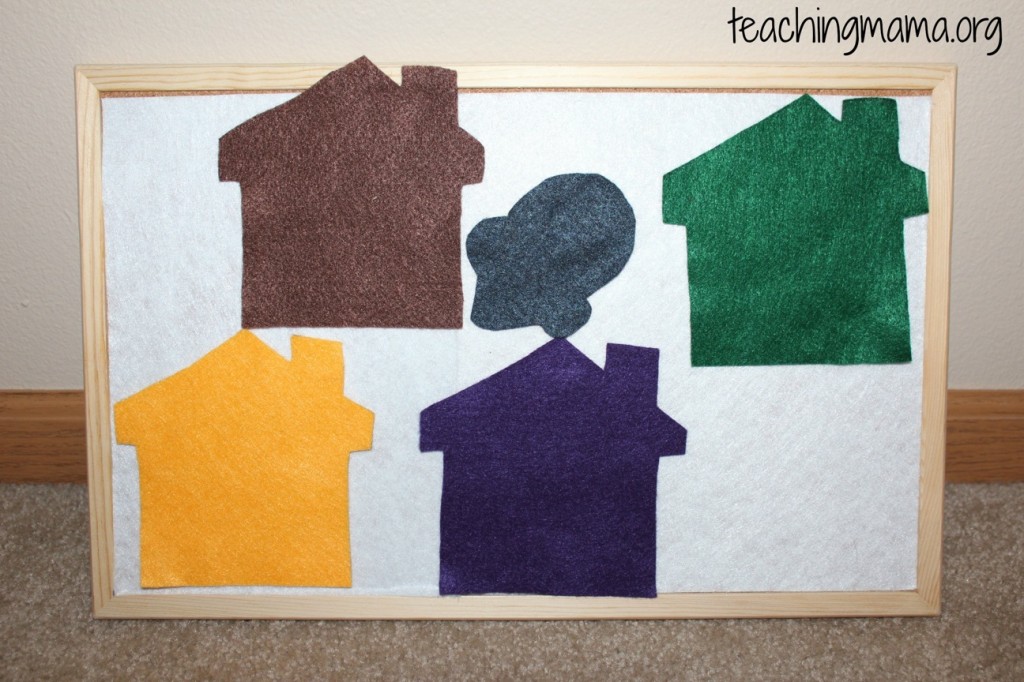 4. Car Wash with Toy Cars
This activity is SO fun! We took our toy cars
 and got them cleaned with our car wash! I set the toy cars up by the sink. Then I filled the sink with soapy water. We also had a bucket of water on the other side to rise the cars off. Lastly, we dried them with a towel. I loved this activity because my son learned how to follow steps and he also could do this by himself with me just watching. He was so proud of his clean cars! You could also do his with action figures, dolls, little animals, etc.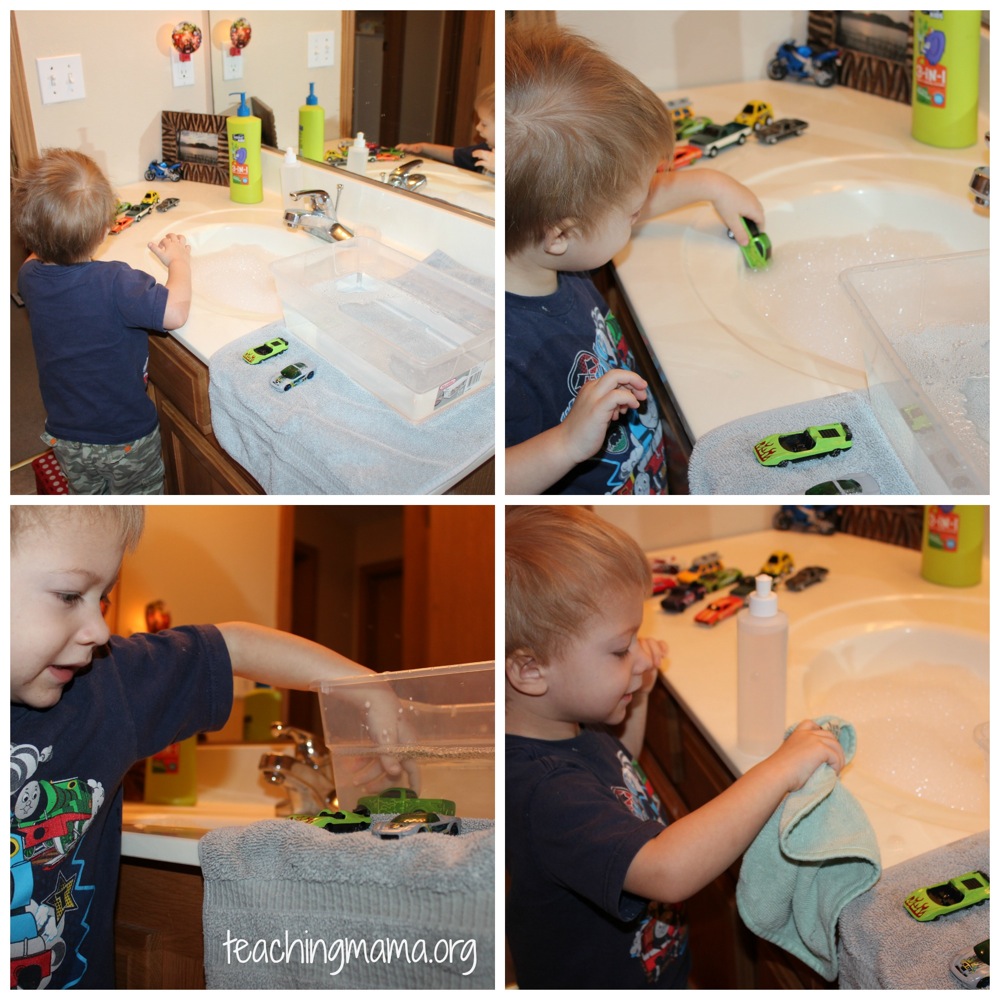 5. Shaving Cream or Whipped Cream
A fun (but messy) sensory activity is letting your child play with shaving cream or whipped cream.  The first picture below is my son playing with whipped cream. He is making a forest with pretzel-shaped trees.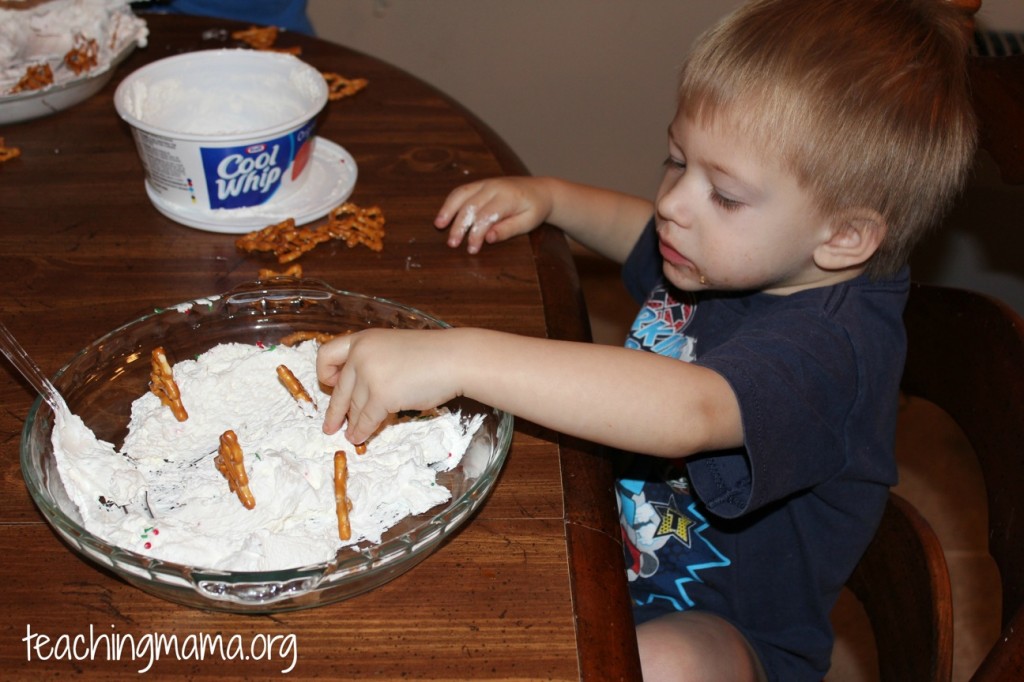 We have also played with shaving cream. The picture below shows my son playing with shaving cream and water beads together. If your child puts things in their mouth, then this would not be a good activity for them.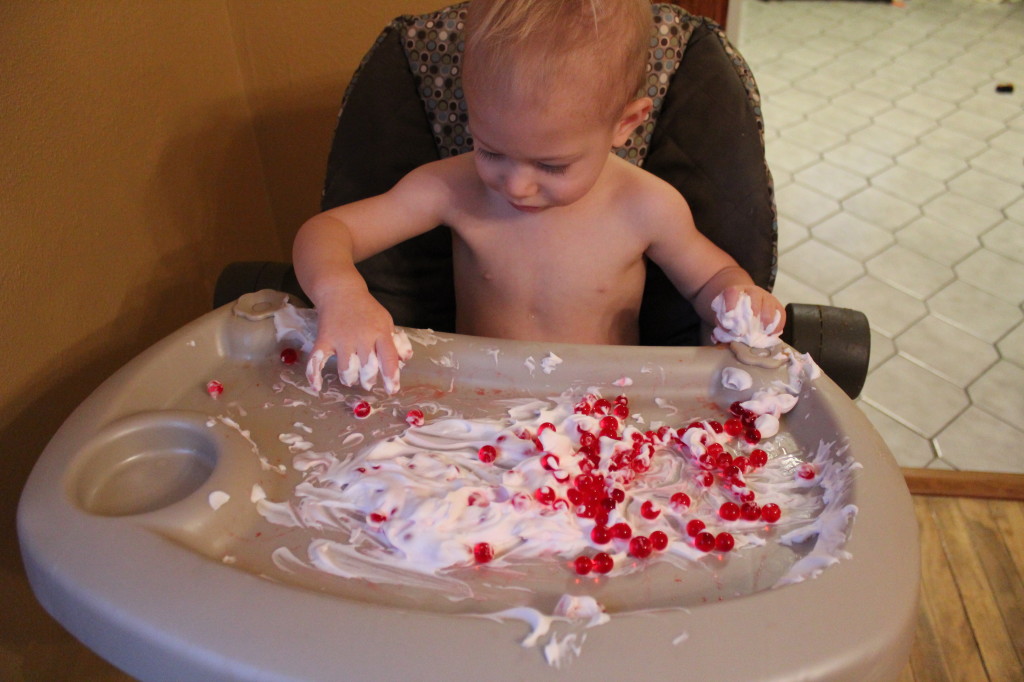 6. Water Beads
Water beads
are so much fun! They are round, squishy balls that come in all sorts of colors. You can find water beads at the Dollar Store in the floral section or here
on Amazon. They are actually used as fillers in floral arrangements.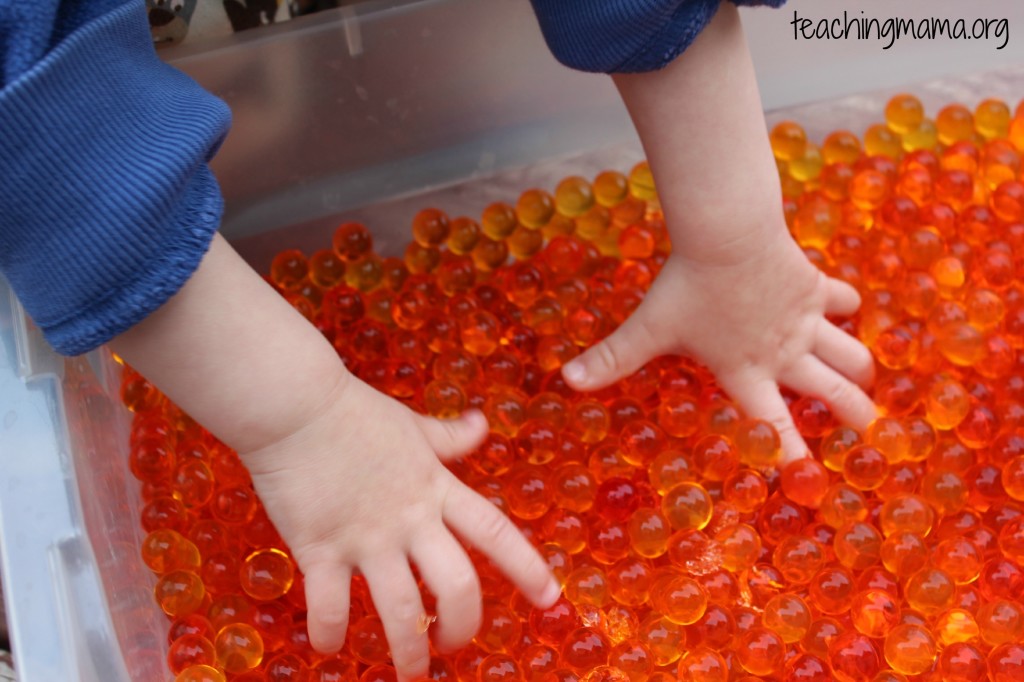 Since water beads are not edible, you may feel unsafe about letting your little one play with them. Especially if they put things in their mouths! An alternative would be these safe water beads, made from tapioca pearls. You can read how I made them in this post.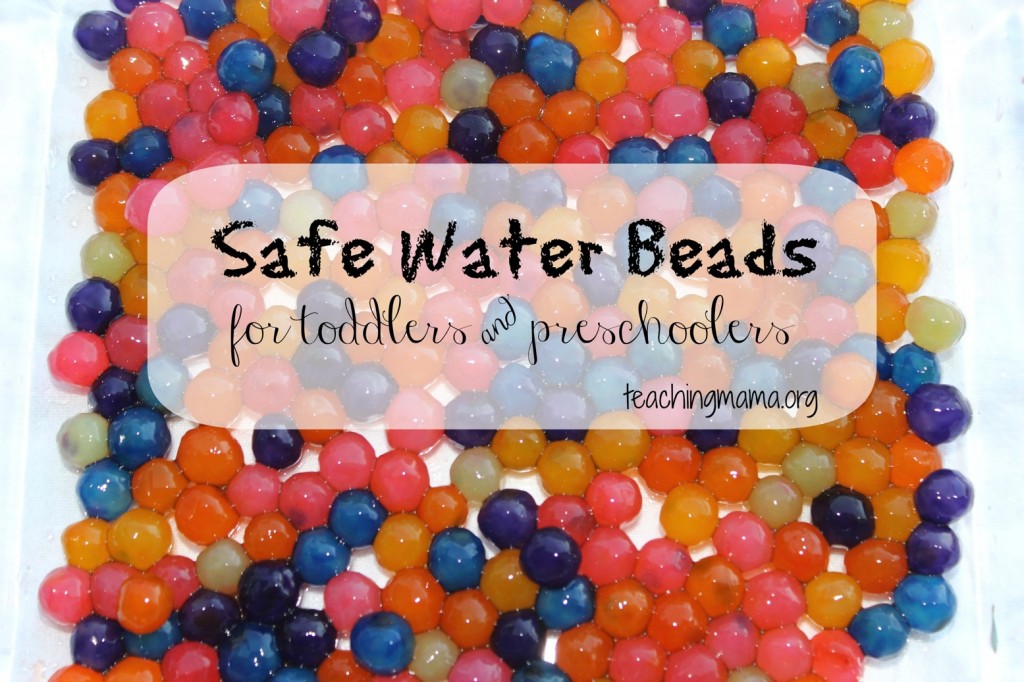 7. Button Snake
Create a button snake to help your little one work on their fine motor skills. It's a great quiet activity, too! To make this, you need a piece of ribbon, two buttons, squares of felt, and needle & thread.
Start by sewing a button on each end of the ribbon. Then cut out squares of felt and cut a slit in the middle.
Then test it out with your toddler! Have them poke the button through the holes in the felt. It may take some time to get the hang of it. This is great for fine motor skills!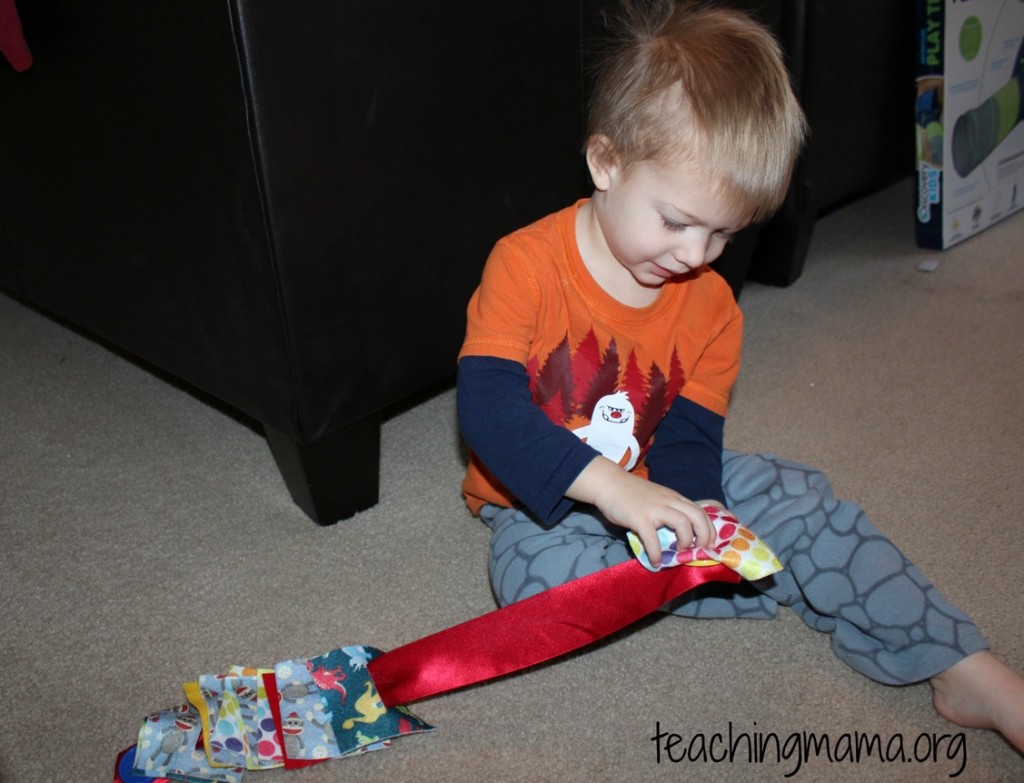 8. Bath Paint
In the winter, we play with bath paint several times a week! It's so easy to make. I squirt shaving cream in a muffin tin and add food coloring to it. Then I let the boys use paint brushes to "paint" their bath tub. They love it!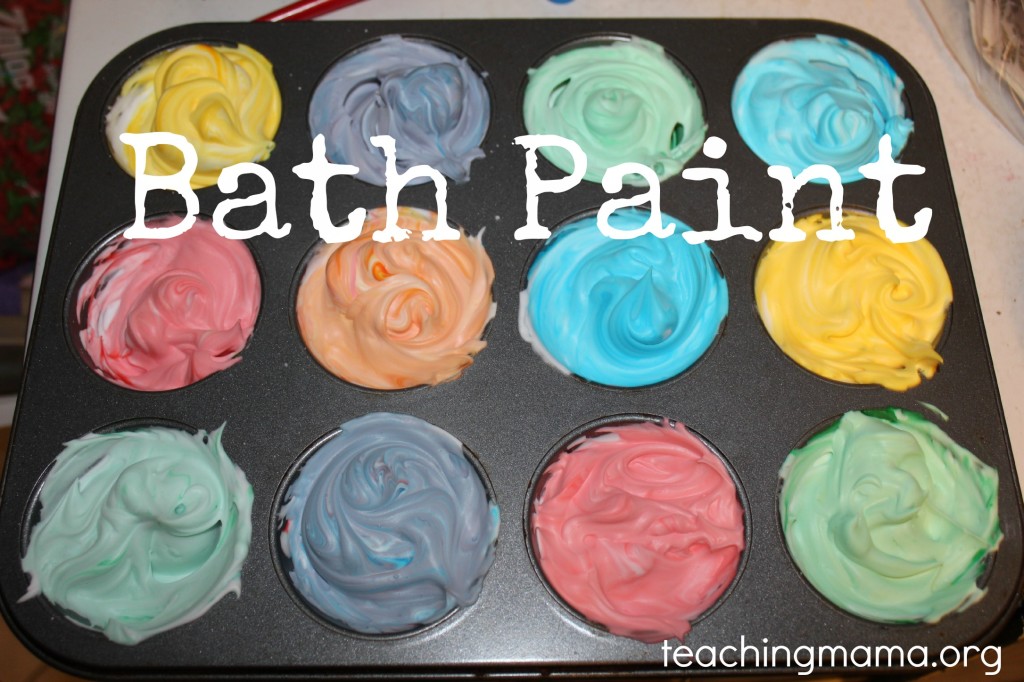 9. Pom Pom Drop 
To make this I took an oatmeal container and cut a circle on the top. Then I used large pom poms (found at Hobby Lobby) and had my toddler poke them through the hole. Even though this seems simple, he loved it! We also used this as a counting practice. He loved counting how many pom poms we poked through the hole.
10.  Colored Spaghetti Noodles
These crazy spaghetti noodles are a super fun sensory activity! To see more on how we did it, visit this post.
11. Sensory Sink
Sensory sinks are really fun to set up. It's similar to the car wash, but they have a theme. This one is a pond. To see more on our sensory sink, click here.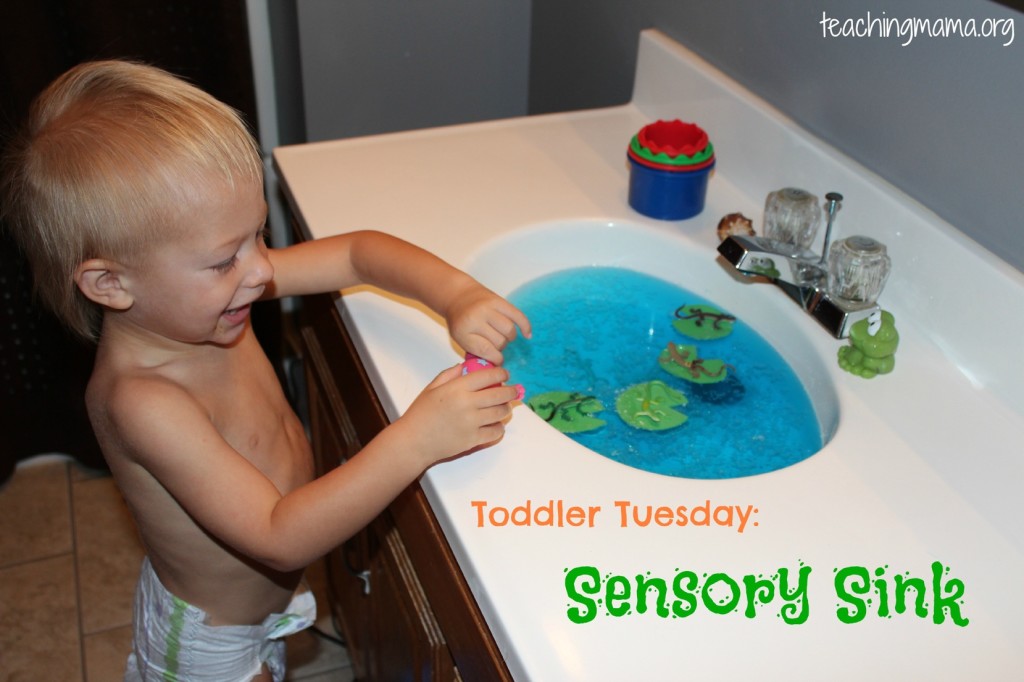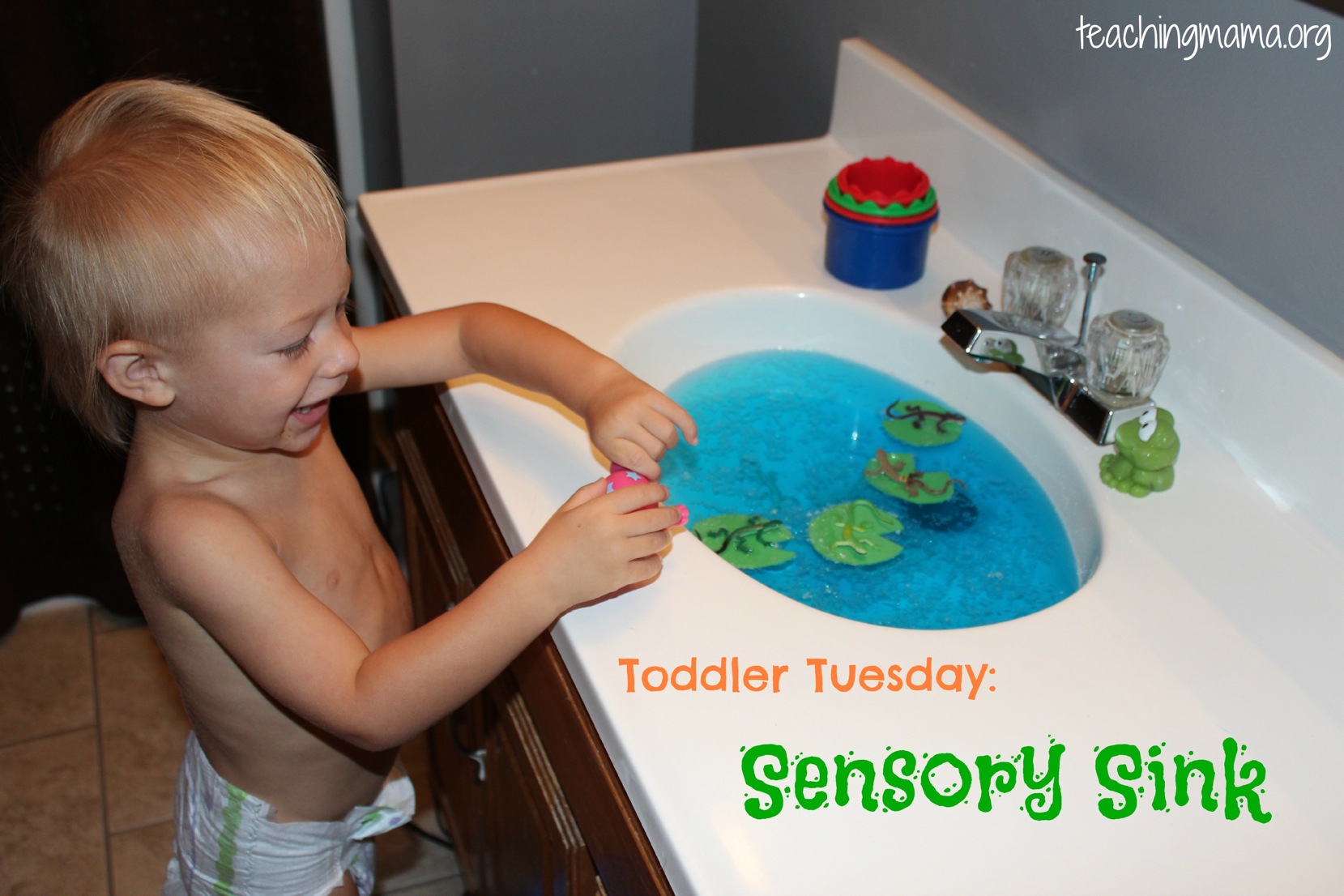 12. Fine Motor Practice with Cheerios
My kids love this activity. Just take some play dough, roll it in a ball, then stick spaghetti noodles on the top. Have your toddler slide cheerios down the noodle. It's simple, but great for practicing fine motor skills! And it really keeps them busy.
13. Sensory Bottles
Sensory bottles are beautiful and fun for little ones to shake and explore. To see how we made these, click here.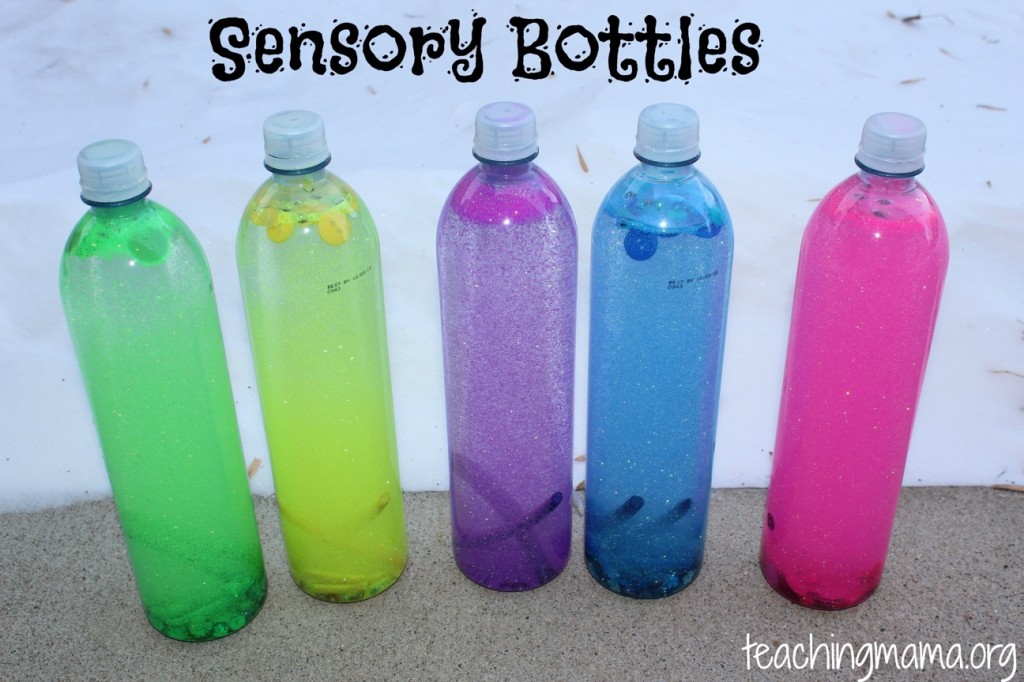 14. Melting Ice
There's something about melting ice that's fun for kids. We like to freeze water balloons and then squirt them with warm water in squeeze bottles
. It's also a great science lesson on water and ice.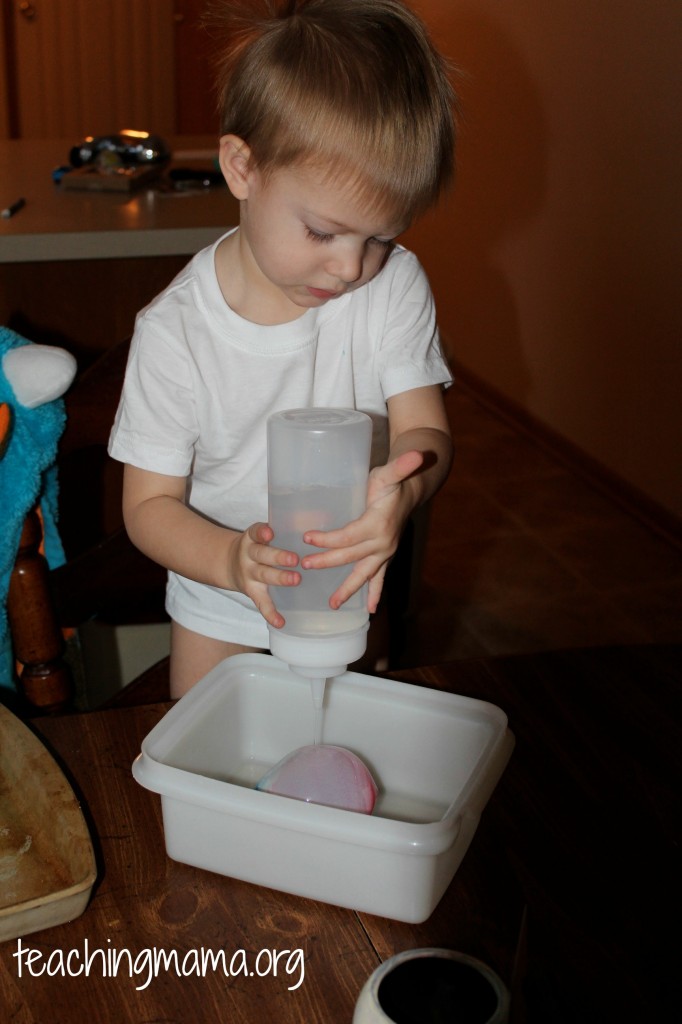 You could also stick little treasures inside the water before freezing them. We did that with a spikey ball in this post.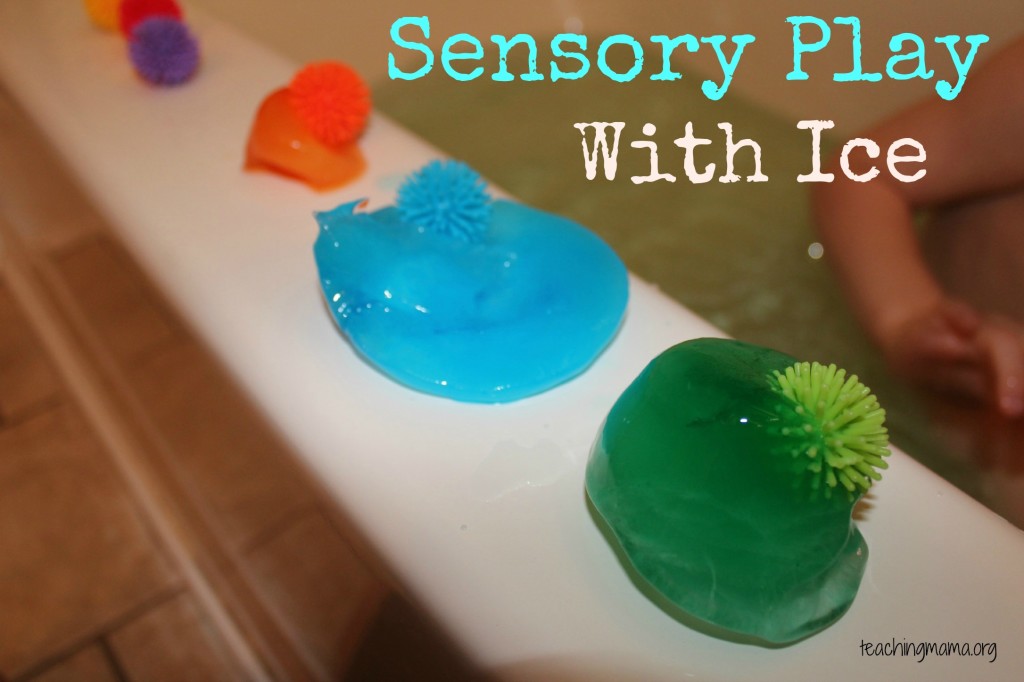 Or you could put little dinosaurs in the water balloons and make them Dino Eggs! You can read how we did that here.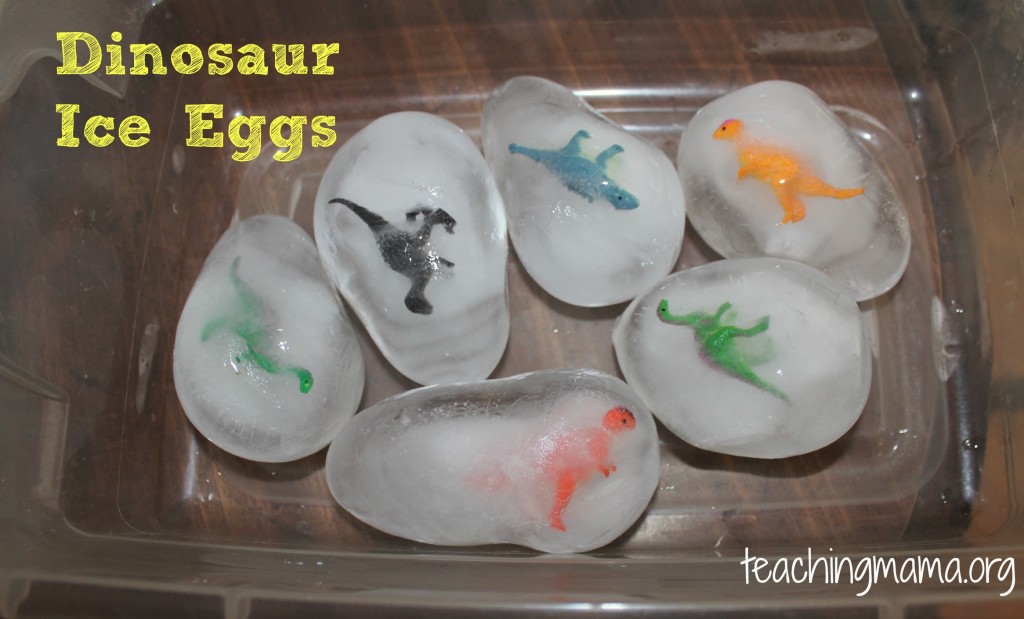 15. Cardboard Box Fort
It's funny how kids love playing with simple things…like cardboard boxes! My husband brought home this huge box from work one day, so we turned it into a little fort. My son played with it for hours!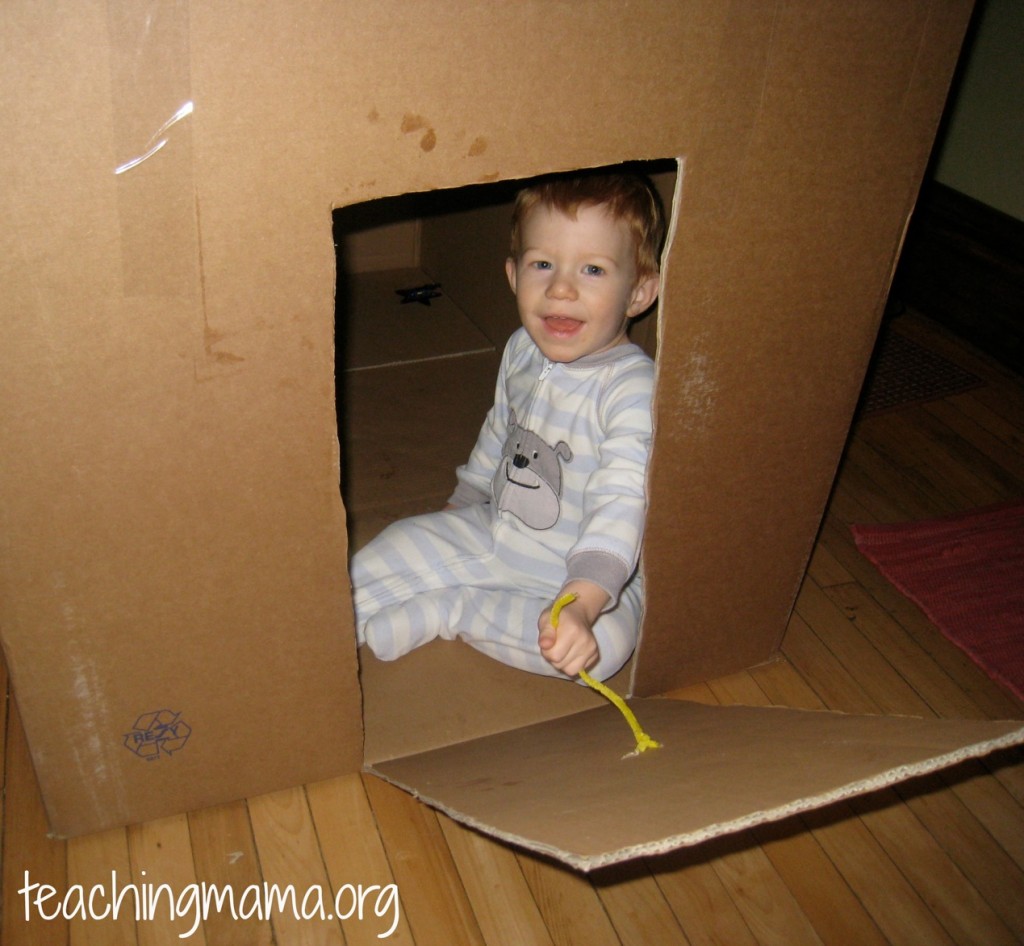 16. Hammer Golf Tees in Styrofoam
For this activity, I took a block of styrofoam and had my toddler use a toy hammer to poke in golf tees.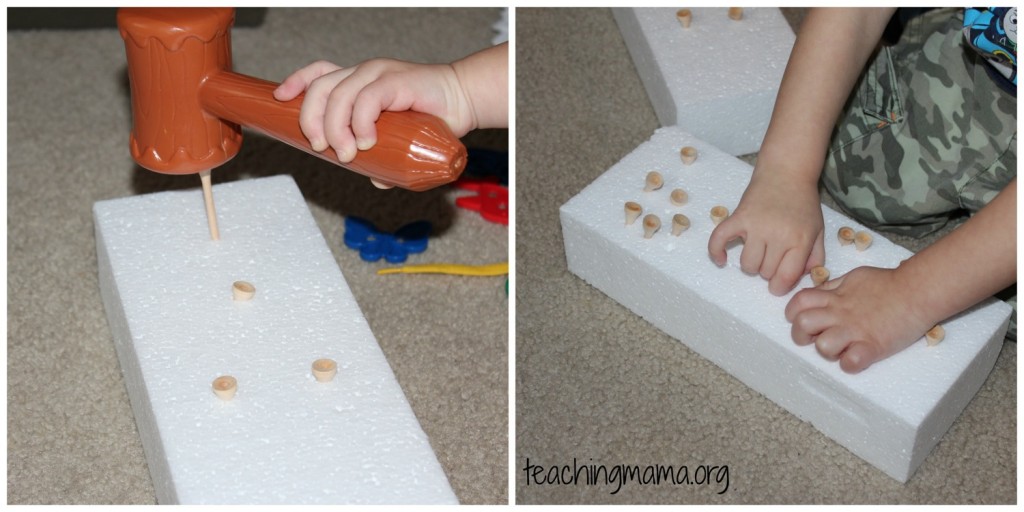 17. Ice Cube Painting
So for this activity, you just fill an ice tray with water and color the water with food coloring. Put them in the freezer and after 20 minutes, stick toothpicks or rounded popscicle sticks into them. Let them freeze until solid. Then you pop them out of the try and have your toddler paint with them. It will look like watercolors on the paper. I know some of you will tell me that toothpicks are sharp and dangerous…and I agree. I should have used popsicle sticks with my toddler. Next time I will!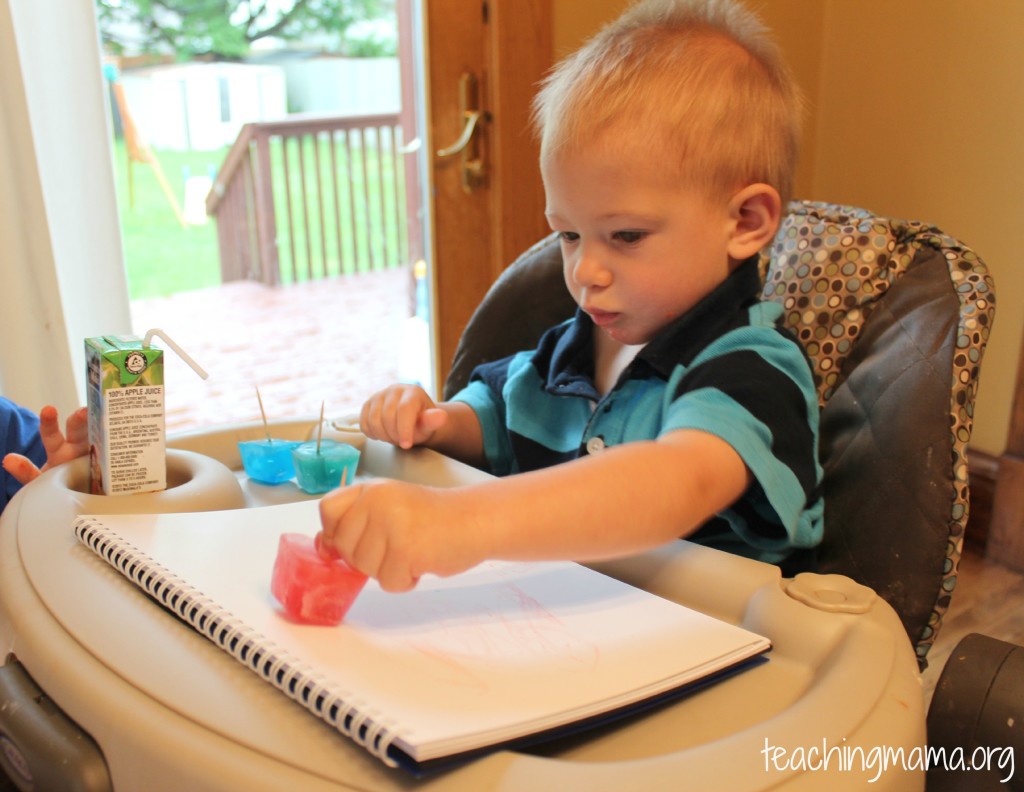 18. Cloud Dough
This is probably one of our all-time favorite things to do. You just need flour and oil (I use baby oil) and you can make this! You can find the recipe here.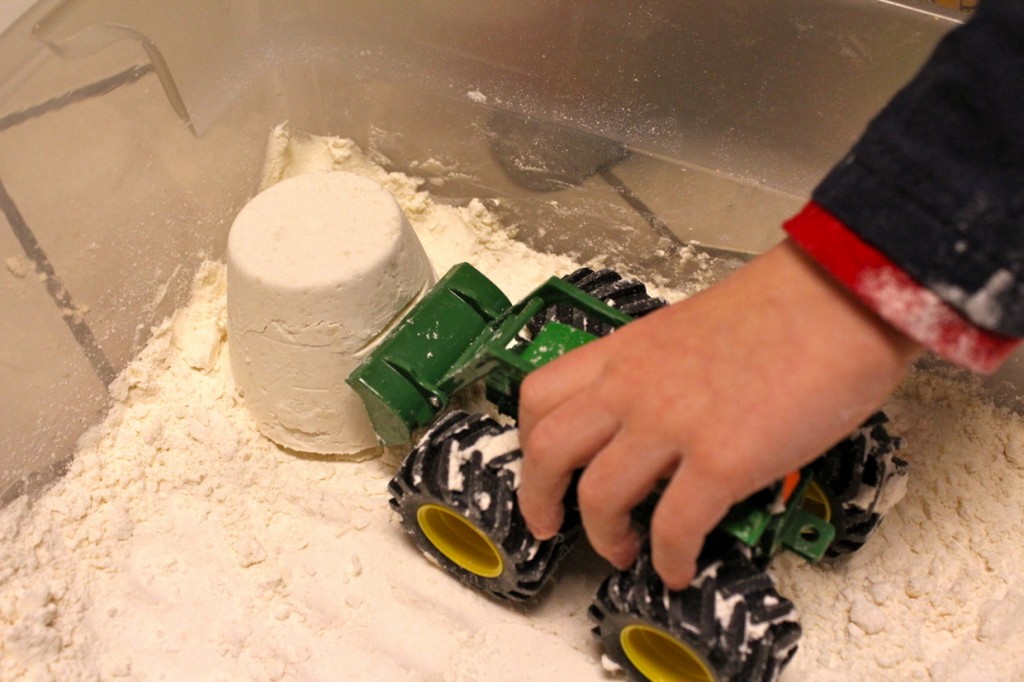 19. Sidewalk Paint
We love coloring the sidewalk with this paint! All you do is mix 1 part water to 1 part cornstarch
. Then add in some food coloring.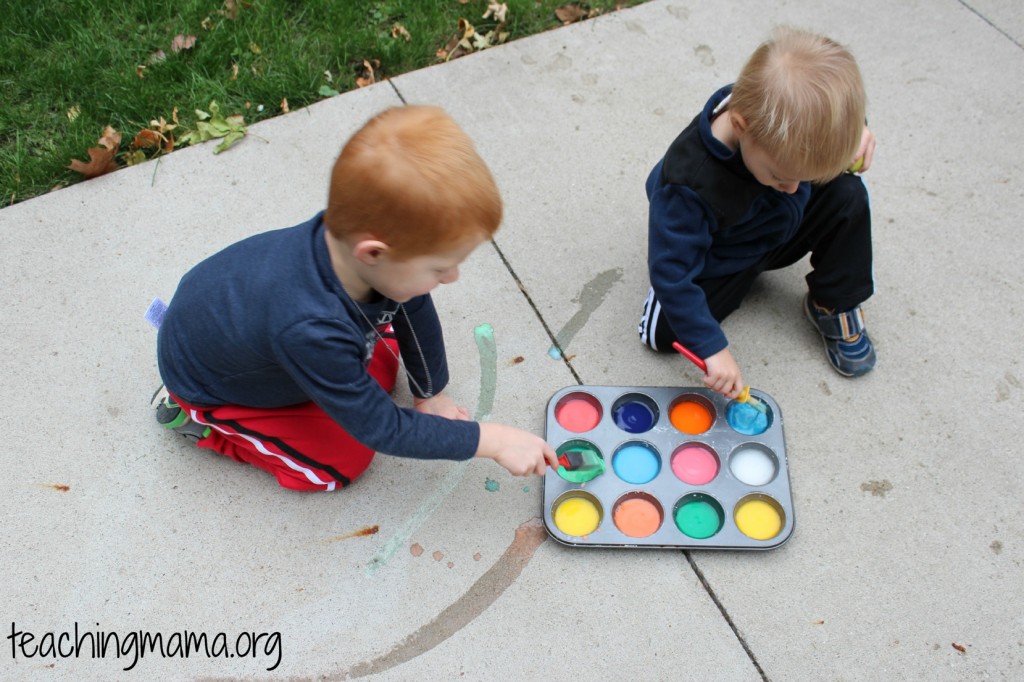 20. Cardboard Tubes with Pom Poms
In my other toddler post, I shared the activity of dropping pom poms down a cardboard tube. To spice up the activity, you could add more than one tube. My toddler had so much fun with this variation of the activity. You could try it so many different ways!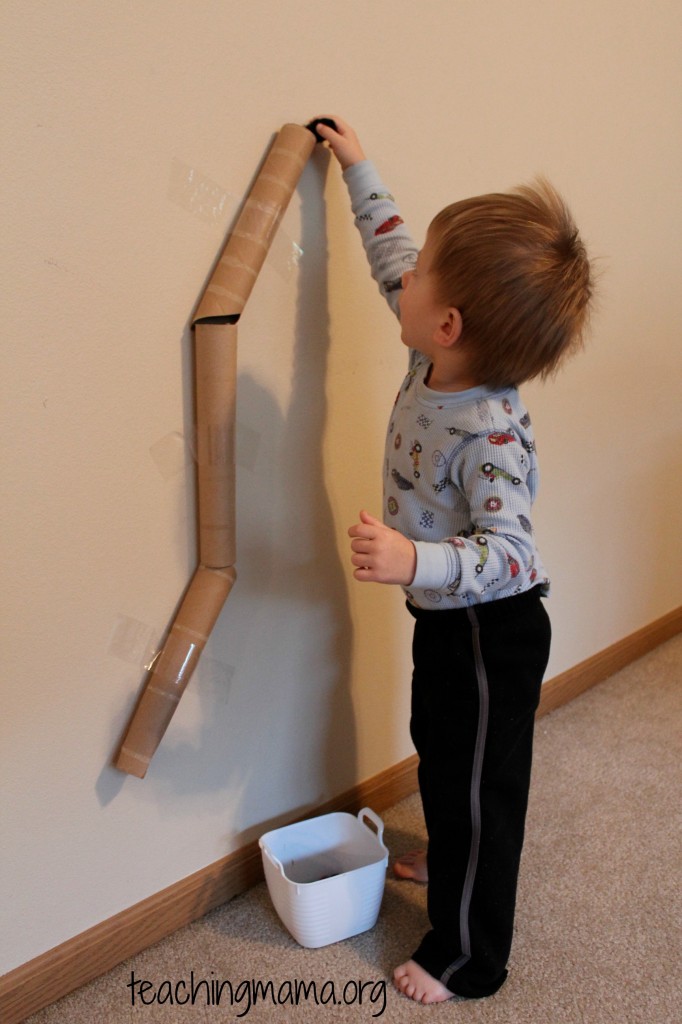 Hope you'll try some of these activities out with your toddlers! Happy Playing!
Want more toddler ideas? Check out my book, Play and Learn Toddler Activities. This book is filled with over 200 hands-on activities for toddlers that are fun, easy, and will keep your toddler busy! Click here for more information.