5 Fall Themed Busy Bags (Includes FREE Printables!)
Toddlers are busy, aren't they?! I'm constantly finding new ways to keep my toddler occupied and busy. Busy bags have been a lifesaver for me. Have you used them before? Busy bags are simple activities for your toddler or preschooler that are stored in a bag so they are always ready to go! They are made with inexpensive materials, usually taking $1 or so to make. Today, I am sharing 5 fall themed busy bag activities.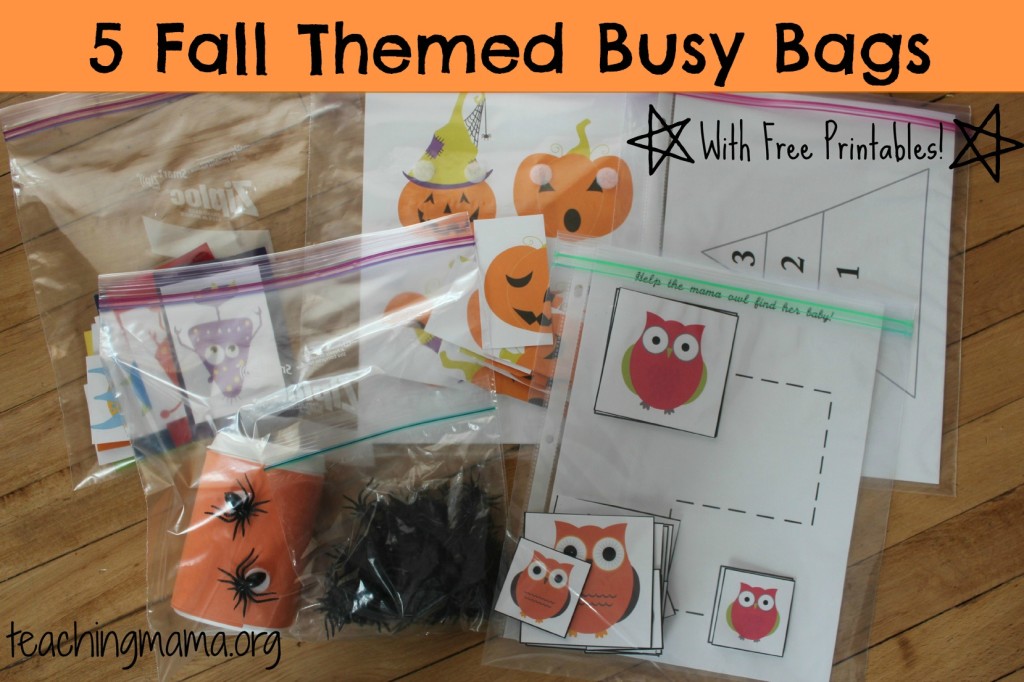 1. Mama and Baby Owl
This activity is my toddler's favorite! He has played this game numerous times in the last couple days. To play this game, your child matches the mama owl to the baby owl. They are basically finding the same colored owl and placing the large one (mama owl) in the big square and the small one (baby owl) in the little square. I put velcro tabs
 on the back of each owl. I also placed the game board  in a plastic sleeve so it would last longer. Then I put the other side of the velcro tab on the plastic sleeve.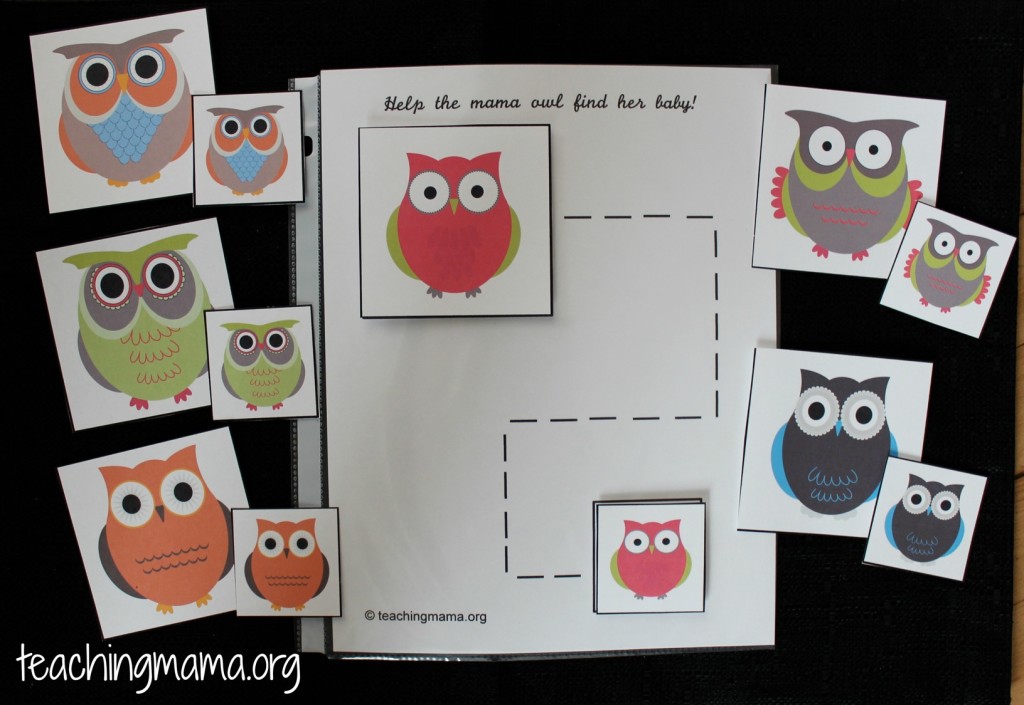 He really loved the sound the velcro tabs made when he pulled up an owl!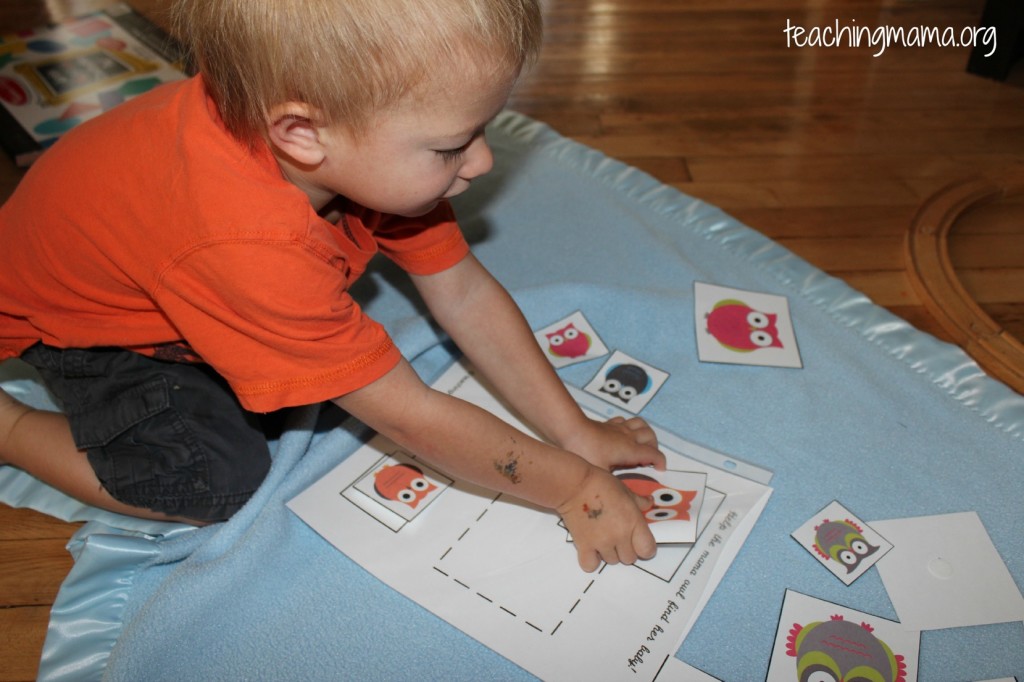 To get your own game board and owls click here —-> owls
2. Monster Color Match
This is also a really fun game. The goal of the game is to match the monster to the right color. You will need some paint swatches (which are free at any paint store or Walmart), velcro tabs, and these monsters. To set up, you'll cut out each monster, place a velcro tab on the back of the monster card and color swatch. Then mix up the cards and have your child find the matches.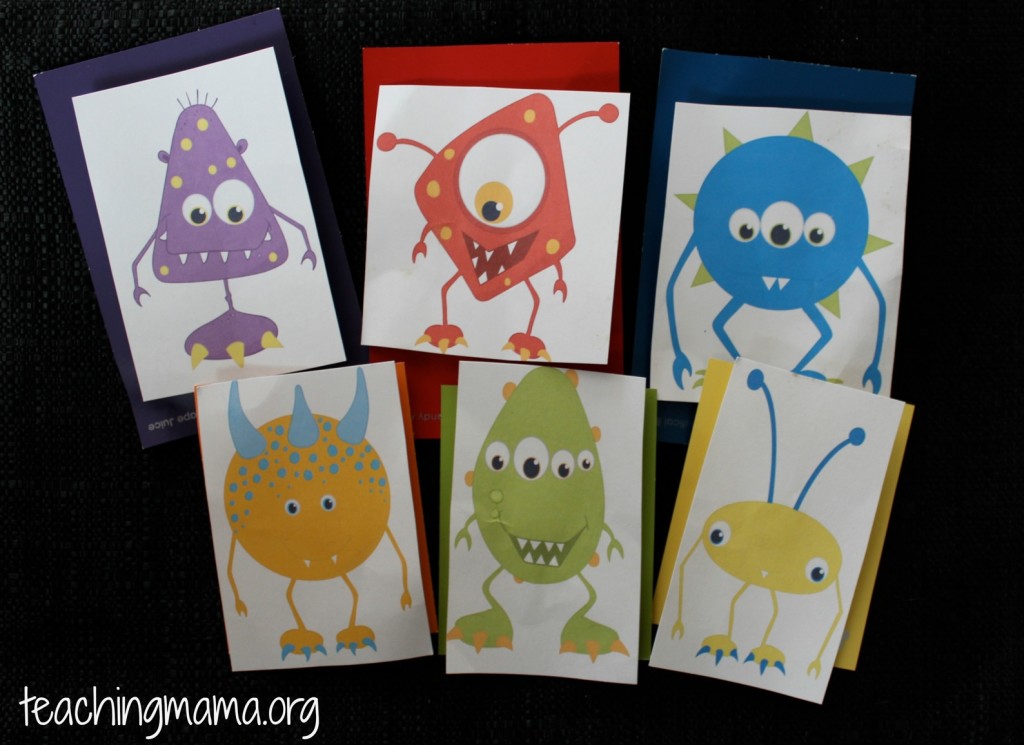 My toddler's favorite part was when he would put the monster on the color, he would "SMASH, SMASH, SMASH" the monster with this hand.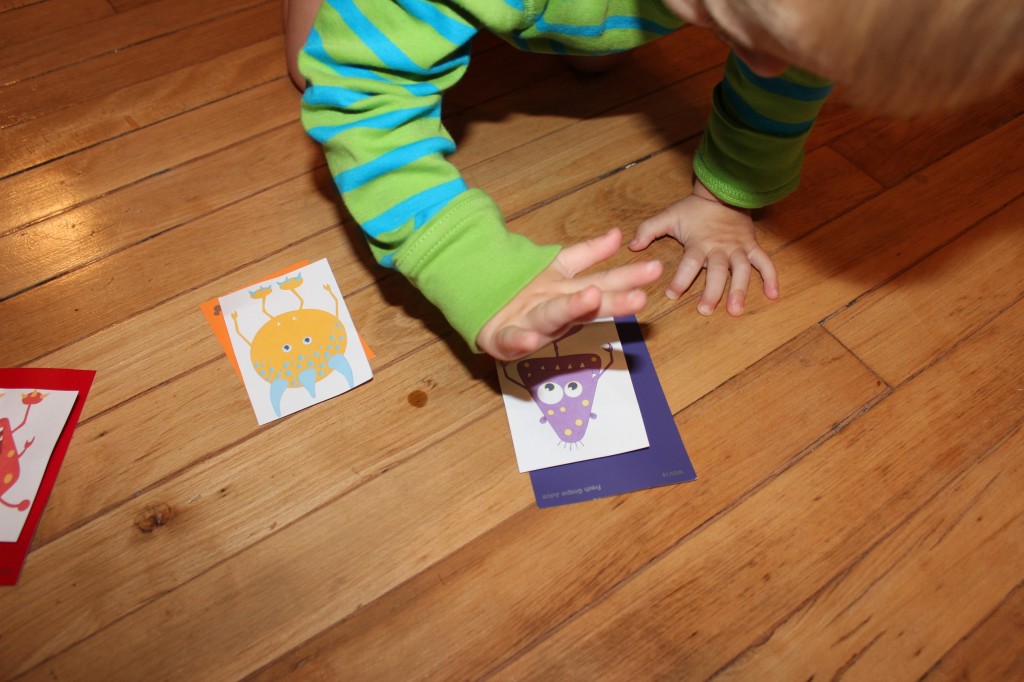 To get your own copy of the monster cards, click here —-> monster cards game
3. Candy Corn Match
This game is simple…just match the 3 colored shapes to the numbers to make a picture of a candy corn! You can put velcro tabs on them if you'd like (we ended up doing this because it made it easier for my toddler).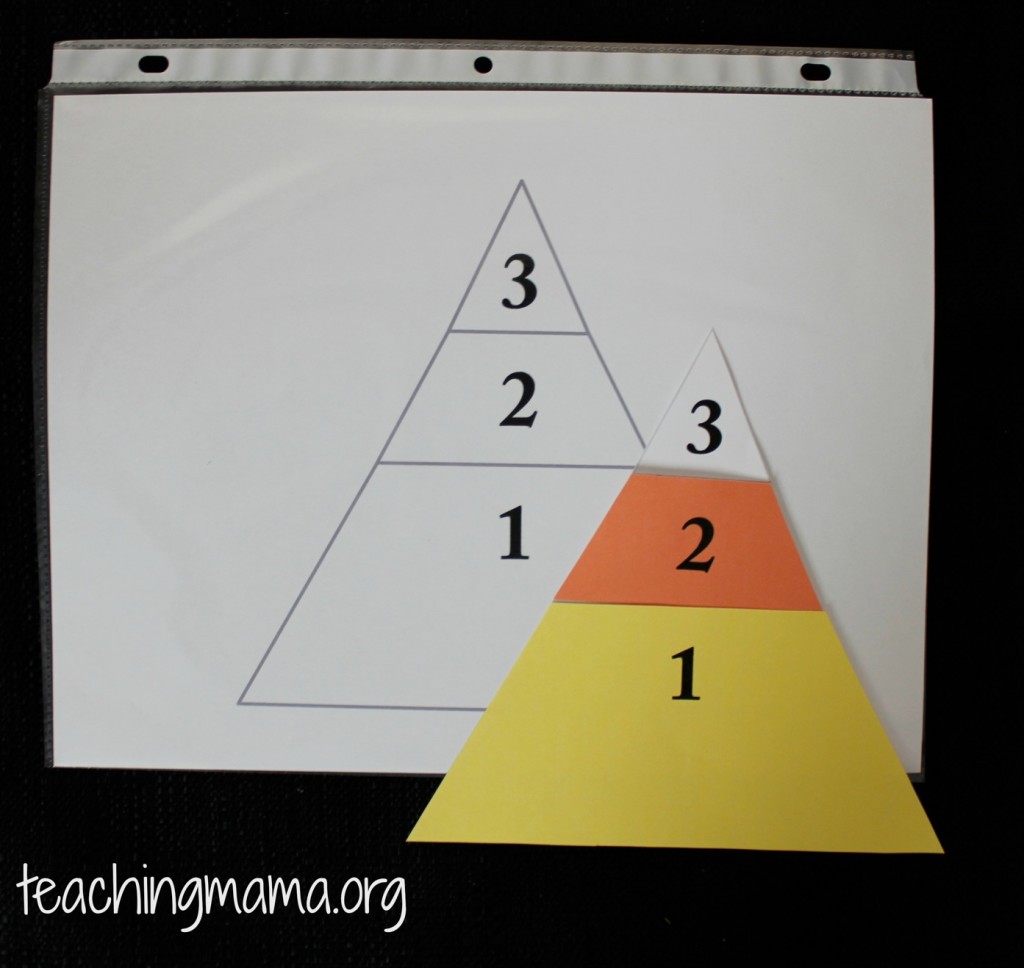 To get the candy corn printable, click here —–> Candy Corn
4. Spider Poke
For this game, you'll need an empty container and plastic spiders (found at Target). Then cut an opening at the top of the container. Have your child poke spiders through the hole to get into the container. It sounds simple, but my kids loved it!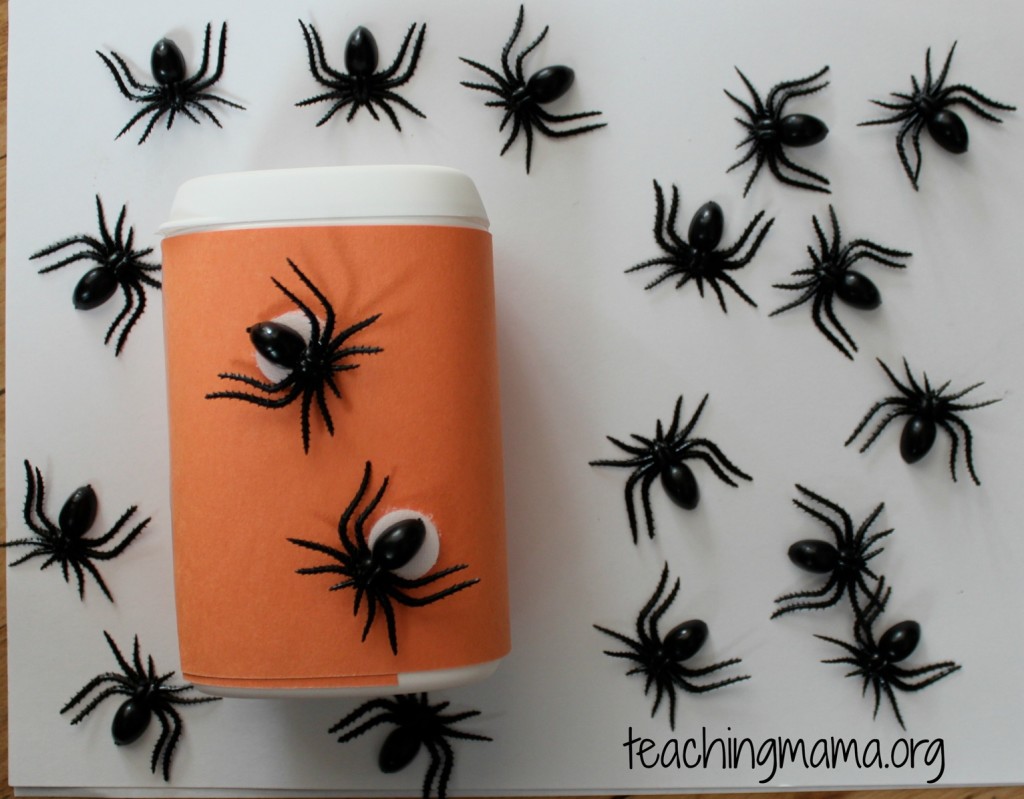 This game also practices fine motor skills! And it kept him busy for a while! 🙂
5. Jack-o-Lanterns Puzzle
For this game, you are creating a simple pumpkin puzzle for your child to complete. To set up, you'll just print the pumpkins from this jack-o-lanterns printable, cut them out, and cut them all in half. Then put velcro tabs on the back of each card. Print out another copy of the printable and place velcro tabs on this. Mix up the cards and have your child match the two pieces to make each jack-o-lantern.
This activity is the hardest one.  You'll probably want to help your toddler with this the first couple times.
To download the printable, click here —-> jack-o-lanterns
After you've introduced these busy bags to your little one, they should be able to do them by themselves. I like to use them when I'm doing preschool with Troy. Wes loves that he has own activities and doesn't bother us as much. Hope you'll try these busy bag activities out!
All the cute graphics were designed by Prettygrafik Designs on Etsy…they have such cute clip art!  If you have time and resources, I suggest laminating the printables.