Toddler Tuesday: The Very Hungry Caterpillar
The Very Hungry Caterpillar is an all-time favorite book of my boys. I've read this book to them many, many times. There are a lot of kid activities, birthday party themes, and baby shower themes centered on this book. Today, I'm sharing a simple toddler activity you can do with your little one.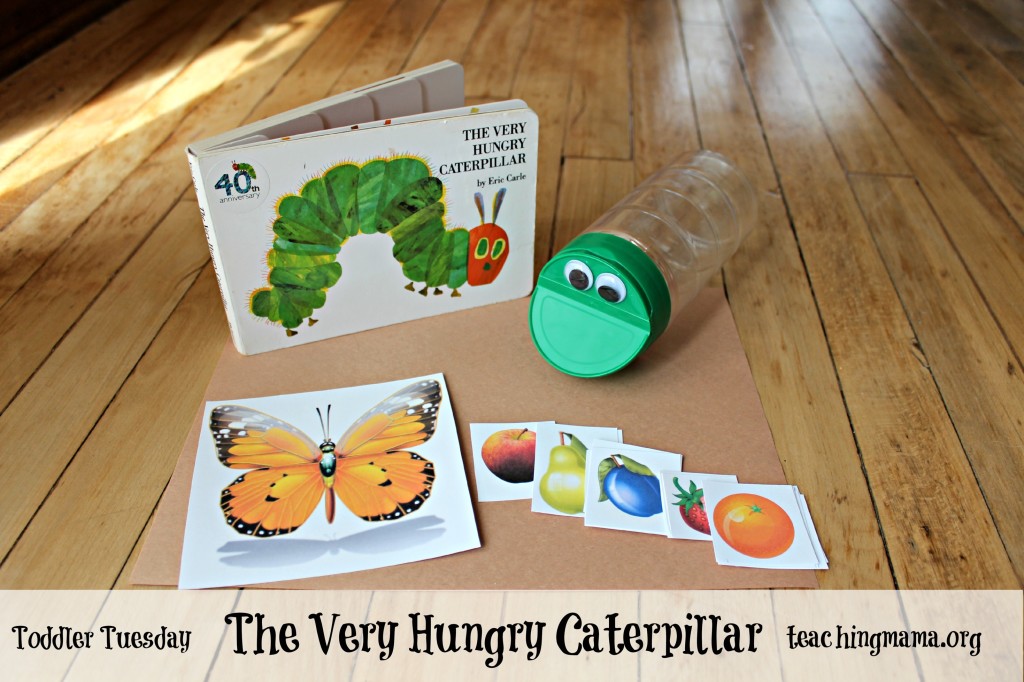 Book Summary: This story shows the life cycle from a caterpillar to a butterfly. After the baby caterpillar hatches from the egg, he is quite hungry. He looks for food and eats 1 apple, 2 pears, 3 plums, 4 strawberries, 5 oranges, a bunch of junk food, and lastly, one green leaf. He then turns into a big caterpillar and wraps himself in a cocoon. After 2 weeks, he breaks open his cocoon and is a beautiful butterfly.
This toddler activity starts with making a simple caterpillar out of an empty parmesan can by adding googly eyes to it. You take small pictures of fruit and have your toddler feed it to the caterpillar. With my 20 month old, we practiced naming the fruit and talked about the colors. Although this story talks about giving the caterpillar junk food and a green leaf, I chose to leave that part out of this activity. I know the attention span of my 1 year old is short and I also wanted to focus on the fruit in this story. This activity was excellent for working on fine motor skills. He had to figure out how to get the card inside the mouth.
If your child knows their numbers, they could also practice counting the pieces of fruit.
After all the cards were in the container, my toddler shook it all up!
Next, we wrapped brown paper around the container to make the cocoon. Then I hid the caterpillar behind my back and brought out the picture of a butterfly.
This little boys loves butterflies, so he was excited to see it! He's familiar with the story, so it wasn't a huge surprise to see the butterfly.
I loved this activity because it focused on story sequence, fine motor skills, color naming, and counting. Plus he had fun!!
If you'd like a copy of the fruit and butterfly pictures, you can download your own PDF printable here
Does your little one like this book?