Transportation Theme for Toddlers
As a mom to three boys, we have plenty of toys that are transportation related: trains, tractors, cars, trucks, and so much more! My kids naturally gravitate towards playing with these toys. Planning transportation theme activities for them is a no-brainer because they love it! I'm exited to share that I have a guest blogger today! Amanda from Sicily's Heart and Home is sharing an awesome transportation theme for toddlers. Thank you, Amanda, for sharing your ideas!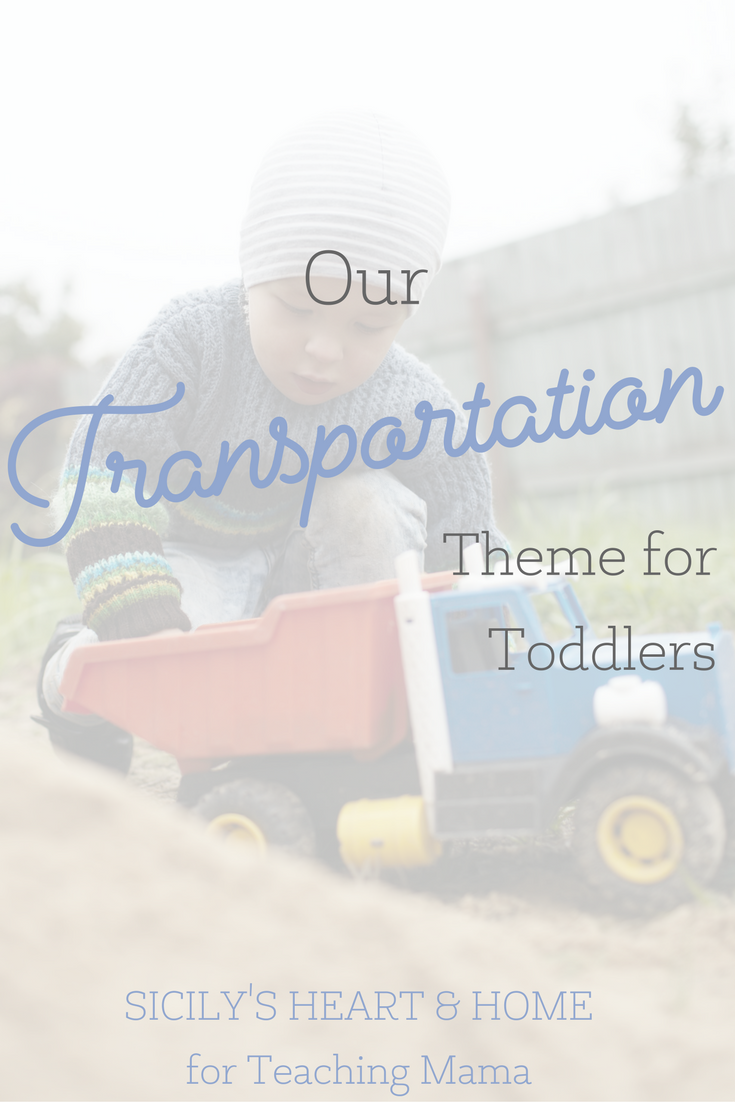 My daughter Sicily (25 months) was surprised with a Fire Truck Power Wheels for her birthday. This gigantic truck has been sitting in my living room for about a month because she refuses to take it outside. Every day she wakes up, flexes her arms like she's showing you her muscles and yells "Big Truck."
After breakfast, she races down to play with her big truck. She doesn't like to make it move, but she will turn on the annoying siren. She will spend over an hour putting her stuffed animals in the truck and taking them out. She loves putting her Minnie Mouse in the passengers seat and climbing into the drivers seat. She will pretend to drive a bit then take Minnie out and into the stroller. She pushes Minnie around for a minute, then she gets everyone back into the truck again.
I love watching her play this way. She's trying to make sense of her world through her pretend play.
I follow, what I like to call, a structured child-led Tot School. I'm constantly observing my daughter and writing notes in our wonder journal. From my notes, I choose themes that follow her interests or signs of readiness. Many times the themes we need are already planned for us using The Toddler Experience Curriculum.
Knowing her interests in big trucks, I decided to try out a transportation theme. It was a huge success!
Our Transportation Theme
Usually our themes last about 2 weeks, but I'm very flexible with this as I plan based on her interests and needs. Sicily was super interested in Transportation that this theme actually lasted 3 weeks before she moved on to something else.
The majority of our Tot School days are spent playing. I like to introduce activities before we start our play, or I'll leave out little invitations throughout the school room for her to discover on her own. Once I introduce the activity, the rest of the day is hers to play and explore. I stay close by to help as needed and to help her deepen her learning through guidance.
Transportation Tot Trays
I set up at least 2 Tot Trays for every theme. I try to introduce them near the beginning of the theme, so Sicily can explore them throughout the whole theme.
The first Tot Tray we discovered was a boat counting tray. I placed boat counters on an ocean background and laid a container next to it. To help with one to one correspondence and quantities, Sicily picked up each boat one by one as she counted and placed it into the container. She did the same as she took the boats out of the container and put them back into the water. To add a sensory experience to this tray, you can turn the activity into a sensory bin by placing toy boats into a bin of water.
The next tray was a big/little sort. I printed off pictures of dump trucks that were big and little. I showed her how to sort the cards and asked if she wanted to try. She had a hard time with this. My theory is that she associates big with being really big because she thought all of the trucks were little. I think she was comparing the pictures to a real truck or her power wheels.
The last tray we had was a transportation match. Again, I printed off cards of different transportation. When I introduced the activity, we talked about each mode of transportation and it's unique job then we matched them. For more advanced toddlers, you could turn this tray into a memory game.
Hands-On Transportation Activities
One of Sicily's favorite activities from this theme was our shape roads. She went back to this several times during the week. I made a triangle, square, and rectangle road with tape on the floor. At first, we turned this into a game by using shape and color cards. Sicily chose a color card which represented which truck she would use. Then she chose a shape card that told her which road the truck had to drive on. As she drove the truck around the shapes, we counted the sides. After the initial activity, Sicily used the shape roads to create a small world with her trucks and road signs.
For every theme, we always create some sort of sensory bin. For our transportation unit, we made a car wash. In the bin I put water, soap, a wash cloth, sponge, toothbrush, and trucks. We spent a lot of time exploring what slippery meant.
Playdough tracks was a fun activity that Sicily enjoyed. The plan was to create a blacktop feel by making black playdough using our favorite recipe. However, Sicily had different plans and wanted to make pink playdough, so our road is pink. Once the playdough was made, I set up a very simple invitation. I flattened a piece of the playdough and laid a few trucks next to it. Sicily discovered it within a few minutes, and played with the invitation for a good half an hour. She was interested in the trucks being stuck in the dough.
Letter Activities- T is for Transportation
We choose a letter for every theme we do, so for this theme we did T is for Transportation. My goal with the letter activities at 2 years old is to expose my toddler to the wonderful world of letters. I DO NOT expect her to master the letters, nor do I even expect her to remember what the letters are. I just want her to become familiar with them.
To help expand her vocabulary, I create a few word cards to talk about during our morning meeting. I write the word on a sentence strip and follow it with a picture.
After we finish a letter, I place the words on our word wall. Sicily decorates each letter for our word wall with a process art project. For our letter T, we drove trucks through paint and all over our letter T….and our arms, legs, and the table!
We also made a letter T sensory bin. As a base, I used green rice left over from our St. Patrick's Day bin. I collected all the letter T's I could find and hid them in the rice. I added tongs, a bucket, and a few scoops to help her find the letters.
Transportation Books
Every morning we read a book that relates to the activity we are doing or the theme in general. Here are a few we read:
Big and Little Things That Go by Scholastic
Cars Galore by Peter Stein
Fast Train, Slow Train by Britt Allcroft
Five Little Monkeys Wash the Car by Eileen Christelow
Little Blue Truck by Alice Schertle
I Drive a Garbage Truck by Sarah Bridges
And I was super excited to find Cars and Trucks by David Stewart which has black and white drawn pictures of vehicles. I used this book for my infant's tummy time, so he was able to explore transportation with us as well.
Tot School doesn't have to be a drawn our process. We keep it simple, fun, and hands on. To get started with a structured child-led Tot School, download my Getting Started with Tot School guide.
Happy Learning!
Much Love,
Amanda
Amanda helps beautiful mamas of little ones create a child-led learning environment at home. She teaches her followers how to guide their littles play by using their interests and in a process based, hands-on way at Sicily's Heart & Home. She is married with two kids, Sicily (2 years old) and Kade (2 months old). She spends her days creating little experiences for her children to grow, thrive, and learn. Amanda is the creator of The Toddler Experience Curriculum, a hands-on, child-led, process-based curriculum for toddlers age 18 months to 3 years old. You can follow her on Pinterest, Facebook, or Instagram. She also invites you to join her elite Facebook group of beautiful mama just like you.