Safe Water Beads for Toddlers
Disclosure: This post contains Amazon affiliate links for your convenience.
We love water beads at our house. They are a favorite sensory activity, but water beads are actually not safe for little ones. They are used in flower arrangements and although they are nontoxic, they are not edible and a choking hazard. My kids really don't put items in their mouths, but to be on the safe side I wanted to make water beads that were safe for my children if they did ingest them.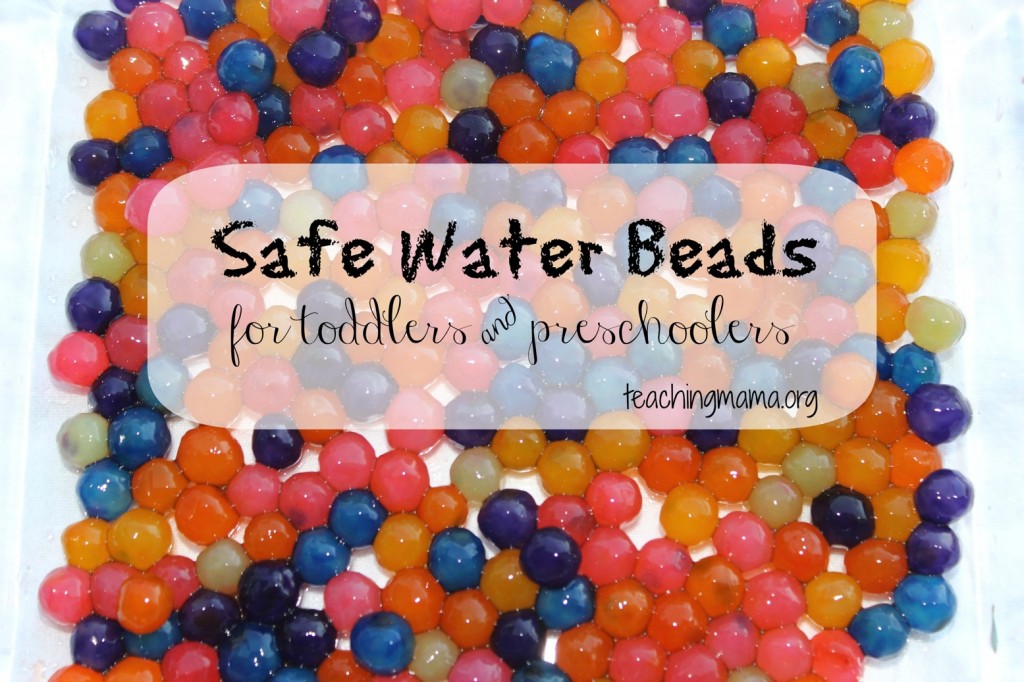 So to make these, you'll need a couple ingredients.
Tapioca Pearls– Make sure to get the kind that cooks in 5 minutes!
Gel Food Coloring– I used blue, pink, purple, orange, and yellow
Then you'll boil 10 cups of water for 1 cup of tapioca pearls. Once the water is boiling, add the tapioca. After about one minute they will rise to the top. Gently stir them and then put the lid on and let them sit for about 4 more minutes.
Next, drain and rinse them with cold water.
Then I separated them into colors. I divided the clear ones up with the colored ones and used gel food coloring to dye the clear ones and also make the colored tapioca pearls brighter. I just used a small drop and stirred them around.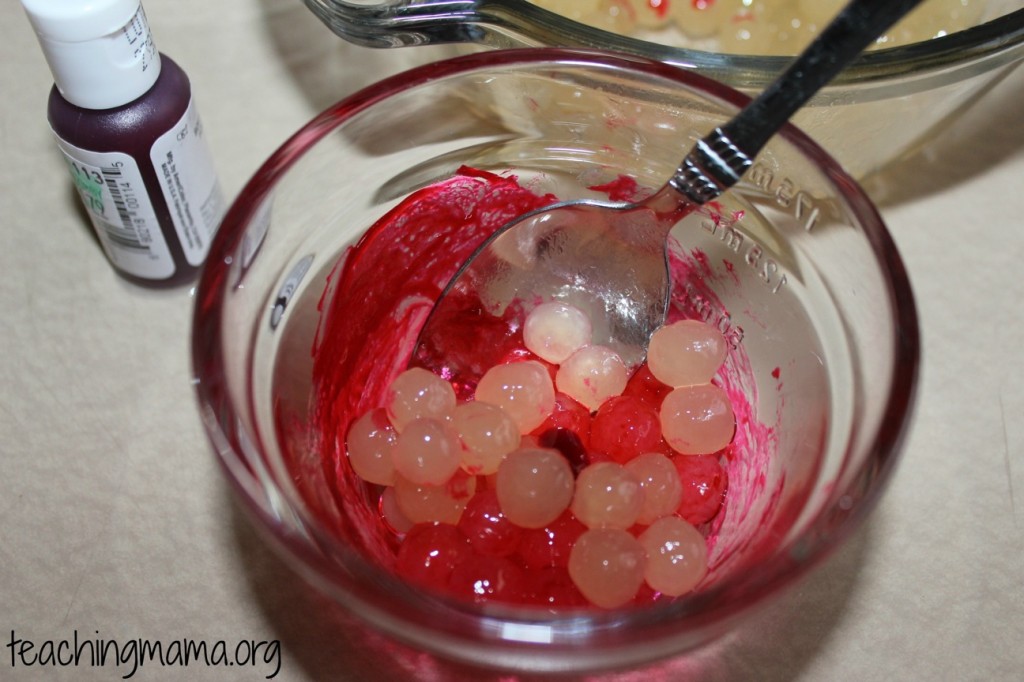 To let the food coloring soak in, I laid them on wax paper and I let them sit for about an hour to dry.
Then I created an invitation to play for my toddler. I displayed the water beads in bowls, set out a silicone mold, and had a large bin with a little bit of water in it. I did that so my little one could dump the beads into to play with them. Also, these tapioca pearls are a little sticky, so adding some water helped.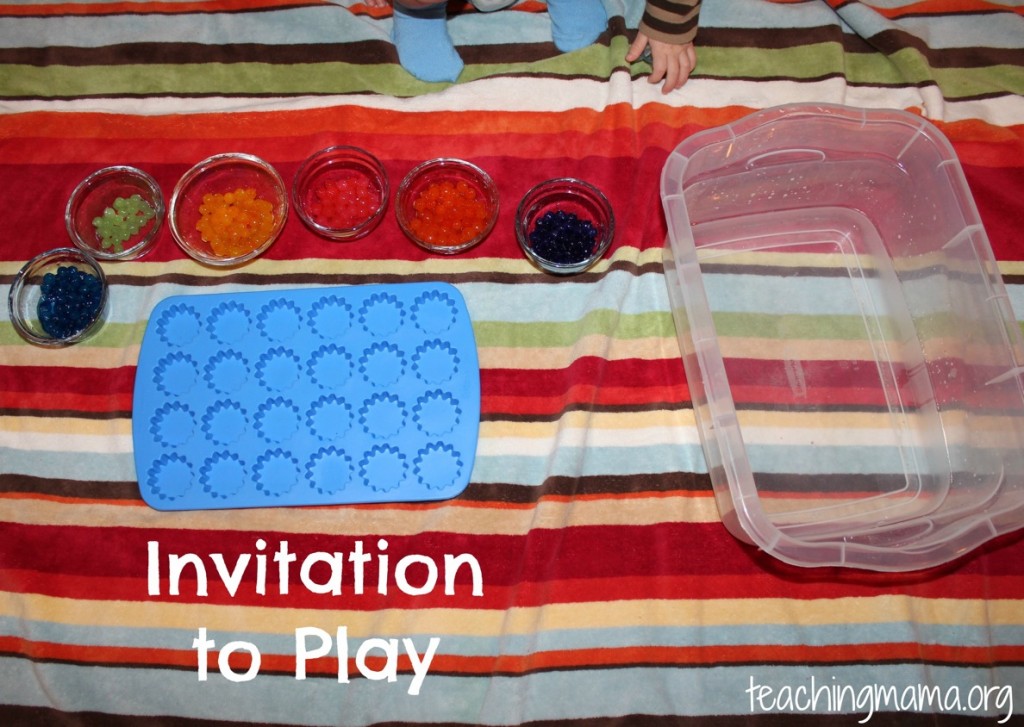 He had a blast exploring!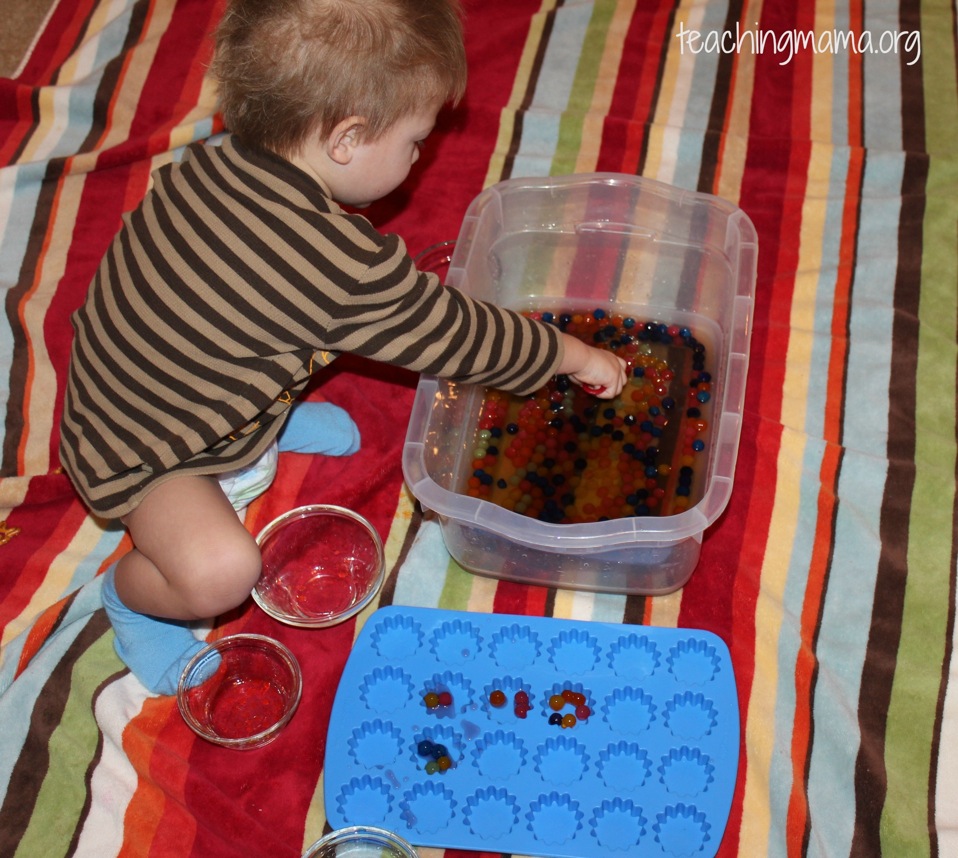 A few things to note:
1. These are safe to eat, but I am not recommending you child eats them. I just don't like the idea of ingesting food dye.
2. The food coloring does wear off slightly in the water and on hands. My toddler didn't use his hands much, but I could see a little bit of color of them afterwards.
3. These do not last long. They started turning mushy and yucky colors after a day.
I do think this is a safe activity for toddlers and a great alternative to regular water beads. So what are your thoughts? Have you tried this before? Will you try it?