Star Pool Noodle Activities
The other day I was walking around Target and I spotted a blue star pool noodle. I had to add it to my cart because I knew we could use it in lots of ways. We ended up doing quite a few fun activities with it and I'm excited to share them with you today!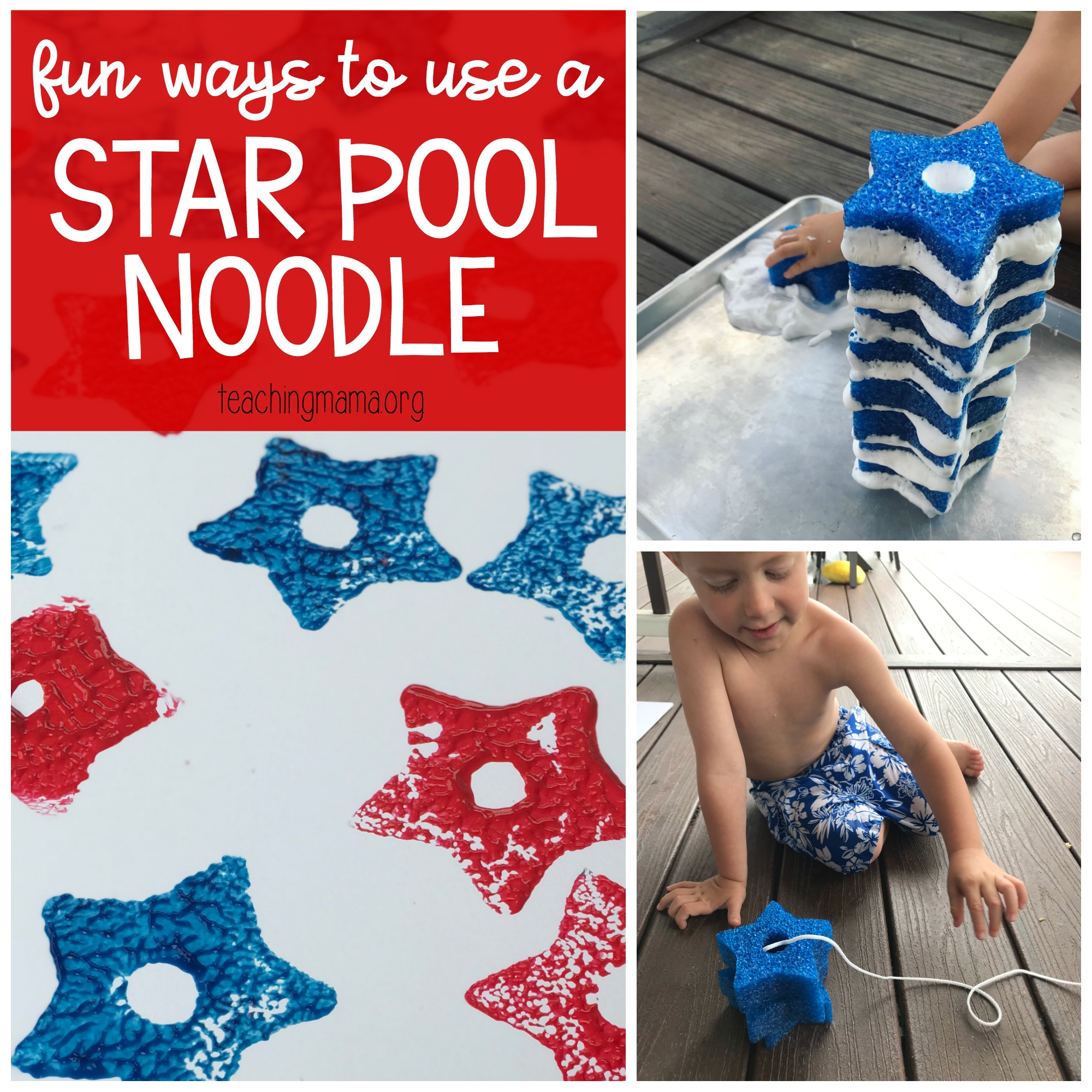 The pool noodle is no longer available at Target, but I see it's available at Scheels.
Since I wanted to have star pool noodle pieces, I decided to use a serrated knife to cut them. They were about 1 inch thick. Don't worry, no children were nearby when I cut the pool noodle.
For our first activity, I gave my 3.5 year old some shaving cream and a tray and asked him to build a tower. He placed some of the cream on the bottom and then continued stacking them super high! He was able to use all of the pieces without knocking the tower down, which was a big accomplishment for him!
You could use whipped cream if you are afraid your child may try to eat the cream! (Also, my son is wearing undies in this pic because it was so hot out! So don't worry, he isn't naked!) After playing, we rinsed the pieces and saved them to use again on another day.
We also strung them onto rope and created a necklace. This was good practice for fine motor skills.
I placed a large white pom pom in the center of them and had my child poke them out. It sounds silly, but it's actually entertaining and a fun way to practice fine motor skills. You could have a contest to see how far the pom pom can shoot out!
I loved using them for an art project. We dipped them into red and blue paint and then stamped them around poster board. We did stick some craft sticks into the stars to use as handles, but you wouldn't need to do that.
I think it looks perfect for the 4th of July!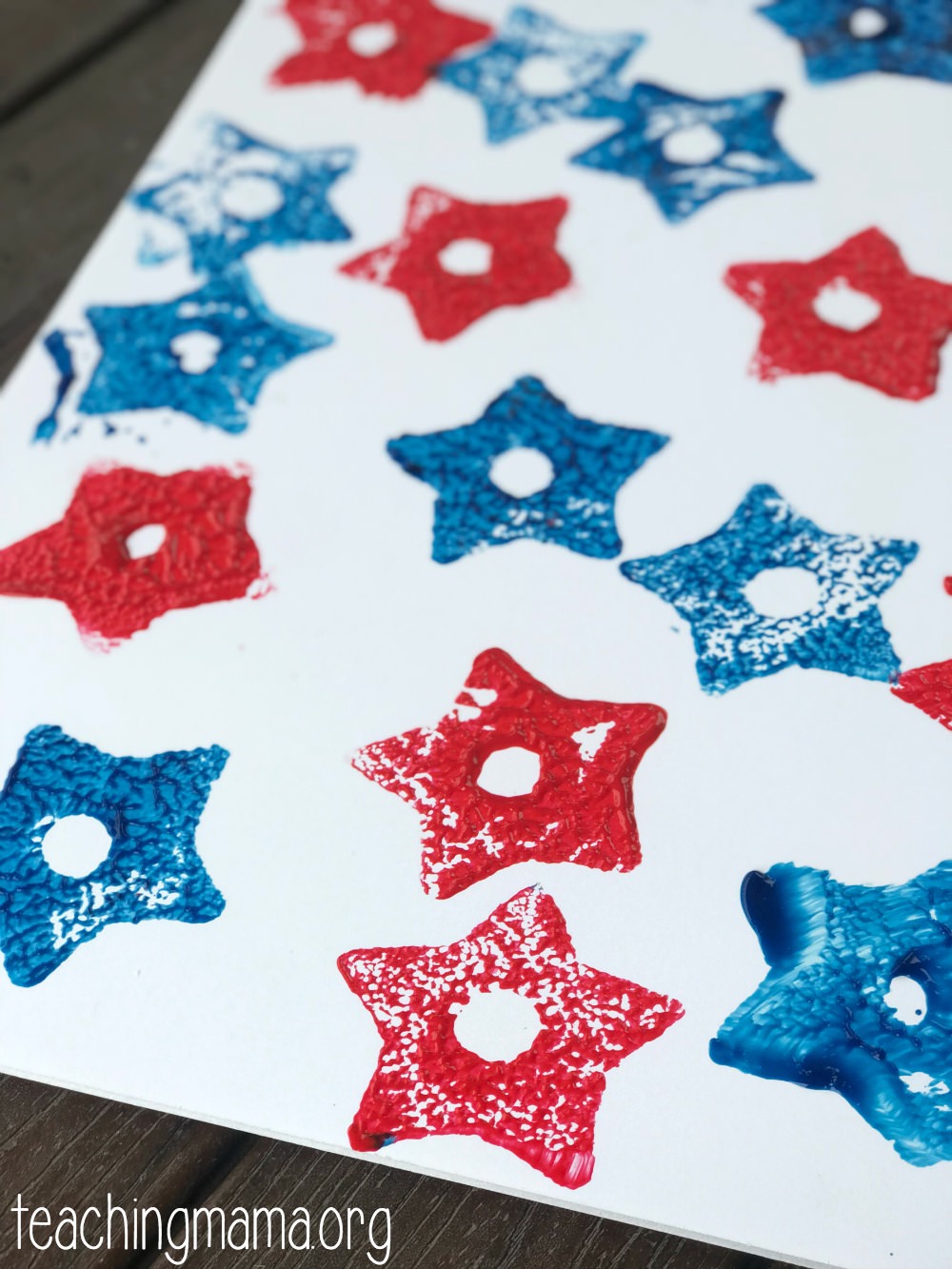 Since the pieces float, these are super fun to add to the bathtub! They even stick to the walls!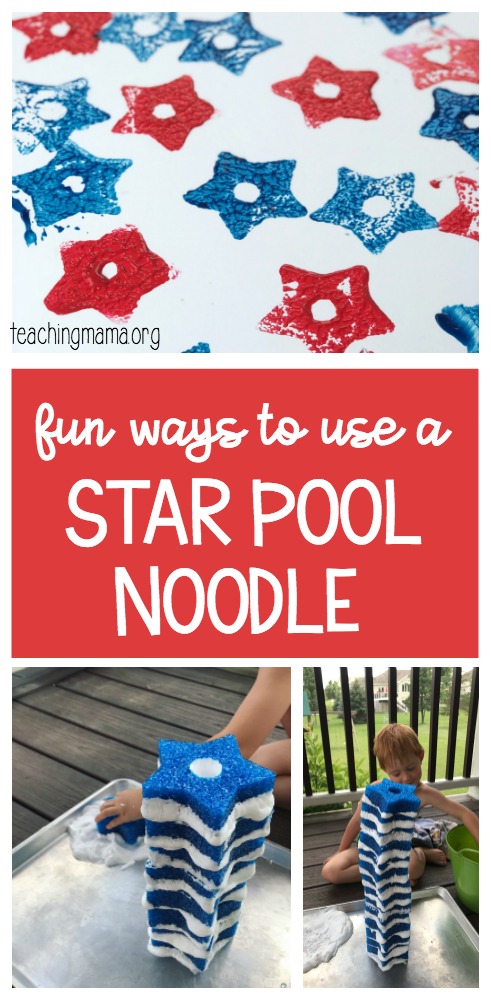 We found tons of ways to play with this awesome star pool noodle. I'm sure we'll find more ways, too! Do you have any ideas to add?