Rhyme & Match Printable Game
My kids and I have been playing an old rhyming game lately and it's inspired me to create a similar printable game.
In this game, children will practice rhyming words and finding matches. It's perfect for preschoolers, kindergarteners, or any beginning reader!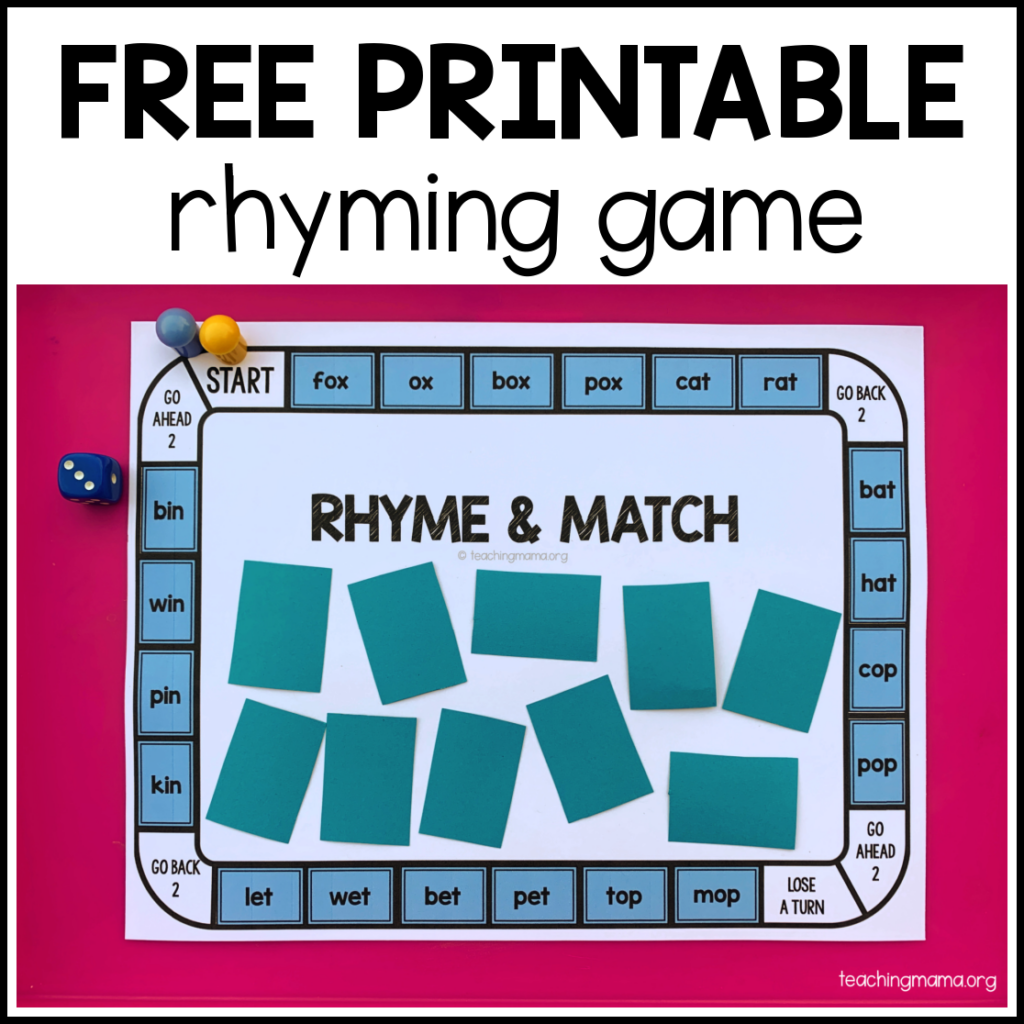 This Rhyme and Match game is a simple one, and it's also a really fun way to practice rhyming! Along with rhyming, children will work on matching. Matching is a skill that helps improve concentration, visual memory, short-term memory, and attention to detail.
Here's what you need for this game:
die
pawns for players
card stock paper
laminator (optional)
scissors
printable game (download is at the bottom of this post!)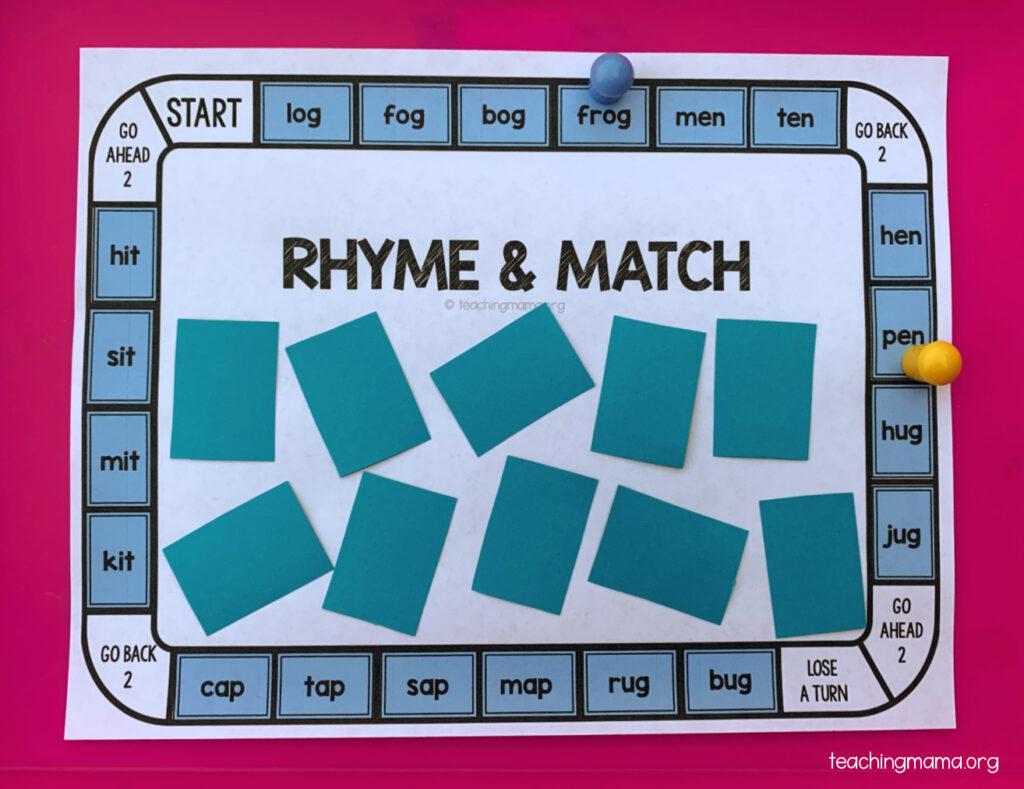 Before playing you'll need to…
Print the pages onto card stock. I recommend colored card stock for the rhyme cards to make sure students won't be able to see the words through the backside of the cards.
Laminate the game board. (optional)
Cut out the rhyme cards.
Place the cards face down in the center of the gameboard.
How to play the Rhyme & Match Game:
1. Place the pawns at the start.
2. Roll a die and move that many spaces.
3. Read the word you land on.
4. Flip over a rhyme card and see if the words rhyme. If they do, keep the match. If they don't, place the rhyme card back.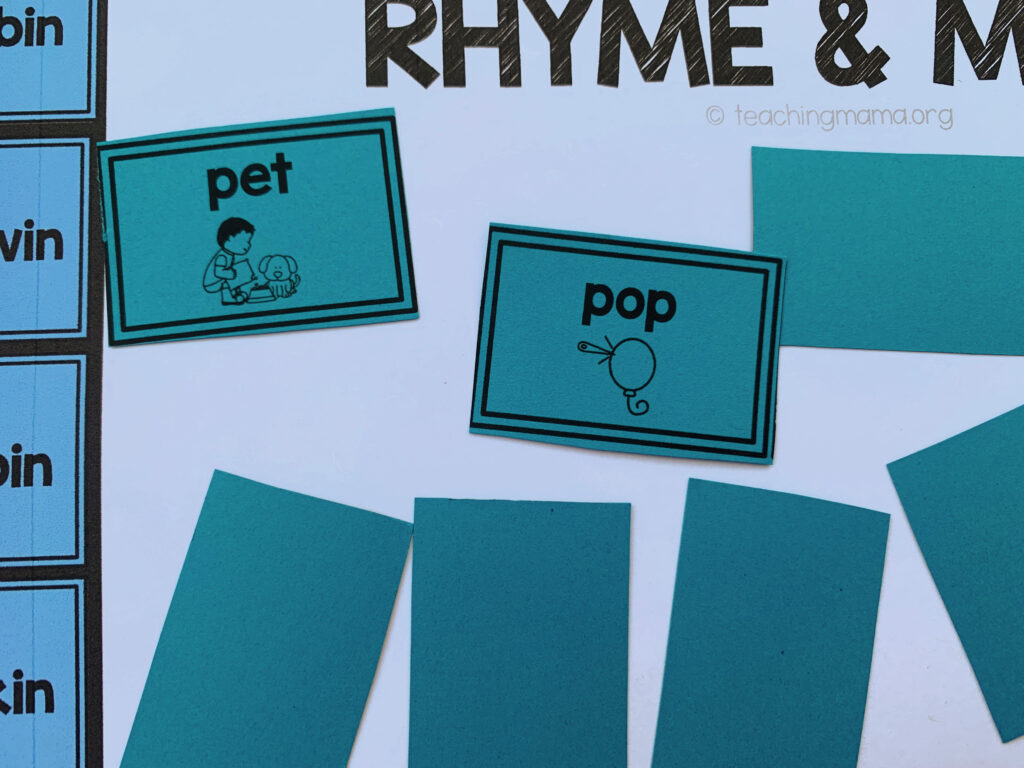 5. Continue moving around the board until one player has 3 matches.
6. The first player to have three matches is the winner.
Special Notes:
There are 10 total rhyme cards, so that means only 2 cards will match exactly the word. Ex: If a student lands on 'cat' and flips over 'hat,' it is considered a match because it rhymes.
This download has two versions of the Rhyme and Match game, which uses two different sets of rhyming words.
Here are the word families in each game:
Game board #1 –
-ox
-at
-op
-et
-it
Game board #2-
-og
-en
-ug
-ap
-in
If you'd like to download this free printable, click the button below!