Disclosure: This post contains affiliate links to Amazon. See my disclosure policy for details.
I love to teach rhyming to kids! There are so many fun ways to teach rhyming, but one of my favorite ways is through picture books.
Books are an excellent tool for teaching! I'm excited to share my favorite rhyming books with you today! If you have any favorites, I'd love to hear them in the comments.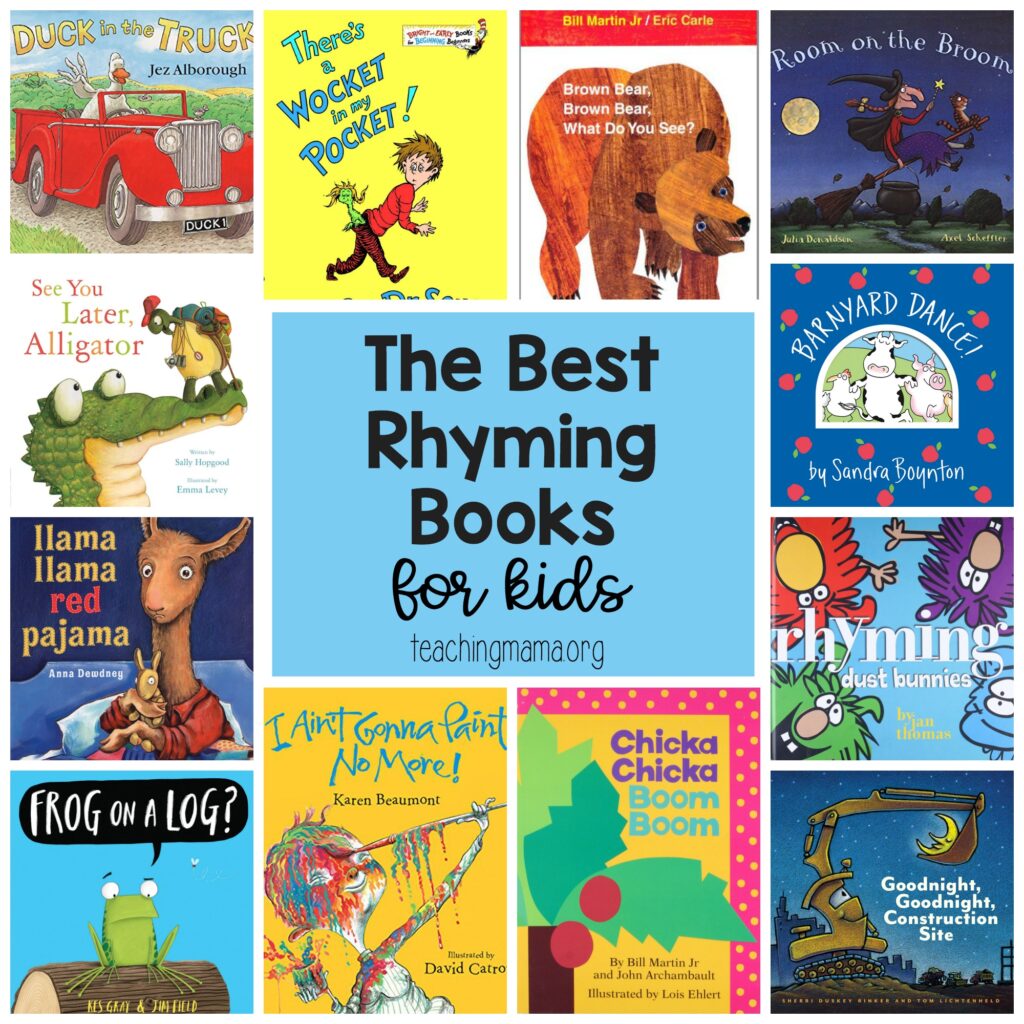 Llama Llama Red Pajama by Anna Dewdney– If you've read this one to a child, you know they want to hear this book over and over again! It's such a cute story about a llama afraid to go to sleep. Of course, his sweet mama comes to the rescue!
Chicka Chicka Boom Boom by Bill Martin Jr. and John Archambault – This book tells the story of alphabet letters climbing up the coconut tree. But…oh no! All their weight causes the letters to fall out of the tree. Then, all the uppercase letters come to rescue the lowercase letters. It's such a clever story!
Rhyming Dust Bunnies by Jan Thomas – Our copy of this book is falling apart from us reading this one so much! The dust bunnies are all good at rhyming, except for one…Bob. Through this story, Bob tries to warn the other dust bunnies from the dreaded vacuum! You'll have to read this book to find out what happens!
Brown Bear, Brown Bear, What Do You See? by Bill Martin Jr. and Eric Carle – Children love to read along with you on this book! You'll go through a variety of animals and people asking them "What Do You See?" There is a very rhythmic pattern in this book!
Goodnight, Goodnight, Construction Site by Sherri Duskey Rinker – This book is great for bedtime. All the construction trucks have worked hard and it's time to end the workday. Each truck has its work explained and then its bedtime ritual, too.
Room on the Broom by Julia Donaldson – While this book is popular around Halloween, this book is a favorite to read year-round! Not only does this book have great rhymes, but it also tells a wonderful story of friendship and teamwork!
I Ain't Gonna Paint No More by Karen Beaumont – The story is about a little child who loves to paint and ends up painting the whole room!  Even after a bath and her mother hiding the paint in a closet, she finds it and paints her whole body! Each body part has a rhyme and children love to guess what is coming up next.
See You Later Aligator Alligator by Sally Hopgood – A tortoise is going on an adventure, but before he goes, he must say goodbye to all his animal friends! This book has so many fun rhyming ways to say "goodbye!"
Duck in the Truck by Jez Alborough – Duck was driving his truck when he got stuck in the muck. But thankfully, there are a lot of animals that come to help!
There's a Wocket in my Pocket by Dr. Seuss – Since this is a Dr. Seuss book, it has lots of rhyming words! This one has lots of silly rhyming words, too.
Frog on a Log by Kes Gray and Jim Field – This is about a frog who does not want to sit on a log. The cat tries to tell him he must sit on the log because he is a frog! They go through lots of animals and where they sit…and of course, they all rhyme! It's a very cute book.
Barnyard Dance by Sandra Boynton – Young children will enjoy this book about animals having a big barnyard dance! It's a book with fantastic rhythm and rhyme!
These are just 12 of our favorites. There are so many more rhyming books! If you'd like to shop for these books on Amazon, just click on the pictures below.
Room on the Broom

Chicka Chicka Boom Boom

Duck in the Truck

See You Later, Alligator

Llama Llama Red Pajama

Frog on a Log?

I Ain't Gonna Paint No More!

Goodnight, Goodnight Construction Site

Rhyming Dust Bunnies

Barnyard Dance!

Brown Bear, Brown Bear, What Do You See?

Dr. Seuss: There's a Wocket in My Pocket!

Happy rhyming!