Beginning Reader Activities About Teeth
We are learning about teeth this week since February is National Children's Dental Health Month. Last week I shared 15 hands-on activities all about teeth. Today, I'm sharing beginning reader activities about teeth.
Do you have a child that's in the early stages of learning to read? If you do, you're probably familiar with beginning readers or emergent reader books. These type of books have the following:
strong picture support
repetitive patterns
controlled text
large print
familiar concepts
very few words
I created a beginning reader book about teeth. I created 2 versions with one being slightly harder. Both books focus on using the sight word 'I'. In the easier book, the sentences all begin with the phrase "I see…" The text always supports the picture.
In the other book, the sentences all start with 'I', and the rest of the sentence describes what you do with that object. For example, "I brush my teeth."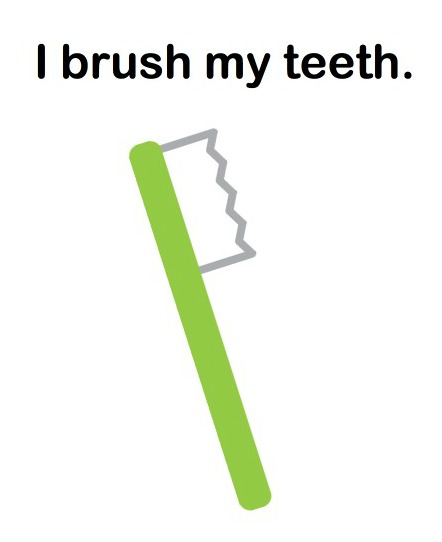 Both books are early emergent readers. The first book my 3 year old read.
And the other book my 5 year old read.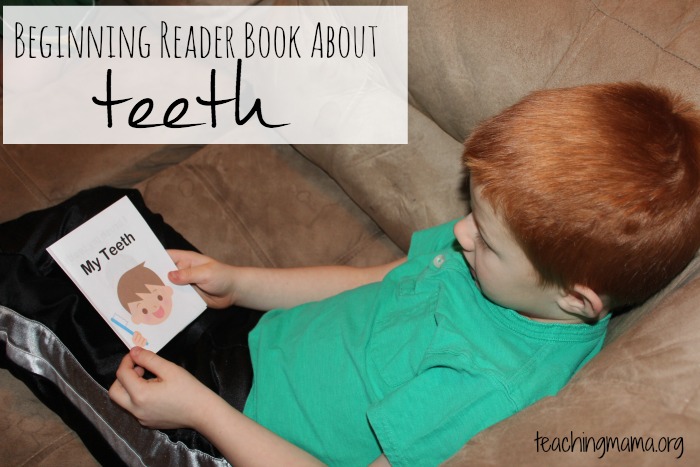 It may seem silly to read such simple books with preschoolers. However, they are learning these skills:
how to hold a book
text is read left to right
what a sentence looks like
to use context clues (pictures) to figure out meaning
---
We also did a syllable counting activity. For this activity, I printed out these cards. We counted (or clapped) the syllables in each word. Then we placed a clothespin on the correct number. My kids love clapping and counting syllables in words, which is a great for phonological awareness!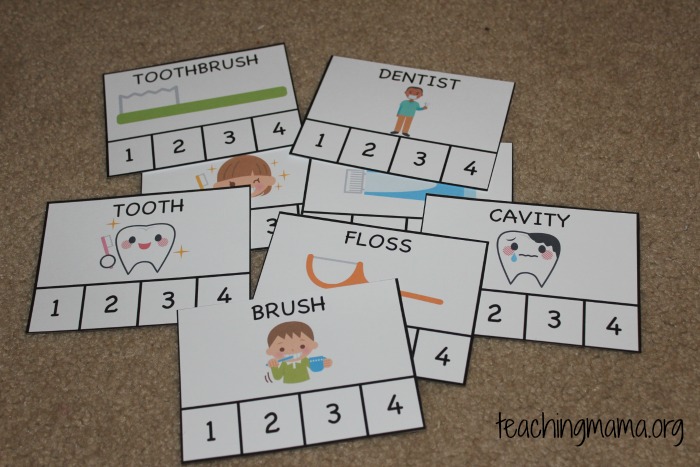 I'm excited to share these printables with you today! I hope they will be helpful for teaching reading and health to your little ones!
To download the EASY emergent reader click here —> Teeth Beginning Reader
To download the other emergent reader click here —> Teeth Beginning Reader 2
To download the syllable cards, click here —>  Teeth- Syllables