Sensory Table Ideas for the Whole Year
Disclosure: This post contains affiliate links to Amazon. See my disclosure policy for details.
Are you looking for sensory table ideas? Maybe you're at the end of the week and the last thing on your mind is what to put inside of your table for sensory play! I totally get it…as a busy preschool teacher, I know that time is limited, so I'm here to help!
Every Friday, I switch out what's inside of my table. By the end of the week, I find that my preschoolers have lost some interest in the table and I like to keep it new each week. I love making this space in my classroom fun, inviting, and a place for students to explore and engage their senses.
What are Sensory Tables
A sensory table is a large bin that is filled with material for children to explore. They are very interactive and students play with the material as well as engaging the senses. Usually they are using their sense of sight and touch, but sometimes in can be the sense of smell and hearing, too! Sensory tables are a fun and educational way for kids to discover different textures, colors, and concepts through hands-on play.
Benefits to Sensory Tables
There are many educational benefits to sensory tables!
Exploring New Materials – this table can provide opportunities for children to explore new materials. This may be various textures, temperatures, and materials. This helps develop their sense of touch!
Fine Motor – Students like to pour and scoop the material, which is great for fine motor skills.
Cognitive Development – When students experiment with the the sensory bin, they may learn concepts such as cause and effect, patterns, and basic science concepts.
Creative Play – Sensory play encourages students to think imaginatively. They may be pretend playing or
Social Interaction – Playing at the sensory table is great for kids learning to play with one another. They may work cooperatively to accomplish a task. It's great for social skills, too!
Materials Not Allowed in Sensory Tables
You should be cautious about what you put inside of a sensory table. You want all the students to be safe!
Small Objects – I recommend avoiding small objects that children could choke on. If you are making a bin for a toddler, please use extra caution!
Sharp or Pointy Objects – You don't want students to get poked or break skin, so please don't put sharp or pointy objects in the bin.
Allergens – If you have students with allergies, please be mindful of this! For example, if you have a student with celiac disease you would not want to use flour in your bin.
Skin Irritations – Items that could cause skin irritations should be avoided! This could include rough textures.
Mold or Bacteria Risks – If you have material that could develop mold or could contain bacteria over time, it is best not to be used.
Some schools and centers have rules of what they can and cannot put inside of a sensory table. For example, some may not be able to use food items, such as rice and pasta.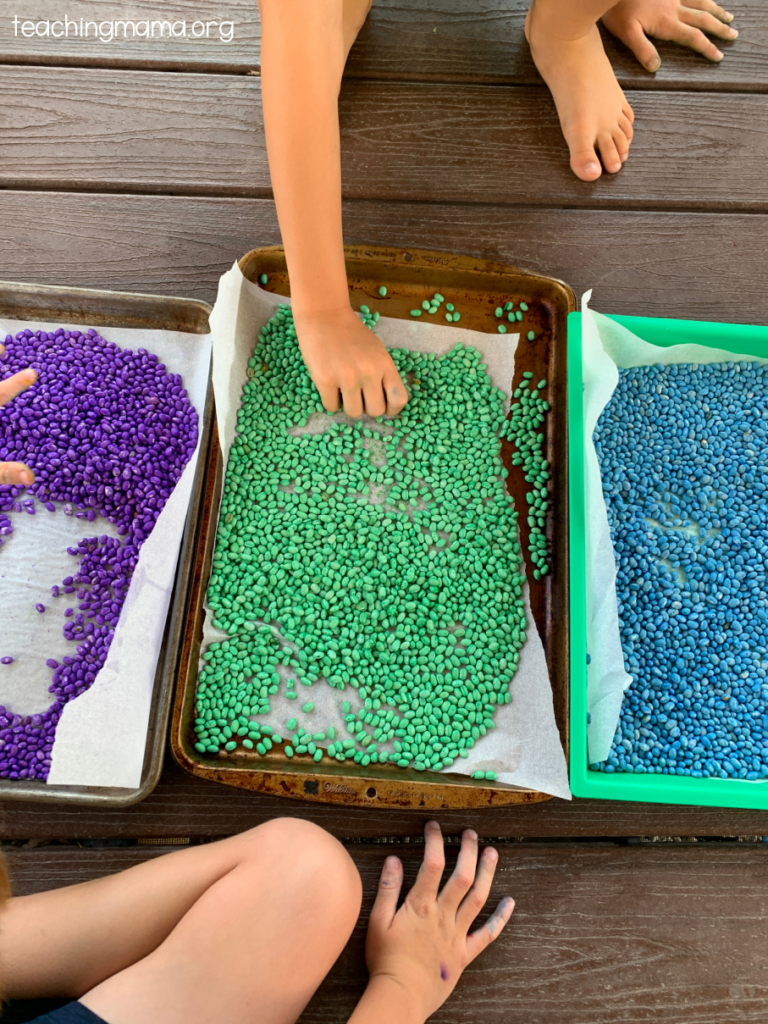 30 Sensory Table Ideas
I LOVE planning sensory table ideas! And I find that my students love it, too! Here are my sensory table ideas for a whole school year.
1. Pom Poms – This idea is very simple! Just add craft pom poms to your bin and add in scoopers, tongs, and mini buckets to fill.
2. Sand – Another simple idea is play sand. Children love how the sand feels in their fingers! I like to add in sand toys, mini shovels, and buckets.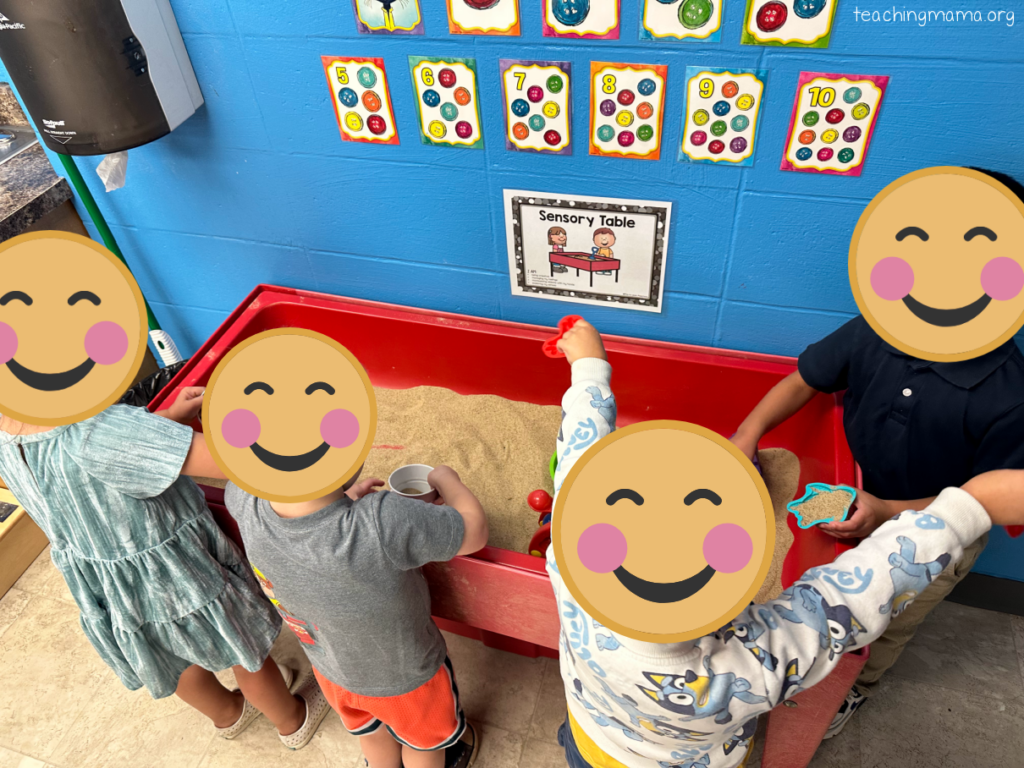 3. Colorful Water – This is one of my favorite sensory bins! Simply add some water to the table, squirt in your favorite color of washable kids paint, and then drop in some washable gold paint. You will need to use a whisk or something similar to mix it all up. The gold paint swirls around in the table and it is so cool to look at! No color transfers to the kids' hands! 🙌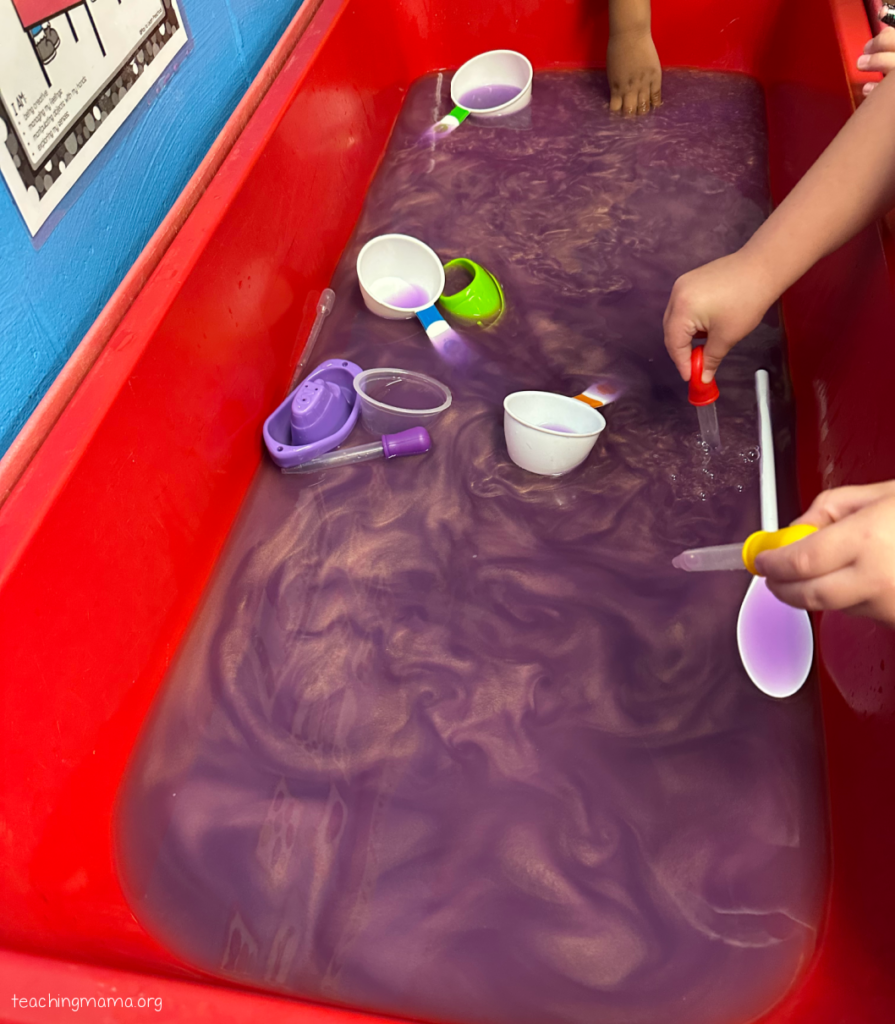 4. Apple Cider Cloud Dough – This one smells super great! It is a mixture of flour and vegetable oil and then I added in cinnamon and apple cider mix to get a great scent. You can find the full recipe over here.
5. Oats – Another simple idea is to add oats to the bin. You can also add in play apples, pie pans, and cinnamon sticks.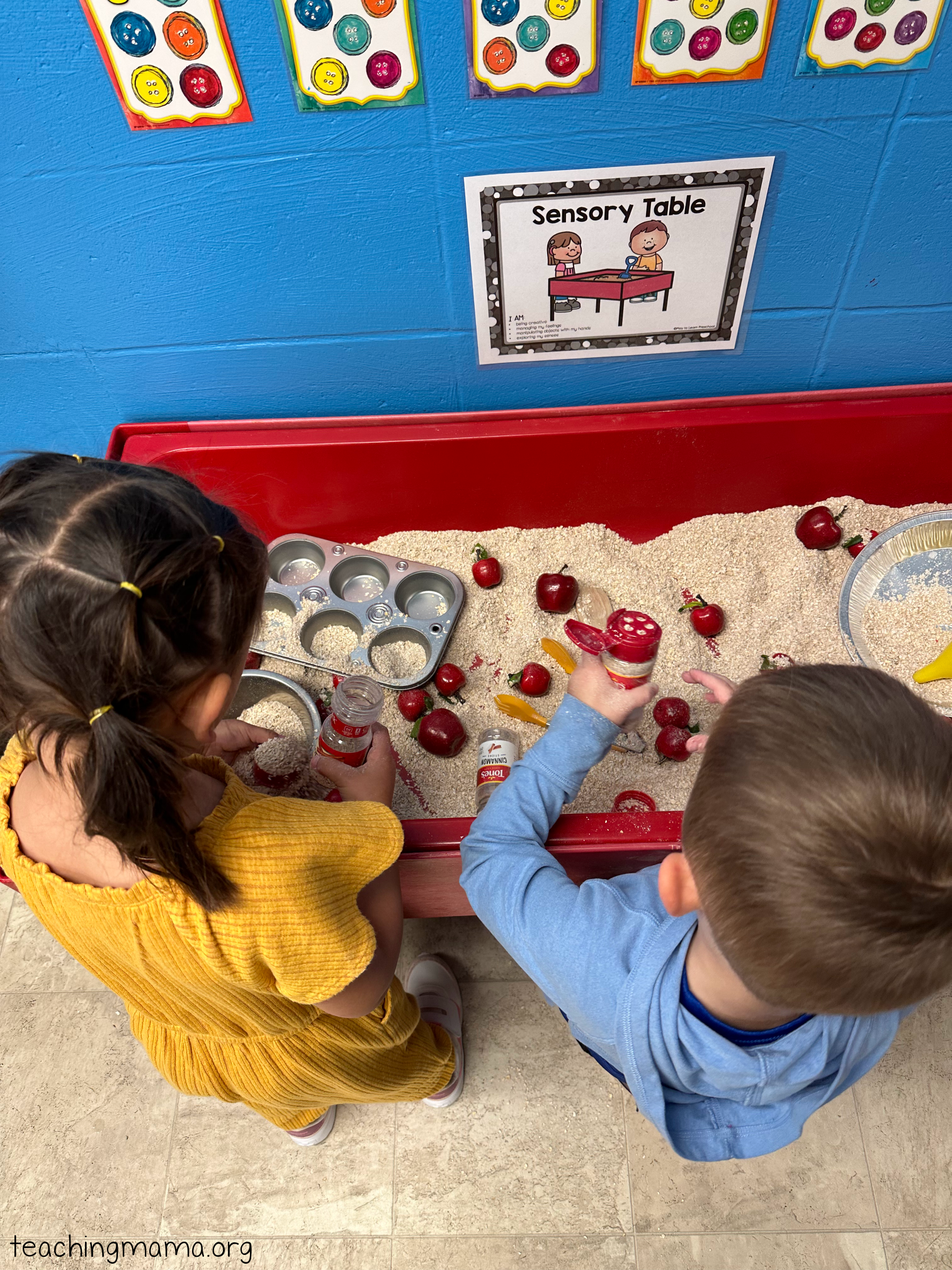 6. Spooky Noodles – I love this one for October! The recipe is found here. I will note that you do have to keep this one in the refrigerator when you are done because you don't want mold or bacteria to grow on the noodles.
7. Rice – Colorful rice is a great sensory bin base. You can add in scoops, spoons, bowls, and cups.
8. Flowers – For this table, place smooth stones at the bottom of the table, fill it with water, and add faux flowers.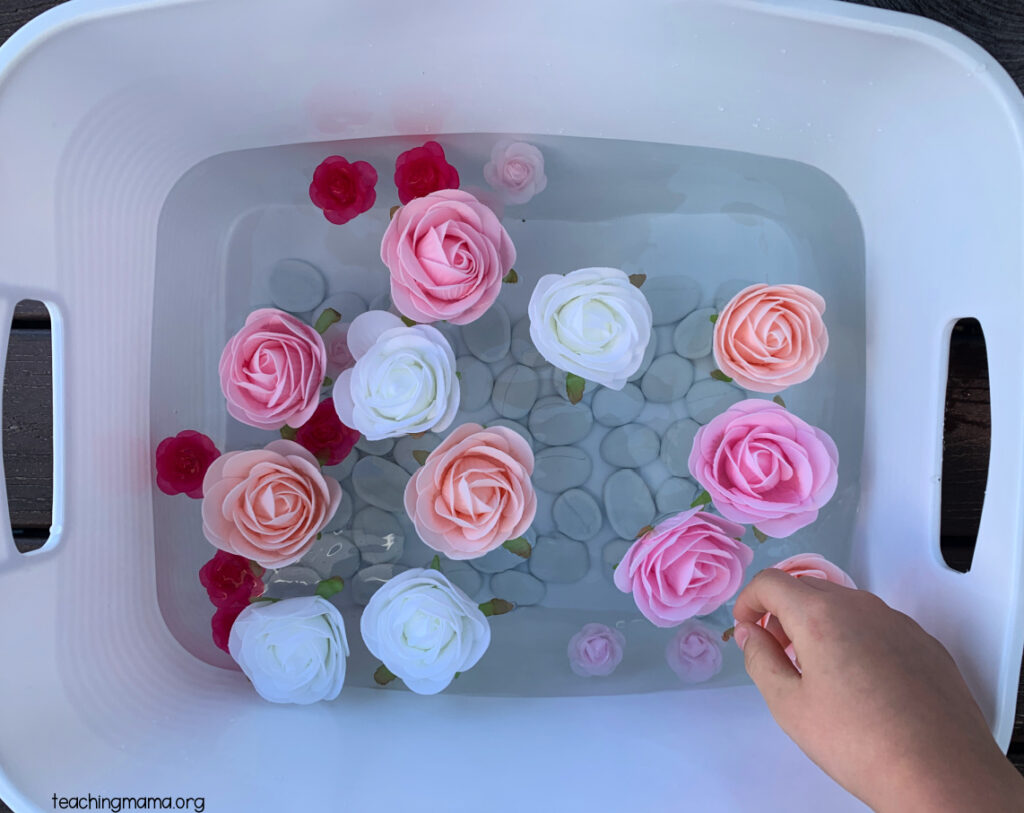 9. Popcorn Kernels – Popcorn kernels can be used in a lot of table ideas! This one is a harvest themed one, with mini hay bales, wooden leaf cutouts, pumpkins, and scarecrows.
10. Pasta Shapes – I love dying dry pasta! The insect one I used in the picture below is no longer available, but you can find other ones at your local grocery store in the pasta aisle. Check out how to dye pasta here.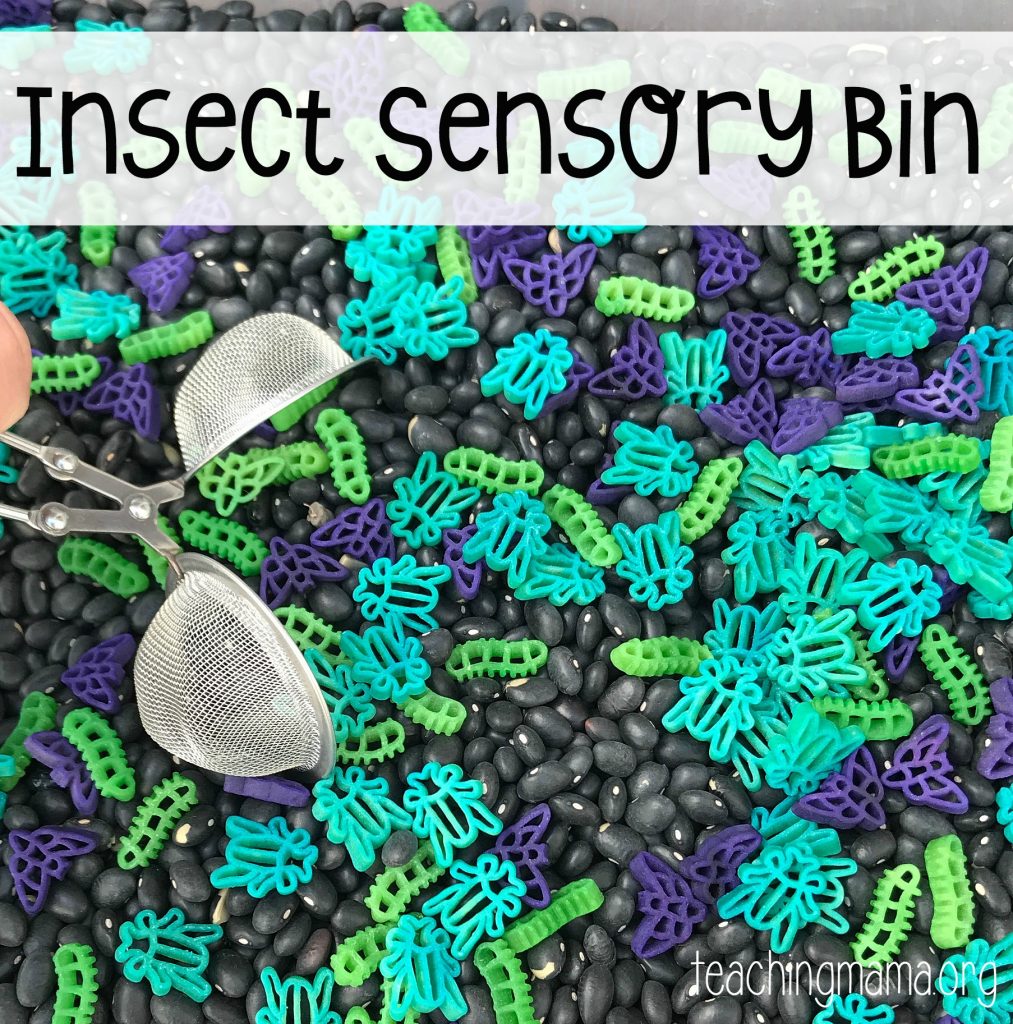 11. Alphabet Pasta – I love this alphabet pasta! It's simple to make and great for helping children learn the ABCs!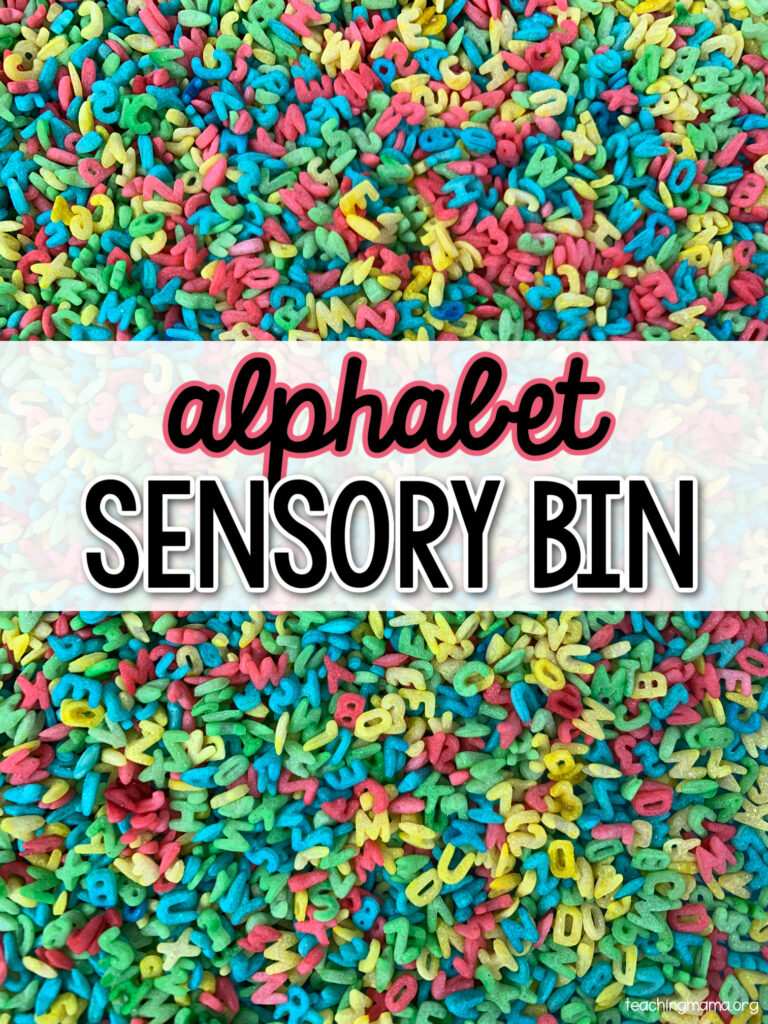 12. Chia Seeds – This chia seed idea is a little messy, but a wonderful texture for kids to explore. It does take some prep time!
13. Water Beads – Water beads are so fun to play with! I would use caution with this one, as it should NOT be used with young children and/or children who put things in their mouths. Check out this idea that is similar, but uses tapioca pearls!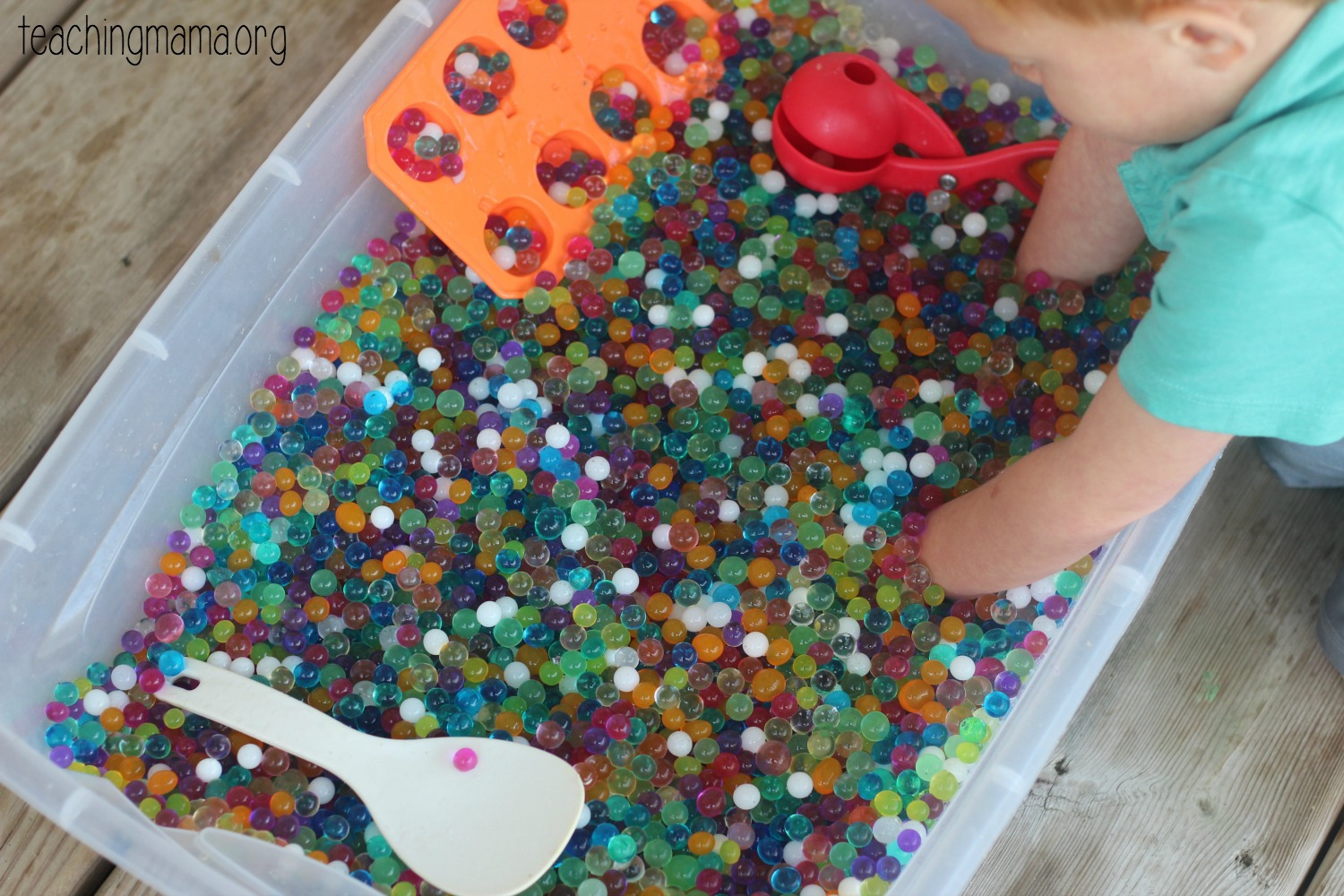 14. Coffee Grounds – Coffee grounds make a unique and strong-scented base for a table!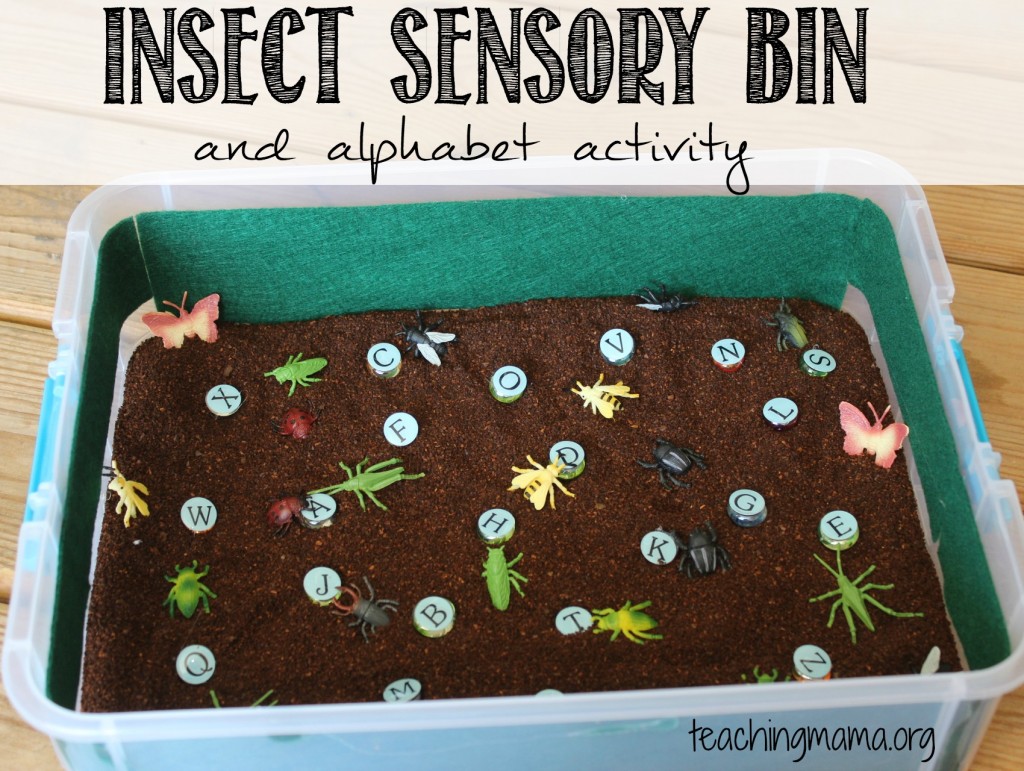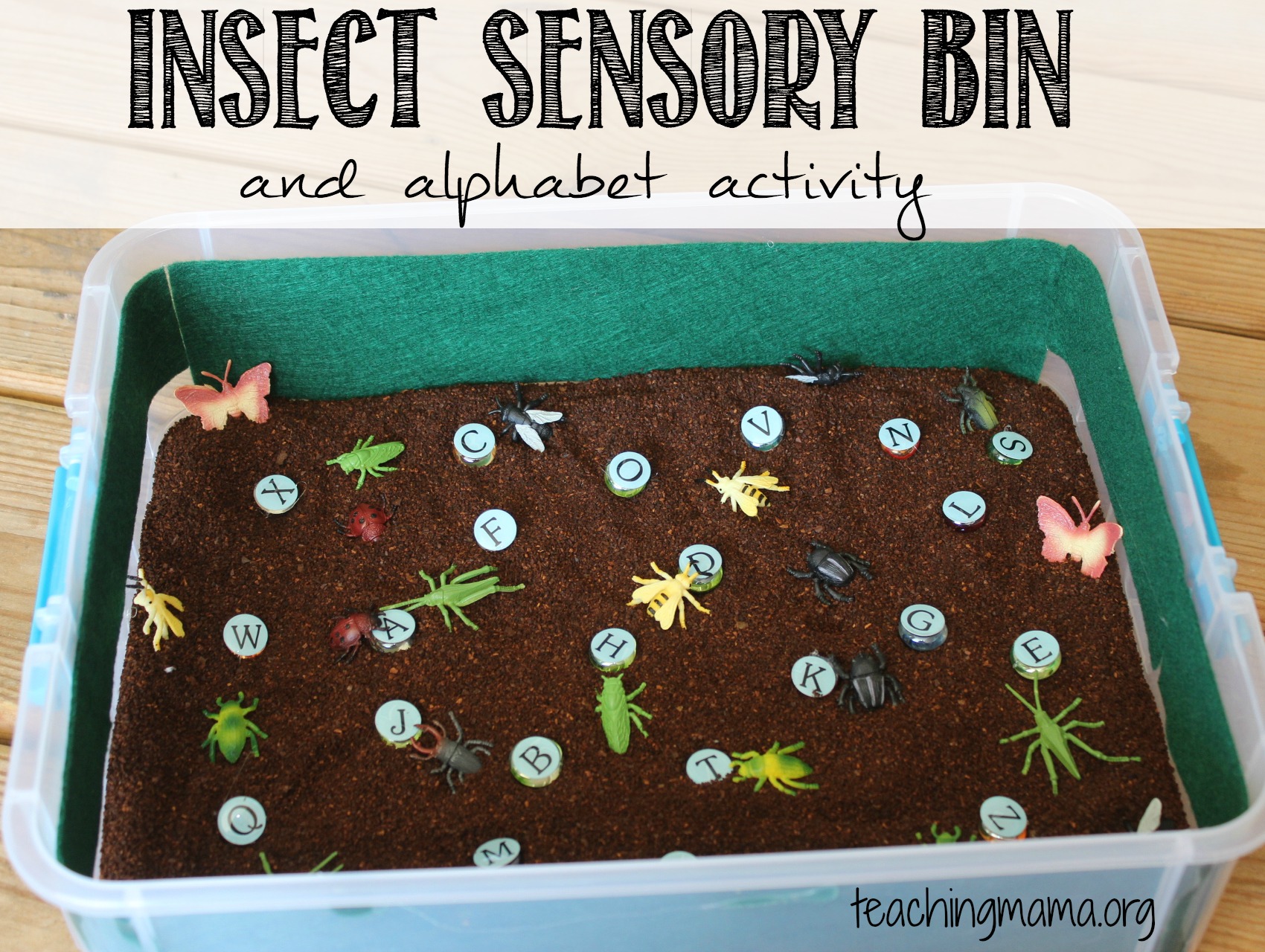 15. Shredded Paper – Add shredded paper to your bin along with some toy animals or construction trucks.
16. Dry Beans – Sometimes I use dry black and navy beans. This bin below was for Halloween, so I added some pumpkin face balloons (filled with beans), snakes and worms, eyeballs, gems, and votives with electric candles. I do want to note that eating raw or undercooked beans can be toxic and cause food poisoning. So please use discretion if you decided to use beans.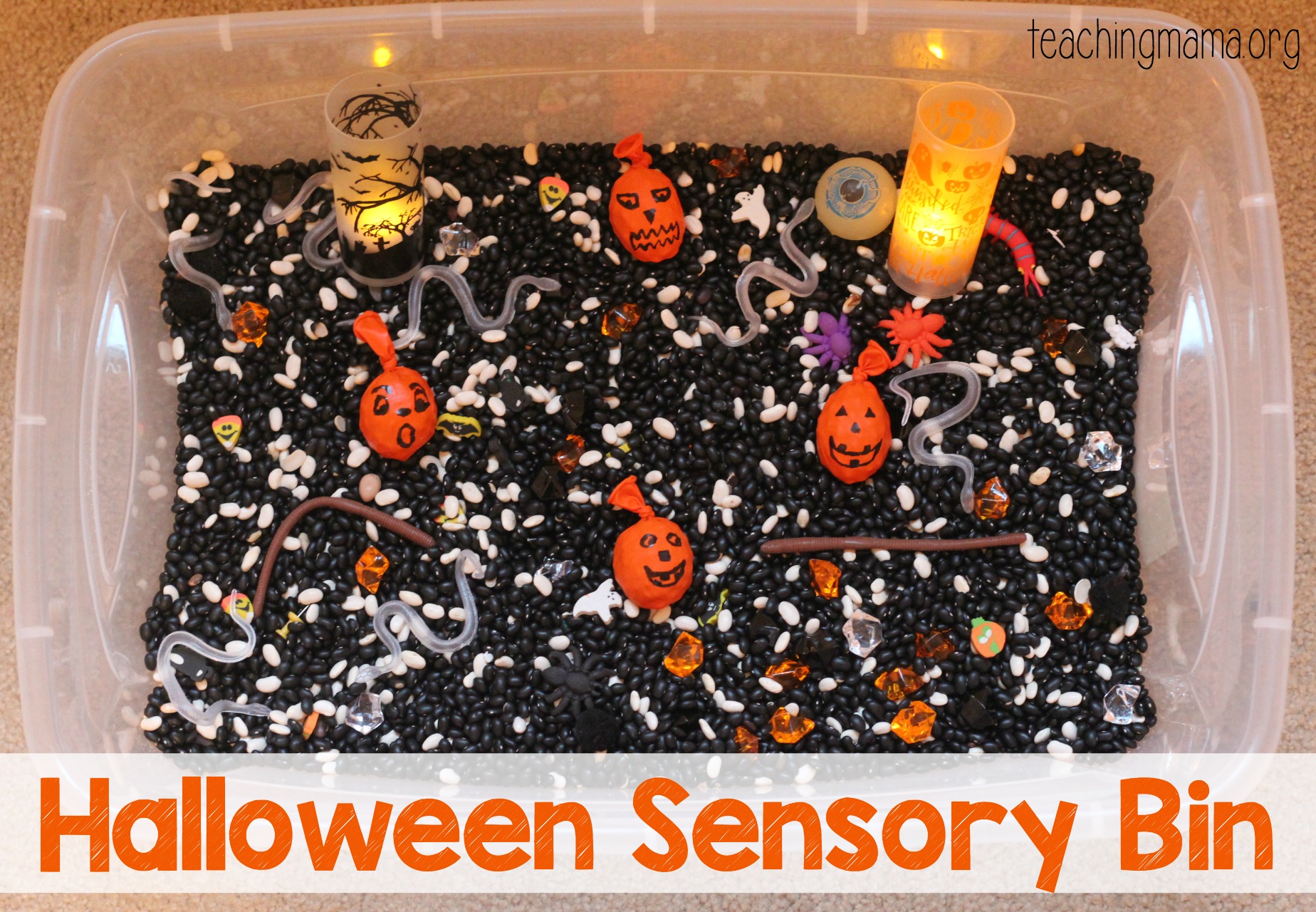 17. Fall Leaves – Simply put in real or faux leaves into the table along with other fall items. I also added some popcorn kernels to this table.
18. Split Peas – Dry split peas and rice make a great sensory bin base! I like to make this on in March.
19. Aquarium Gravel – These colorful rocks are fun for kids to play with! You could add sea creatures, shells, or larger rocks to this table.
20. Chickpeas – Did you know you can color dried chickpeas?! They look so cool and are a very fun sensory table base. We added in some black bats (made from bow-tie pasta) for a Halloween-themed table.
21. Kinetic Sand – Kinetic sand is expensive, but it is fabulous! Kids love how this sand feels!
22. Snow – Snow is wonderful to use when it's too cold to go outdoors! I like using this snow paint recipe, too!
23. Soil – Add dirt or planing soil to a table along with tools to dig. For this one, I also added in alphabet letters and pictures that match the beginning sound. I buried them and had the students find them and match them.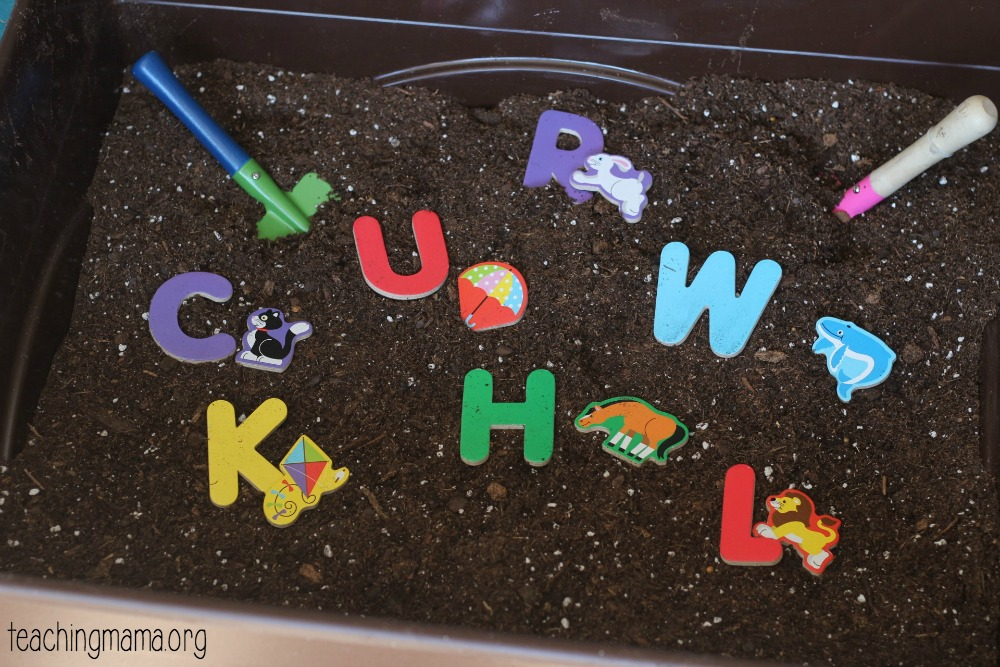 24. Soap and Water – This one is simple! Just add water to your table and some dish soap. I like to add in egg beaters so kids can make bubbles!
25. Crunchy Cereal – Add in some crunchy cereal to your table. You can even encourage kids to crush the cereal, which is good for hand-eye coordination.
26. Bird Seed – Use bird seed as a neat sensory bin base! You can add in scoopers, spoons, cups and more!
27. Pluffle – Pluffle is amazingly soft and irresistible to touch! When you put it in your hands, it looks like it is moving!
28. Cornmeal – This one is very simple! Just add cornmeal to your table and add in cups, scoops, funnels, or even toy animals!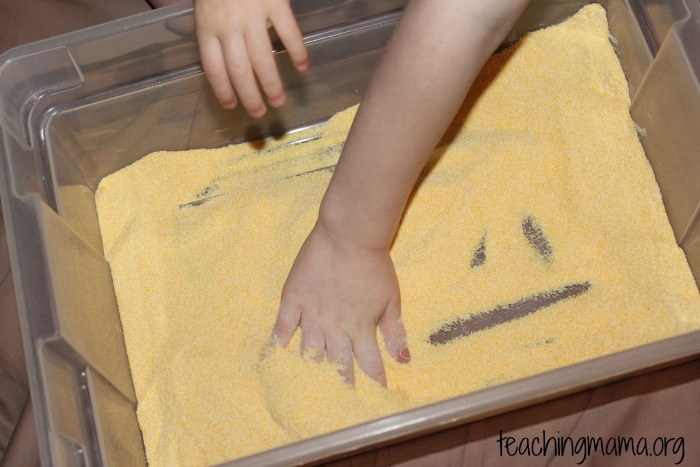 29. Oobleck – If you are brave, you can try this messy sensory idea! All you need is cornstarch and water to make oobleck!
30. Colored White Beans – I love how these colored white beans look! They are surprisingly easy to make, and they feel smooth in your hands.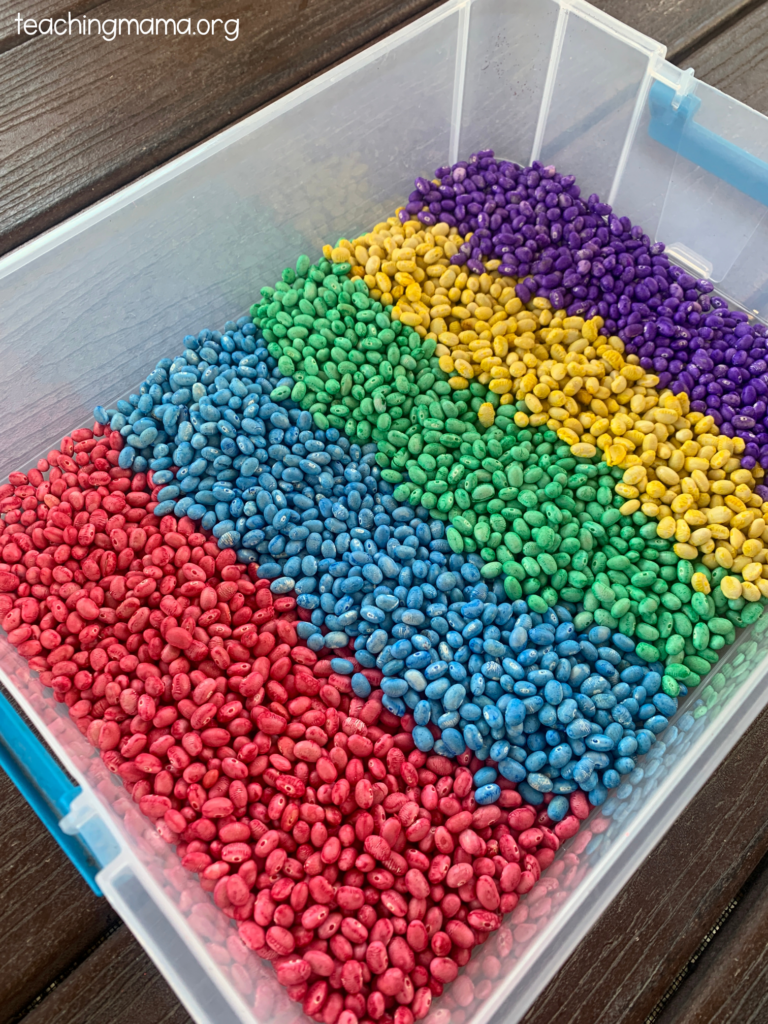 Frequently Asked Questions
I hope these 30 ideas inspire you with filling your sensory table!