Halloween Themed Writing Tray
A few weeks ago I picked up some glow-in-the-dark decorative fillers because I thought it would be the perfect material for a Halloween writing tray. Today I'm excited to share with you how it turned out and free alphabet cards for you to use to make your own!
This writing tray is great for preschoolers to work on beginning writing skills. In fact, I suggest doing this activity before using a paper and pencil for teaching writing. Your child can still practice forming letters and won't have the frustration of learning how to hold a pencil properly.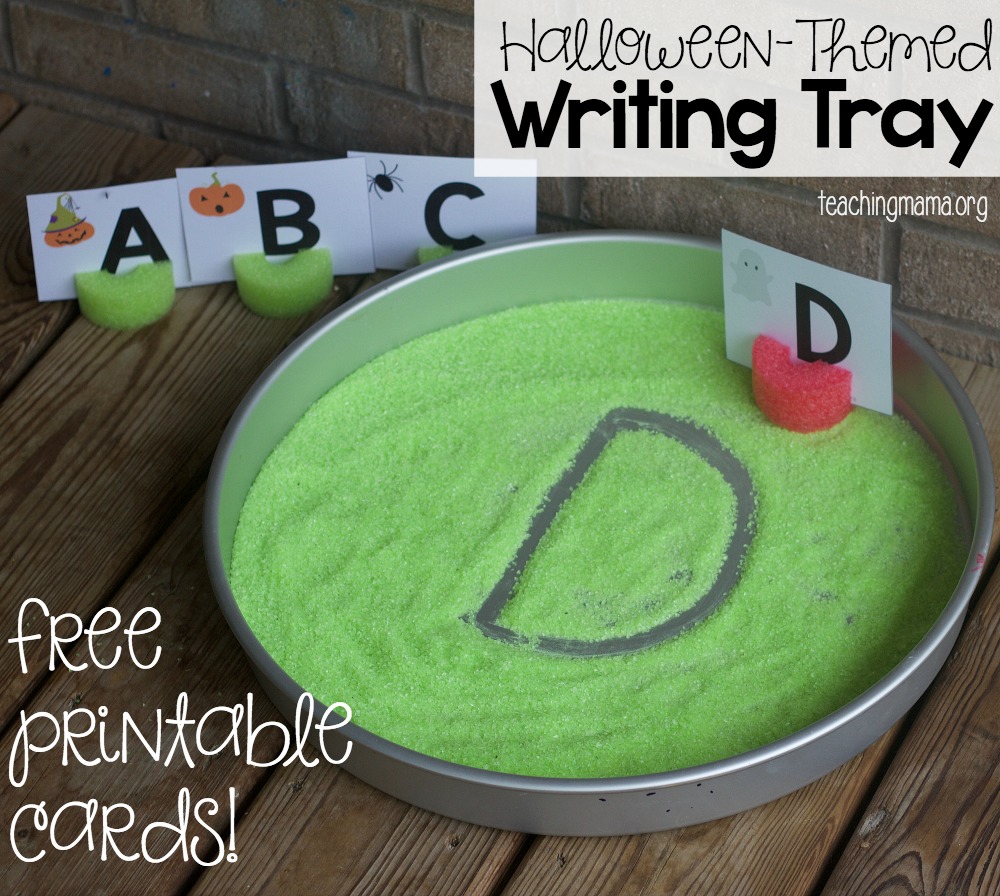 Here's what you need for the sensory writing tray:
tray (this tray is a large cake pan from Hobby Lobby)
filler for the tray (this one is from Michael's)
optional: cut up pool noodle to hold alphabet cards
This writing tray is very easy to put together. You don't have to use the same filler I used (in fact I can't even find a link to it online!). You can use salt or sugar if you'd like instead. Simply pour the filler into a tray and display the alphabet cards. I put them inside of a cut-up pool noodle. (See this post for directions with this.)
Then have your child practice forming the letters. If you want to teach them how to make the letters with some fun rhymes, I suggest checking out my alphabet formation rhymes!
I love putting a writing tray out for my preschooler to practice letters. He finds confidence in his work and he loves doing this activity! It's even an activity that you could do daily with your child and have him or her practice 5 alphabet letters each day. There's no need to do all 26 all at once!
And just for fun…here's what the tray looks like in the dark! Your child may have fun trying this in the dark, too!
You can download the free Halloween-themed alphabet cards here —> Halloween alphabet cards
Happy Fall!