I receive emails all the time asking how we organize our preschool at home. So today, I am going to show you our current school room and share tips on how to organize preschool at home. So without further ado…welcome to our preschool room!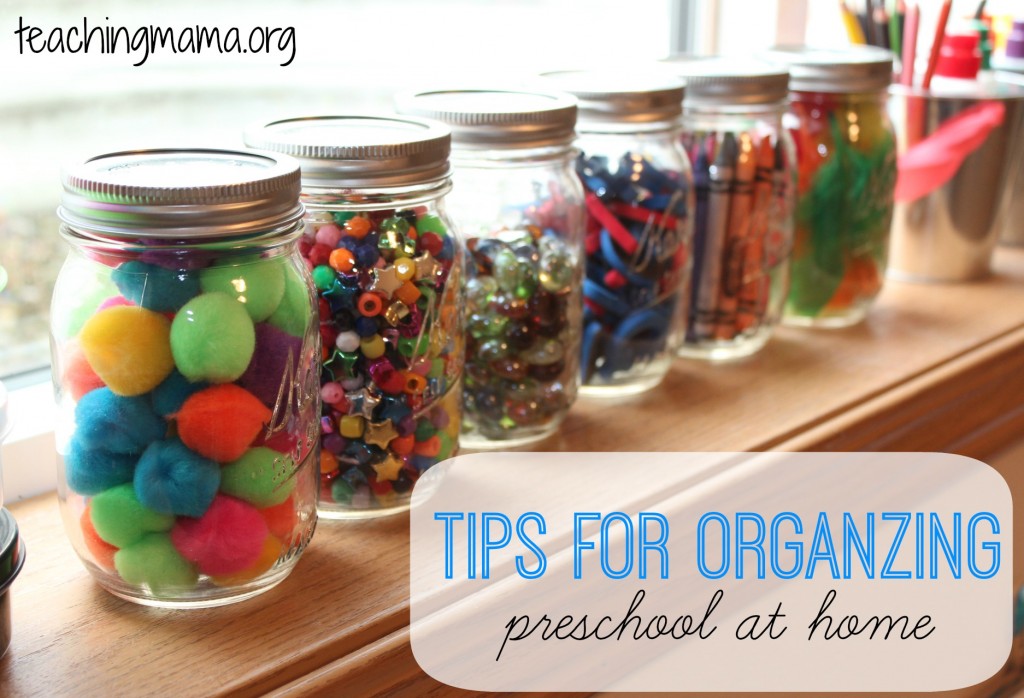 Our home is not big by any means. In fact we recently moved to a new city and are renting at this time. Some day I dream about having tons of space at home with a huge backyard, but for now we make do with what we have. And I am thankful that we have a room set aside for school. Here is a look at our room…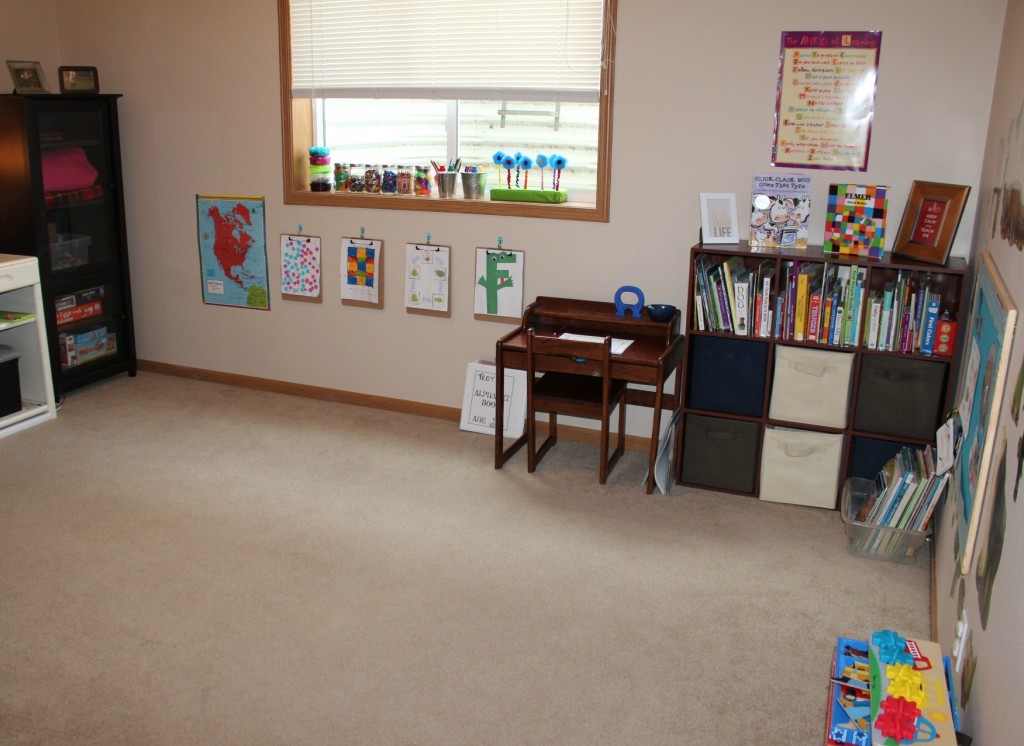 This is our book corner.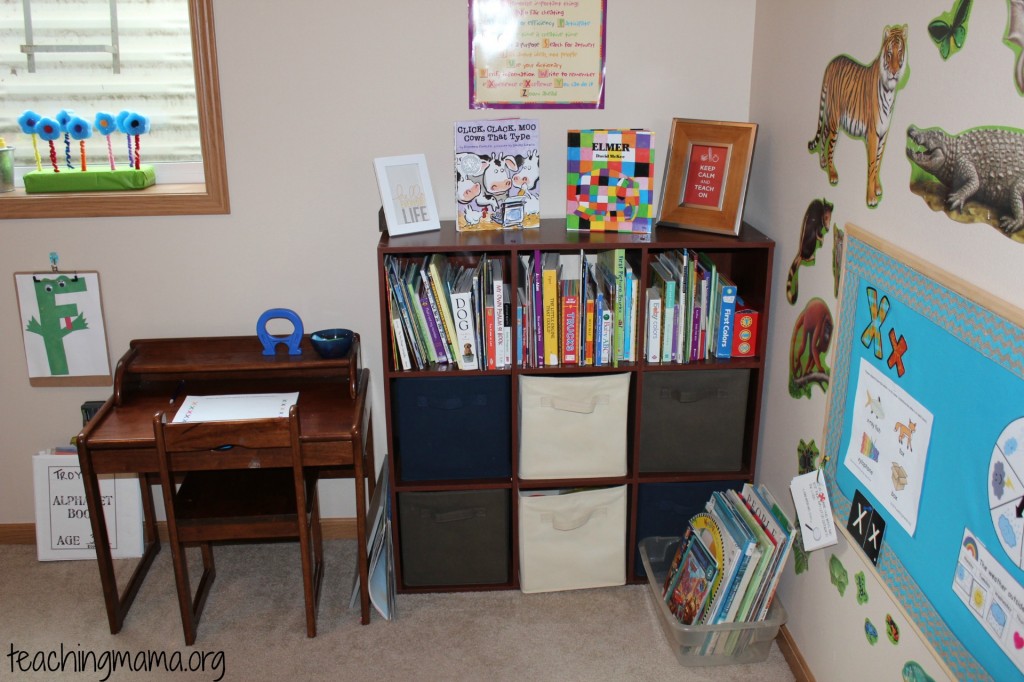 We love books! These are just some of our books. We have more baskets of books in the boys' room, the play room and upstairs! I make sure to separate the library books (in the plastic bin) from the books we own. That way I am not scrambling around the house looking for lost library books!! Also, I keep the canvas totes organized with our preschool supplies. You can see more details about this here.
Here is a look at our bulletin board, where we have circle time.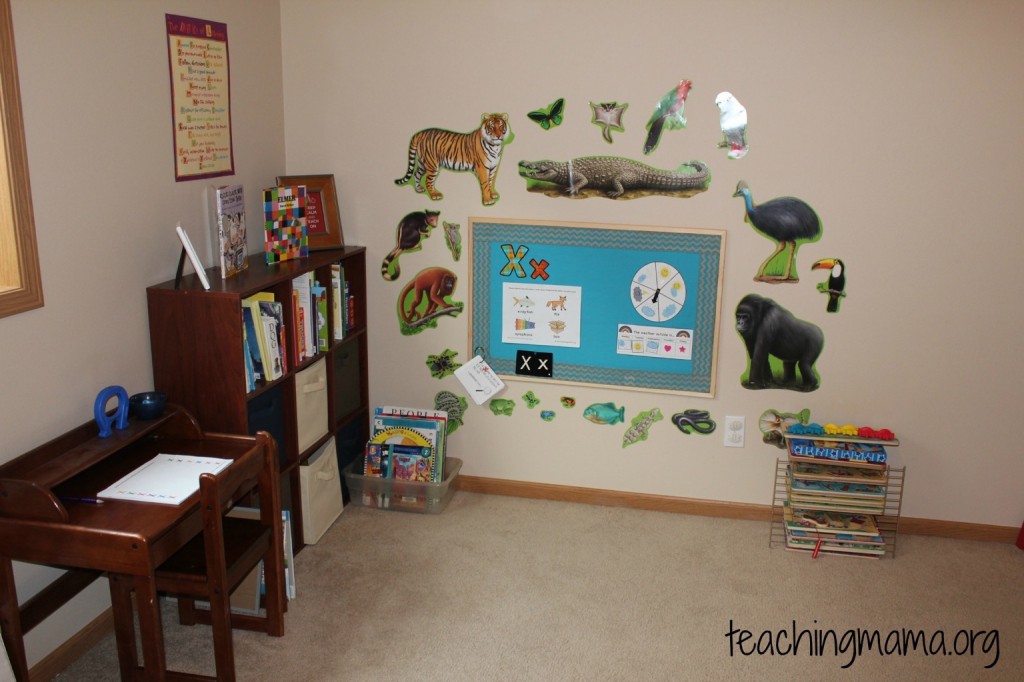 When we start school, we sit by the bulletin board. We talk about the letter of the week, verse of the week (which are from this site), sing some songs, and do our weather chart. At this time, we are not doing calendar so I don't have a spot for that on our wall. Next year I plan to add that in. I do circle time with my toddler and preschooler. Then I usually start them on separate activities.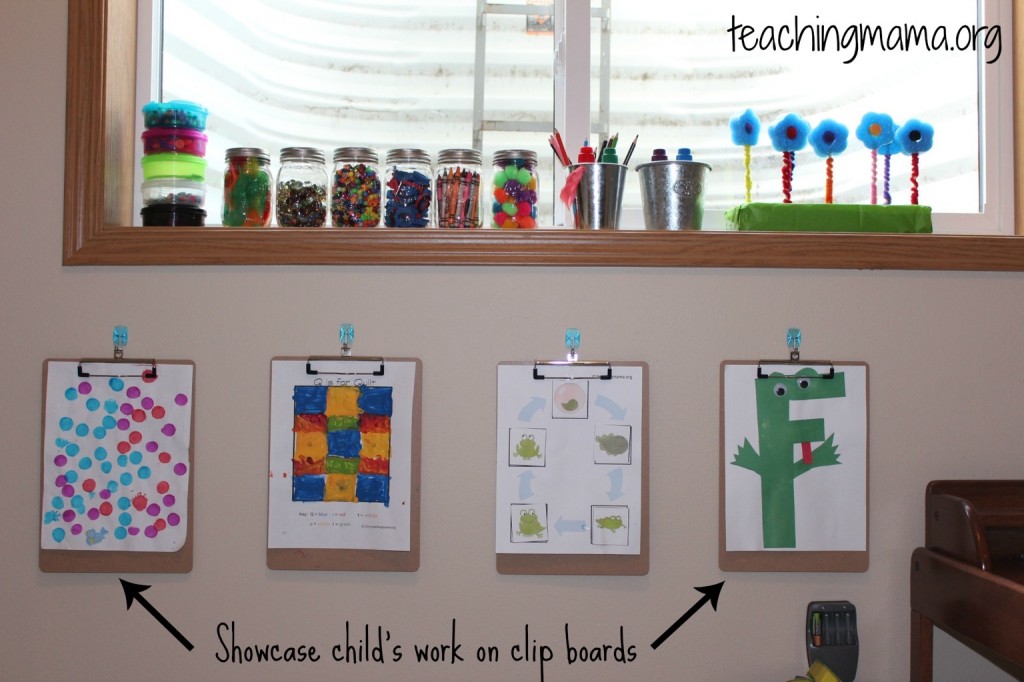 I placed 4 clip boards along the wall to showcase my preschoolers work. I am not one to keep a lot of papers or art work. I just can't stand clutter, so he either adds his work to his alphabet book or to the clip board. After a while, we toss the work that has been up for a long time. Sometimes he makes tons of pictures of the same thing (like the one with dots all over), so I let him pick one to keep and we hang that one on the clip board.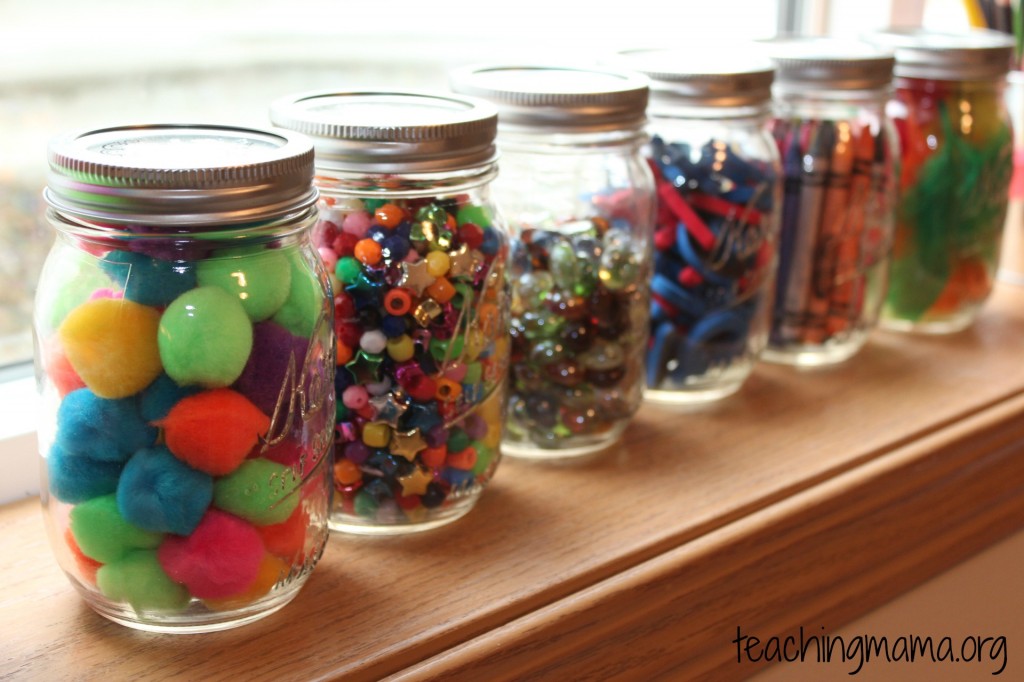 I keep colorful craft supplies in mason jars
by the window.  This brings color into our room and it also helps me keep craft supplies organized! I used to hate it when I started a craft and then was scrambling around the house looking for beads or googly eyes because they weren't in an organized spot. Now I know exactly where to find them! I also organize small craft supplies in plastic containers (these were from Office Max last year).
In my containers I keep supplies like googly eyes
, beads, pom poms,
buttons,
feathers,
crayons, alphabet letters,
and gems.
I have my office desk in the same room. I also have a cabinet next to the desk that holds our sensory bin of the week, blankets, and games.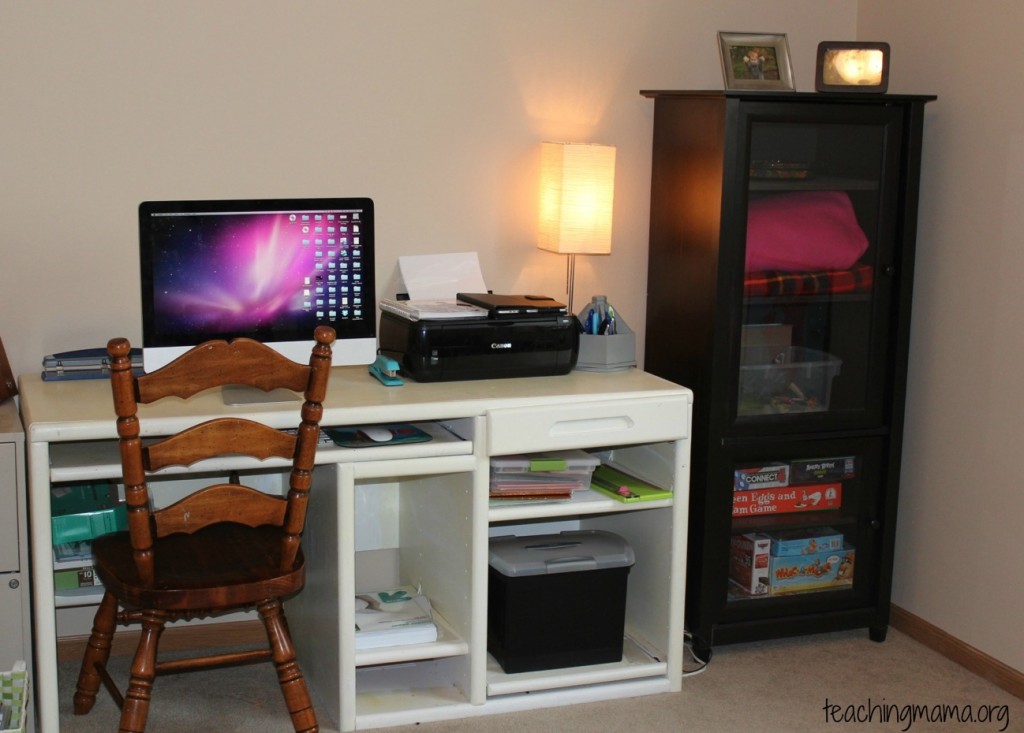 Now for the slightly messy part…this is where I keep my extra supplies. I have a closet in the downstairs bathroom where I keep sensory materials, extra craft supplies, alphabet boxes, my laminator, and more!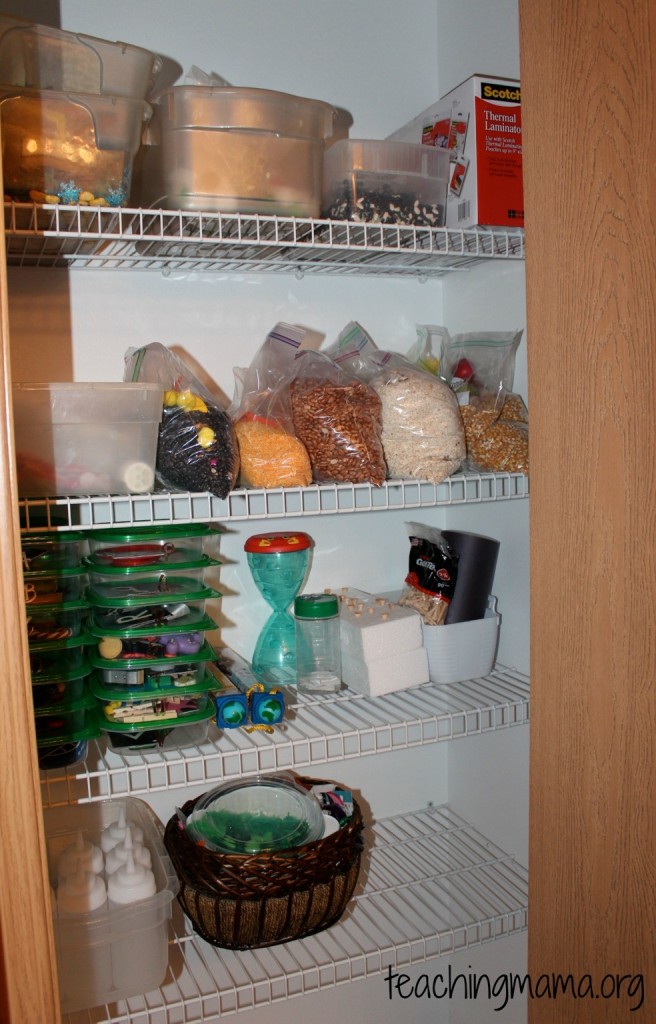 I love that I have easy access to all my supplies and that its hidden from plain view. A tip I have is to keep sensory base materials in gallon sized bags. It helps with storage and keeps things orderly.
Here is a closer look at our alphabet boxes. If you want to learn how I put them together, you can visit this post.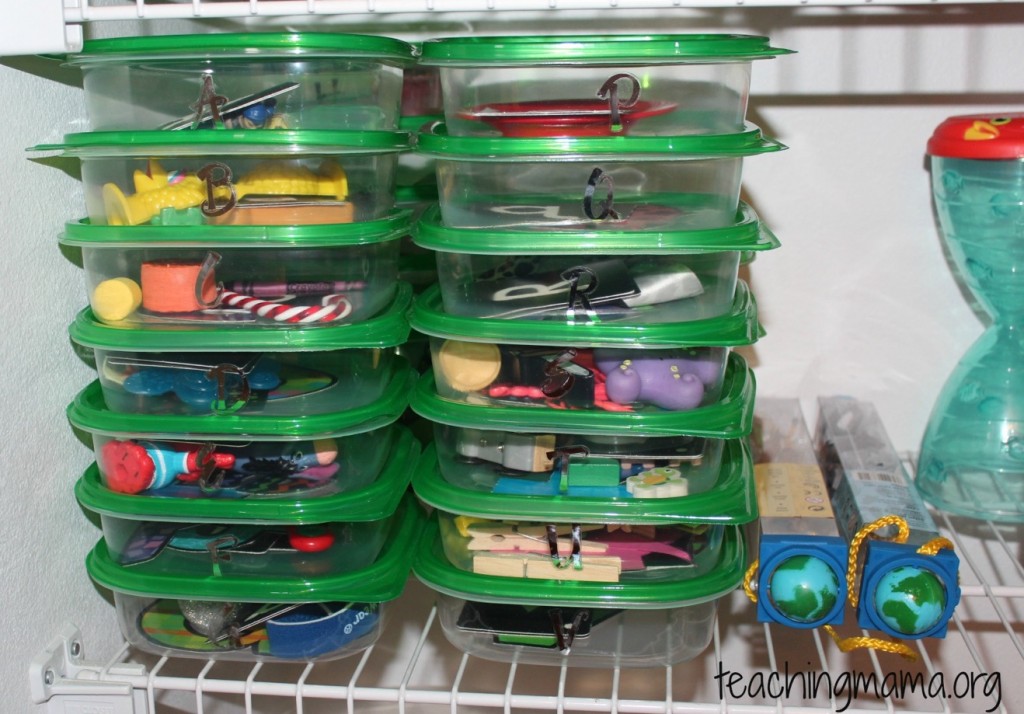 I organize all our papers and letter of the week activities in this accordion file folder from Office Max. I put printables from my eBook in there as well as anything else I see from other blogs that I think would be useful for teaching.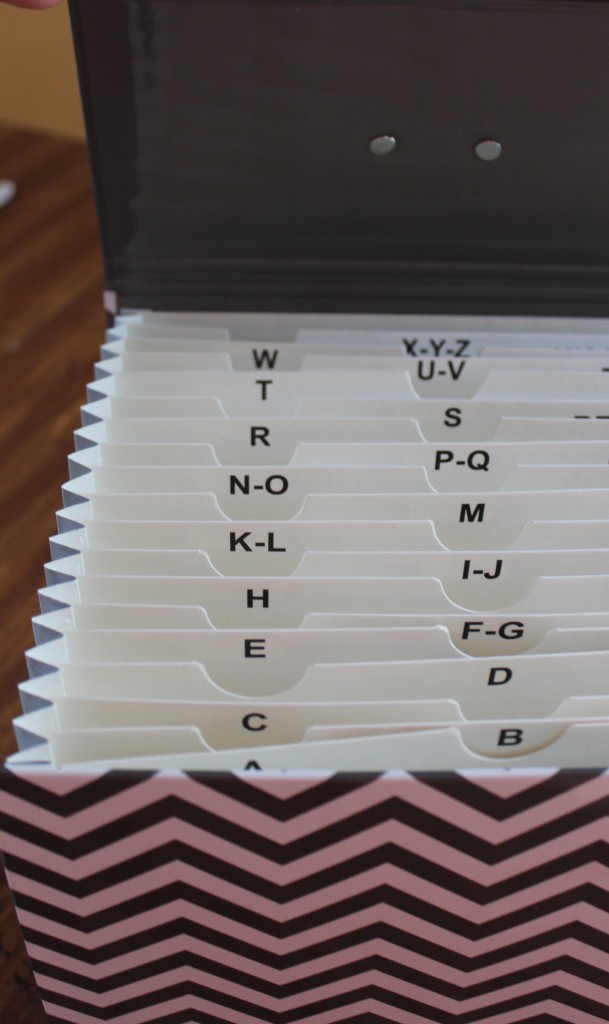 Lastly, I keep paint, oil pastels, and messy supplies upstairs in the kitchen where it won't stain the carpet.
This is by no means a perfect home preschool. This is what works best for us. Before leaving, let me just share my 10 Tips for Organizing Preschool at Home:
Tip #1:
Work with what you have. Maybe you don't have much space. That's ok! A kitchen table works great for preschool.
Tip #2:
If you can, make the room or space inviting and colorful. Kids love colors!
Tip #3:
Keep library books in a separate bin. It will help tremendously!
Tip #4:
Don't hang onto a lot of papers! Eliminate clutter by just keeping a few important papers.
Tip #5:
Try to have natural lighting in your room. Having a window to bring sunshine in makes everyone happier!
Tip #6:
Keep small craft supplies in containers to stay organized and for easy access.
Tip #7:
Go outside!! Take school outside for activities as much as you can.
Tip #8:
If you make alphabet boxes, make them ahead of time so you aren't scrambling to put them together last minute.
Tip #9:
Organize printables in a file folder so they are always ready to go.
Tip #10:
Don't stress out about preschool!! Preschool is a fun time of learning, and it does not have to be a pencil and paperwork. Explore. Create. Encourage Imagination. Make learning fun!
If you're looking for tools to effectively teach preschool at home, check out my curriculum, Home Preschool Made Easy. I even offer a course that teaches you everything you need to know about home preschool! Check it out here.