Social Development in Preschoolers
Today I'm sharing a preview of the last chapter in my ebook! This chapter is about social development in preschoolers, which really covers a lot of topics. I'll do my best to highlight important areas that preschoolers should work on.
Self-Knowledge:
Correctly states his/her gender and age
Recites first and last name of self and parents
Able to identify birthday
Knows address and telephone number
Approach to Learning:
Shows eagerness and curiosity as a learner

Is persistent in tasks and seeks help with problems
Is pleasant and cooperative most of the time
Self-Control:
Follows rules and routines
Able to move from one activity to the next without problems
Demonstrates normal activity level
Uses self-control
Expresses self with words, rather than acting out physically
Interactions with Others:
Plays well with others

Takes turns and shares
Cleans up after playing
Participates in group activities
Interacts easily with familiar adults
Considerate of other people's feelings
Respects items belonging to others
Listens when others speak
Seeks adult help during conflicts
Uses manners
Health & Wellness:
Brushes teeth by self
Can bathe self
Knows how to wash hands
Can appropriately dress for the weather
Follows proper bathroom procedures
Able to put shoes and coat on
Knows healthy vs. non-healthy foods
I know today's post is different from my other posts from my ebook. Usually I share activities you can do to practice these skills. This list of skills is mostly learned from interaction with others in daily life. My suggestion is for your child to be around other children and adults and to learn how to interact and work cooperatively with them.
Practice these skills with your children. Don't assume they already know how to listen to others while they speak. Role playing and spending time intentionally working on these skills to help your children. Some of these skills come naturally to kids, and some need more practice.
I do have two activities to share. The first one is from Living Montessori Now and she shares how to use cooperative games to teach sportsmanship.


The other activity is from I Can Teach My Child and she shares a great way for preschoolers to follow a morning routine. She also offers a wonderful free printable! We are definitely going to be using this soon.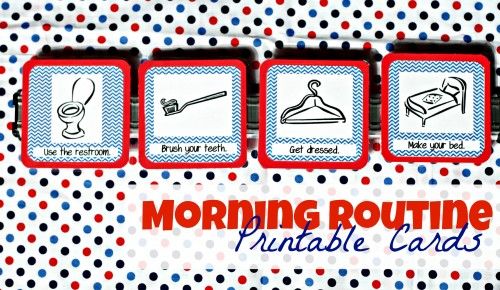 Is there anything you would add to this list?
Thank you all for following me on this journey of writing this ebook. I've been working hard on creating a schedule or lesson plans to teach all these skills I've shared the past 8 weeks. It still may be a while until I get the book done and published, but it will be done sometime this summer. Don't worry if you've missed a chapter, because here are all the links to each chapter:
2. Alphabet
3. Math
5. Motor Skills
6. The Arts
7. Sensory Play
 Happy Weekend!