I can't believe it's already August! Where did the summer go?! I apologize for posting this activity calendar so late. I hope you'll finish the summer out with these super fun activities!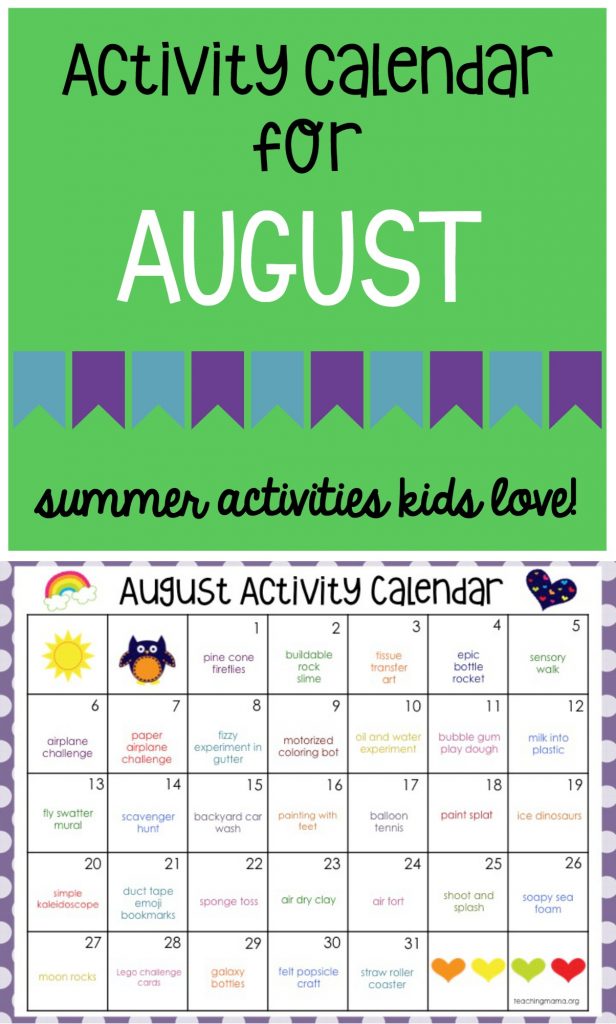 Here's how this calendar works…
Download the printable at the bottom of this post.
Click on the colored words on the calendar to take you to the post for directions.
You can also print this calendar to see it at a glance. (Make sure Adobe Reader is up to date so it will print properly.)
Share your activities with me! I love to see your children playing and having fun. You can email me at angela(at)teachingmama(dot)org with pictures or descriptions on how the activities went. Or you can use the hashtag #summercalendar2017 on social media.
Here are the activities for the month of August:
Day 1 – Pine Cone Fireflies
Day 2- Buildable Rock Slime
Day 3- Tissue Transfer Art
Day 4- Epic Bottle Rocket 
Day 5- Sensory Walk
Day 6- Airplane Challenge
Day 7- Sand Slime
Day 8- Fizzy Experiment in a Gutter
Day 9- Motorized Coloring Bot
Day 10- Oil and Water Experiment
Day 11- Bubble Gum Play Dough
Day 12- Milk into Plastic Experiment
Day 13- Swatter Mural Art
Day 14- Scavenger Hunt
Day 15- Backyard Car Wash
Day 16- Painting with Feet
Day 17- Balloon Tennis
Day 18- Paint Splat Art
Day 19- Ice Dinosaurs
Day 20- Simple Kaleidoscope 
Day 21- Duct Tape Emoji Bookmarks
Day 22- Sponge Water Toss
Day 23- Air Dry Clay
Day 24- Air Fort
Day 25- Shoot and Splash
Day 26- Soapy Sea Foam
Day 27- Moon Rocks
Day 28- Lego Challenge Cards 
Day 29- Galaxy Jar
Day 30- Felt Popsicle Craft
Day 31- Straw Roller Coaster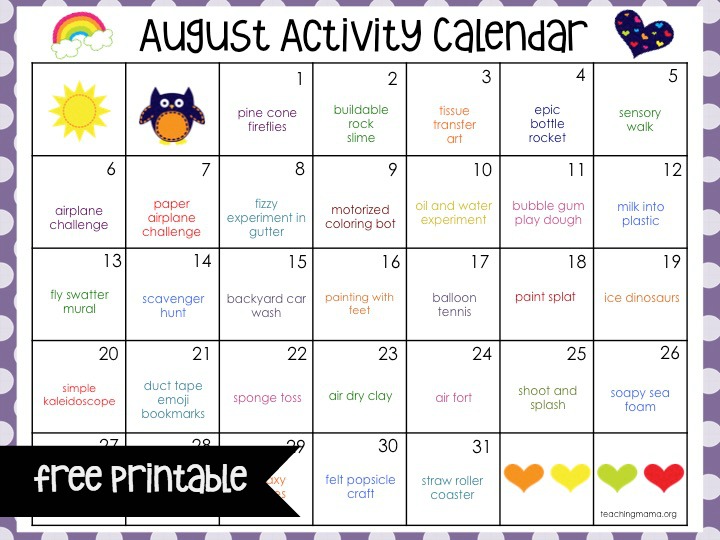 Hope these ideas give you inspiration for activities this August! You can mix up the activities and do them on different days, but this gives you a place to start!
You can download the calendar here —> August Activity Calendar