Home Preschool Classroom Organization
It's back-to-school time! Which means it's also time for me to share my home preschool classroom again! We just moved to this house a few months ago, so we had the chance to rearrange our things and make this room our own. I love how it turned out and can't wait to show it to you! I hope these home preschool organization tips will be helpful to you!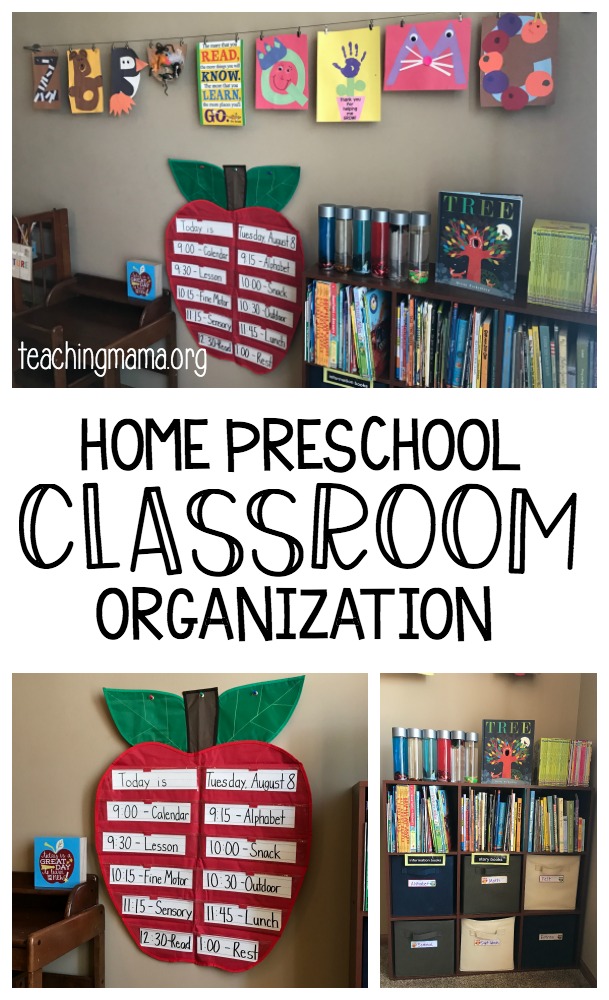 Disclosure: This post contains affiliate links. See my disclosure for more details.
I've taught home preschool in three different houses. Each place had a different preschool space for us. In our first home, we only had a corner of our dining room. In our second home, we had a small room. In our current home, we have a larger room. You can teach home preschool even if you only have a corner for your space. I hope this post inspires you to organize whatever preschool space you have!
I post our schedule on our apple pocket chart. Isn't it so cute? It's from Apple to Zebra and we absolutely love it!
This 9-cube bookshelf is used a lot! On the top three shelves, we have some of our books. In the bottom 6 shelves, I have canvas totes filled with different materials. You can see the labels on the outside of the bin that show what items I put in there. For example, in the alphabet container, I have alphabet letters, my alphabet rhymes, alphabet games, etc. It's an easy way to keep my materials sorted so I can find them quickly.
Bonus Tip: To get the label sticker to adhere to the canvas tote, I use fabric glue. That's the only thing I could find that helps it to stick on well!
We got this cute little desk from Goodwill. I wish I could share a link to where you can buy it, but I do not know. I did find this cute alternative!
I love to hang my child's artwork with this Ikea curtain wire. It's fun to showcase what we've been working on!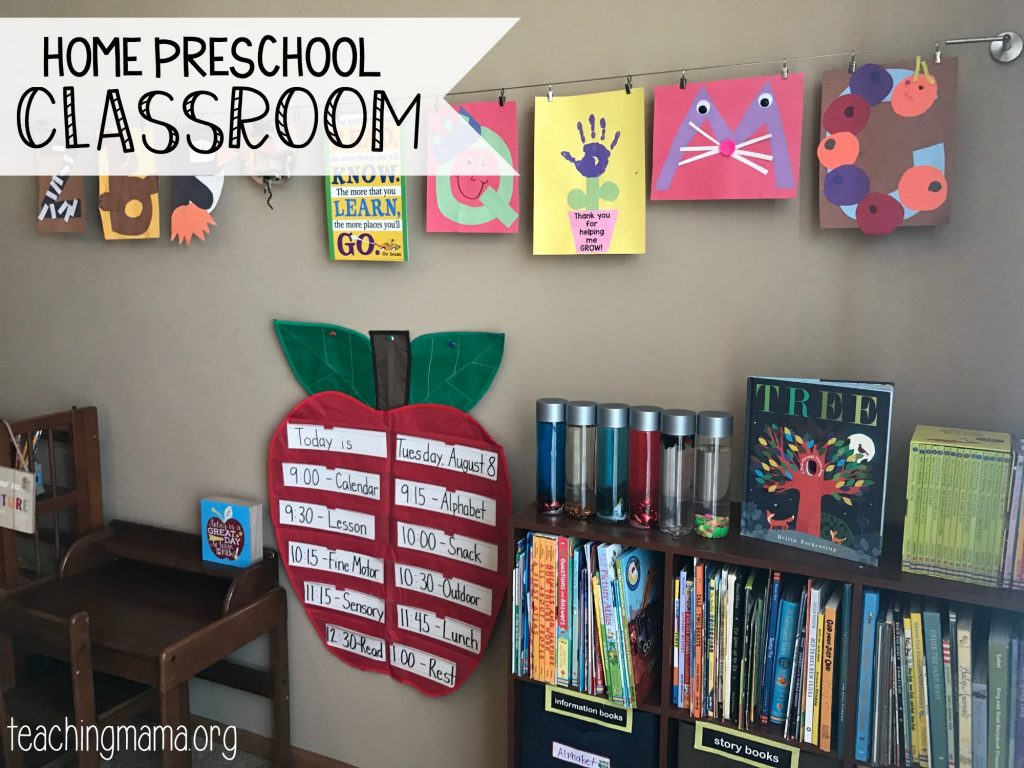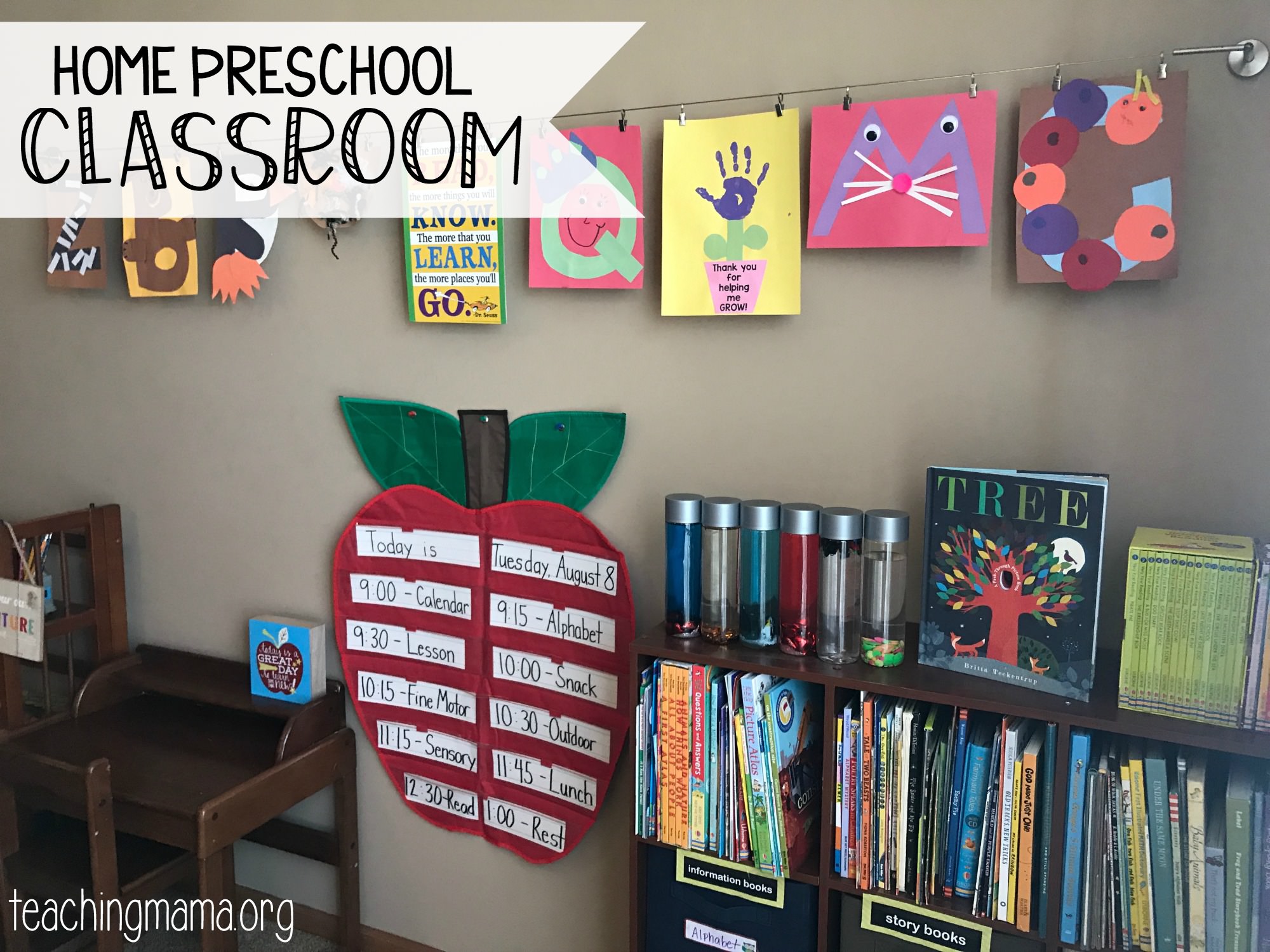 On this shelf, I keep more preschool materials we use on a daily basis. Here is what is on the shelf: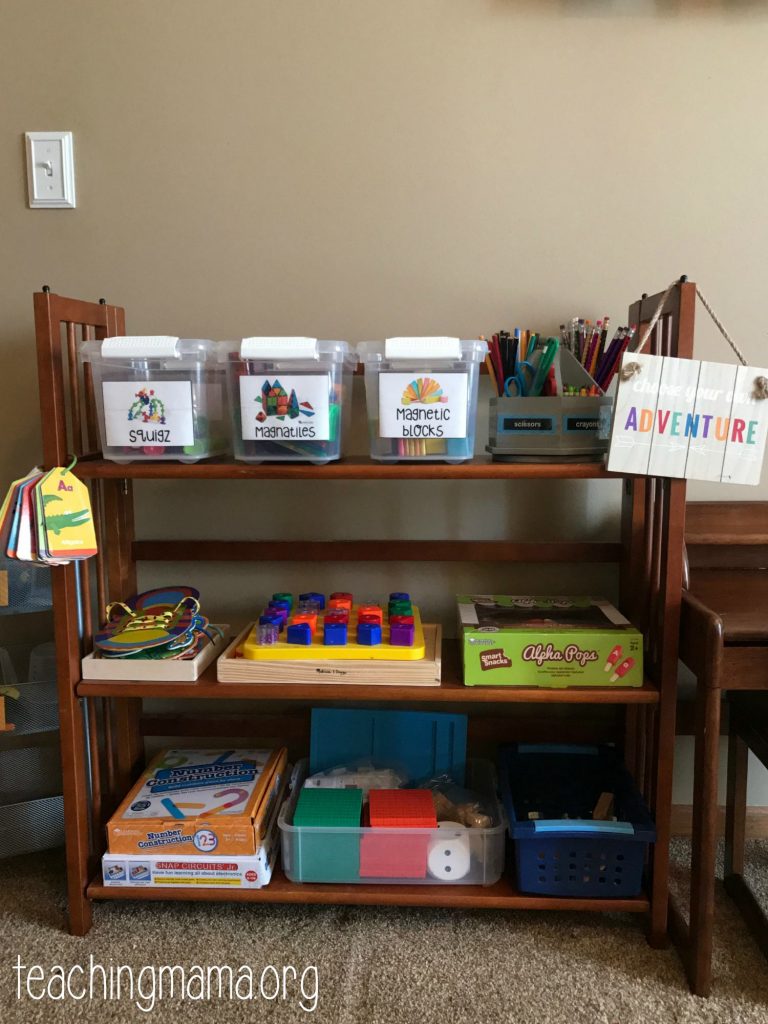 Next to the shelf, I keep our sensory bin and sensory tools. I also keep a blanket so we can lay that down before playing with the bin. That definitely helps with cleaning up!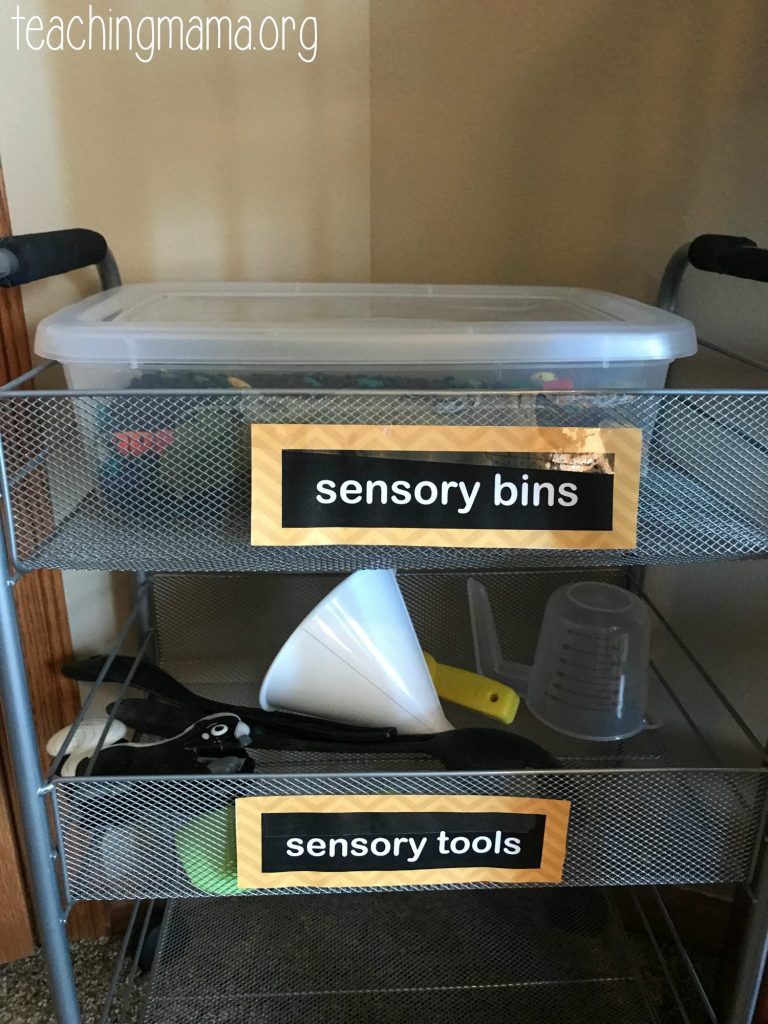 I keep our puzzles organized with this wire rack by Melissa and Doug.
I keep our art supplies in this area. The black cabinet on the bottom contains our play dough and play dough tools, paint, paint brushes, and pom poms.
The first white shelf has our construction paper, sticker books, and activity books. It also has spots for our glue and Do-a-Dot paint markers.  (P.S. these Do-a-Dot markers last forever!!)
The top white shelf has sections and I keep smaller art supplies in it: googly eyes, sequins, glitter, magnets, stickers, etc. These are the supplies I don't want my little one getting into without my permission! 🙂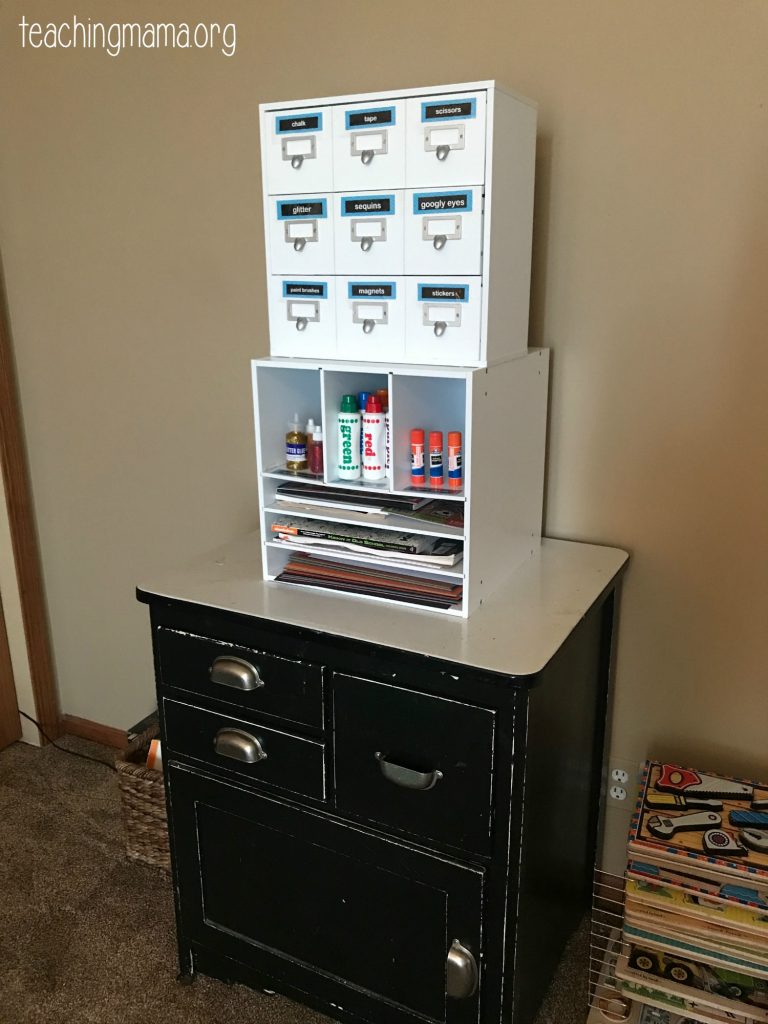 Here's what the drawers look like inside. I keep small items, like googly eyes, in another container so I can pull them out easily.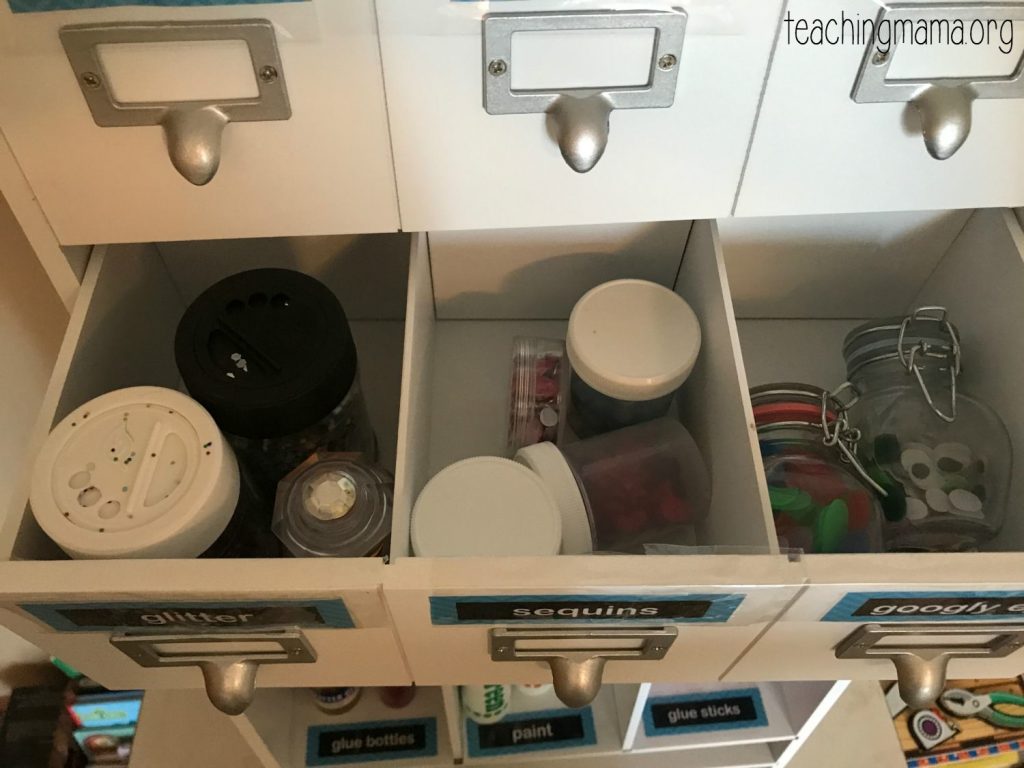 And that wraps up the tour! We do keep messy supplies, such as shaving cream or slime, in our kitchen. I am not bringing that up to our carpeted classroom! 🙂
I will also share that we've chosen to teach three days of preschool at home and two days my son will be at a church preschool. Hope you enjoyed the tour of our classroom and are inspired to organize your preschool space!
If you're looking for tools to effectively teach preschool at home, check out my curriculum, Home Preschool Made Easy. I even offer a course that teaches you everything you need to know about home preschool! Check it out here.