Eric Carle Ride and Roll – Review & Giveaway
Are you big fans of Eric Carle books like we are at our house? We love so many of his books! I can't tell you the number of times we've read the book, The Very Hungry Caterpillar. It's a favorite around here! We recently received the Eric Carle Ride and Roll and I can't wait to tell you about it!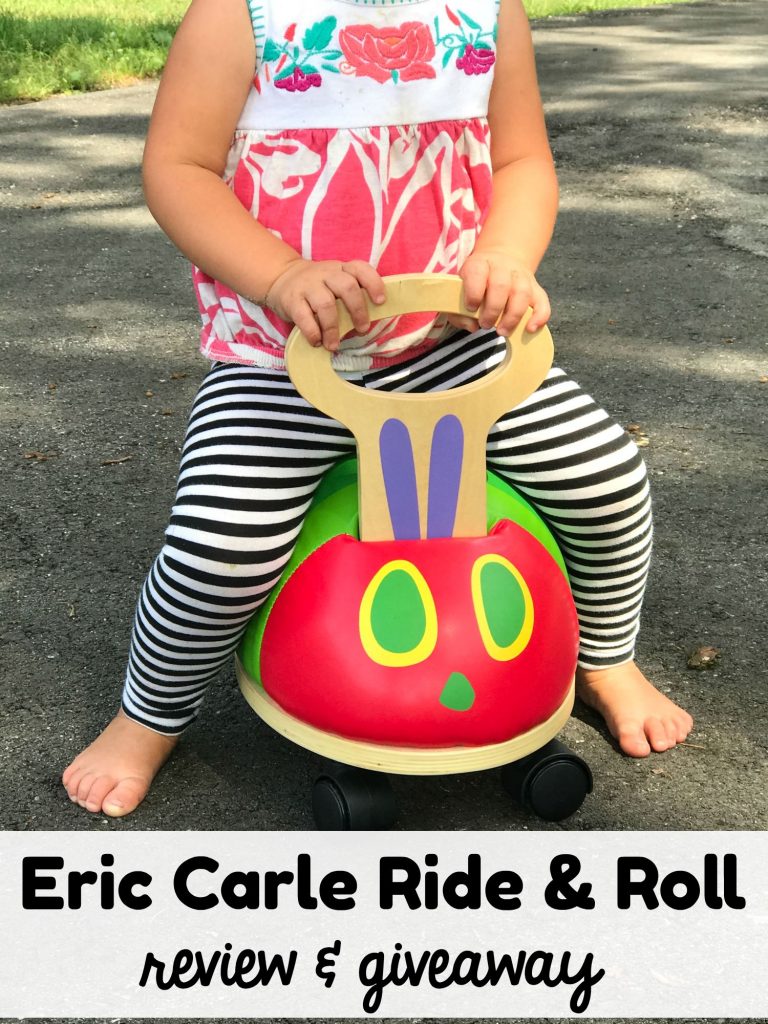 Disclosure: I received this product for free and was compensated for my time reviewing it. As always, my opinions are 100% mine.
The Ride & Roll is an awesome toy for toddlers! The toy is designed for kids ages 12 months to 36 months. My almost 3-year-old had a chance to ride on it for a few days and he loved it! He is a little big for it, but still wanted to play with it. My friend's 19-month-old also loved it and it was the perfect size for her!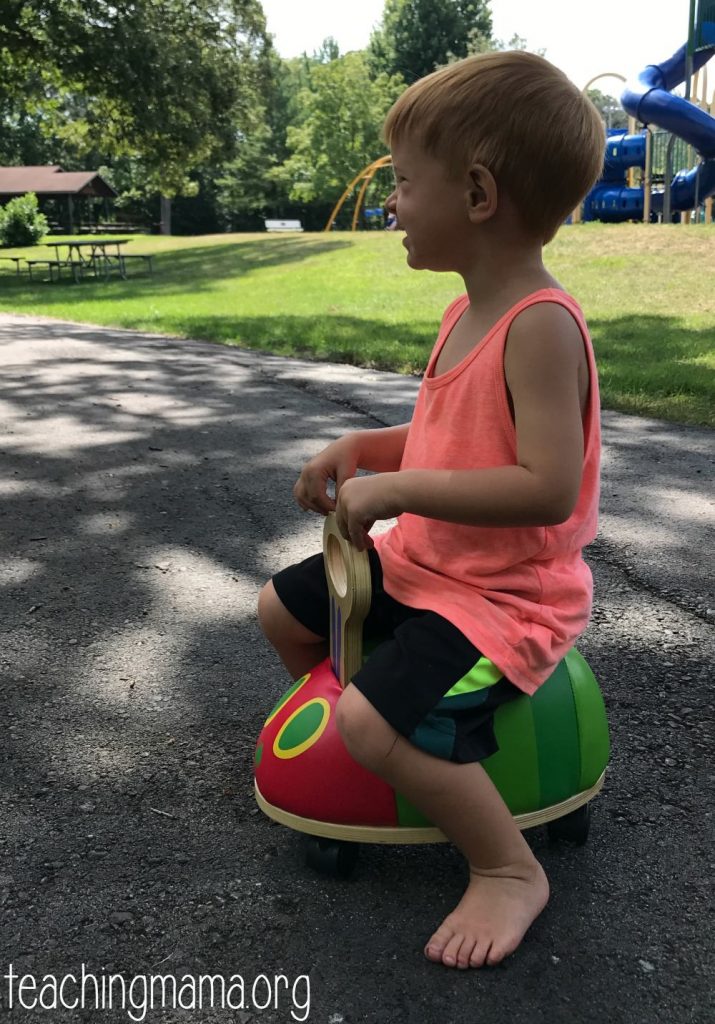 Here's what I love about the Ride & Roll:
Great way to practice gross motor skills
Cushion is soft to sit on and is made with a soft memory foam
Seat can be wiped off easily
Wooden handle is durable and can also come out if you don't want it in
Wheels move around easily
Very safe and low to the ground – perfect for toddler to scoot around on!
It's ADORABLE! I mean, it is the hungry caterpillar so of course it's adorable!
You can push it, ride on it, scoot around, or even just use it for imaginary play! It would be fun to play with after reading The Very Hungry Caterpillar.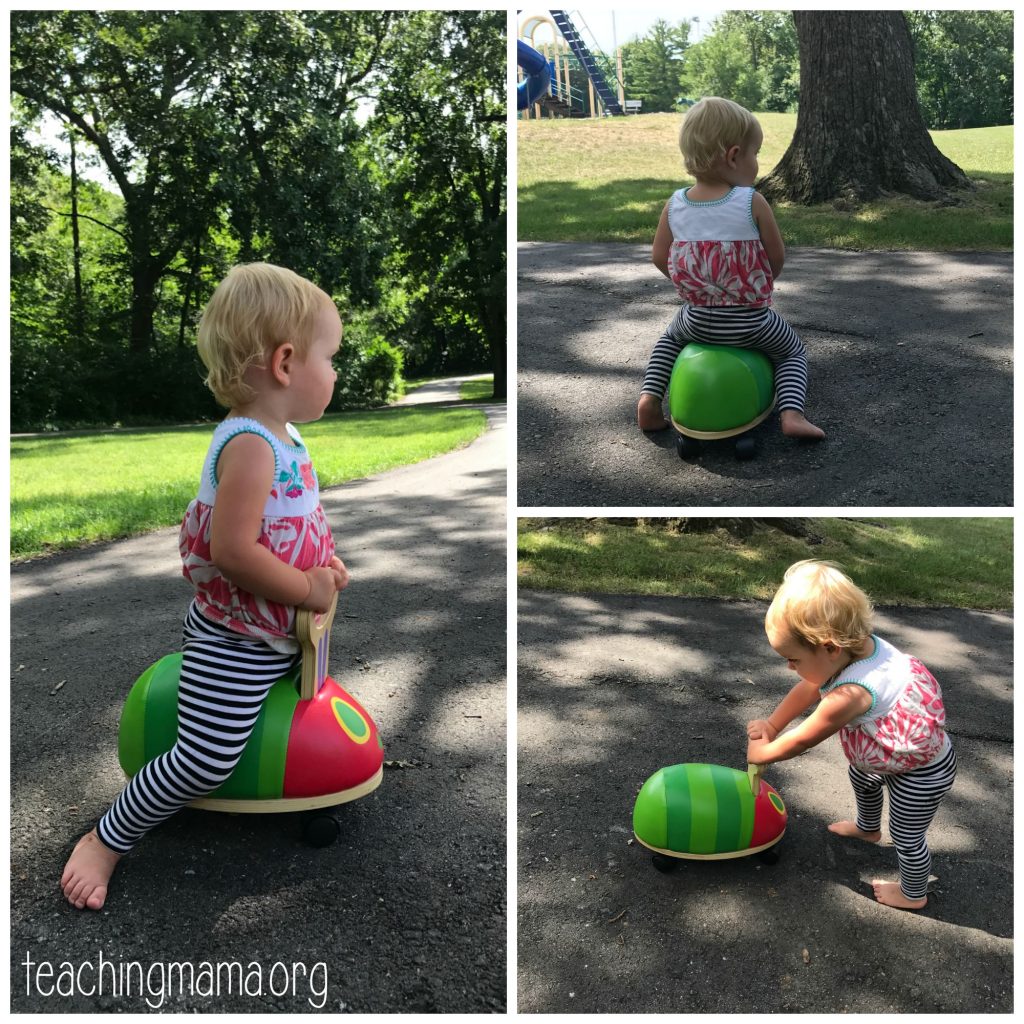 The only other thing that I do want to point out is that it is relatively small. It is designed for toddlers, and I would recommend that it would be used with 1-2 year olds. My almost 3-year-old still loved it, but he looked pretty big on it. 🙂
The Eric Carl Roll and Ride would be a great gift idea for a toddler, a fun addition to an early childhood classroom, or even fun to have at a library!
To buy this fun toy, visit HERE.
I'm thrilled to share that The World of Eric Carle is generously giving away this toy to one of you! Simply enter the Rafflecopter below for your chance to win. The winner will be chosen on August 8th.
(You must live in the U.S. to enter this giveaway.)