Transportation Sensory Bin and Activities
I've been thinking a lot about how important play is for preschoolers. Just plain playing with no really fancy activities. I don't think kids get enough opportunities with our busy schedules to just play. To be creative, and imaginative and learn through playing. That is one of the reasons why I set up a transportation invitation to play this week….to let my kids be creative and set up a time for them to play with toys and explore. I find that if I set up an area of the room for my kids to play with they do much better than just saying "Go find a toy to play with!" When I say that, they always seem  to tell me they don't know what to play with! Any of you ever have that issue? So, I made a transportation sensory bin along with an invitation to play. This was also to go along with learning about the letter T this week.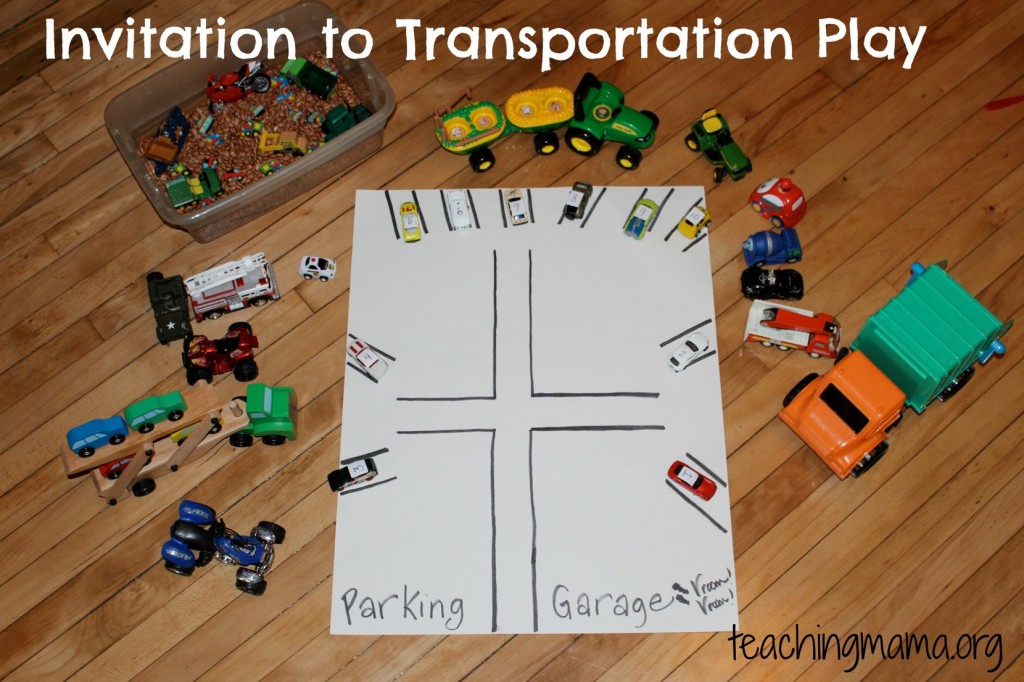 I made a simple sensory bin with dry pinto beans, transportation erasers (from Dollar store), and transportation vehicles.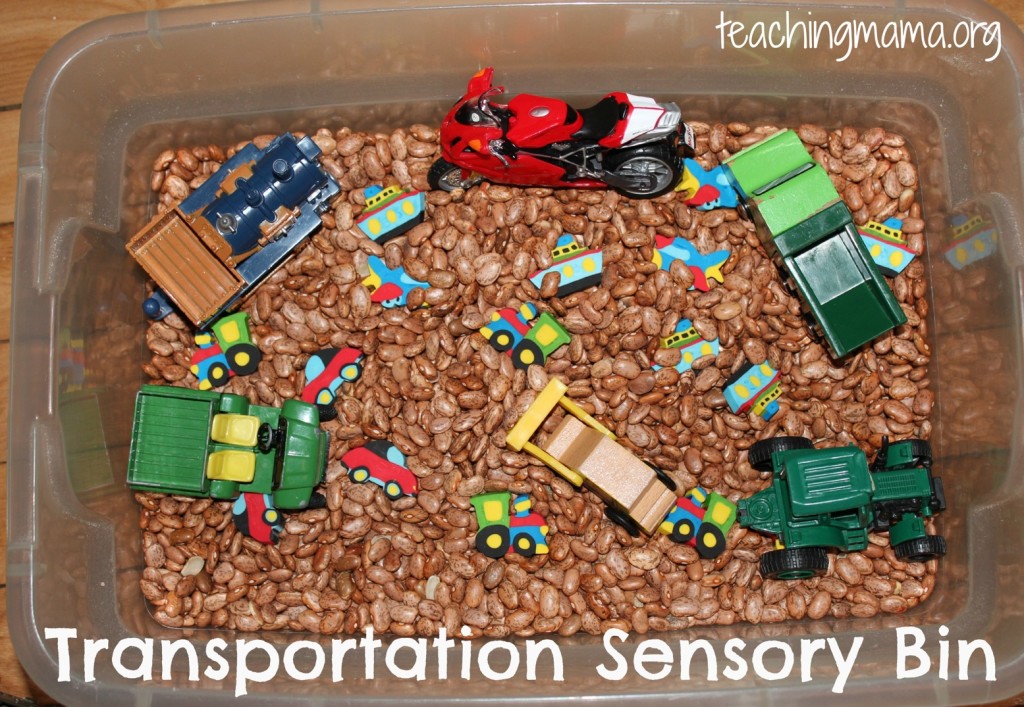 I created a Parking Garage for the cars. I saw something similar somewhere on Pinterest and thought it was a great idea! I put 10 parking spaces on the posterboard and put number stickers on each car. I had my preschooler park the cars into the same numbered parking space.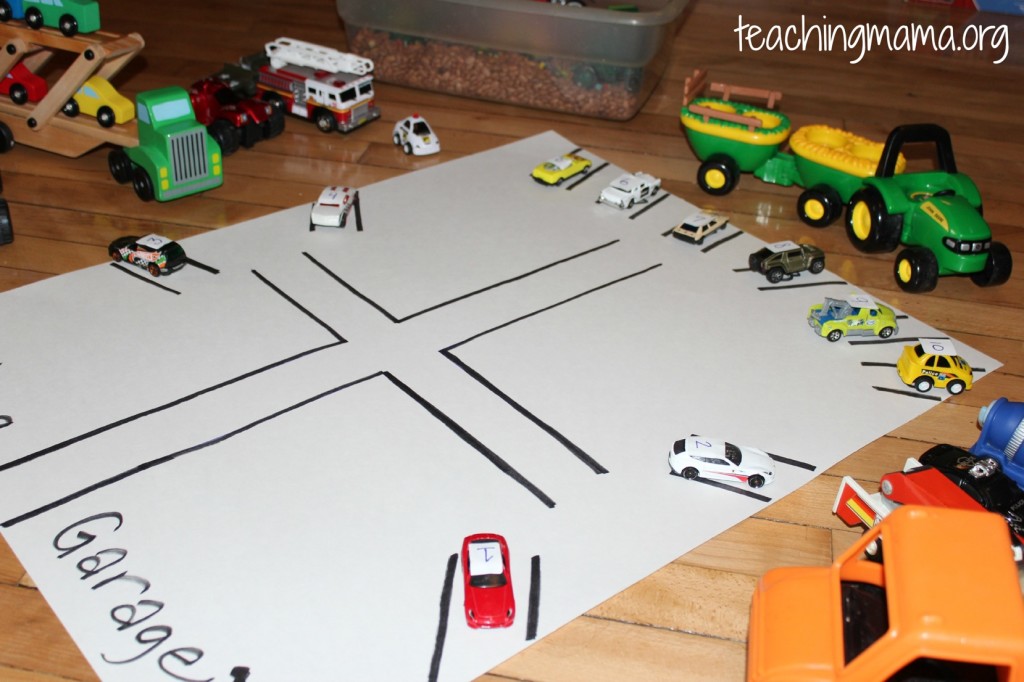 I love that we were able to practice math through playing. I would much rather have him learn his number this way, as opposed to rote memorization! 🙂
The boys played for over an hour quietly, without switching to another activity. They were engaged, happy, and learning.
Since they are blessed to be brothers, they also get the blessing of sharing toys 🙂 Which can be very hard sometimes!! This was a great way to work on cooperative play with each other. Even though there were some tears with my youngest regarding sharing, it was a good chance to practice patience and playing with each other.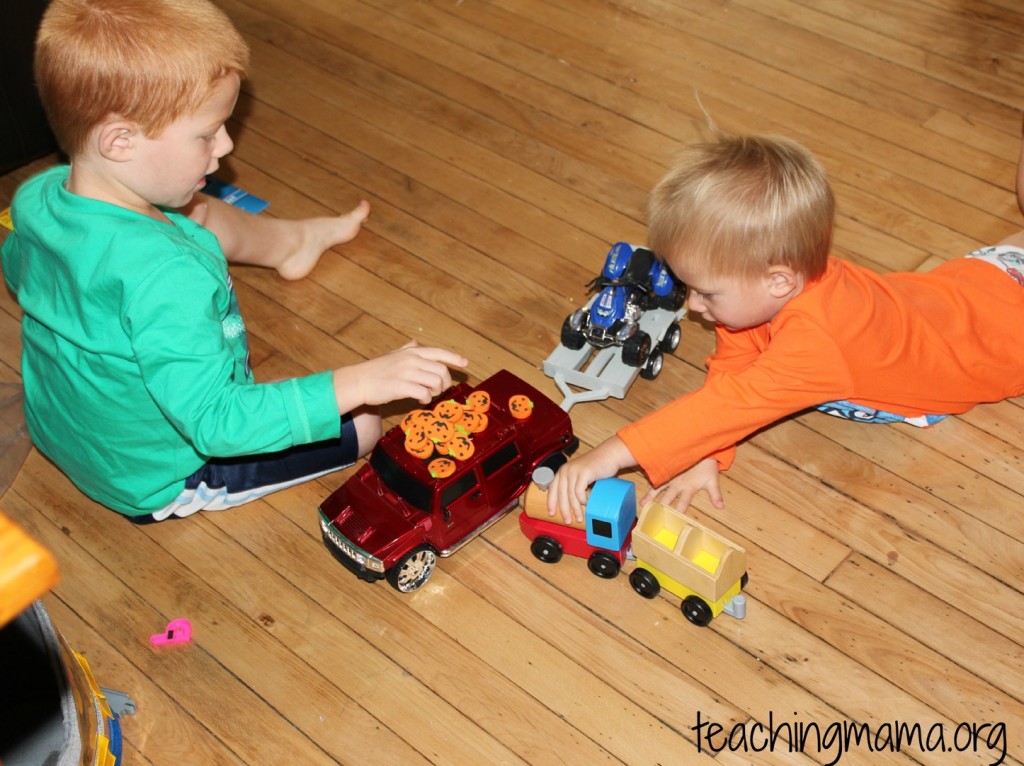 So there you have it…there is our simple activity of playing. And I think the time spent on this activity was 100% worth it.
Another reason why I set up this activity was to introduce my preschooler to the word transportation. This was a new word to him and it took some time to explain what transportation is and what transporting means. Using all the vehicles in this activity was a great way to explain what I meant. We used the phrase "I'm transporting this 4-wheeler on a trailer" to help him understand what that verb means.
Of course you could set up an invitation to play with anything your child is interested in. The important thing is that your child gets time for unstructured play to explore, creative, and learn. Happy Playing 🙂