Good Morning! I hope you had a wonderful weekend! We had a great weekend…nothing too exciting happened, but I love having a quiet weekend. I didn't feel the greatest, but my awesome husband took great care of me and helped out tremendously with the kids. He is the best and I feel so blessed! 🙂
Today I'm sharing with you a fun Montessori-insprired sensory activity. It's a Fabric Matching Game and it is great for 2-5 year olds. Here's what you'll need:
*box or basket
*pairs of different kinds of fabrics (I used cotton, felt, terry cloth, netting, burlap, soft remnants from a scarf I never finished, and velour fabric.)
First, I took an old Keurig box and wrapped it in wrapping paper. Glad I saved this box in our basement. I knew it would come in handy someday!
Then I cut out two holes with the help of my assistant (don't worry- I did the cutting part…which doesn't look the greatest but it'll work!)
I showed Troy all the pieces of fabric and I had him feel all of them. Then we put the fabric inside the box and shook it. The goal of the game is to pull out the matching fabric pieces without looking by using the sense of touch. The game was a lot harder for Troy than I anticipated. For my 3 year old, he just wanted to put his hands in and pull out whatever he found first and then look to see if it was a match. After explaining the directions several more times and feeling the fabric more, he was able to find some matches.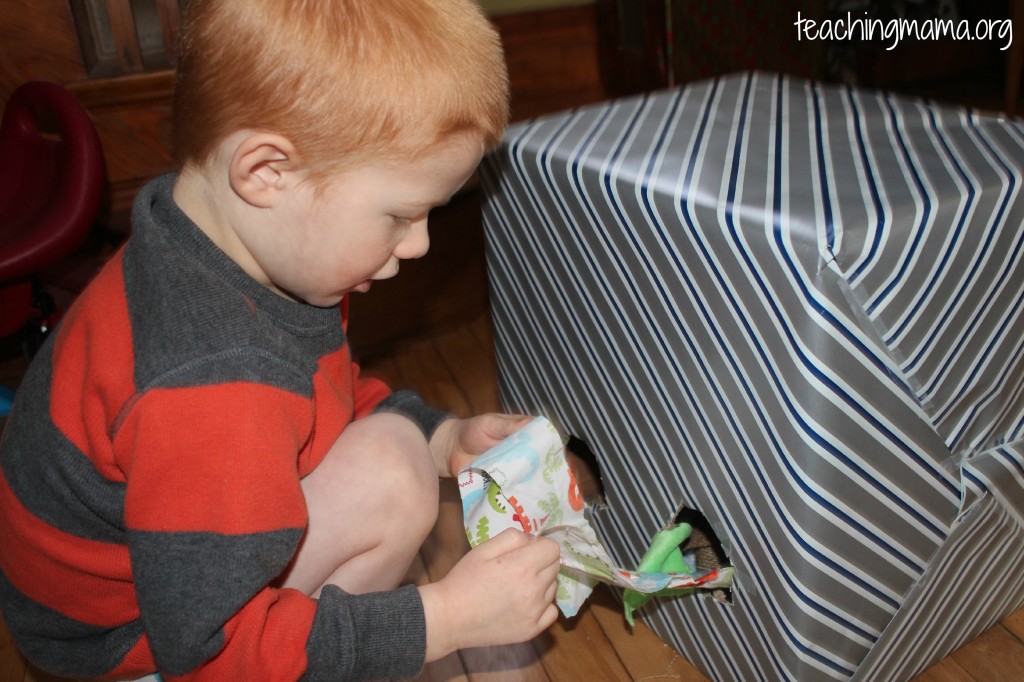 This is a game we'll continue to play. It's good for him to use his sense of touch and to be challenged.
If you don't have a box, you could modify this by using a basket and a blindfold or just have them close their eyes. I hope you'll try it out and let me know how it goes!!