Pumpkin Fluff Sensory Activity
I am so excited to share with you my latest sensory play activity! I came up with this play activity that is great to do during fall because it uses pumpkins! Your kids are gonna love it and the best part is, is that Pumpkin Fluff only uses 2 ingredients!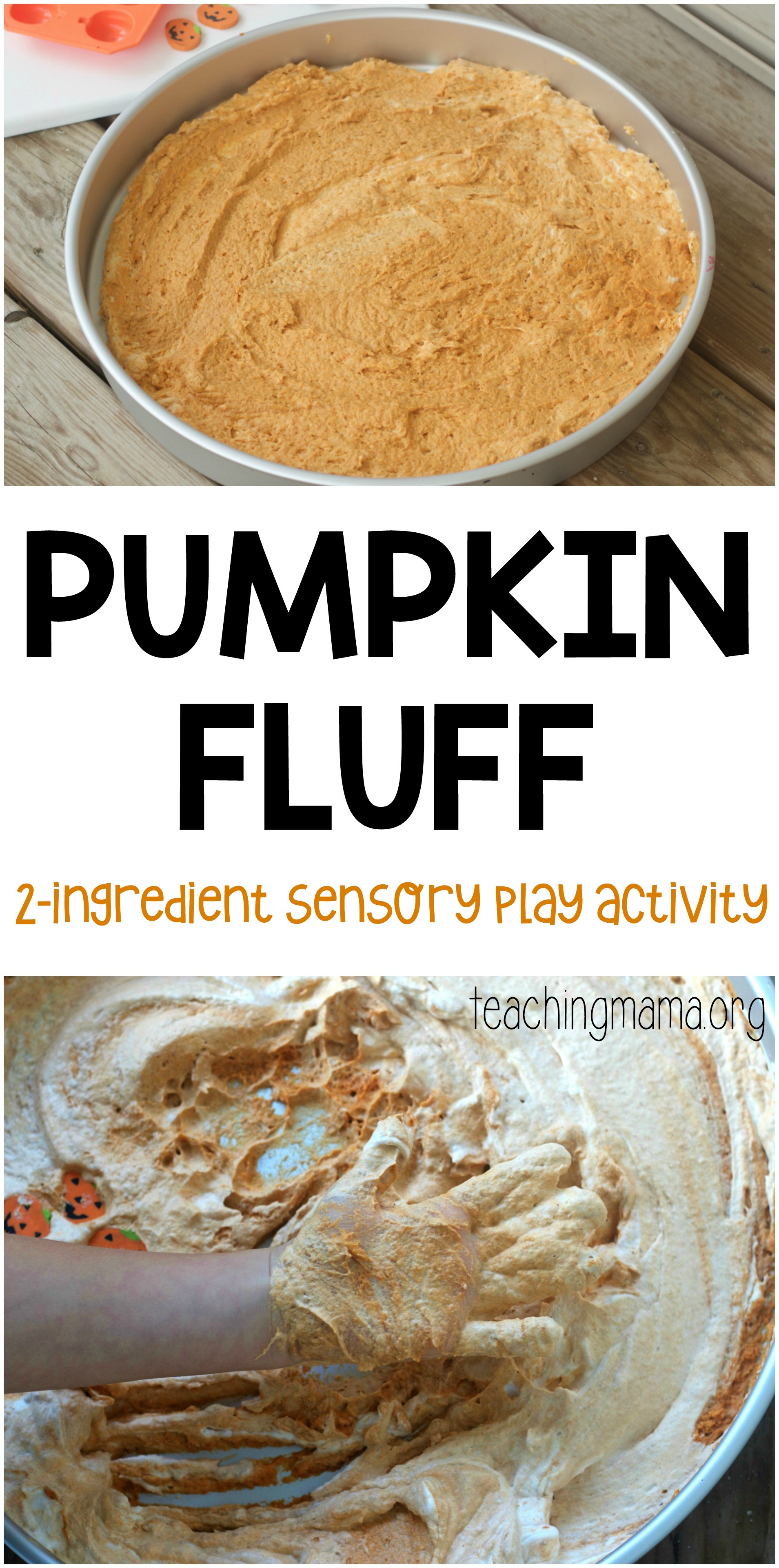 Yes, this is a messy play activity. But you know what? I actually love planning messy sensory activities for my children. This type of play encourages using the senses and lets them be creative and have fun without me telling them "no" all the time! It's somewhat structured, yet they can explore and be creative.
Why is sensory play important? Here are just a few reasons why I love this type of play:
*It builds nerve connections in the brain's pathways, which leads to the child's ability to complete more complex learning tasks
*Stimulates the senses and sends signals to the child's brain that help to strengthen neural pathways important for all types of learning
*Supports language development, cognitive growth, fine & gross motor skills, problem solving, and social interaction
*Can calm children who may be anxious or frustrated
*Helps children learn sensory attributes (ex: hot, cold, dry, wet, hard, soft, squishy)
*Allows children to be creative and imaginative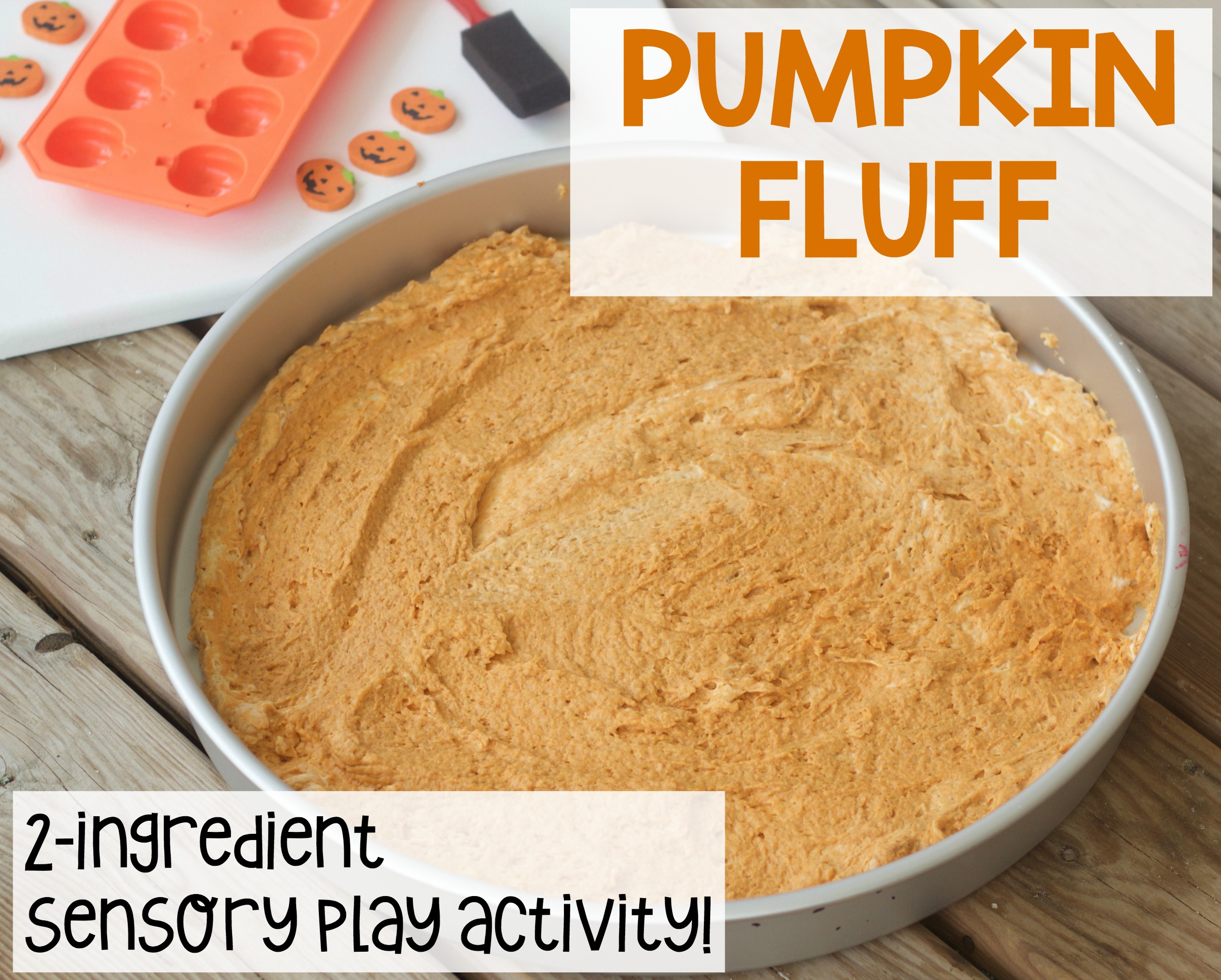 Here's what you need for Pumpkin Fluff:
2 cans of pumpkin purée
1 can of shaving cream
cinnamon (optional)
To make this recipe, pour the pumpkin purée into a bowl and squirt in the shaving cream. I don't have exact measurements to share, but just squirt in about half the bottle of shaving cream with each can of pumpkin purée. Mix with a spatula and then pour it into a container. Sprinkle in cinnamon if you want a stronger scent.
Now I do realize in some places, there is a canned pumpkin shortage. If you wanted to make your own pumpkin purée, you could carve a pumpkin and put the guts (without the seeds) in a blender.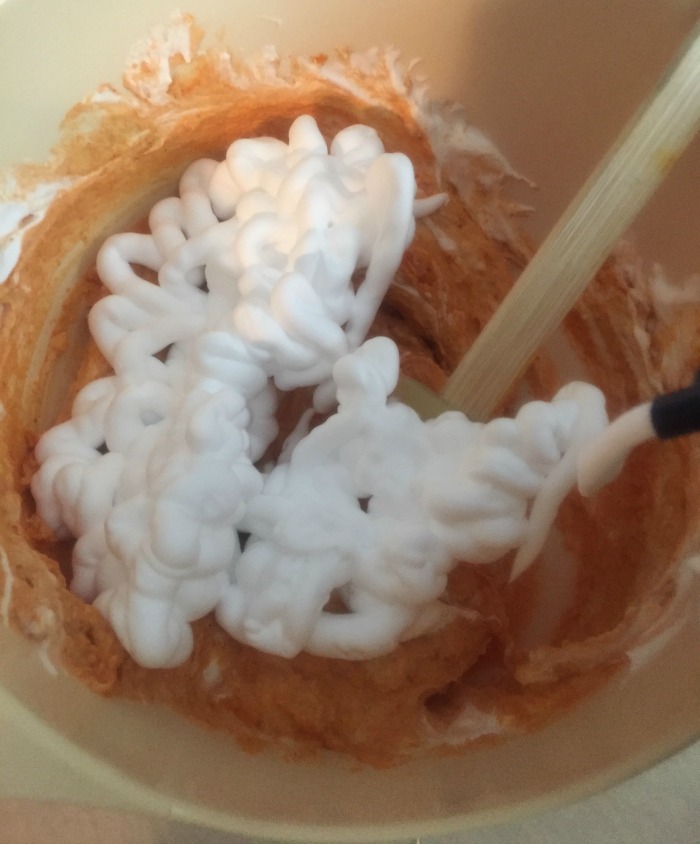 I like to set out items for my kids to play with. For example, I put out pumpkin erasers, a pumpkin mold (to make pretend cupcakes), a canvas, and a paintbrush.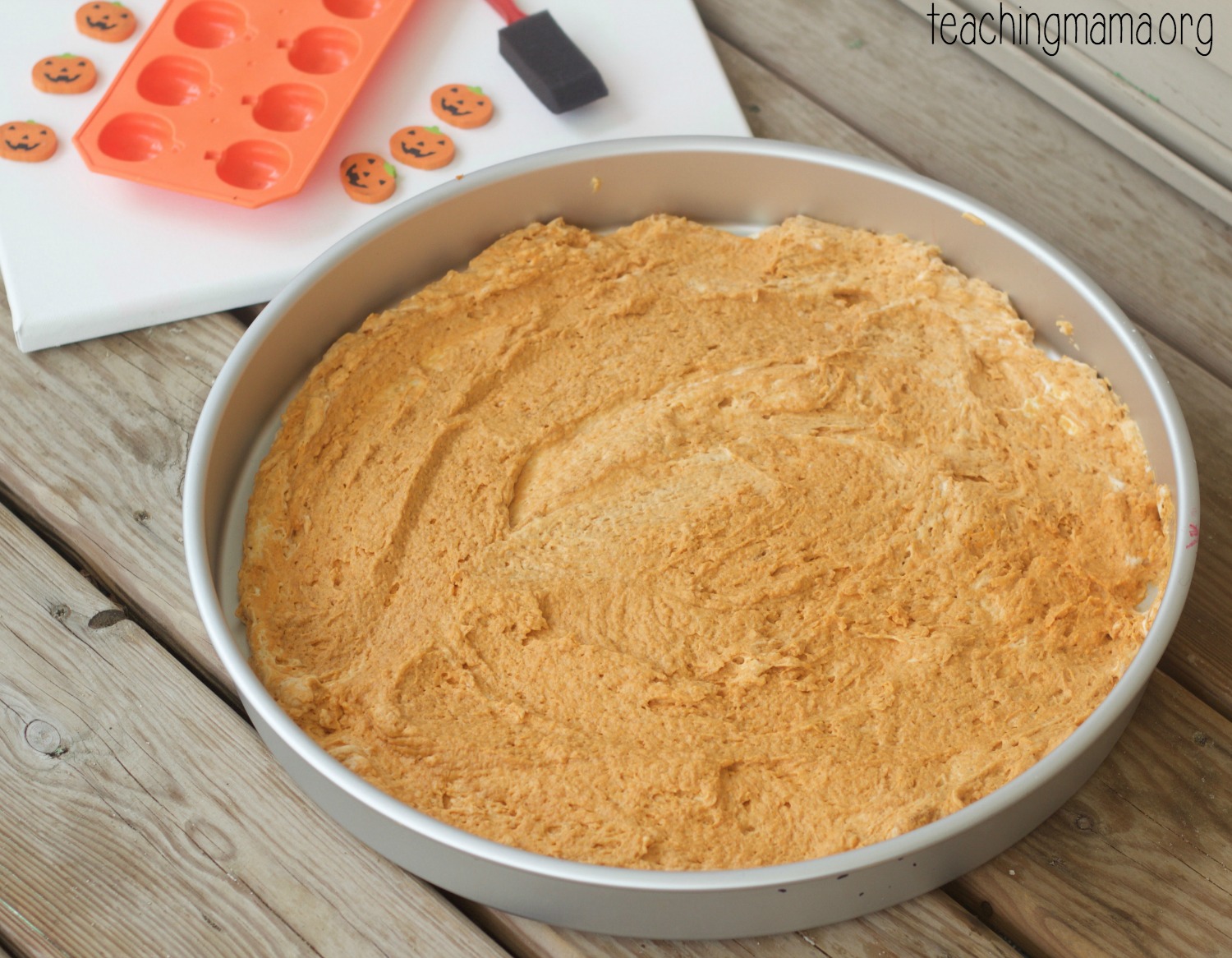 This sensory play is fluffy and does stick to your fingers. If your kids have ever played with shaving cream, they will love this activity!! There's something so lovely about swirling your fingers in soft shaving cream. It's squishy, soft, smooth, and this recipe smells great! It's a great sensory play activity for sight, touch, and smell. PLEASE do not do this activity if your little one puts items in his/her mouth. This is not a safe activity for them since shaving cream is not edible.
My 6-year-old and 2-year-old boys LOVED playing with it. They were so excited to start digging in!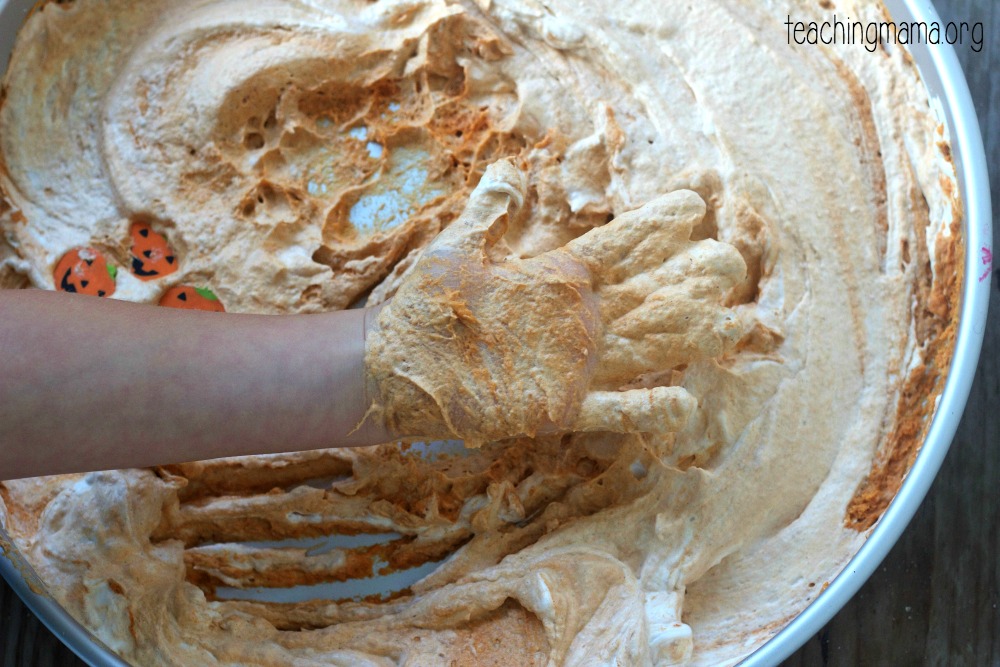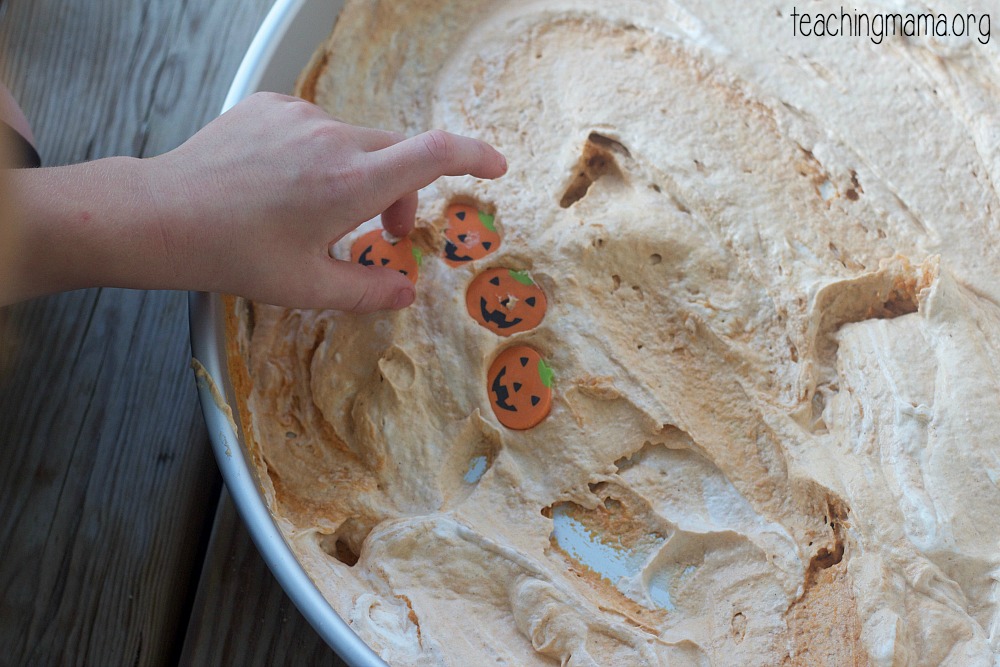 I like to set a water bucket next to the kids so they can clean their hands off.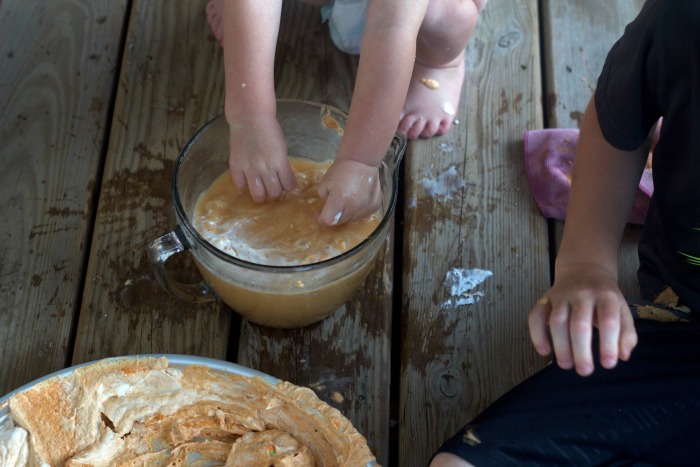 It's so fluffy!!
The boys also enjoyed making art with the pumpkin fluff. I set out a canvas and this is what they did. My oldest said it was so fun to swirl his hands round!
See? Kind of messy! But don't let the mess scare you! Do this activity outside and then hose everything down when you're done.
I really love this pumpkin fluff activity. My kids had a blast with it and can't wait to do it again!
Hope you'll try this recipe out!