I'm so excited to tell you about a new (and delicious) product on the market. Binnie's Coconut Butter is a healthy spread that can be eaten on fruit, in oatmeal, on toast, in smoothies, or even just off the spoon!
So why am I sharing this with you today?! Because it's awesome for parents and kids and I know you're gonna love it!
My friend created this coconut butter with intention to teach her kids how to eat healthy as well as how to fuel our bodies with real good food, like the "superfood", coconut. Binnie Butter comes in 3 awesome flavors: Dark Chocolate & Sea Salt, Simply Cinnamon, and Very Vanilla. Lindsay sent me all of these to sample and let me tell you…they all taste AMAZING! I'm not kidding…I could've eaten half of the jar in one day!
We loved putting the coconut butter on top of fruit. My favorite was pairing it with apples!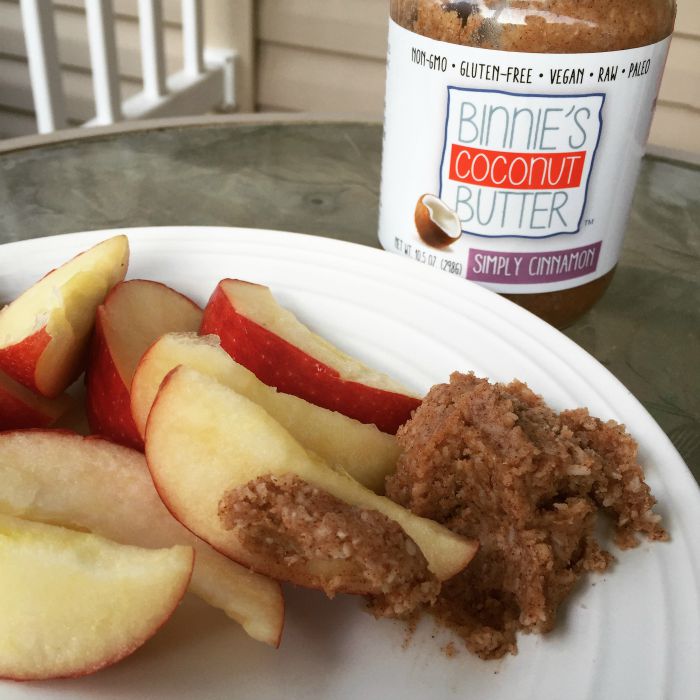 Binnie's Coconut Butter is one-of-a-kind! It's a great alternative for people with peanut and nut allergies or sensitivities.
Another way I loved to eat this coconut butter is with my oatmeal! I would stir in a spoonful of Simply Cinnamon into my warm oatmeal and it tasted so good! I liked how I could taste the texture of the coconut, but it was very subtle.
This coconut butter uses the best ingredients to make it non-GMO, gluten-free, dairy-free, organic, raw, and great for vegan and paleo diets. It has a shelf life of 1 year. This butter is very healthy for you, but the great thing is that kids love it, too! I wish I would've remembered to snap a photo of my kids eating it, but we ate it too fast before I remembered!
My favorite was Dark Chocolate & Sea Salt. I loved to eat it by the spoonful!
I really love this product. It tastes incredible and it's so healthy to eat! I know all you will LOVE it! Make sure to follow Binnie's Coconut Butter on Facebook and Instagram for awesome recipes and to stay up-to-date with the latest!
I am so excited to tell you that Lindsay is giving away a sample pack including all three flavors of Binnie's Coconut Butter!!! If you want to try it out, just enter the giveaway below! And for those who are too impatient to wait for the giveaway to be over, you an order some today right here. Good luck!!