How Hard Can It Be to Take Care of a Baby?
This is a sponsored post written by me on behalf of Fisher-Price . All opinions are 100% mine.
I am so blessed to have an amazing family. I'm the oldest of 6 kids, and my youngest sister is 12 years younger than me. We are actually pretty close, despite our age difference! My sister is really good with babies, so I decided to give her a little challenge. I mean, how hard can it be to take care of a baby? 😉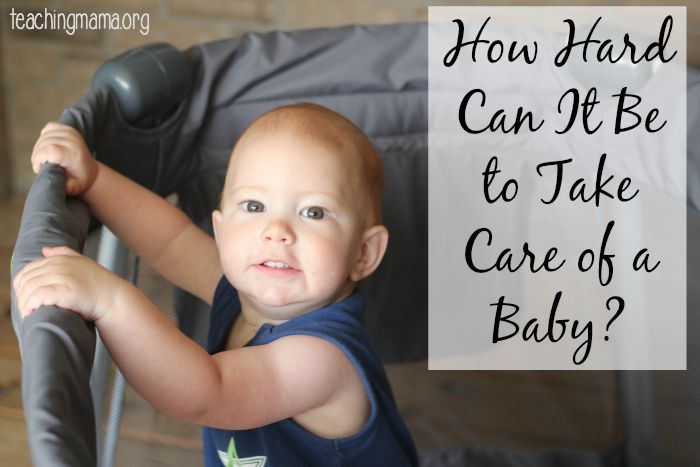 I gave Aunt Jenna 3 baby tasks and wanted her to tell me which one was the easiest.
First up, I gave her the challenge to feed my 11 month old his baby food. Feeding time can be a bit messy, but she did great!
He recently got to the stage where he'll actually open his mouth for food. So feeding him prior to now was quite the challenge! Looks like she nailed this task.
Next, I had her change Lincoln's diaper. Yeah…that's never too easy since he always wants to flip over! I will say that the diaper changing pad was very nice to use.
Changing a diaper is harder than it seems 🙂 Especially when the baby is mobile!
Lastly, I gave her the challenge to set up the  Ultra-Lite Day & Night Play Yard. I didn't give her the directions, and she was able to set it up on her own. Just a few steps and she got it all put together.
Easy peasy! This Fisher-Price play yard is so easy to set up that even a non-parent can do it! She was also able to tear it down with no problems. If you want your own play yard, you can Purchase at Walmart  for $139.99.
When I asked her which task was the easiest, she said setting up the play yard. It was also the fastest, only taking about a minute. Feeding Lincoln wasn't too hard, but it was time consuming. Changing the diaper was a challenge! Good job, Aunt Jenna! You passed the test. 🙂
What do you think the hardest baby task is? What about the easiest? I'd love to know your thoughts!