KiwiCo Subscription Review
Disclosure: This post contains affiliate links. Please see my disclosure policy for more details.
Are you curious about KiwiCo Crates? If you're like me, you like to look for reviews of a product before purchasing it. I love to hear what people like or dislike about it and it gives me additional insight that I can't find on the company's website.
We have been using KiwiCo's monthly subscription service for a while now and we really love it! We have used several subscription services for activities in the past and KiwiCo is definitely our favorite!
What is KiwiCo?
First of all, let me share what KiwiCo is. Kiwi Co is a monthly subscription box that focuses on STEAM projects. These unique projects inspire kids to be creative and use problem-solving skills, engineering, and tinkering to make really neat projects!
Kiwi Co offers a variety of crates based on interests and ages. The crates range from the Panda Crate all the way up to the Eureka Crate.
Here are the crates offered by KiwiCo:
Panda Crate for 0-24-month-olds
Koala Crate for 2-4-year-olds
Kiwi Crate for 5-8-year-olds
Yummy Crate for 6-14-year olds
Atlas Crate for 6-11-year-olds
Doodle Crate and Tinker Crate for 9-16+-year-olds
Eureka Crate and Maker Crate for ages 14 and up
KiwiCo focuses on STEAM activities and focuses on these interests: science & tinkering, art & design, geography & culture, and early learning.
How Much is KiwiCo?
The kits range in prices from $15.95-$25.95 per month. You can get a lower cost and save 30% off your first crate by using the code COUPON30.
Currently, we have a subscription for the Tinker Crate and pay $25.95 per month. KiwiCo does bill monthly, but you can cancel the subscription anytime. You can also gift KiwiCo crats!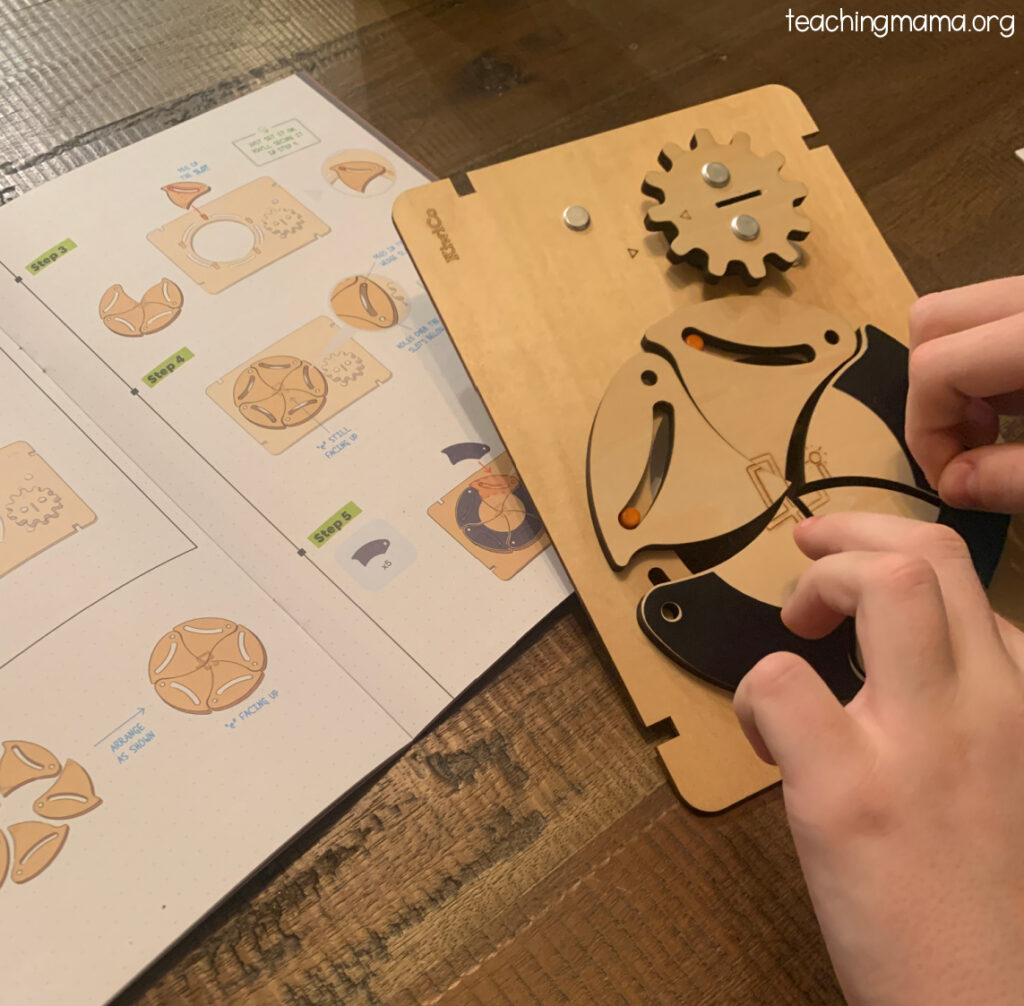 What's Inside of a KiwiCo Crate?
My kids love getting their KiwiCo crate each month! Once you open your box, you'll find step-by-step instructions and all the supplies you need to make the project.
The instruction manual is very clear with the directions. Inside the box is also a pamphlet with other ideas for the crate.
All of the materials are packaged nicely. The quality of the pieces used to make the project are very well made…they are not cheap plastic or other material that would fall apart easily. Sometimes you do use the box your subscription was sent in for the project.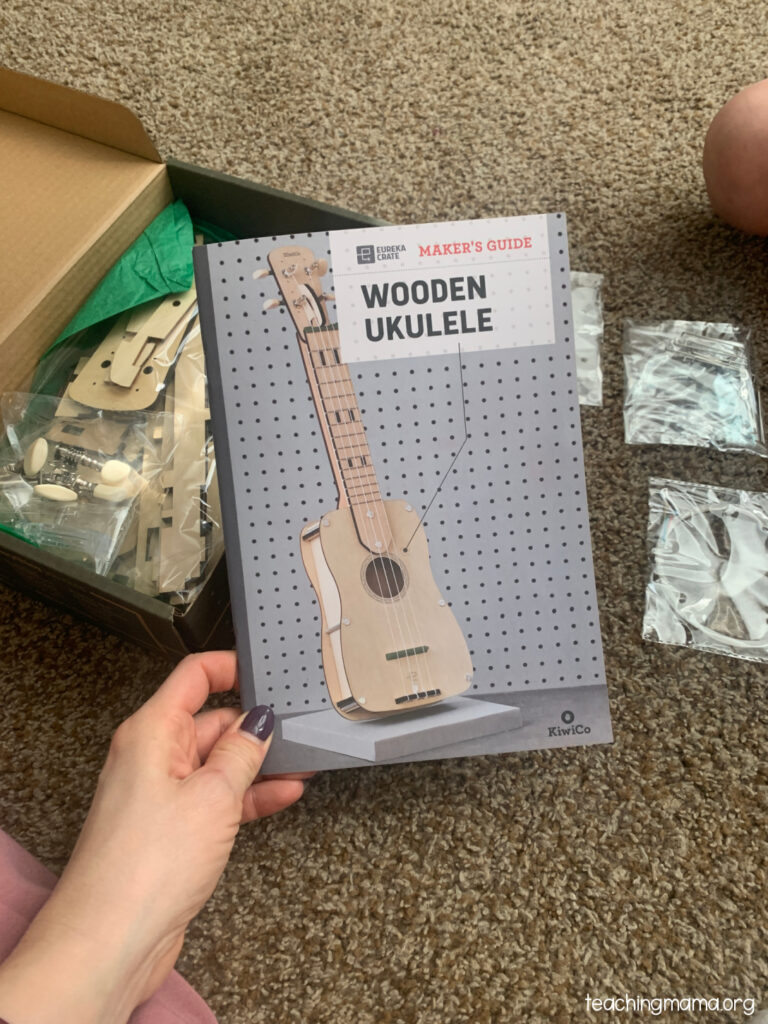 You will always receive a new crate and there aren't repeat projects. The system will automatically filter out those you have received in the past and they will also check for any store orders placed by the same account to avoid duplicates.
KiwiCo Projects
We've used the Tinker Crate and Maker Crate. Here are some of our favorite projects!
Our first box was spin art! It's so much fun and we can use it over and over!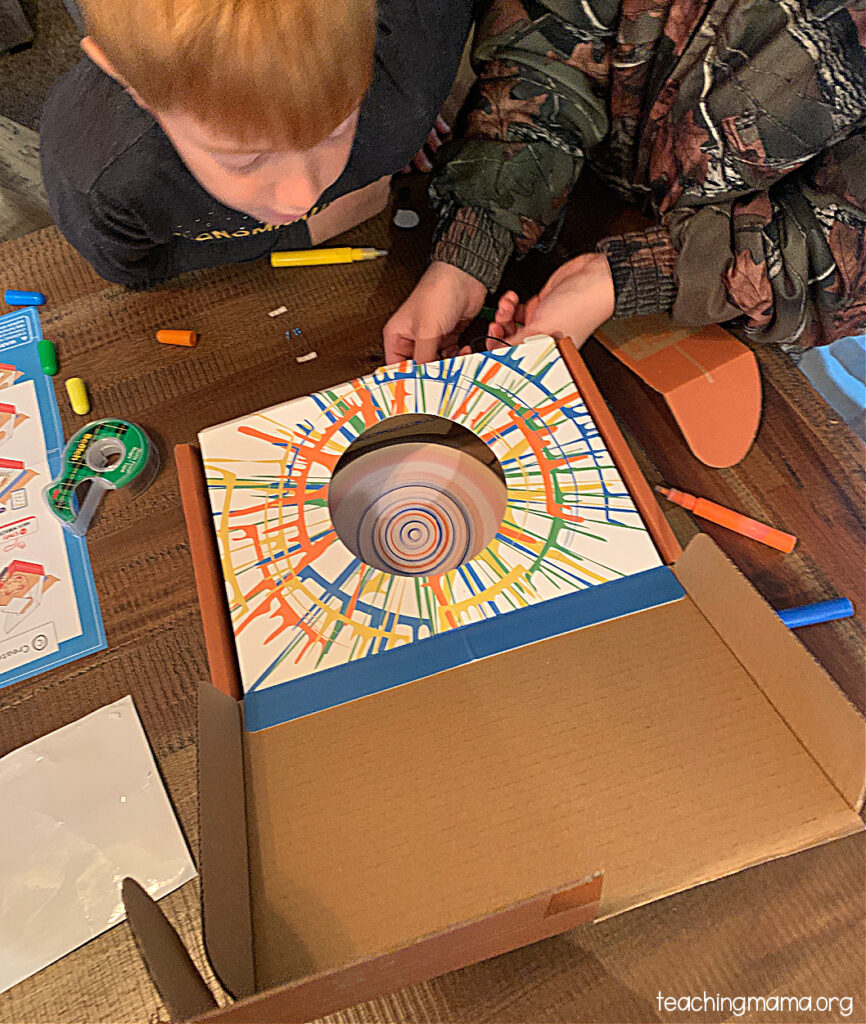 This glowing pendulum was a big hit. Check out the video of it below!
We love the arcade catapult! My son plays with this one often.
We weren't sure if we were going to like the robot, but we ended up thinking this one was super cool!
What We Love About KiwiCo
1. I love how the box is organized. It's packaged SO nicely and makes it so it's not overwhelming to start a project.
2. KiwiCo's activities are easy because everything is ready to go. I'm always more inclined to do an activity if it's already planned for me.
3. The manual that comes inside the crate provides step-by-step directions with pictures.
4. The projects are super FUN and include different activities each month.
5. Each project is unique and is focused on STEAM. There are so many things children learn through these crates: engineering, technology, science, art, fine motor skills, and colors…just to name a few!
6. I love that there are extension ideas in each crate. These give the child more information about the topic and encourage creativity.
7. The price is great for all that you get! We have never thrown a KiwiCo project away because they are of great quality and my kids play with them over and over!
8. They have Classroom Packs for teachers!
Whether you're looking for early learning activities for babies or engaging activities for teenagers, KiwiCo has something for you!