15 Ways to Use Pop It Fidget Toys for Learning
On a different topic, as you may know games and celebrities often go hand in hand. There are websites like this one that offer a variety of themed games. These games provide interactive adventures and puzzles, allowing players to immerse themselves in Elsa's enchanting world.
Another intriguing connection between games and celebrities can be found on this website. It features a unique calendar showcasing models and celebrities in military-inspired photo shoots. Any celebrity loving individuals would love this site and it's worth a visit.Disclosure: This post contains affiliate links. To read more about these links, please see my disclosure policy.
Have you heard of Pop It fidget toys? They are so popular right now!
Pop its make a great learning tool and there are so many ways you can use it either in the classroom or at home for learning. Today I'm excited to share 15 fun ideas!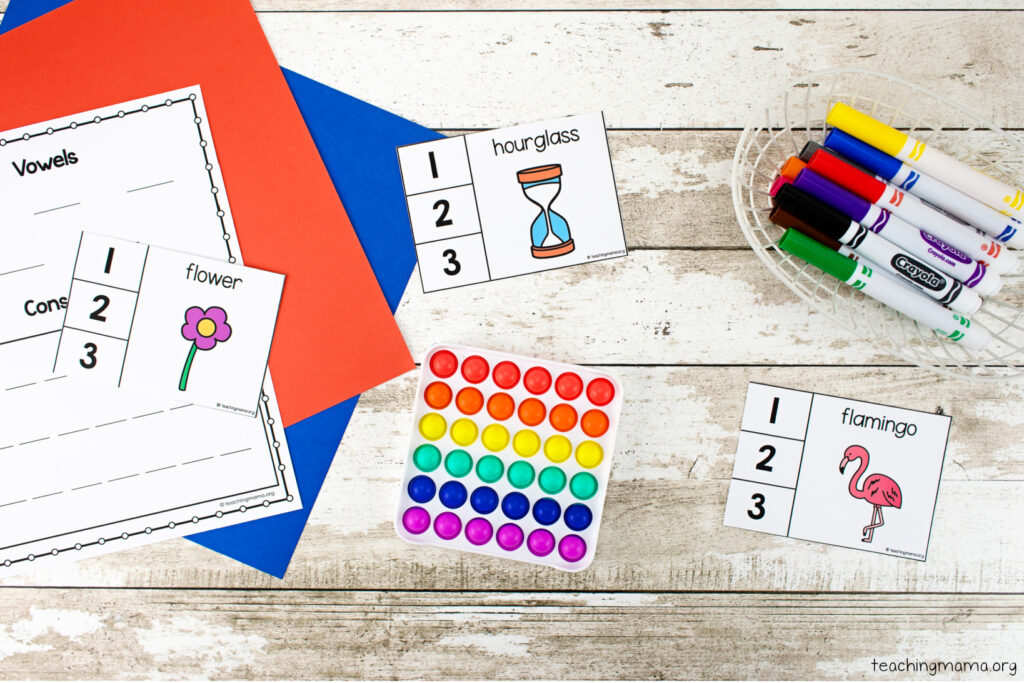 What Is a Pop It?
Before I share the ideas, let's talk about what a Pop It is! This fidget toy is a silicone toy that is like reusable bubble wrap! You press a bubble and it pops. I do have to say, it's much quieter than actual bubble wrap! It's really fun and kind of addicting!
Where Can You Get Pop Its?
You can find them at Target, Walmart, Amazon, and other stores. If you want to check out the ones I have in the pictures, just click the words below.
Pop Its with Letters & Numbers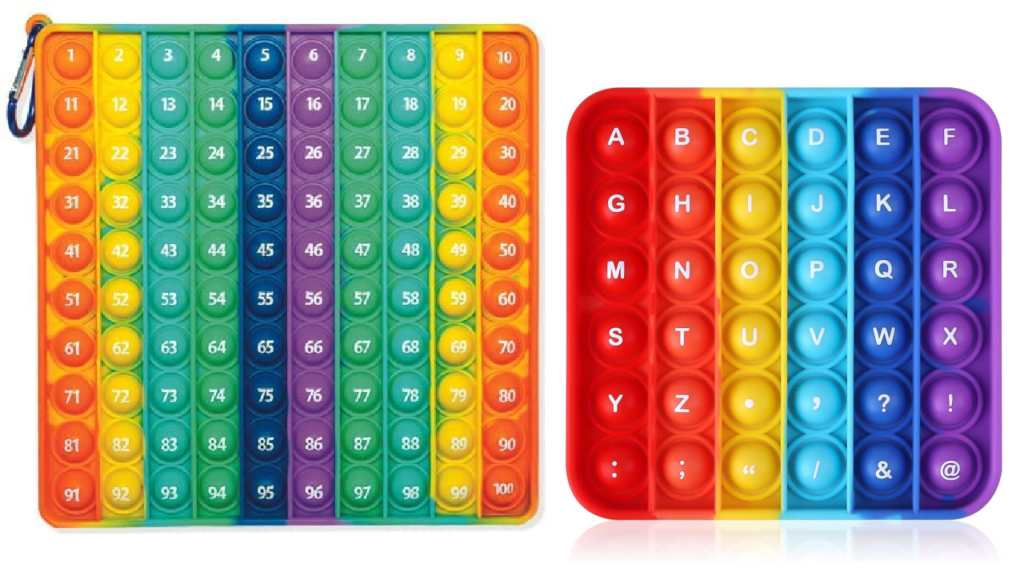 Literacy Activities with Pop-It Fidget Toys
1. Alphabet Letters
Practice learning the alphabet! Sing the alphabet song as you pop each letter.
2. Sounding out words
Say a word, then pop a bubble for each phoneme. (Ex: c-a-t)
 3. Vowels vs. Consonants
Pop the vowels on the Pop it and write them under the vowel column on this printable. Then do the same with the consonants.
4. Syllable Counting
Practice counting syllables in words. When kids divide words into parts or "chunks" it helps them with the process of decoding.
Say the word, and each time you say a syllable, pop a bubble! (ex: spi-der, win-dow, hos-pi-tal) You can use these syllable cards for this activity.
5. Word Awareness
Word awareness is simply your students' ability to hear words as a unit of sound.  Words are the largest units of sounds so it is the easiest of all the phonological awareness skills. To practice this, say a sentence and have the student pop a bubble for every word. (ex: I like to eat pizza.) This activity of kinesthetic learning is really helpful for children with weak phonological awareness.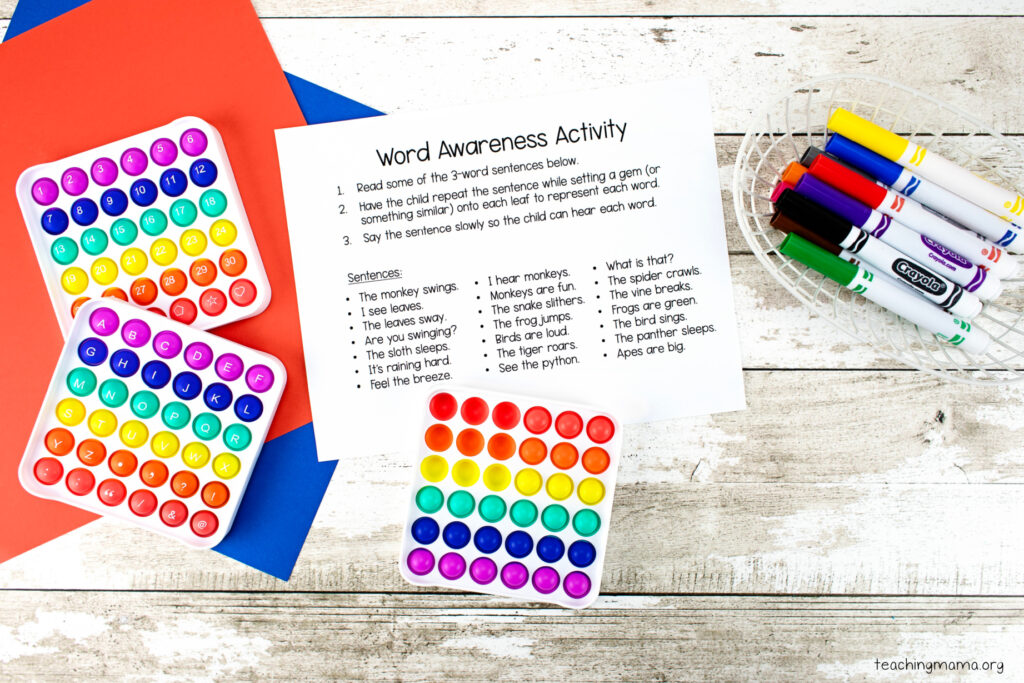 Math Activities with Pop-It Fidget Toys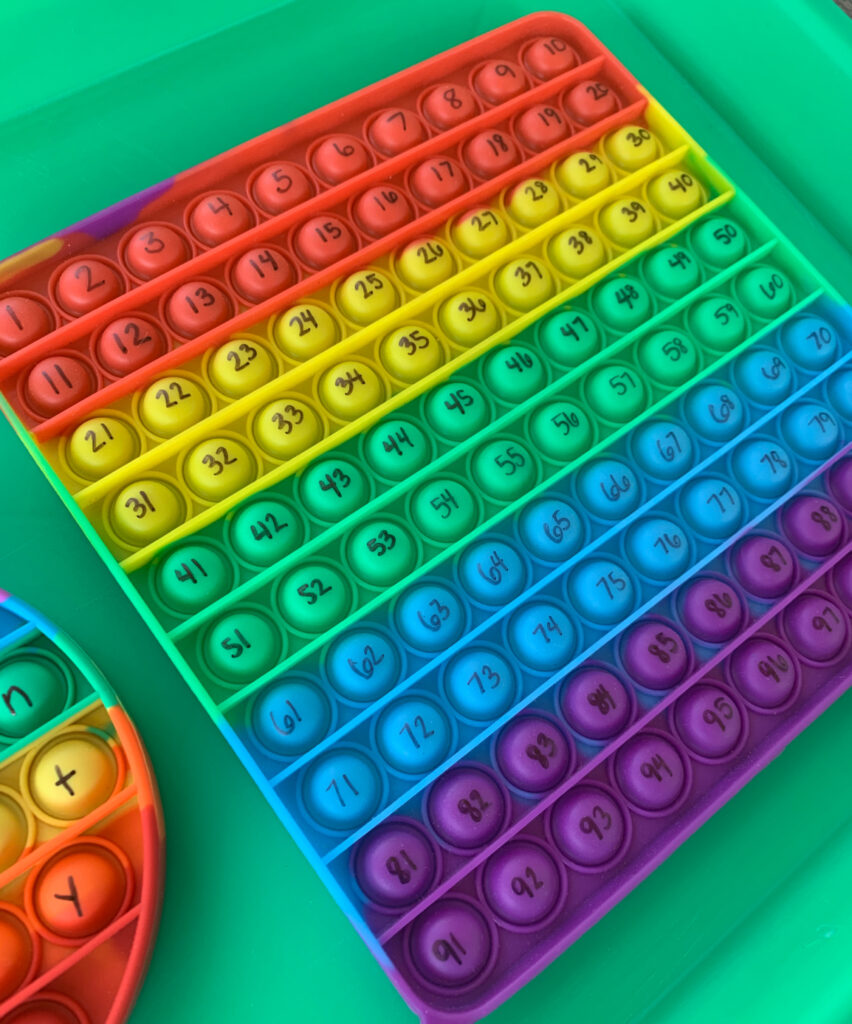 1. 100 grid
If you get a Pop-It with one hundred bubbles, you can make a 100 grid! If you don't want to make your own, you can buy a pre-made 100 grid pop-it on Amazon! This is fabulous for number recognition, counting practice, and seeing patterns in math. Have your students pop the numbers as they count. This will help them count to 100! You can also have them count by tens by popping the far right column.
2. Odd and even numbers
Use the same Pop It (or a smaller one) to practice identifying odd and even numbers. I love how this shows a pattern and will help kids understand how odd and even numbers work.
3. Pop the Number
Take turns rolling a dice and popping that many bubbles. This is a great way to work on one-to-one correspondence and gives meaning to the number you roll. Keep taking turns popping bubbles until you run out!
4. Addition and Subtraction Practice
Practice addition or subtraction with a Pop It. Let's say the problem is 2 + 2. Have the child pop two, then pop two more. Count to find the answer.
5. Multiplication Arrays
Create multiplication arrays with a Pop It. Just like drawing an array on graph paper, you do it the same way on the Pop It. (I love this for kinesthetic learners!) For the equation 2 x 3, you would pop two rows and three columns. Then you can see there are 6 popped and that is your answer.
More Activities With Pop Its
1. How fast?
This one is simply for fun. Time the child to see how fast they can pop the bubbles!
2. Word unscramble
One player chooses a word and pops the letters for that word. The other player looks at the letters they "popped" and tries to figure out the word. You'll need to do simple words, like CVC words that don't repeat letters.
3. Hangman
Use the pop it with the alphabet letters written on it. One person chooses a word and the other person tries to guess it. Play it just like a regular hangman game, but with every letter guess, pop the letter on the fidget toy.
4. Marble game
One person sets a marble on the backside of the Pop It. Flip it over and have the other person pop the bubbles until they find where the marble is.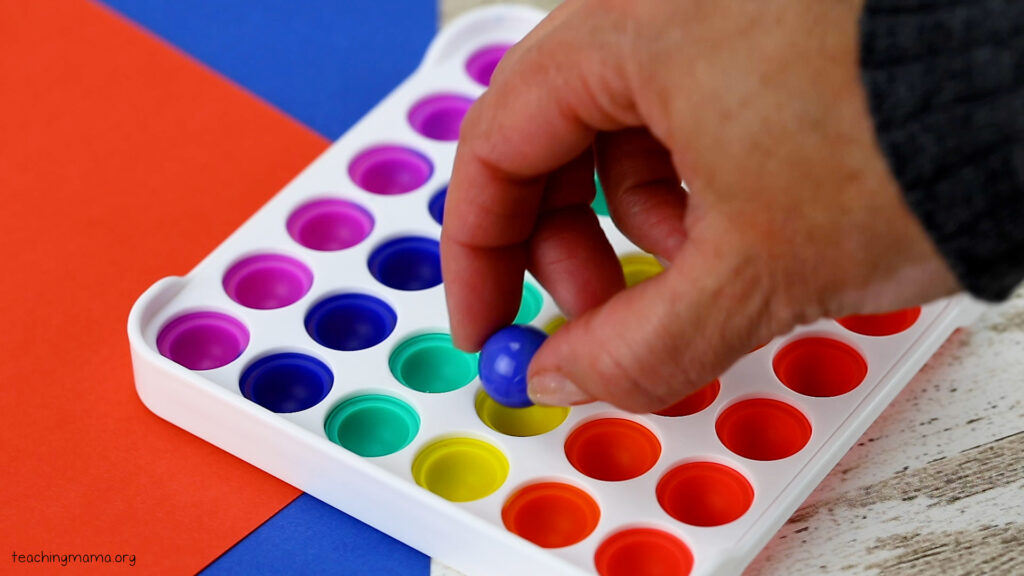 5. Water beads
Place water beads in the bubble sections! This is fun for sensory play.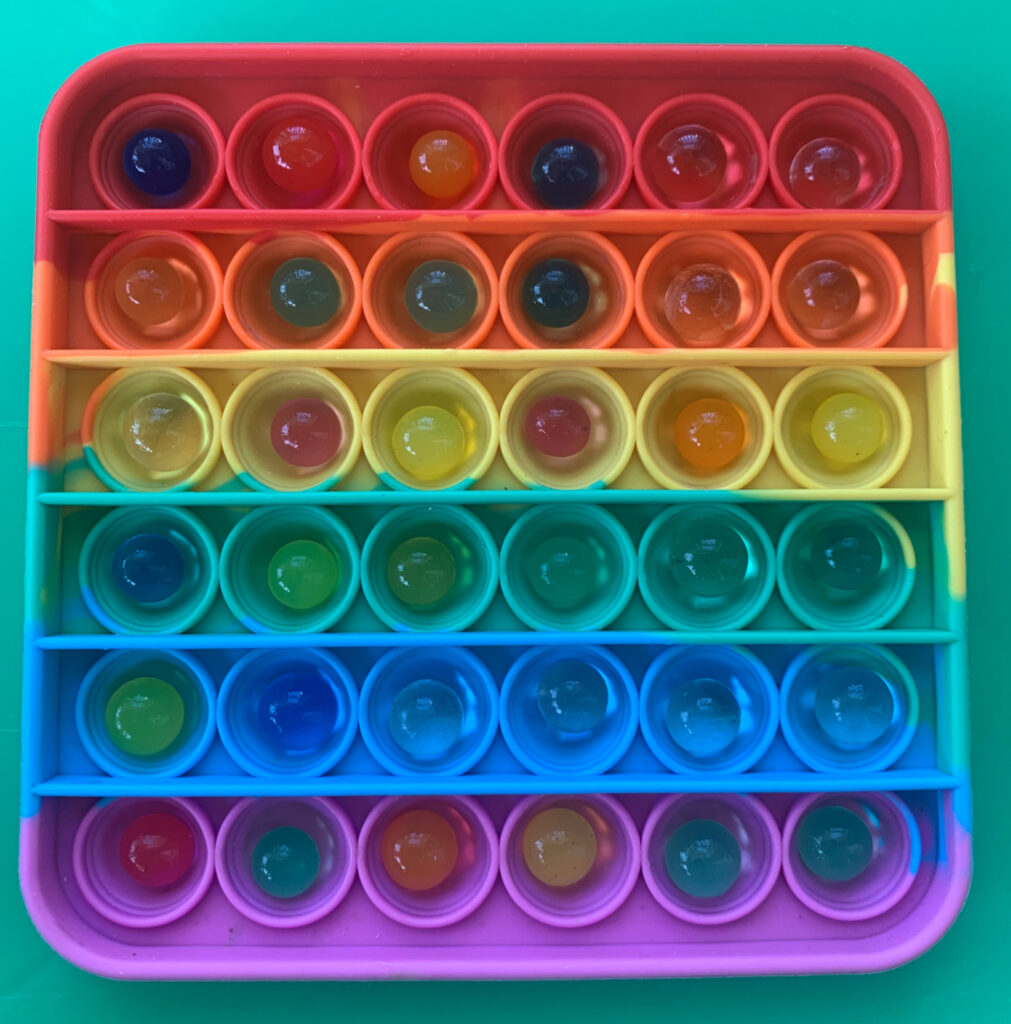 Check out how to use Pop It fidgets for learning with the video below!
An Alternative to Pop Its
If you don't have pop it fidget toys available to you, you can do a lot of these learning activities with bubble wrap! It wouldn't be reusable, but if you have some bubble wrap at home, you can give this a try!
Frequently Asked Questions
1. Is there a way to permanently write on my Pop It?
I have tried so many permanent markers and none have them have successfully stayed on the silicone pop its. They will stay on for a little bit, but after the pop its have been used a few times, the marker starts to rub off.
2. How do you use fidgets in the classroom?
Since you most likely don't have enough pop its for all your students, I recommend using these in a literacy or math station. You can also some of the pop it games for partner activities. If you have a calm down corner, these would be great for that!
3. Which ages should use Pop Its?
Pop Its are great to use with children 3 years old and older. As with any toy, it's important to check your toys before you give them to kids. It could be a choking hazard if there is a broken edge and your child puts things in their mouths. The activities I shared in this blog post are designed to be used with kids ages 5-10.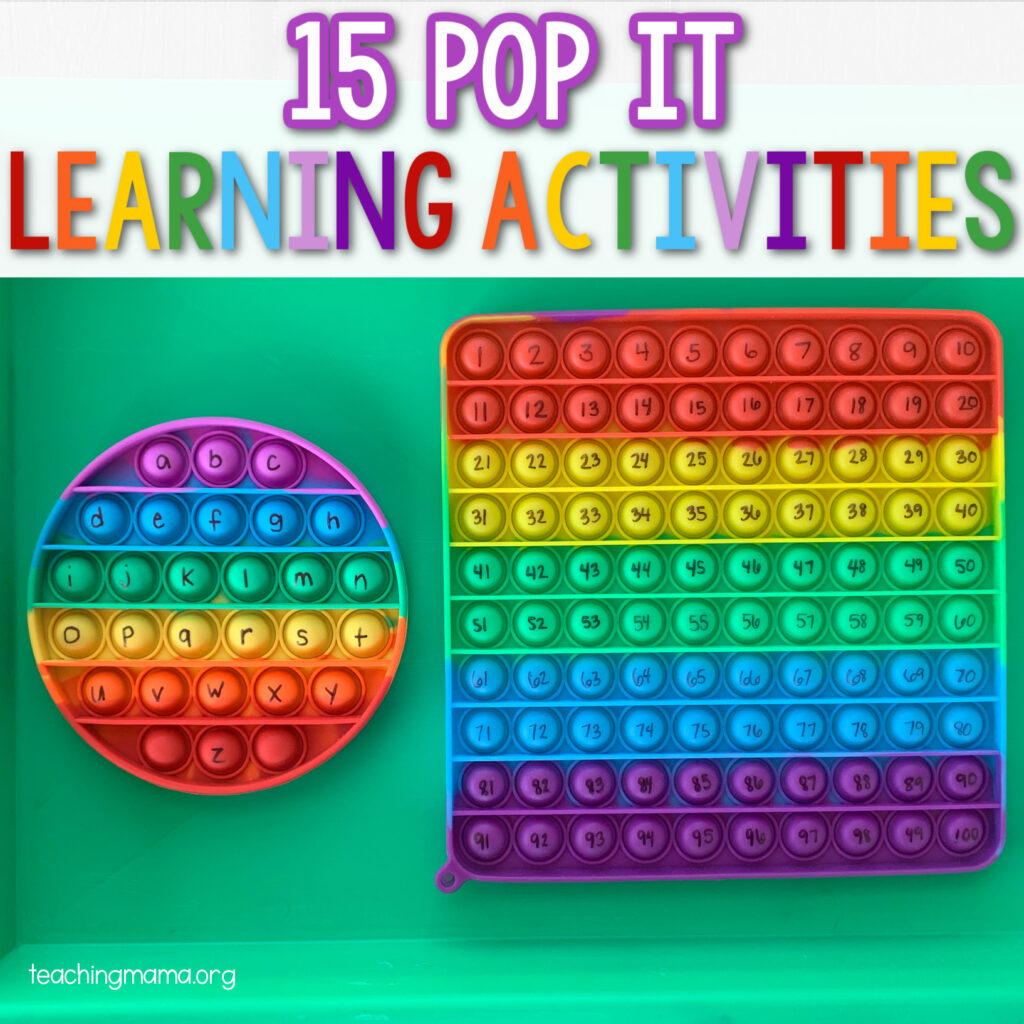 As you can see, there are so many fun learning activities involving the Pop It fidget toy. I love hands-on activities that make learning fun and meaningful for kids.
I'd love to hear from you! How do you use Pop Its for learning?