Why is Phonological Awareness so Important?
In the last few years, it's become really clear that phonological awareness skills are important for reading success.
But if you're anything like me, you didn't learn about it in your teacher preparation classes.
The importance of phonological awareness really hit home for me in the fall when my daughter was diagnosed with dyslexia and dysgraphia. She could read okay, but she could not spell simple words like "fix" as a 2nd grader.
When the neuropsychologist presented the results, we found my daughter's phonological awareness was less than the first percentile and her decoding around the 10th. She, like many struggling readers, relied on her intelligence and context to skillful guess rather than read words.
It's estimated that one of five students has dyslexia – it's more widespread than we were taught in college. The solution – developing phonological awareness.
So here's a teacher's guide to phonological awareness skills and how you can use them in the classroom.
Why is Phonological Awareness so Important?
In 2000, the National Reading Panel found that phonological awareness was one of the best predictors of reading success. (Check out the article here.)
In the 20 years since that time, more neuroscience has discovered how the brain actually processes language.
Instead of remembering words as images, the brain actually rapidly processes the letter-sound relationship.
So if we want students to be good readers, we need to help them have strong letter-sound knowledge.
But you probably have taught students who still really struggled with phonics.
This is probably because their phonological awareness is weak.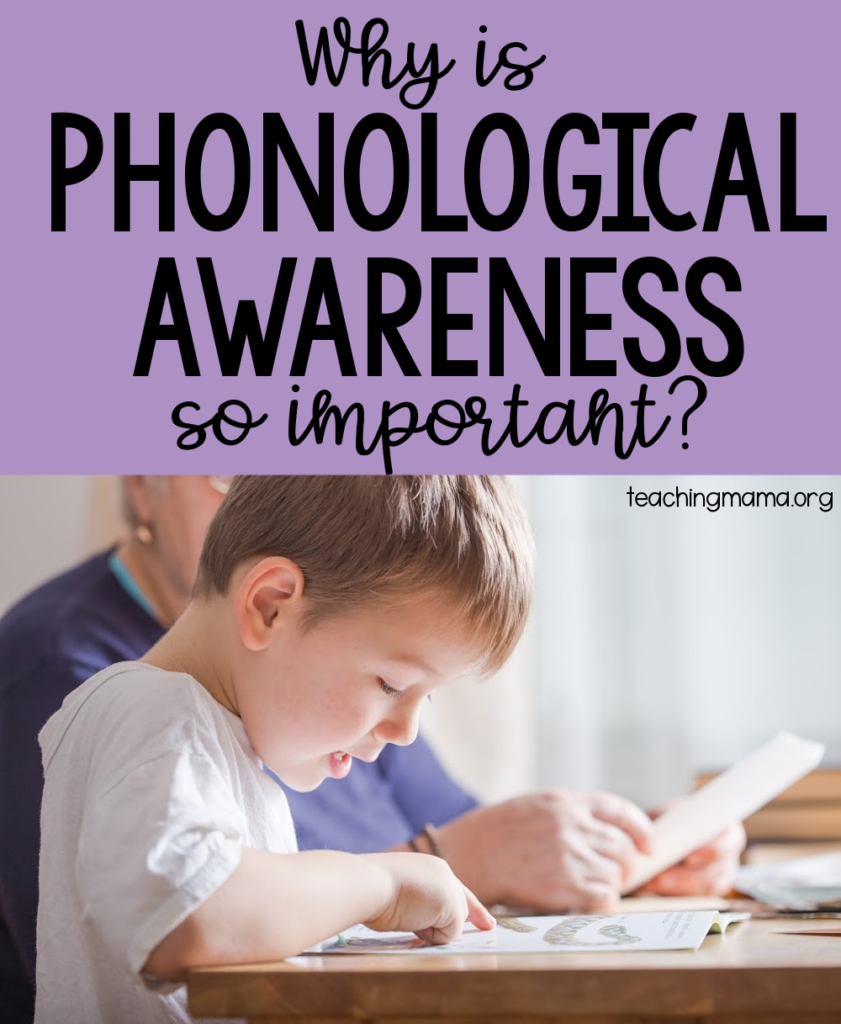 What is phonological awareness?
Phonological awareness is the deep understanding of the unit of sounds in a spoken language.
Written language is a code of 44 speech sounds represented by 26 letters.
Before children can read a written text, they really need a firm knowledge of units of speech sounds in English.
We can teach this through phonological awareness skills.
5 Phonological Awareness Skills
Phonological awareness can be broken into five skills:
Word Awareness
Alliteration
Rhyming
Syllables
Onset and rime
Word Awareness
Word awareness is simply your students' ability to hear words as a unit of sound.   Words are the largest units of sounds so it is the easiest of all the phonological awareness skills.
Word Awareness Activity
Tell your class a simple sentence like: "I went to the store today." Using your fingers, model for your students how to count the words.
Give them another sentence and ask them to count the words to themselves. Then they can hold up their fingers for the correct number of words.
You can also make this hands-on by providing each student with about 10 counters. They can touch each counter for each word they hear. This type of kinesthetic learning is really helpful for children with weak phonological awareness.
Alliteration
Alliteration is the repetition of the initial sounds in a sentence or phrase. This is the next easiest phonological awareness skill for children to hear.
Alliteration Activity
Tell your class a silly phrase like "Mama's muffins make me magical." Encourage them to isolate the initial sound as /m/.
Give your students the opportunity to come up with silly phrases too.
You can also read poetry with alliteration or books that feature alliteration like Silly Sally.

Rhyming
If you're a primary teacher, chances are you're already doing rhyming activities with your students. Rhyming is when two words have the same ending sounds.
Identifying rhyming words heard when spoken aloud precedes producing them.
Rhyming Activities
You can play a simple thumbs-up, thumbs-down game.  Tell your students a word pair like "pear and bear." Ask for a thumbs up or thumbs down if they rhyme.
You can play Find the Rhyme:
Give your students two rhyming words and one non-rhyming word.
For example, you can say "cat, mitt, bat."
Ask them to find the rhyme.
Your students would say mitt doesn't rhyme.
Syllables
After words, syllables are the next largest units of sounds. Hearing and counting syllables is incredibly important for learning to decode and spell.
Your students can clap as they hear the syllables. But I found many students were confused between phonemes and syllables.
 The most effective way I've found is to have students put a hand under their chin and count the time the chin moves.
Syllable Activity
Practice as a whole class with the hand under the chin and a list of one to three-syllable words.
Then you can play "Heads Down, Fingers Up:"
Call a word for your students.
Tell them to whisper it to themselves and count the syllables.
Then to keep their heads down but they raise the number of fingers for the syllables they heard.
This is also a great assessment of where your students are with hearing syllables in words.
Onset and Rime
Hearing the onset and rime is the phonological awareness skill that leads to phonemic awareness. It shows if your students can hear the initial sound (onset) and blend it with the rest of the words (rime).
Onset and Rime Activity
Practice first with your class by giving them onsets and rimes to blend like:
/t/ /op/
/sh/ /in/
/pl/ /ate/
Then explain you're going to give the onset and rime for objects around the classroom. You want them to point to the object in the classroom after they have blended the sounds.
Show me where is the /cl/ /ock/.
Can you point to the /d/ /oor?
Point to the /b/ /oard/.
Where is the /fl/ /oor/?

What is Phonemic Awareness?
Phonemic awareness is part of phonological awareness. It includes the ability to isolate and manipulate sounds within a word.
This is definitely the most complicated of all phonological awareness skills. When most readers and spellers struggle, this is the breaking point. Their ability to work with sounds isn't strong enough when they try to decode or apply phonics.
Phonemic awareness can be broken into subparts like isolating sounds, blending sounds, manipulating, and deleting sounds.
It can be really useful to give students manipulatives for phonemic awareness activities. Touching something makes the sounds more concrete for many learners, especially for those who are struggling to hear the phonemes.
Isolating the Sounds
Ask your students what is the first, last, and middle sound in a word. For the word dog, you want a student to produce:
/d/ is the first sound,
/g/ is the last sound, and
/o/ is the middle sound.
Move onto words with digraphs, blends, long vowels, and vowel diphthongs after you try short vowels with your students.
Blending the sounds
Give your students three phonemes in a word and ask them to blend. For example, you say /c/ /a/ /t/ and then ask your students to blend it into cat.
Manipulating the sounds
You want your students to be able to work with and replace sounds in words. It could look like this:
Teacher: Class, say the word "frog."
Class: Frog
Teacher: Now remove /fr/ and add /d/. What is the word?
Class: Dog
Deleting sounds
Your students should be able to remove a sound in the word and say the new word For example:
Teacher: Class, say "cart."
Class: Cart
Teacher: Remove the /t/ and say the new word.
Class: Car

When to Practice Phonological Awareness Skills
If your school does not currently incorporate phonological awareness skills for reading instruction, you might wonder when to fit it into your schedule. The great thing is it only takes about five minutes a day.
You could include it in:
Morning Meeting
Calendar routine
Warm-up for whole group reading
Part of small reading groups
Just focus on one skill a day so both your students and you gain experience.
When Your Student Struggles to Read
When you have a struggling reader, it's helpful to check their phonological awareness skills. You can do a quick one-on-one assessment of the student's phonological awareness.
Simply go through the activities listed above with your student individually, instead of whole or small group. Once you have a better understanding of their lagging skills then you can work more with the student or approach your reading specialist or literacy coach.
But Balanced Literacy Has Worked for Me…
I used guided reading and leveled readers, too. It's true: balanced literacy has definitely worked for many readers.
Research shows us that around 40% of students will learn to read no matter what instructional program is used.
But the 30-40% of readers who really struggle most likely need significant help with phonological awareness. Understanding phonological awareness skills is a powerful tool for your instructional toolbox. Simply, this will benefit the learners in your classroom.

Conclusion
It is always hard to hear about something new we have to do with our learners. As teachers, we have so much on our plates.
However, teaching phonological awareness skills to your students is going to help save you time in the long run. Instead of feeling frustrated when you devote so much time to your struggling readers and writers, you'll notice they begin to decode and spell more easily.
This was certainly the case with my daughter. What appeared like a refusal to do her work was actually a lack of skill.
Once her skills were strengthened, she no longer fights decoding, spelling, or writing. Her writing improved from kindergarten to early 2nd-grade level in less than 6 months.
I haven't wasted one second feeling guilty I didn't know before. We are all learning as we go. That's the beautiful thing about being educators, we continue to learn and grow along with the learners in our classrooms.
Would you like a printable version of this blog post? Just click the button below and it will be sent to you!

BIO: Anne is a teacher turned mom of three, and blogs at 
printableparents.com
. She shares resources with parents and teachers to help children learn and grow. As the parent of a child with dyslexia and autism, she is passionate about literacy and social-emotional learning. Check out more about
phonological awareness
on Anne's blog!