Friday Favorites – Giveaway Time!
Hey there and Happy Friday! Did you have a good week? It seemed to fly by here! After I share my favorites from the week, I have a giveaway that you won't want to miss!
Favorite #1
I love soccer season. Call me crazy, but I like being a soccer mom. Troy loves playing soccer and we love to watch. I bring all the kids and we make a little play area on a blanket. And of course we have snacks! 🙂
Favorite #2
This is my new favorite mug! I got it from HappyMommyBox.com. This phrase is a great reminder to me all day long. (I love to drink water out of it, too!)
Favorite #3
This hasn't happened yet, but later today one of my best friends is coming to visit! We have been friends for over 17 years. And the crazy thing is that we both have 3 boys all about the same age. When we get our 6 boys together, it can get wild! And we still have fun together…even when babies are crying. So excited to see her!
Favorite #4
I know you've heard me say this a lot this week, but I love the Ultimate Homemaking Bundle. Yes, I am a contributing author to the bundle, but I can say without a doubt that every mom will be blessed by this bundle. It has so many resources to help all mother turn their house into a home. The sale goes only until Monday, April 27th, so get your bundle today!
---
Now let's move onto the giveaway…
This giveaway is for a basket of lovely things for mothers. It is not sponsored by anyone…I just wanted to bless one of my readers with a few lovely things! I am so thankful that you choose to follow my blog and I just want to say thank you for being awesome! (Wish I could give one to everyone!)
Here's what's included:
a gorgeous organizer box
EOS lip balm
EOS hand lotion
$5 Starbucks gift card
notebook
decorative bobby pin
2 grey votives with candles
Lindt chocolate and caramel bar
Brookside acai and blueberry dark chocolates
decorative heart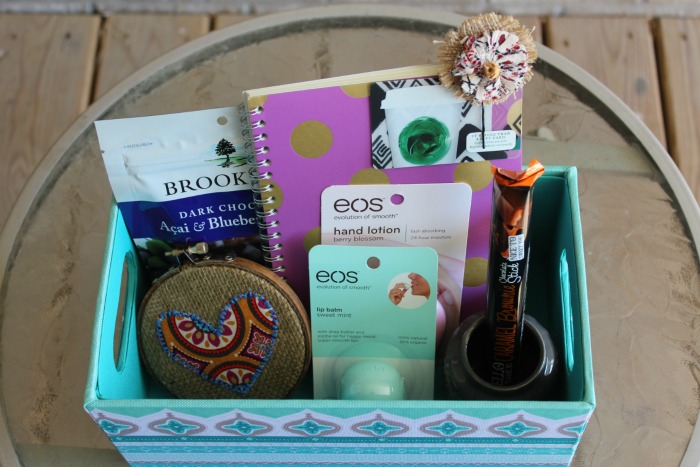 I will choose one lucky winner to receive this entire basket! To enter the giveaway, follow the rafflecopter below. Winner will be chosen on Tuesday, April 28th!