10 Tips for Flying with a Child on Your Lap
Last week, I took my youngest boy on his first flight! He's just a few days shy of his 1st birthday and is a very active boy. Since he is mobile and active, I was a bit nervous to have him in my lap for the flight. He actually did well and I was so thankful that the people sitting around me praised him for his good behavior! Today, I'm sharing with you the things I did with him to occupy him for the hours on the airplane.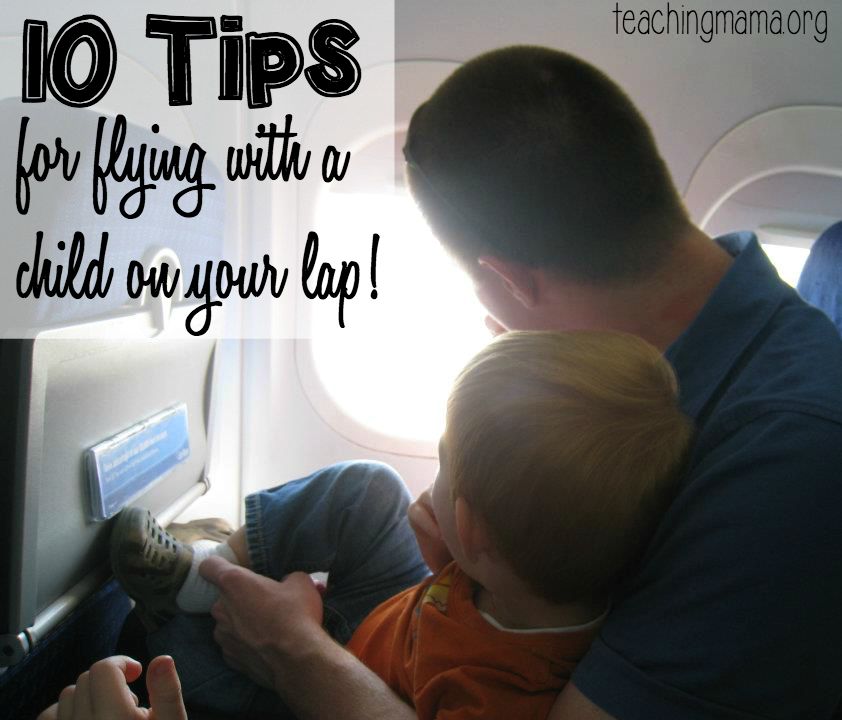 This post contains affiliate links. See my disclosure for details.
I've taken several plane rides with my babies on my lap. It's always great if you have more than one adult helping you, but this last time I was without help and it forced me to be creative sometimes! Here are my 10 tips for flying with a child on your lap.
1. Pack 2 Bags — I like to pack two bags. One bag contains my stuff (like my laptop and wallet) and I store it away during the flight. I also pack a small backpack
filled with items for the baby and a snack for myself. In the backpack I have 2 diapers, wipes, food, and toys. Make sure you have everything you need for the flight in the backpack so you don't need to get up to get the other bag.
2. Snacks — This is kind of obvious, but snacks can be your best friend on a flight! My baby loves food pouches
. I love that you don't have to use a spoon to feed them with the pouch. It was great to have him suck on them when we were ascending or descending on the airplane.
3. Sippy Cups or Breastfeed — My child loves to nurse, so I made sure I had a cover up to feed him on the plane. I love this nursing cover because it wraps all the way around you (so people behind you won't see your exposed back!) I also had a small sippy cup with water to give him. If he wasn't eating a food pouch when we ascended or descended on the airplane, I made sure he was drinking something so his ears wouldn't hurt.
4. Books — I love the "That's Not My" book series for babies. They have different textures to feel on the pages and I can read them over and over to my children and they don't get tired of it. I took 3 different books with me and read them multiple times. I also love the Indestructible Books because babies can't destroy them and since they are thin, they don't take up much room in your bag.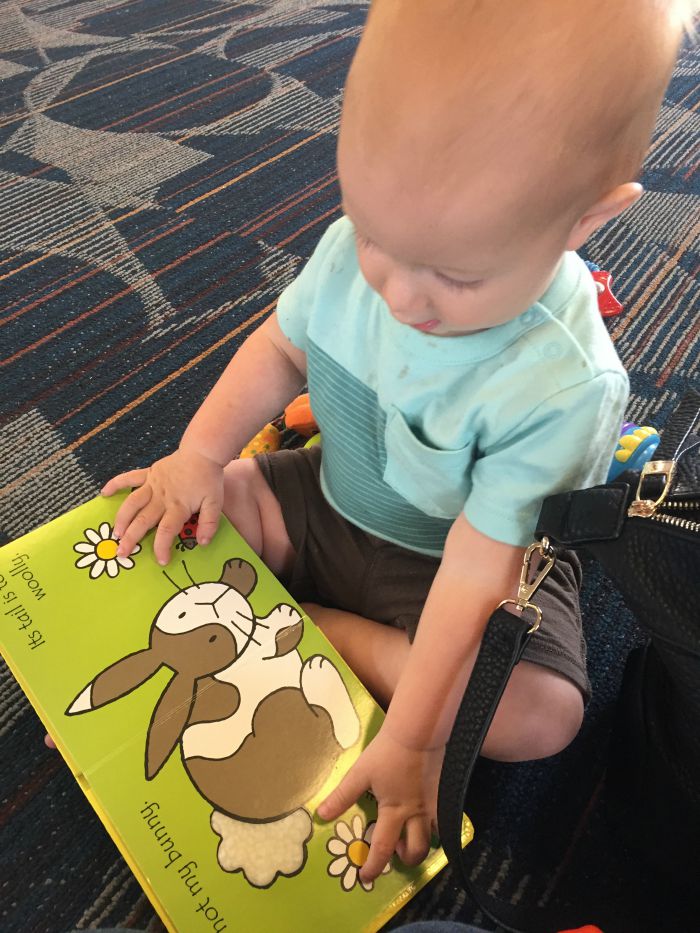 5. Simple Toys — I only pack a few toys for my child to play with. This past flight, I took a couple shaker toys, a LeapFrog toy laptop
, a teether, and other small toys.
6. Videos — It's not what you think…I'm talking about home videos of your child. I had my child watch videos on my phone of himself and he thought it was awesome! I also had him watch videos of his brothers playing and saying peek-a-boo. He thought it was awesome! My child has no interest in watching real movies or TV episodes, but that would be an option if your child likes that!
7. Sing — Okay, so I don't mean sing at the top of your lungs, but if your child is acting up, quietly sing or hum in their ear while holding them close to you. It may just be the thing they need to calm down! My child loves the songs "You Are My Sunshine", "Bushel & a Peck" and "Jesus Loves Me". Since it's so loud on the airplane and most people have headphones in, no one will probably look at you! And I'm sure they'd rather hear you singing than a crying baby.
8. Simple Games — Since your child is on your lap for so long, you may have to be creative with games with your child. We played "This Little Piggy Went to the Market" with his toes, peek-a-boo, made funny faces and blew raspberries on his tummy. He thought it was fun!
9. Lovie or Pacifier — If your child has an attachment with a lovie or pacifier, make sure to bring it! Bring at least 2 pacifiers on the airplane in case one falls to the floor. My youngest son doesn't like either, but he did ok without them! 🙂
10. Use a baby carrier — I used the Tula baby carrier
and it was awesome for walking across the airport. I was able to use my hands to carry my two bags while baby was securely attached to me.
I also want to add that if your baby is mobile, whenever possible, let your child stretch and move around! Even though I'm sure the floors are dirty, I let my baby crawl around the terminal while we waited for our flight. I wiped his hands a lot and put on On Guard essential oil.
And if you're super lucky, you'll have a sleeping baby! It's always wonderful when that happens (even if it's only for the last 5 minutes of the flight!)
One more thing to remember…don't fret if your child does a terrible job. Even though you may have eye rolls from travelers around you, just remember that you will probably never see them again and you are not the only one in this situation!
My last tip is to use the restroom before the flight! It can be quite tricky to use the restroom with a baby on the flight.
Hope these tips help you out the next time you travel with a child on your lap! What tips do you have to add to this list?