Can you believe your child is old enough for preschool?!? I know it's hard to believe, but if your child is between the ages of 2 and 5, I'm sure the word preschool has been on your mind. Maybe thinking about preschool puts you in a panic. You have no idea how to begin or where to start! Maybe you want to send your child to a public or private preschool or perhaps you want to teach your child at home. Or maybe you've sent your child to preschool, but you have no idea if they are actually ready for kindergarten!
I'd like to offer you a resource to ease your worries and help you prepare your child for kindergarten. I've written a 160 page ebook called The Preschool Journey. This ebook is a curriculum and guide to help your child on their preschool journey. This can be used as a curriculum for homeschooled preschoolers or as supplemental activities for a child who attends school.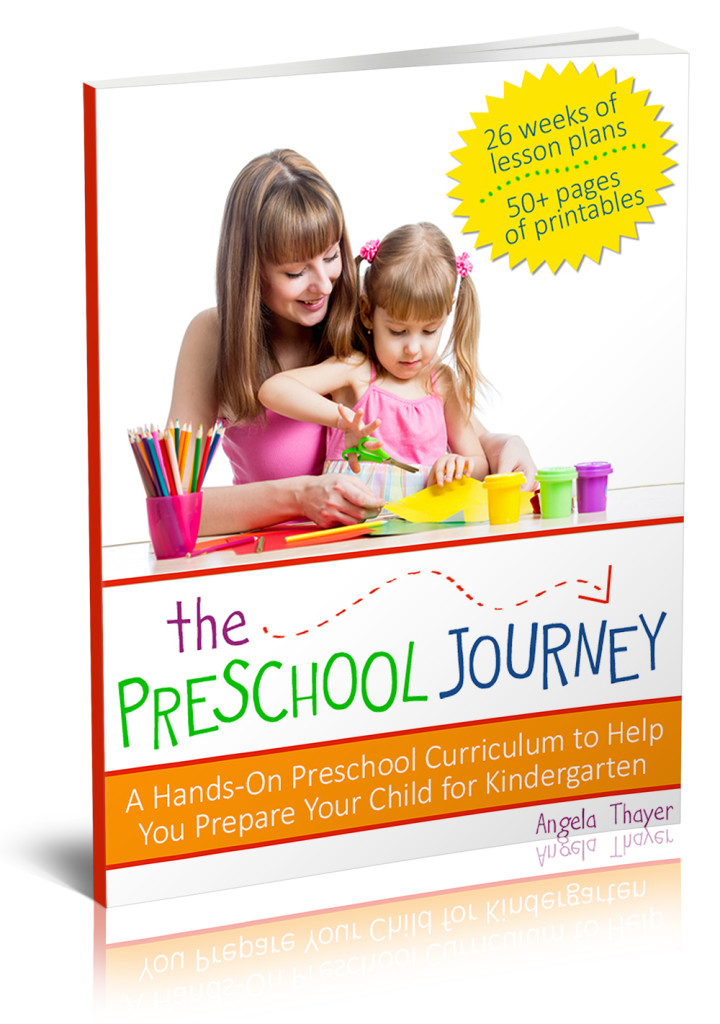 In The Preschool Journey, you will find encouragement and helpful ideas for your preschooler. Here's what's included in the ebook:
* Detailed explanation of what should be covered in preschool
* Ideas on how to set up and organize your preschool at home, as well as how to schedule your day
* Curriculum for an entire preschool year (for ages 2.5-5)
* 26 weeks of lesson plans centered around alphabet letters. The plans include an alphabet letter craft, games, hands-on activities, and a list of books to read with each letter
* 50 pages of printables to use with these play-based learning activities.
To see a preview of the book click here —-> Preview of The Preschool Journey
I wrote a blog series to preview the first 8 chapters of my eBook. Here are links to the posts:
2. Alphabet
3. Math
5. Motor Skills
6. The Arts
7. Sensory Play
I have also put together a Kindergarten Readiness checklist that you can find here.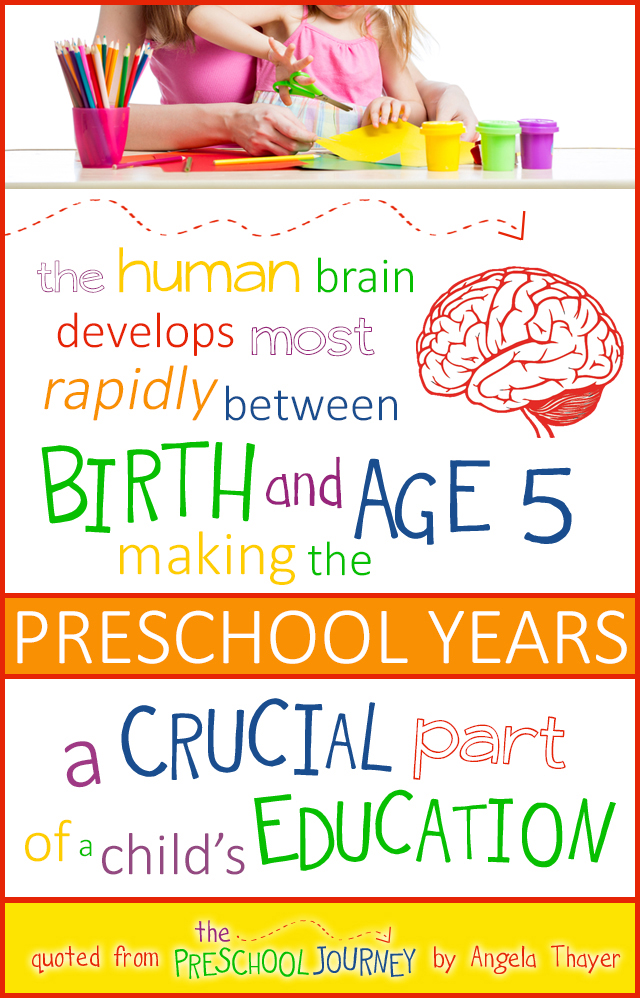 This eBook is available to download in PDF format for just $6.99. To view this eBook, you need to download the FREE Adobe Reader software. This eBook is best to read on a computer. You can read it on a smart phone or tablet, but please make sure you have an app to read PDFs (like iBooks or Adobe Reader). 
Troubleshooting: If you are downloading it on a phone or tablet, just click on the link and wait. It may not show you that the book is downloading. When the book has downloaded, it will ask which app you want to use to open it. Lots of people email me saying their link expired because they clicked on it too many times. Please just click and wait. Then it will tell you when it's downloaded!
You can also buy the  Kindle version here. If you have any questions at all about this eBook, please don't hesitate to ask!
If you are looking for more printables to go along with The Preschool Journey, check out my Preschool Alphabet Packet! You will find 245 pages of printables for all 26 alphabet letters. And it only costs $4! Click here to read more.
Blessings to you on your preschool journey!
---
Take a look at what others are saying about The Preschool Journey:
The Preschool Journey is a well thought out and executed 26-week curriculum for any mother of preschoolers to effectively teach preschool at home. I love gleaning creative ideas from other moms and Angela's ebook is my go-to for such ideas! The more ideas that I implement with my young preschooler, the more excited about learning he becomes. Knowing that this ebook includes alphabets, math, language and literacy skills, motor skills, the arts, sensory play, social development and even printables, I feel confident that he will love learning when his formal education begins. 
-Dollie from Teachers of Good Things
"Angela's preschool curriculum is thorough and well-organized and she takes the guess-work out of teaching your preschooler at home. Everything, from language to math to sensory teaching, is clearly explained in each of her lessons.  Her activities are fun, hands-on, and easy to understand since she always includes photos.  This curriculum makes home preschool attainable, even for the busiest mom."
-Amy from Wildflower Ramblings
"The Preschool Journey is full of engaging, fun ideas that are sure to instill in your child a love of learning. There is so much value included in this resource including hands-on activities for learning the letters of the alphabet, numbers and more. The ideas are sensory rich and child-focused. I would highly recommend this preschool curriculum for anyone wanting to teach their child."
-Sharla from The Chaos and the Clutter
Here is a review from Nicci at Powerful Mothering and another review from Christin at Joyful Mothering.
---
Are you a blogger? I'd love for you to join my affiliate program! You'll earn 40% commission on each sale, payable through eJunkie on the 4th of each month. Click the following link to begin: