Washing Hands Visual Sequence Cards
As teachers, you know how important it is to teach little ones to wash their hands!
The beginning of the school year is this the perfect time to teach the importance of washing hands! Use these washing hands visual sequence cards to walk children through the process of hand washing. Simply print the cards and post them near your sink to give kids a visual reminder of the steps of washing hands.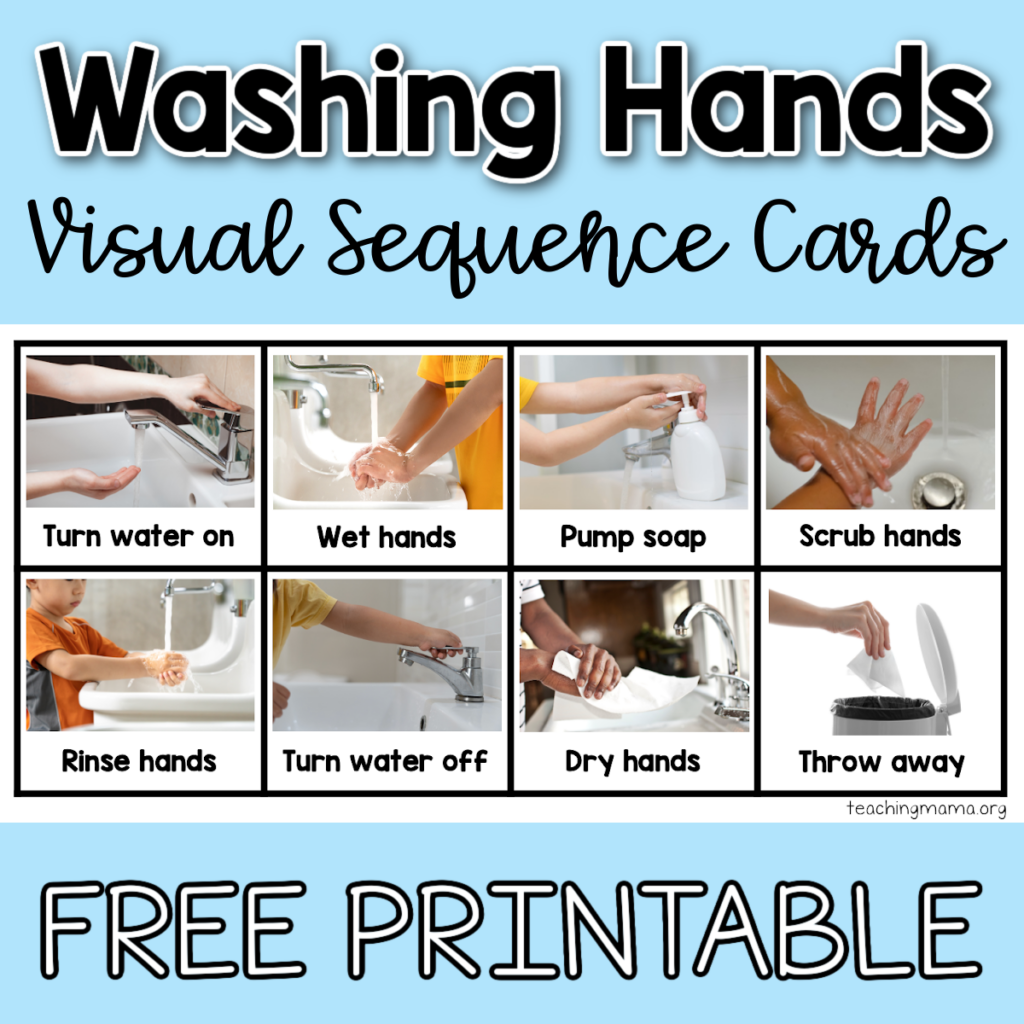 Hand Washing Importance
The number one way to prevent the flu or viruses is through washing hands in warm water with soap for 30 seconds. Teaching kids to properly wash hands isn't always easy. I know my kids always want to rush through washing their hands and spend the least amount of time possible at the sink. During the school day, children need to wash their hands often to prevent the spread of germs.
You can try this fun activity to teach kids how germs spread so they can see why hand washing is important!
Washing Hands Visual Aid
This visual aid is great to hang next to a sink. Having a visual helps staff remember to prompt students, and it helps students who are more independent to complete the hand washing process on their own!
You must teach children your expectations at the sink. I recommend walking through the steps and showing the students multiple times how to wash their hands. You can use the posters included in the printable to do this.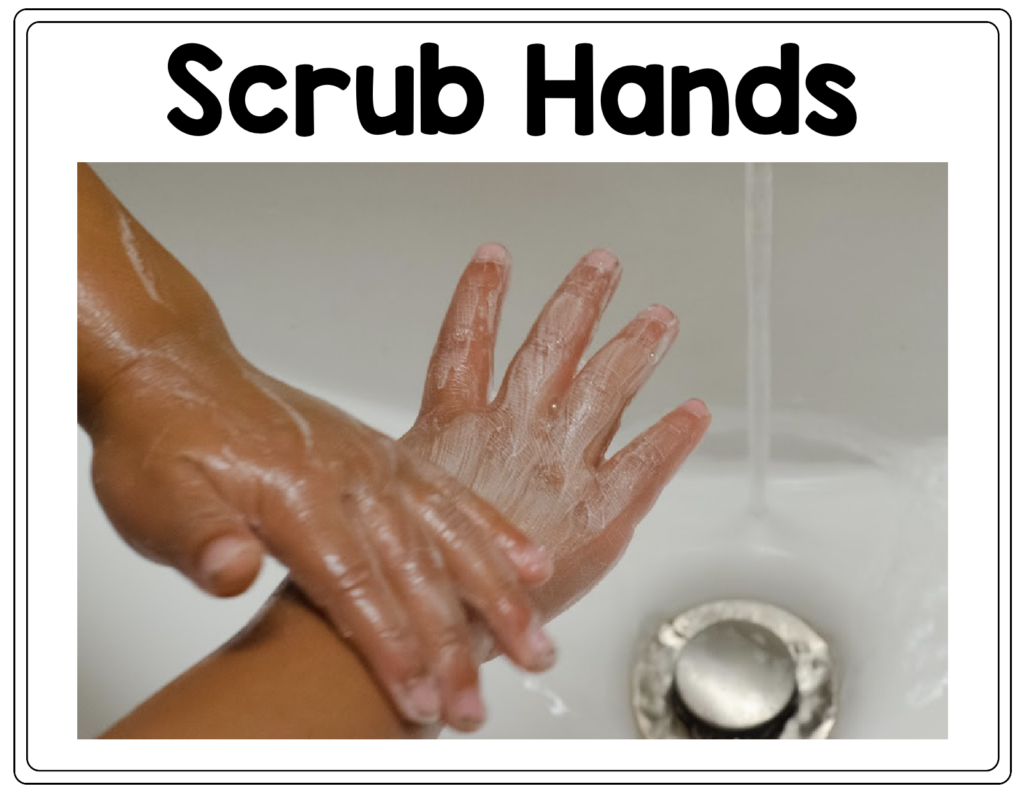 Here are the steps for hand washing:
Turn water on
Wet hands
Pump soap
Scrub hands
Rinse hands
Turn water off
Dry hands
Throw paper towel in the trash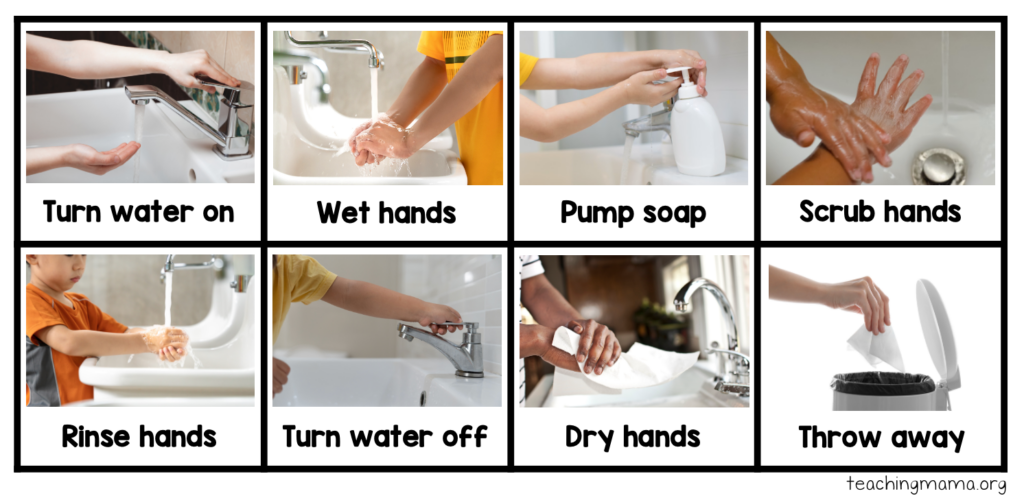 There are two options for the visual aids:
8 steps on one horizontal line
8 steps on two horizontal lines
Use whichever option works best for your classroom!
This may take time for children to learn the steps, especially if this is their first time going to school. With time, repetition, and consistency, they will catch on!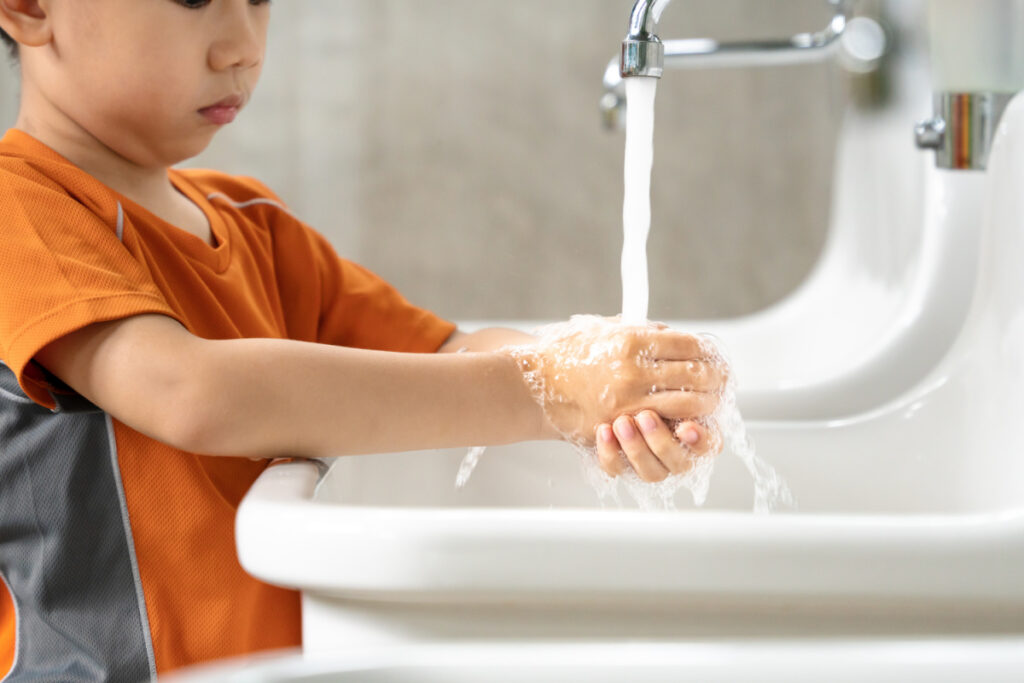 Tips for Washing Hands
Here are my top 3 tips for teaching young children to wash their hands!
Start the day with washing hands. When students arrive to the classroom, have them head to the sink. You have no idea what germs they have on their hands and it's best to get the hands clean first thing!
One way I've found helpful for better and longer hand washing is through songs. I love these 10 simple hand washing songs.
Be a good example to the kids! Kids look up to the adults around them and when you are washing your hands frequently throughout the day, you set a powerful example.
Here are some times of the day that hand washing is very important!
At arrival time in the classroom
When hands are visibly dirty
Before and after eating
After using the toilet
After touching animals and pets
After blowing your nose, coughing or sneezing
Frequently Asked Questions
Is warm or cold water better? You can use any temperature of water to wash your hands. Cold water and warm water are equally effective at killing germs and viruses – as long as you use soap!
Is drying hands important? Germs spread more easily from wet skin than from dry skin, so drying your hands completely is an important step. Paper towels or clean cloths are the most effective way to remove germs without spreading them to other surfaces.
How does hand sanitizer compare to hand washing? Both ways are effective, if they are done correctly. They both kill germs! But if your hands look dirty, you should wash them with soap and water.
What if a child resists hand washing? If you have a challenging student, you may need to try some tricks to make it enticing. Use fun soap, make it a game, sing a silly song, etc. If they really won't wash their hands, you can try using hand sanitizer.
I hope these ideas are helpful to you and that you also see the importance of teaching kids how to properly wash their hands.
If you would like to download the free printable with the visual sequence cards, just click the button below!