Scissor practice is SO important for preschoolers. Did you know that scissor practice is actually a pre-writing skill? It's true! When children use scissors, they have lots of practice moving their fingers and are also gaining strength in their hands. Using scissors takes a lot of coordination! I recently read this article that shares the the proper way to hold scissors. After reading it, I learned that the correct way to hold scissors is with your index finger resting on the outside. It forms a tripod, which builds the foundation for writing down the road. It makes sense, but I didn't know that! Did you?
Using scissors can be challenging. If your child isn't ready for scissors, then try these fine motor activities to build up their strength:
squeeze squirt-toys in the bathtub
open and close clothespins
play with finger puppets (helps with isolating the fingers so they can just move one finger at a time)
squeeze an eye-dropper filled with water
play with playdough
If your child has had practice with the proper way to hold scissors and is comfortable cutting, then try making scissor cutting stations.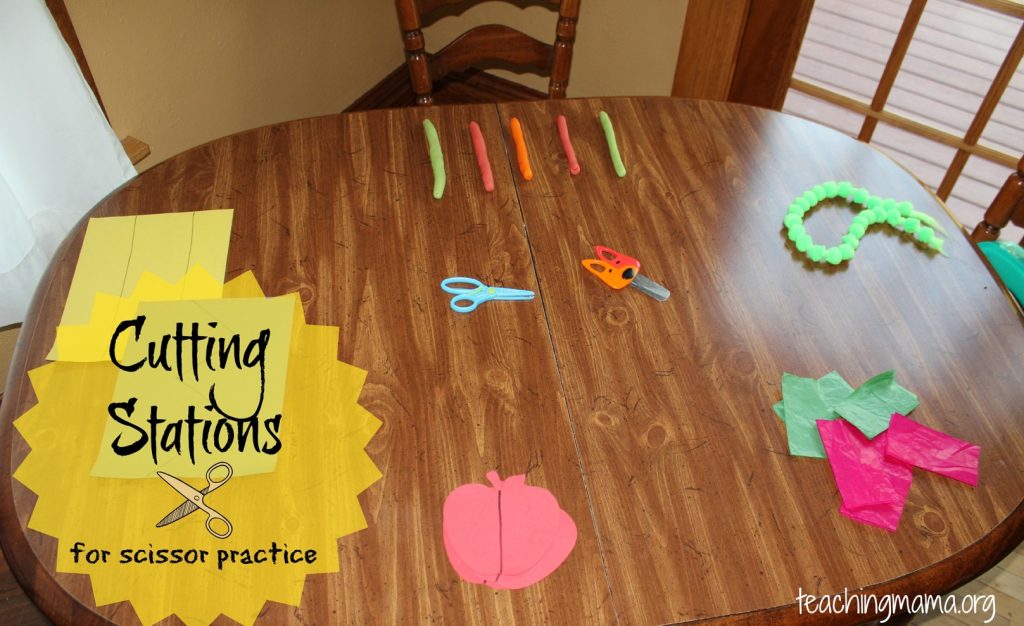 Here's what we did for stations.
1. Playdough — First, I started with playdough. It's soft and easier to cut. I made playdough snakes and had my 3.5 year old cut them into pieces. We are still working on proper form (with the index finger on the outside). He likes to put 2-3 fingers in the larger hole.
3. Pom Pom Garland — We found this garland at Michael's craft store for less than a dollar. We've had it for several months, but I thought it would be good to use for scissor practice since it has a small space in between each pom pom.
2. Tissue Paper — This soft paper is easy to cut. Have your child cut them into pieces. Since it's easier to cut than paper, it will help build confidence in their cutting skills.
4. Cutting Foam — We used foam apples (from Target dollar section) and cut them in half. I drew a line with permanent marker on them and he practiced following the line,
5. Lines on Paper — I drew lines on paper and had him follow them. On one paper I drew straight lines and on the other I drew zig-zag lines. At first he had trouble with cutting the paper, but when he realized that after he made a cut he needed to bring his scissors forward to make another cut, he did much better.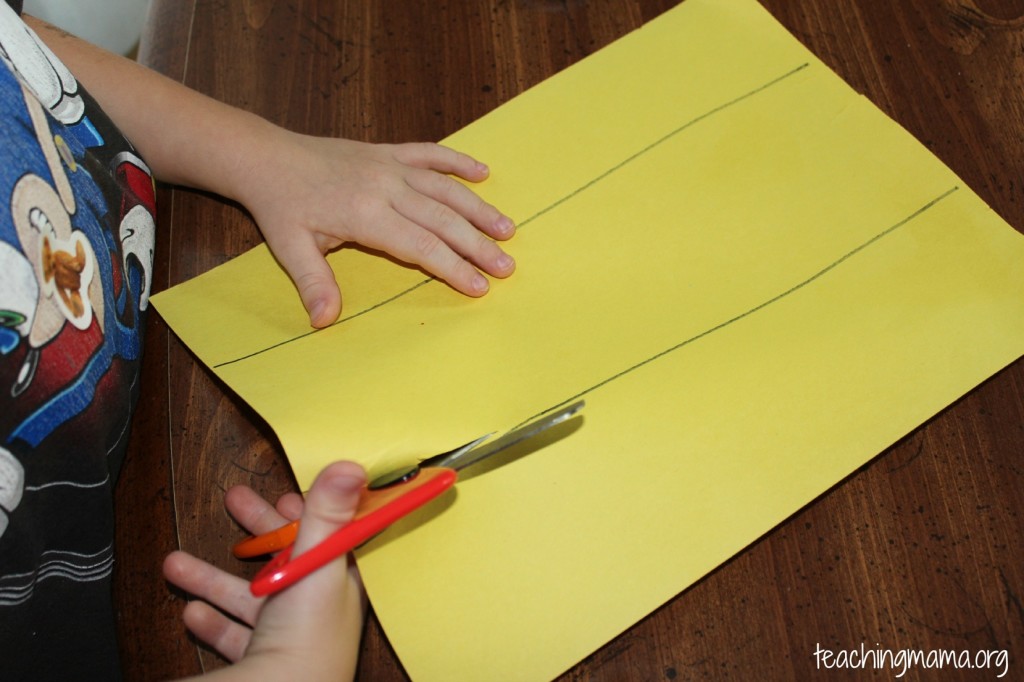 We will be doing these scissor stations frequently to help improve my son's scissor skills. Hope you'll try it out, too!