75 Quiet Time Box Ideas for Preschoolers
Disclosure: This post contains affiliate links. Thank you for supporting my site.
A few months ago, I wrote a post on using quiet time boxes when a child stops taking naps. I like to call these quiet time boxes a sanity saver! It is so nice to have peace and quiet for at least an hour each afternoon. Since we've started using quiet time boxes with my 4-year-old, I have realized that after a while, he gets bored with the material in each box. So, I have switched material out and changed things around so that he still enjoys quiet time and can work well independently.
As I was switching activities out, I realized that it would be helpful to have a list of lots of items that would be good for quiet time boxes. So today, I am sharing with you 75 quiet time box ideas for preschoolers. I hope that this list will be helpful to you! I am not telling you to go out and buy ALL of the material I suggest, but hopefully several of these activities will be helpful. Of course, please use discretion when deciding what to put in the quiet time box. If your child is young and puts items in the mouth, then do NOT give your child something with small objects. Also, at the bottom of the list includes more than 20 FREE resources you can print for quiet time boxes. Many of them can be printed on cardstock (and even laminated or placed in plastic sleeves) to be used again.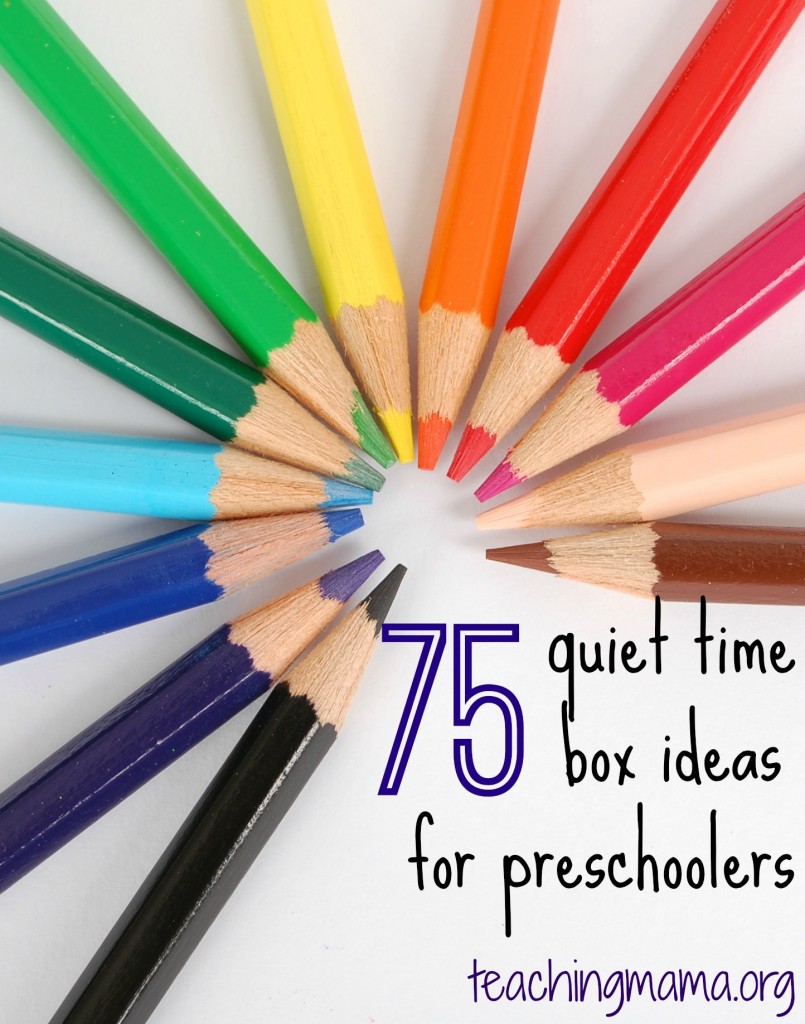 Here are 75 quiet time box ideas for preschoolers…


Kumon ABCs Uppercase Write & Wipe Flash Cards
Letter Construction Activity Set
Melissa & Doug Alphabet Stamp Set
Lacing Lowercase Alphabet Set
ABC Playdough and Tracing Mats

Number Construction Activity
Crayola Dry Erase Activity Tablet — Numbers And Counting
Melissa & Doug Magnetic Number Maze
Melissa & Doug Water Wow Numbers

ALEX® Toys – String A Farm
Plastic Lacing Beads
Rainbow Peg Play Activity Set
Gears Super Set

Melissa & Doug Latches Board
Melissa & Doug Wooden Bear Family Dress-Up Puzzle
Match It! Puzzle Games for Spelling
Melissa & Doug Alphabet Peg Puzzle
Ladybug Letters
Melissa & Doug Farm Sequencing Storytelling Puzzle Set

Melissa & Doug Pattern Blocks and Boards
Mental Blox Critical Thinking Game
Stacking Shapes Peg Board
Giant Soft Foam Floor Pattern
Primary Shapes Template Set
Pattern Block Activity Pack
Creative Color Cubes


Buki Activity Books

Melissa and Doug Reusable Sticker Pad
Magnetic Pattern Block Activity Set
Preschool Color & Activity Book


Melissa & Doug Magnetic Picture Maker
Crayola No Mess Marker and Paper Set
Melissa & Doug Color by Dots
Melissa & Doug Color Blast Artwork
Melissa & Doug Jumbo Coloring Pad
Wikki Stix
Crayola Color Wonder Pads

Playfoam
Lakeshore Scented Dough
Moon Dough

Hot Dots Jr. Phonics Fun
Hot Dots Jr. Patterns Card Set
Educational Insights Hot Dots Jr. Cards – The Alphabet
Crayola Touch Lites Color Pad

The Splendid Spotted Snake: A Magic Ribbon Book
One to Ten… and Back Again
Chicka Chicka Boom Boom
Brown Bear, Brown Bear, What Do You See? (Brown Bear and Friends)
Llama Llama Red Pajama
Hand, Hand, Fingers, Thumb
Put Me in the Zoo


6,000 Printable Mazes – would be easy to print and put into plastic sheet protectors and use dry erase markers.
More Free Mazes (kindergarten age)
18 Easy Dot-to-Dot Activity Sheets
18 Hard Dot-to-Dot Activity Sheets
Mystery Image Printable using Do-a-Dots
Ocean Animals Do-a-Dot Printables
Farm Animals Do-a-Dot Printables
Writing Skills Dry-Erase Cards
Ice Cream Color File Folder Game
I hope these ideas help when it comes to quiet rest time for your little one! 🙂