We recently experimented with baking soda and vinegar and did some really fun activities! I know my boys really enjoyed trying them out and I can't wait to share them with you!
This post contains affiliate links. See my disclosure for details.
1. Classic Experiment with Baking Soda & Vinegar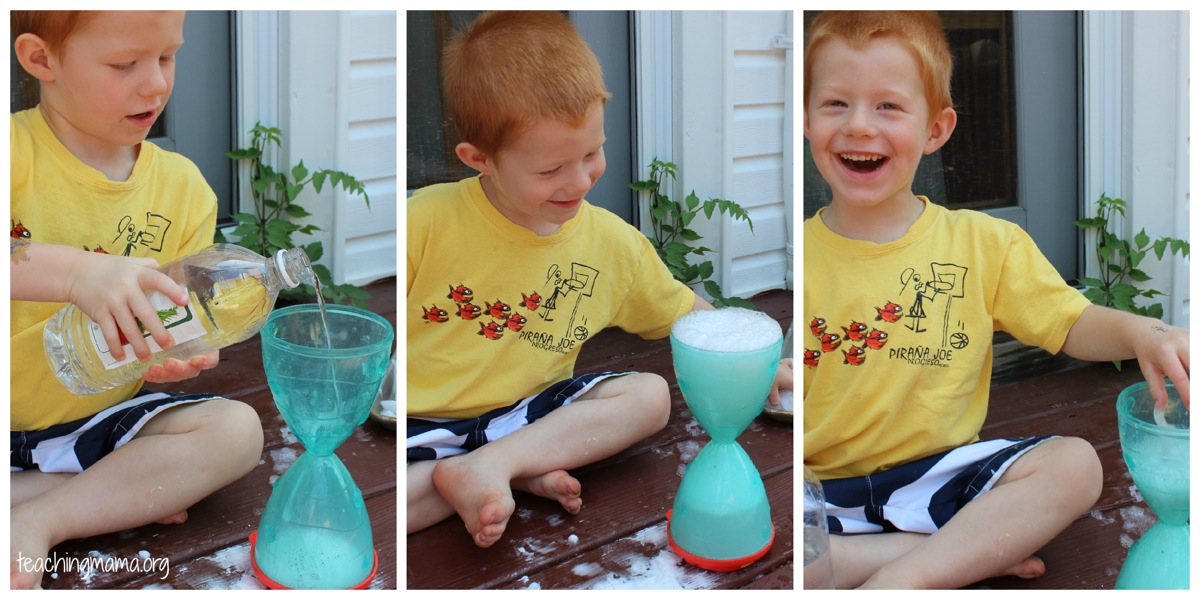 To start off, just pour some baking soda in the bottom of a container. We used this hourglass from here because it's a fun container. Slowly pour the vinegar in. Watch how the two react and eventually bubble over the top! This activity is good for practicing life skills of pouring.
2. Jumping Seeds
Dissolve 2/3 teaspoon of baking soda in 1/2 cup of water in a large glass. Add apple seeds from a couple apples into the liquid. Then add 1 tablespoon of lemon juice and stir the mixture. The bubbles will carry the seeds up and down. It is really neat to watch! Here's a short video of the seeds 'jumping'!
3. Volcano
First, place a vase on a pan. Add playdough around the vase to make it look like a volcano. Make sure you use playdough you don't want anymore, since it will be ruined after the experiment. Pour baking soda into the vase. Add food coloring (optional). Next, add the vinegar to the mix.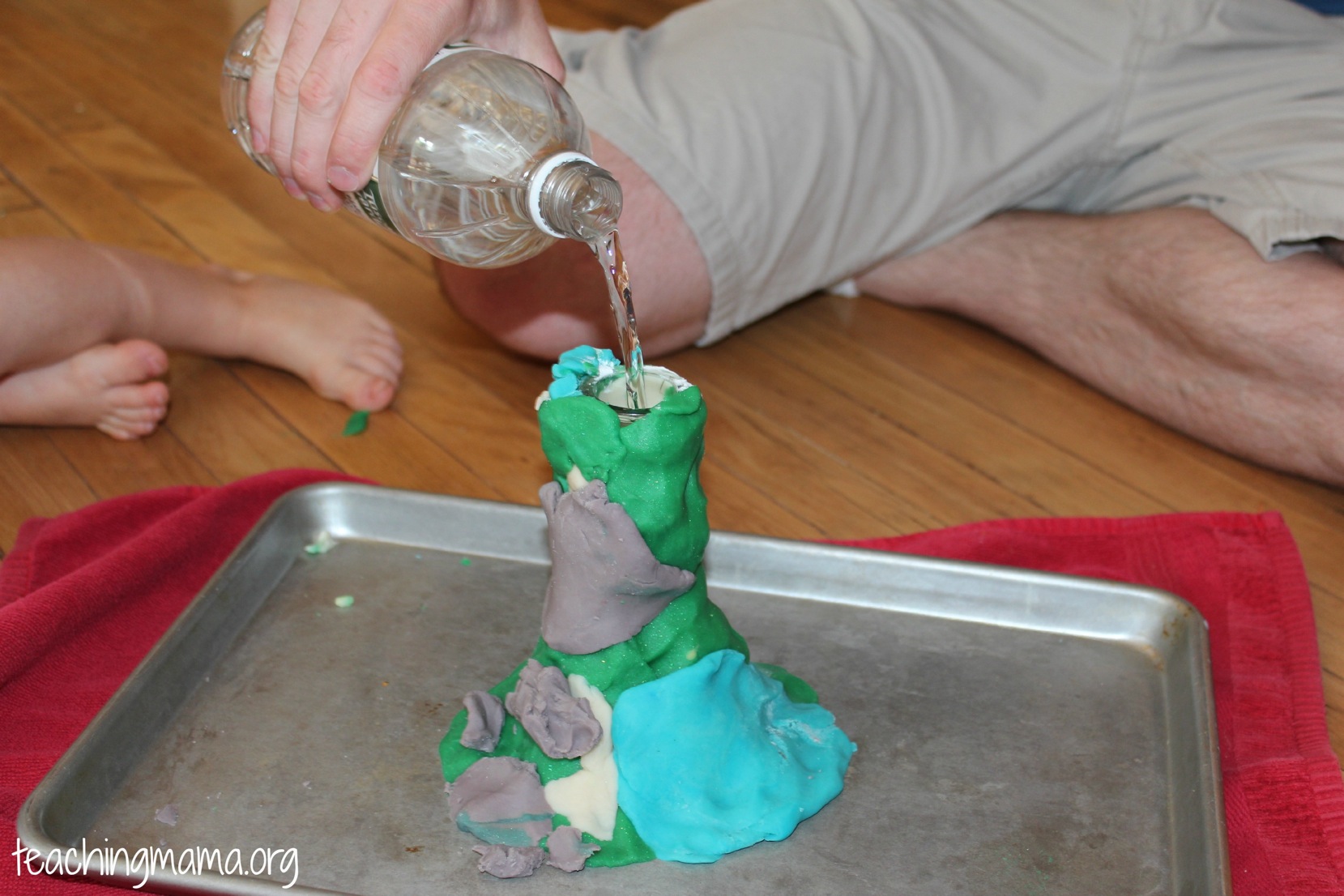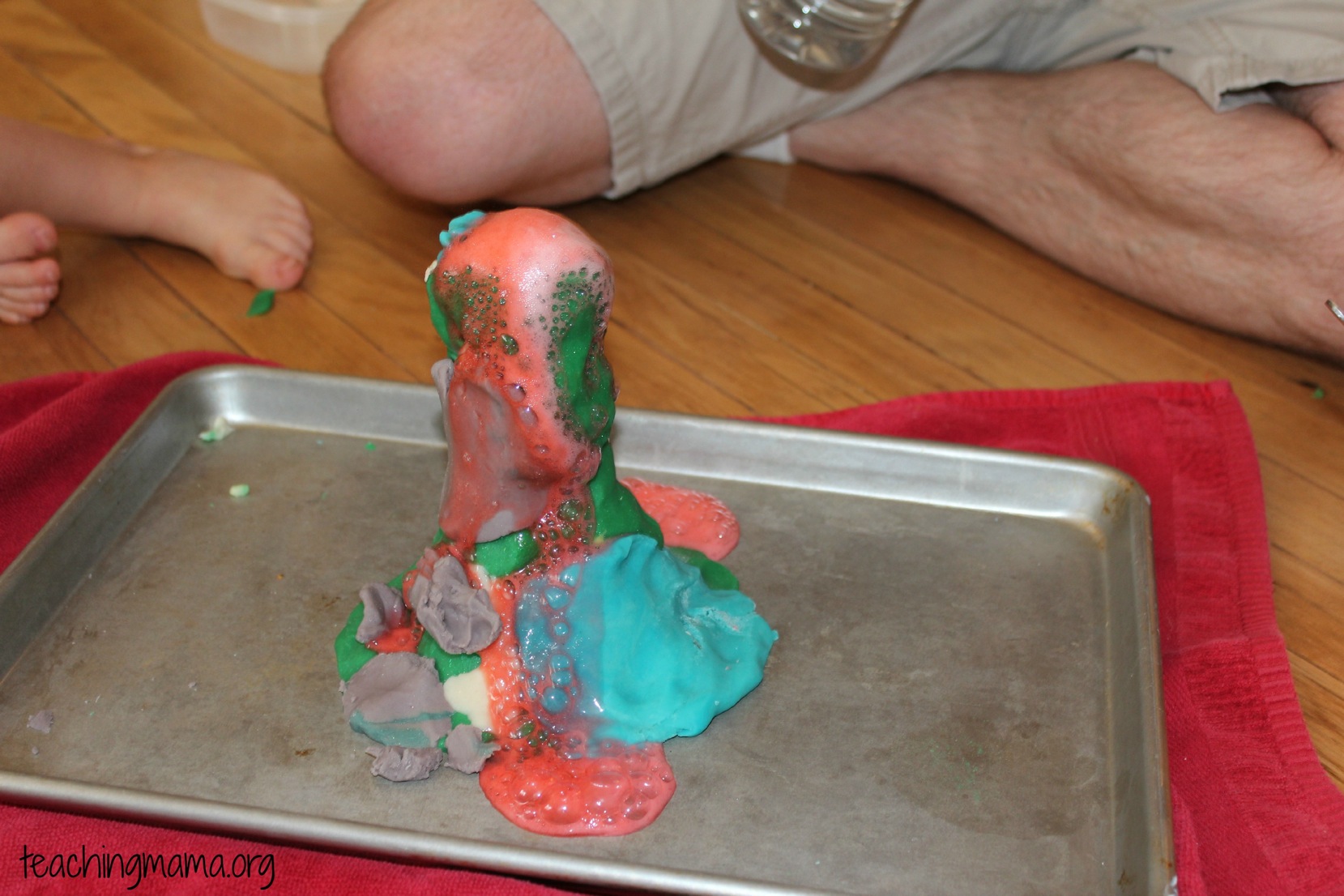 We also did a gender reveal volcano when we found out the gender of our third child!
4. Blow Up a Balloon
Use a funnel to pour vinegar into a plastic bottle.
Place a balloon around the funnel and fill it with 2 teaspoons of baking soda.
Cover the top of the bottle with your balloon. Lift your balloon up so that the baking soda drops down into the vinegar. Watch as the balloon fills with air!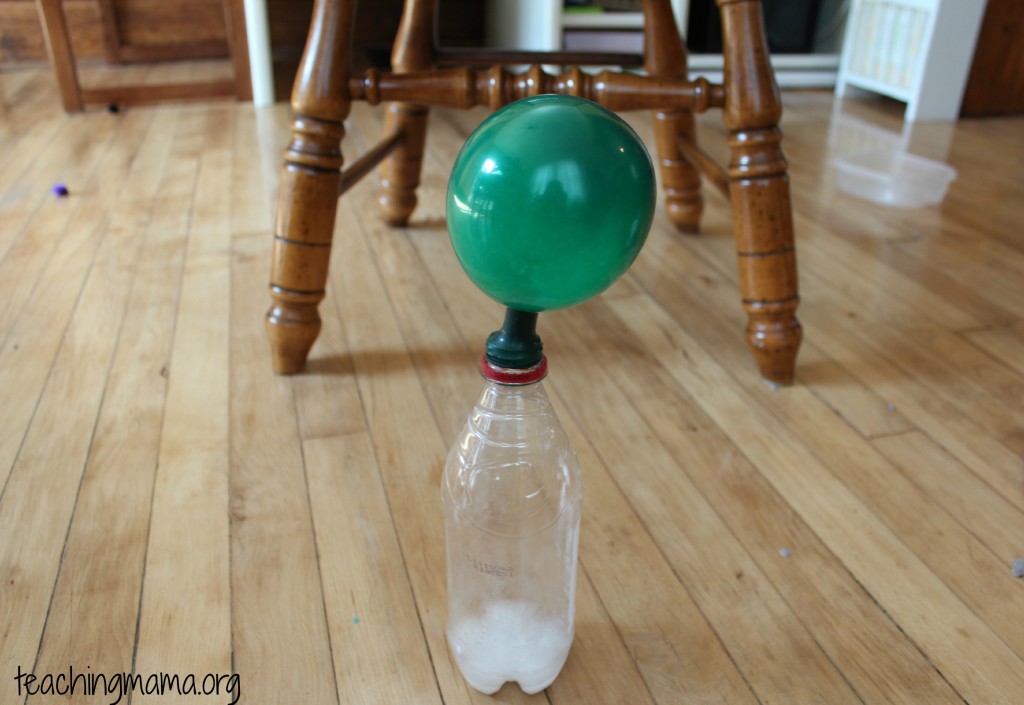 Side note: you may notice the last photo is a different bottle. We tried this experiment with a smaller bottle and the balloon blew up bigger than with the larger bottle. Also, you could experiment with more baking soda and vinegar to make it blow up even larger.
5. Vinegar Ice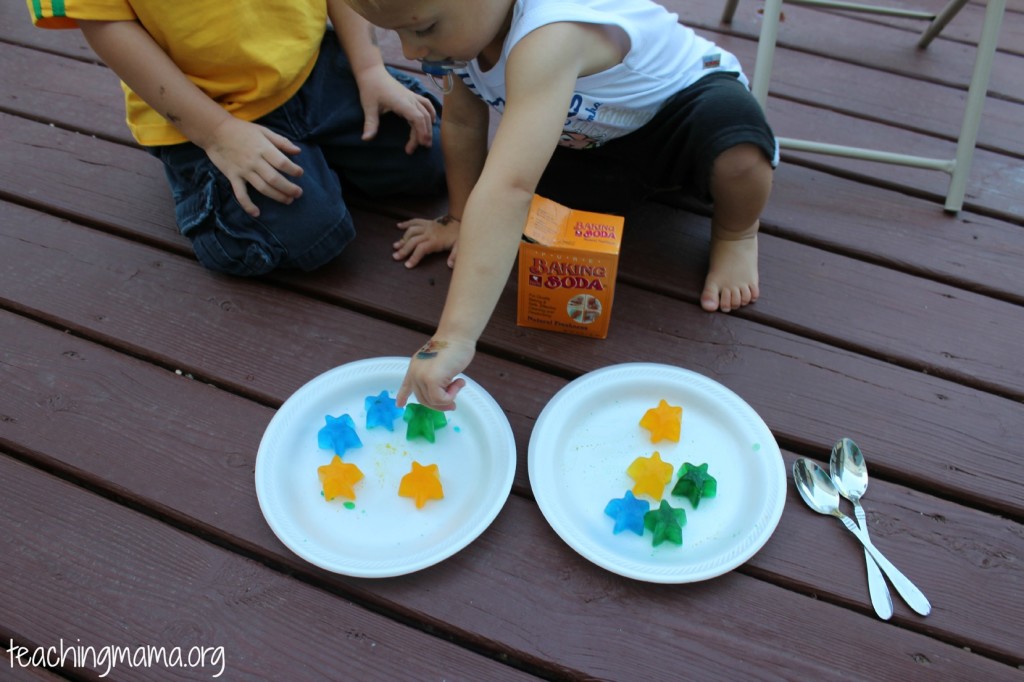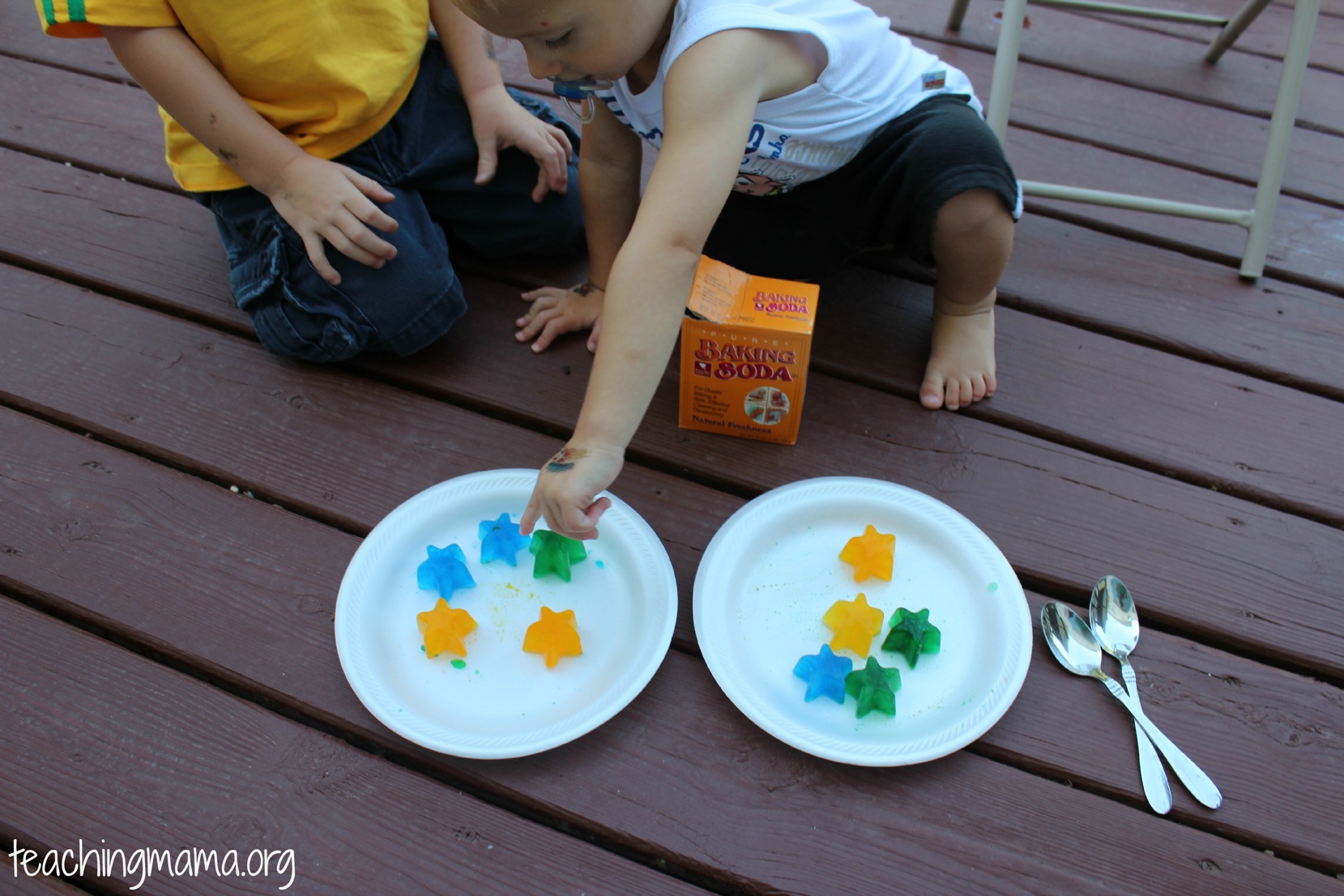 To begin, fill an ice tray with vinegar and add food coloring (I used a star mold). After it's frozen, pop them out and place on a plate. Pour baking soda on top and watch how the ice reacts to the baking soda. To speed up the reaction, pour vinegar on top. It's fizzy and fun!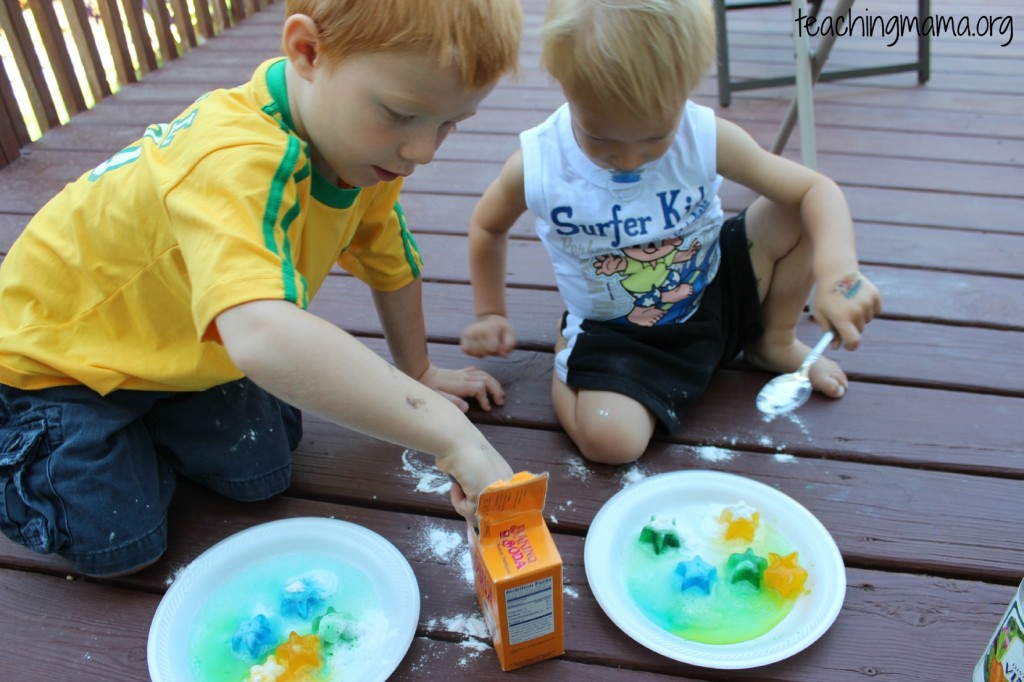 I don't think I've ever met a kid that doesn't like these fizzy experiments! I hope you will try these fizzy experiments out and let me know how it goes! These are perfect activities to fill up time on those hot, long summer days!
And if you are looking for easy science activities delivered right to your door, check out the Steve Spangler Science Boxes! These are awesome!!! Each month you get a new box filled with STEM experiments. Click on the banner below to see more!