Winter Clothes Dress Up Busy Bag
It is absolutely freeeeezing where we live! During this time of the year, it takes so much longer to get out the door because we have so many more items of clothing to put on. Can you relate to this, too?!
One skill that is important for preschoolers to know, is how to dress appropriately for the weather. Today's activity is a Winter Clothes Dress Up Busy Bag and it is a great way to talk about the appropriate clothes worn during winter. Plus it's a fun and easy busy bag to put together!
In this activity, I had clip art designed for boy and girl dolls. There are four dolls and items worn during winter: hats, scarves, gloves, sweaters, jeans, coats, snowsuits, and boots.
Here's what you need for this activity:
card stock paper (preferred, but not necessary)
magnetic cookie sheet
scissors
magnets
Begin by printing out THIS PRINTABLE. Cut out the items of clothing and then add a magnet to the back of each piece.
Next, simply invite your little one to dress up the boy or girl. Since the cookie sheet is magnetic, it will help the paper clothes to stick to the doll more easily.
The magnets make the clothing stay in place better, which is so nice, especially since I know my preschooler tends to get upset if things are out of place!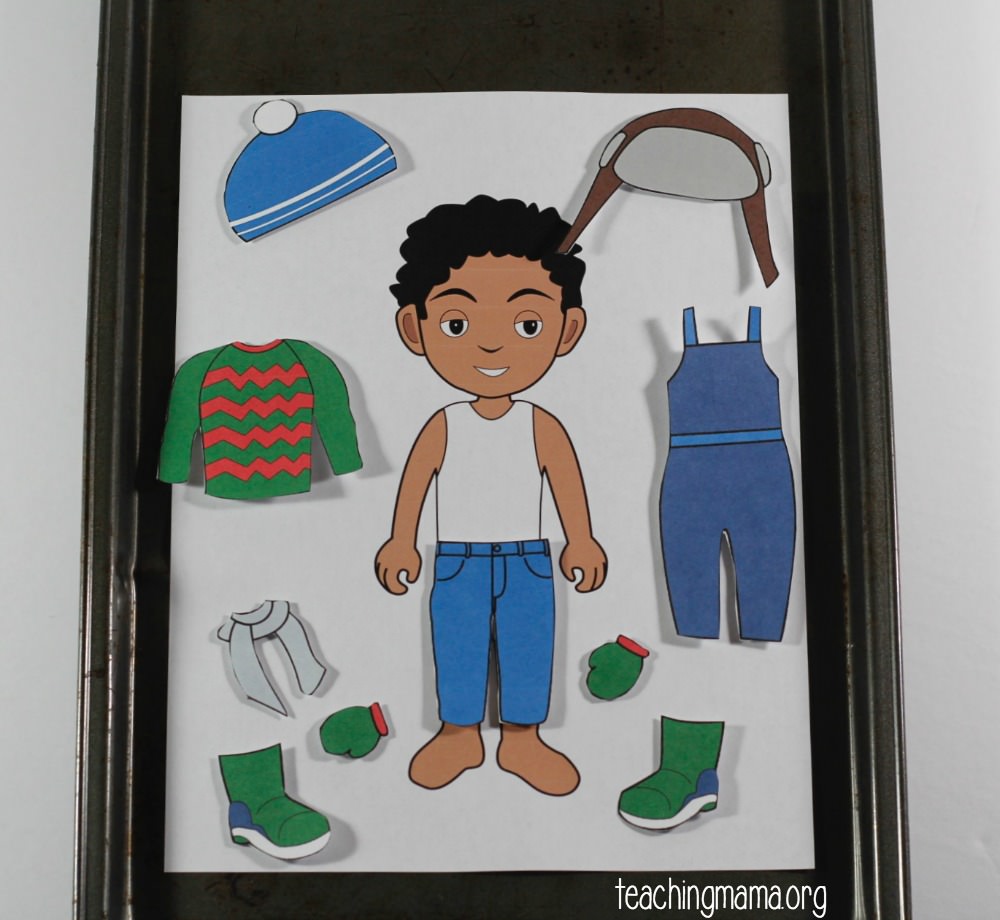 When you introduce the activity, make sure to talk about what each item of clothing is and why it's important to wear in the cold weather.
I recommend laminating the printables before cutting them out because it will help them last longer. After you do the activity, save the paper pieces in a gallon-sized Ziploc bag and you can store it to use later. We love busy bags and you can read more about our busy bags here.
In this set, I also have black and white clip art. You can have your child color their own winter clothes to use with this activity, too!
You can download the printable RIGHT HERE.