10 Benefits to Homeschooling your Preschooler
Homeschooling your preschooler is an amazing experience! If you're on the fence about homeschooling, this may encourage you! I also want to say that I completely understand if homeschooling is not something that works with your family. These are just some benefits that I see with homeschooling preschoolers.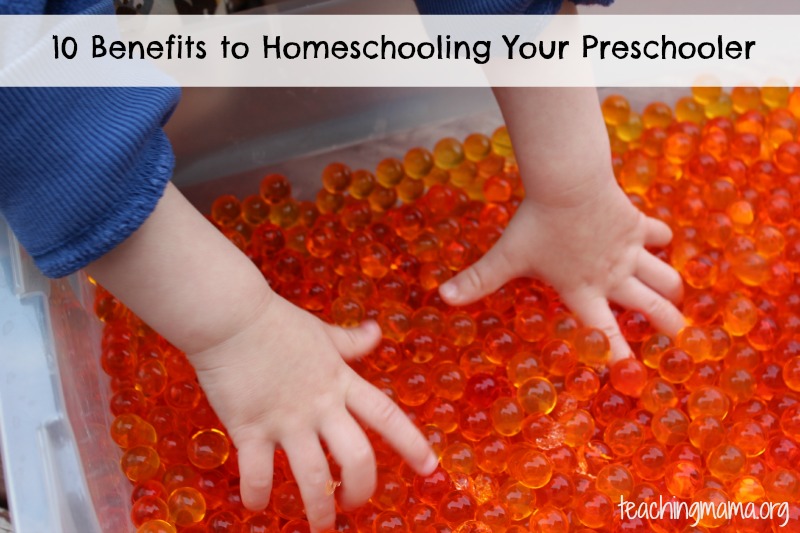 1. I know exactly what my child is being taught and where they are at educationally. I get to choose their curriculum and be a huge part of their education.
2. I am able to modify the curriculum to fit the needs of my child. I think this is huge! As a former public school teacher, I know how much a teacher has to divide their attention between 25-30 students. It's very hard to meet the needs of EVERY student. Yes, there are many teachers who do a good job modifying the curriculum for students (especially gifted and special needs), but I just love that I can teach my kiddos at a pace that works well for them.
3. We can save money! I would love to send our kids to a Montessori or private preschool, but that is just not in our budget. Since I stay at home with my kids, it makes sense for me to teach them preschool at home.
4. There are more opportunities to do "messy" sensory activities. We don't have to share a sensory bin with 15 other kids. They can get messy and then take a bath afterwards.
5. We have a more relaxed schedule. We can go on vacations or appointments without interfering with the school schedule. Of course we wouldn't abuse that and take a vacation from school two-thirds of the year, but it's nice to have a more relaxed schedule.
6. My children can build strong sibling relationships with each other. They have a lot of time to work and play with each other. I think you definitely can still have this without homeschooling, but it is enhanced when they're at home with their siblings most of the day.
7. We can be involved in a homeschool coop. Coops are great for developing social skills with kids. It's also fun to get to know other children and for them to learn how to work and share with one another. I highly suggest finding a homeschool coop in your area! Many of the coops do art, music, PE, crafts, or field trips together.
8. We can teach our faith-based values to our children during school time. There's no restriction on what we can teach our children in our home.
9. I can correct unwanted behaviors in the home right away as opposed to dealing with a problems later on.
10. We can stay in our PJs during school time! We don't do this every day, but it is a nice perk!
What about you? Do you have anything to add to this list?
If you're looking for tools to effectively teach preschool at home, check out my curriculum, Home Preschool Made Easy. I even offer a course that teaches you everything you need to know about home preschool! Check it out here.