Vowel Letter Mazes for Halloween
Are vowels tricky for your students to learn? If so, you'll want to check out these spooky letter mazes! The alphabet is not always easy for kids to learn, especially when it comes to learning what vowels are and their sounds.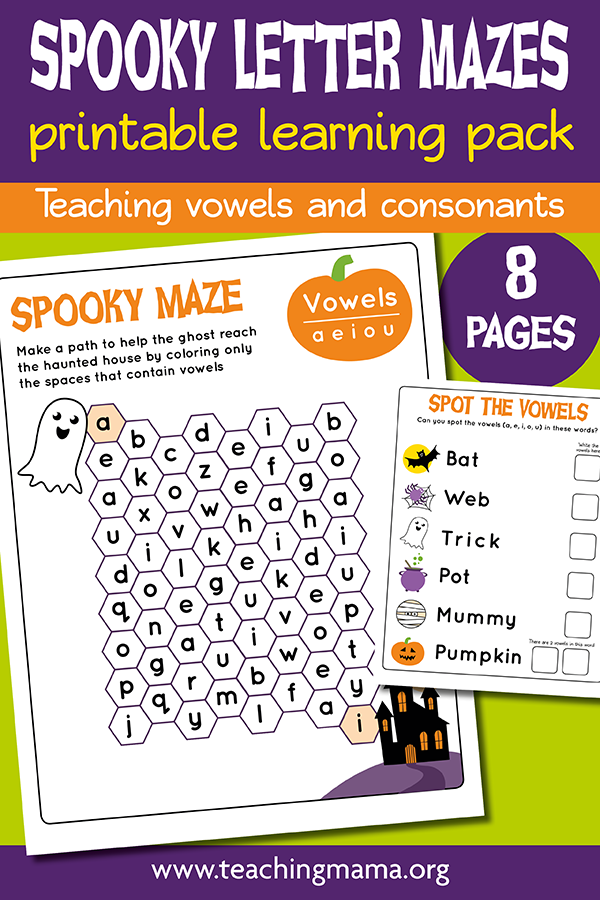 I'm excited to share this 8-page printable activity pack to help with teaching children the 5 vowels. This pack comprises of two pages of reading and writing practice, three maze designs to encourage vowel recognition and three blank templates for parents, teachers, and children to create their own mazes.
If you're looking for a very simple activity or independent work for your child to complete, this is perfect! I am not a big advocate for using worksheets all the time, but this packet has printable activities that are fun and motivating for children.
If you're looking for more resources for teaching vowels, check out the following!
I created these vowel cards to help kids learn the long and short vowel sounds. You can find the free printable here.
The Measured Mom has some great printable games for short vowel practice.
Coffee Cups and Crayons has a fun, hands-on game using cups to teach vowel sounds.
Liz's Early Learning Spot has a great packet with long vowel activities.
Mixing it Up in Primary has a fun Go Fish game for vowels.
I hope these ideas and activities help you out!