Surprise Play Dough Activity
My favorite way to begin the school year is with my Surprise Play Dough Activity! This is a magical and FUN way to start the school year. Read below to learn how you can do this in your classroom, too!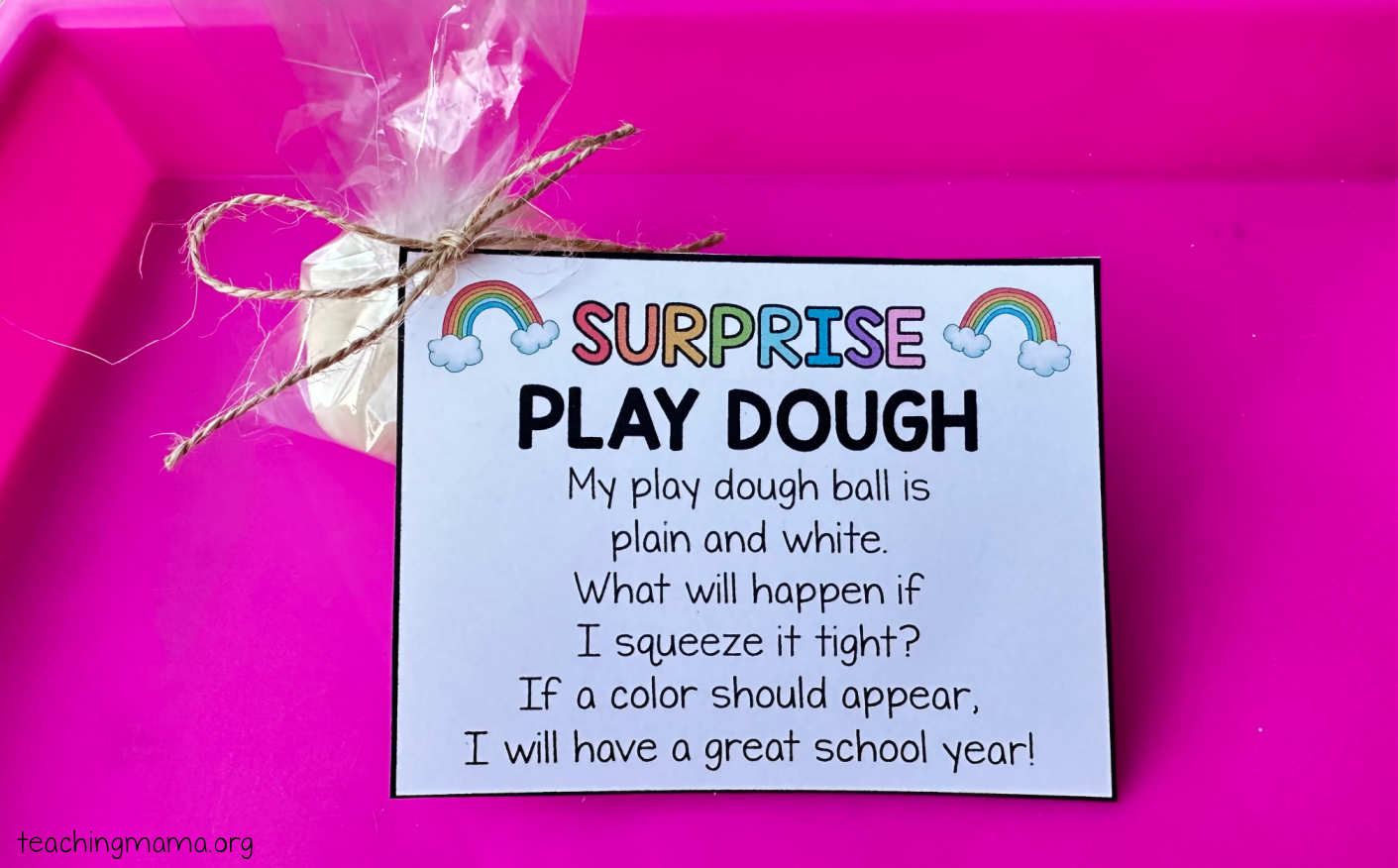 What is Surprise Play Dough?
Surprise play dough is really just white play dough with colored play dough in the center. When children squish and squeeze the dough, the dough begins to change to a color!
This is a fun activity because it is a surprise with which color you will get! You can even tell your students that this year is going to be amazing and filled with lots of fun surprises!
I added this little poem to the dough to make it more fun!
My play dough ball is plain and white.

What will happen if I squeeze it tight?

If a color should appear,

I will have a great school year!
You can grab my poem on the free printable below.
Ingredients for Surprise Play Dough
For this recipe, you'll just need a handful of household ingredients.
1 cup flour
1 cup water
1/2 cup salt
1 tablespoon vegetable oil (or something similar)
1 tablespoon cream of tartar
How to Make Surprise Play Dough
This is such a simple recipe! Here is my favorite play dough recipe:
Mix all of the ingredients in a saucepan. Use a whisk to make sure everything mixes together nicely.
Place the saucepan on a stove and cook on medium heat.
Make sure to stir often to keep the dough from sticking to the pan.
Once the dough starts to form a ball on the pan, then the play dough is done!
Sprinkle some flour onto a cutting board and set the dough on top. Once it has cooled down slightly, start to knead the dough.
Split the dough in half and set one half aside.
The other half you will be coloring. Add a few drops of food coloring or liquid watercolors and knead it into the dough. If you don't want to color your hands, you can use a silicone spatula to mix in the food coloring.
Setting up the Activity
To prepare for the activity, you'll follow these steps:
Divide the white dough into three sections. Spread it out like a pancake using your hands or a rolling pin. Then take some of the colored dough and roll it into a ball. Set it in the middle of the white dough.
Then wrap the white dough around the colored ball.
Make the dough look like a round ball.
You can either begin the activity right away with your students, or place them in a bag. I love to tie it with twine and add the printable poem.
Once your students get their play dough, encourage them to squish it and use their fingers and hands to mix it up really good!
At the end, they should have colored play dough!
Surprise Play Dough Printable
If you'd like to use this printable, feel free to download the printable by clicking the button below!

Frequently Asked Questions
How much does this recipe make?
It depends on how big you make the play dough balls, but it makes enough for at least 3 students.
How far in advance can I make this?
The play dough is best when it is fresh, but you can make this 2-3 days in advance. Just make sure to keep it sealed in a Ziplock bag or something similar.
What if I don't have cream of tartar where I live?
If you don't have cream of tartar, you can use lemon juice instead!
Why is play dough a good activity for kids?
I love play dough! It's a great sensory experience, helps strengthen hands and fingers for fine motor skills, and invites kids to use their imagination.
Print Recipe
Surprise Play Dough
How to make surprise play dough.
Servings:
3
play dough sets
Equipment
1 pan

1 cutting board

1 spoon or spatula
Ingredients
1

cup

flour

1

cup

water

1/2

cup

salt

1

tablespoon

cream of tartar

1

tablespoon

vegetable oil

2-3

drops

food coloring
Instructions
Add all the ingredients together in the pan.

Mix well using a whisk or spoon.

Set the pan on a stove and cook on medium heat.

Stir the mixture frequently.

Once the dough starts to form a ball, remove the pan from the stove.

Place the dough onto a cutting board, sprinkled with flour.

Once it has cooled slightly, knead the dough.

Split the dough in half. Add food coloring to one half and mix.

Split the white dough into three sections. Flatten the dough like a pancake.

Roll the colored dough into balls. Place them in the center of the white dough.

Wrap the white dough around the colored dough and make it look like a ball.

Lastly, invite your students to play with the surprise play dough!