5 Online Learning Resources For Classrooms or Homeschooling
Over the past two years, we have tried a variety of online learning resources for homeschooling. There are some really wonderful resources out there! You can find a variety of games and activities for free or ones with annual or monthly fees.
Today I'm sharing our favorite online learning resources that we use on a regular basis. Before I share, I will note that right now I have boys ages 6, 9, and 11.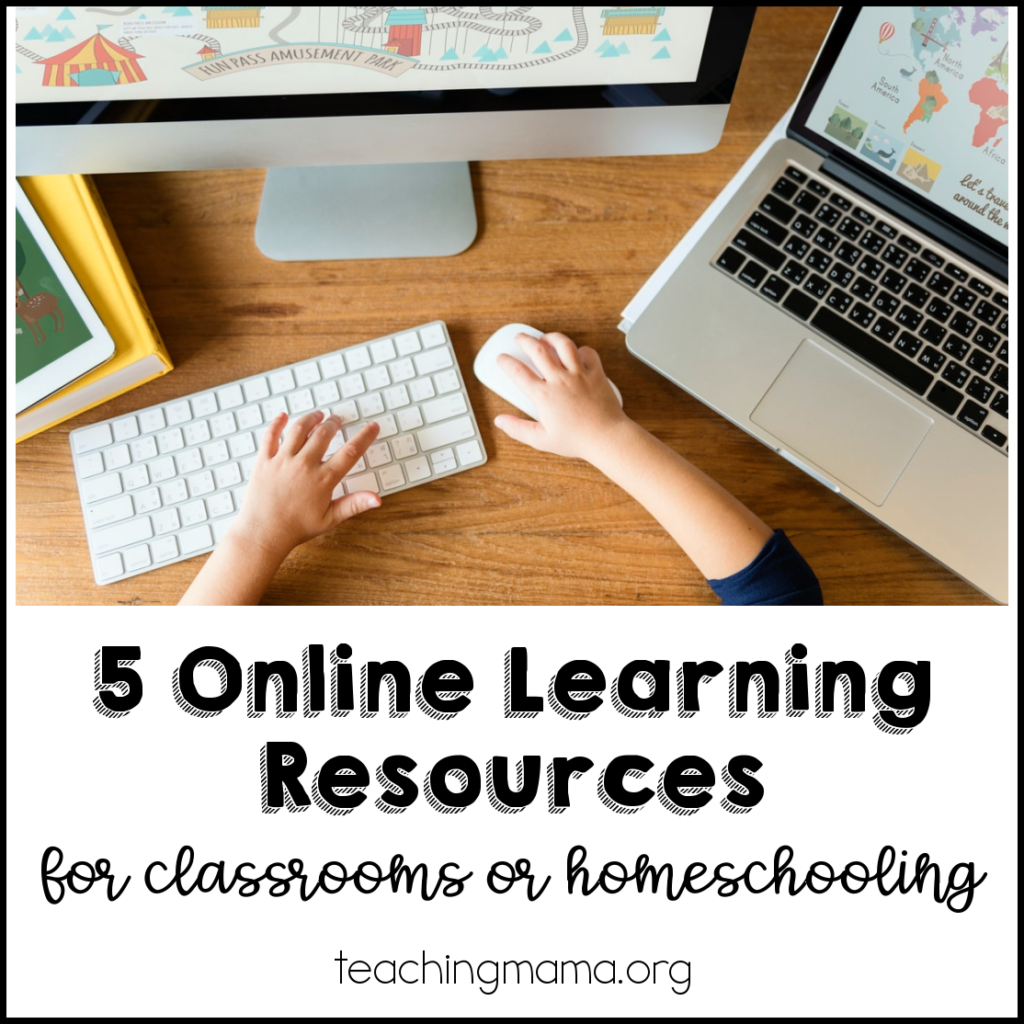 First up, is our favorite online library…Epic! We use this daily! I love it especially right now because we can't go to our library, due to the pandemic. Epic! is awesome because we can read ALL sorts of books, fiction or nonfiction, at our fingertips.
They are basically the Netflix of books for children with over 40,000 digital books, including e-books and audiobooks, and read-along books. They have a variety of fiction and non-fiction books. You can use this subscription on a phone, tablet, or computer.
As a side note, Epic! does have a free subscription for teachers and librarians. Check that out here.
We use Mystery Science frequently for science lessons. Last year, we didn't have a strong science curriculum, so I ended up using a lot of videos and hands-on activities from Mystery Science.
Doug has the most engaging, cool videos! And his activities are wonderful for either classrooms or homeschool families. He makes it incredibly easy, and most of the supplies are ones you'd have around the house.
One of my kids struggles with spelling, so we've been using a great program called Spelling City, which is going to be renamed Vocabulary City. There are so many fun games in this program that work on phonics, spelling, vocabulary, and more! All three of my boys love this program.
For this program, you pay an annual fee ($69.95) that allows you to use it for up to 25 students. As a teacher, you can see your child's progress and also assign different lists and activities to them.
A new program to us this year is Boom Learning. After using this and learning how to make Boom Cards, I fell in love with this program!
Boom Cards are activities kids complete on their own. They are self-checking, which means they will know if they got the answer right or wrong. If it is wrong, they can correct it. Many of the activities include audio (including directions), which makes it really great for young children who can't read yet.
Boom uses a point system to purchase activities. So if you wanted to buy an activity, which can be used on a computer, tablet, or phone, you would first have to purchase points. For example, 225 points cost $3. They do have some free activities, too! You can check out their activities here.
If you're new to Boom Learning, check out my tutorials here.
Lastly, we've used ABCmouse for many years. When my oldest was in preschool, we started using this program. I really like it because it contains over 850 lessons and 9,000 learning activities! It covers literacy, math, science, art, music, and more! Your child will never run out of things to do on this program because they are constantly adding more activities. This is a great curriculum to use with children ages 2-8.
I love that they don't have any advertisements and I don't have to worry about what they will see or hear on this program because it's safe! I wrote more about why I love this program in this post.
What other online resources do you like? I know there are a lot out there, so I'd love to hear your thoughts!
For today's giveaway, I will be giving away one of the following. The winner gets to choose which prize they'd like!
1 year of ABCmouse.com
1 year of Epic!
5,000 points to use for Boom Cards
All you have to do is enter below! This giveaway is open to anyone worldwide.
a Rafflecopter giveaway