Wow, I can't believe it's already August 1st!! In fact, today is my baby's 2nd birthday! Time truly flies. It feels like yesterday that he was a tiny little babe. Now he's a wild, adventurous two-year-old boy who has a real zest for life!
Since it's August, I wanted to share my activity calendar for the month. I hope these activities will create wonderful memories between you and your children. Let's spend the last few weeks of summer making the most of our time with our children!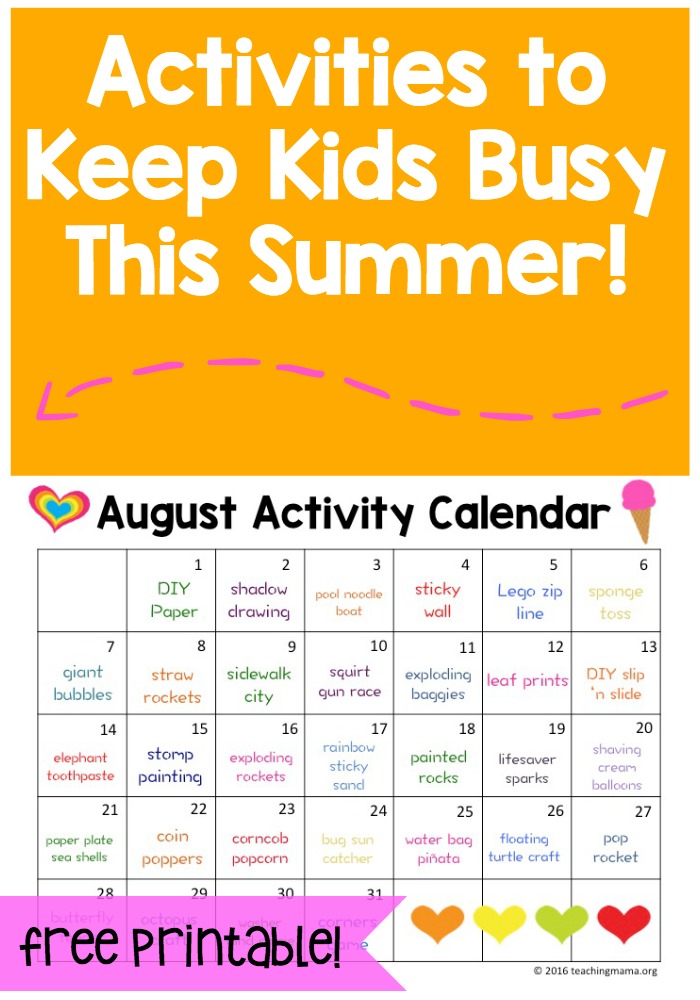 August 1- DIY Paper
August 2- Shadow Drawing
August 3- Pool Noodle Boat
August 4- Sticky Wall
August 5- Lego zip line
August 6- Sponge Toss
August 7- Giant Bubbles
August 8- Straw Rockets
August 9- Sidewalk City
August 10- Squirt Gun Race
August 11- Exploding Baggies
August 12- Leaf Prints
August 13- DIY Slip 'n Slide
August 14- Elephant Toothpaste
August 15- Stomp Painting
August 16- Exploding Rockets
August 17- Rainbow Sticky Sand
August 18- Painted Rocks
August 19- Lifesaver Sparks
August 20- Shaving Cream Balloons
August 21- Paper Plate Sea Shells
August 22- Coin Poppers
August 23- Corncob Popcorn
August 24- Bug Sun Catcher
August 25- Water Bag Piñata
August 26- Floating Turtle Craft
August 27- Pop Rocket
August 28- Butterfly Feeder
August 29- Octopus Craft
August 30- Washer Wind Chime
August 31- Corners Game
You can download the activity calendar here –> August Calendar
Have a great rest of your summer!