4 Easy Thanksgiving Crafts
Wow, I can't believe that Thanksgiving is just around the corner! We love doing crafts for the holidays and I've seen so many cute ones on Pinterest! Today, I've put together a round-up of 4 easy Thanksgiving crafts that we've done.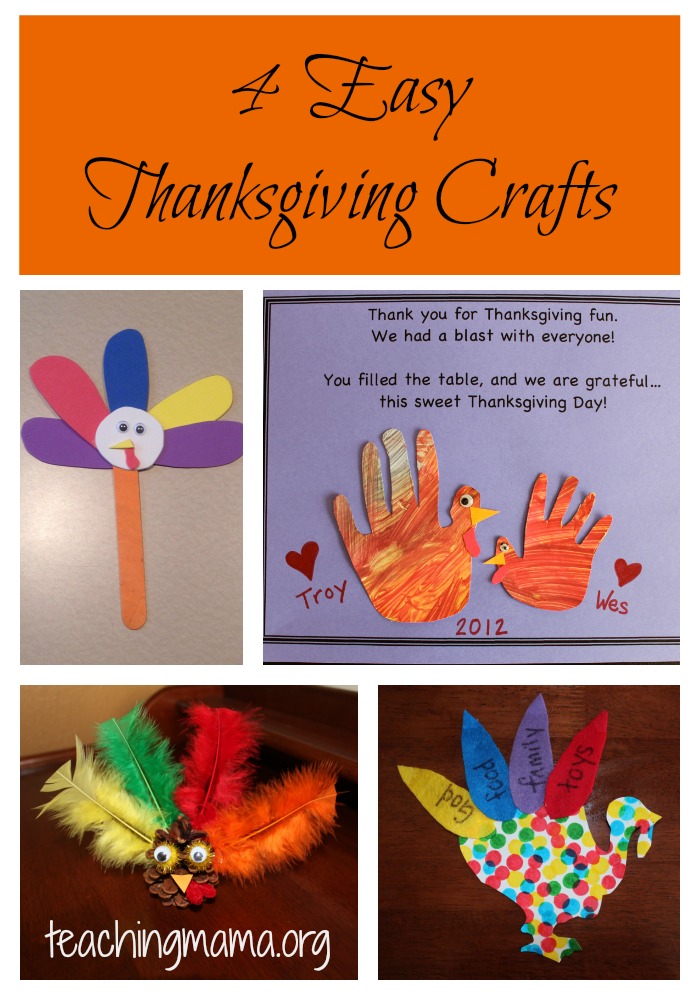 1. Turkey Craft on a Stick
 To make this cute little guy, I cut out a circle out of a white foam sheet for the head. Then we glued on googly eyes, a beak, and a gobbler on the face. Next, we glued the head to a large craft stick. Then, I cut out feathers for the turkey and my preschooler glued them onto the back of the head. After it dried, we had fun playing with him, like a finger puppet.
2. Thanksgiving Thank-You Note
Last year, we made a handmade thank-you note for grandma to show our gratitude for hosting Thanksgiving dinner. We used our hand prints to make the turkeys. To see how we made the whole thing, you can check out this post.
3. Pine Cone Turkey Craft
To make this turkey, just glue colorful craft feathers to the back of a pine cone. Then glue pompoms to the front and add googly eyes to the pompoms. Next, cut out a little beak for the nose and bend a red pipe cleaner to make the gobbler. You can see more about this craft here.
4. Thankful Turkey
Create this colorful turkey craft and write what your child is thankful for on the the feathers. To see how we made ours, visit this post.
What are your favorite crafts for Thanksgiving? Would love to hear your ideas!!